I am definitely in Cheesecake mode lately!
Since I have been testing and perfecting my recipe for Vegan Cheesecake I have so many ideas swirling for different combinations!
This White Chocolate Blueberry Cheesecake may just be my favorite one yet!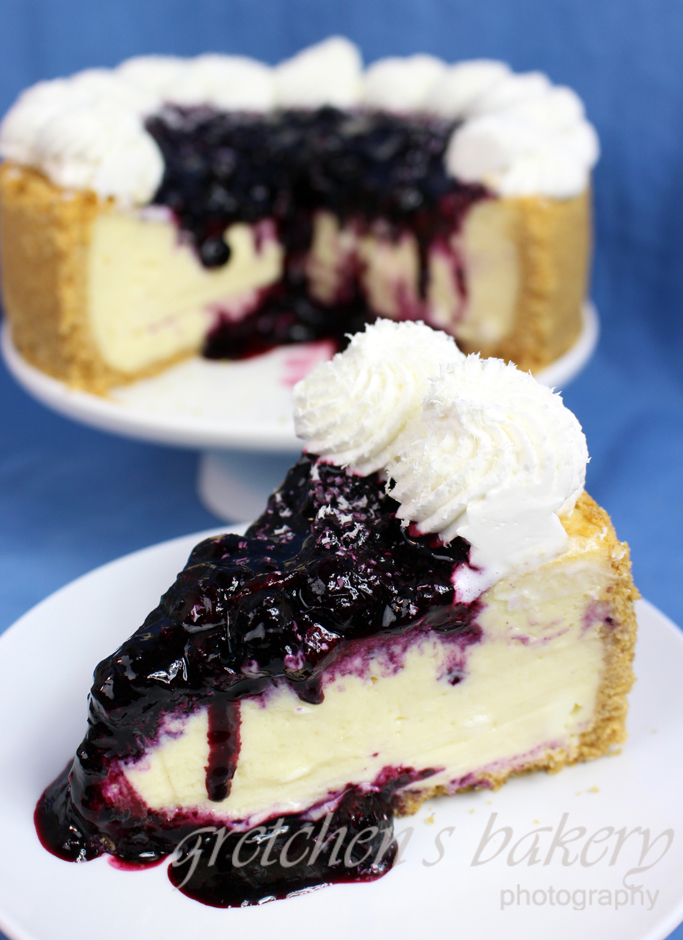 This flavor combination happens to be one of my most popular cheesecake recipes from Gretchen's Bakery before I went vegan, so I figured let's see how we can veganize this baby, this way everyone can enjoy it!
So if you are egg sensitive or dairy allergic you came to the right place!
Yay for Vegan!
This cheesecake is seriously creamy and I will bet you no one will ever suspect it is vegan!
It is so close to the real deal and with that addition of apple cider vinegar to achieve that signature tang that cheesecake is known for!
Vegan White Chocolate Blueberry Cheesecake
In the video I mentioned using vegan sour cream as one of the ingredients. I have since changed the recipe and have omitted the sour cream, as I did not feel it was necessary to the final result, afterall it is essentially just adding more fat (in the form of oils) that is not needed.
However if you feel you would like to give that version a try, simply omit ¼ cup of the plant milk listed below and add in ¼ cup of vegan sour cream in place. Everything else stays the same!
Ingredients
For the Cheesecake Batter
Vegan Cream Cheese 1 package (8oz) (226g)
Melted Vegan White Chocolate 1 cup (approx 6 ounces)
Firm Tofu half package (7ounces) (196g)
Vegan Granulated Sugar ½ cup (100g)
Cornstarch 2 Tablespoons (20g)
All Purpose Flour 2 Tablespoons (15g)
Salt ¼ teaspoon
Vanilla Extract 2 teaspoons (10ml)
Apple Cider Vinegar 2 teaspoons (10ml)
Vegan Butter 2 Tablespoons (28g)
Milk Alternative scant 1 cup (7 fl oz)
For the Crust:
Graham Cracakers 1½ cups after crushing to crumbles
Sugar ¼ cup (50g)
Vegan Butter or Coconut Oil 2 Tablespoons melted
Instructions
Prepare the crust by combining the crushed graham craackers and the melted vegan butter or coconut oil
Press it into the bottom and sides of a parchment lined and greased 7" cake pan and freeze while you prepare the cheesecake batter
Place all cheesecake ingredients (except the white chocolate) into a food processor and process until smooth
Pour into prepared pan and bake in a water bath in a preheated 335°F oven for 1 hour, then turn the oven off and leave the cheesecake inside for another hour.
Remove from the oven and refrigerate overnight before unmolding
For a closer look at how to unmold a cheesecake in a regular cake pan, click here
(Skip to 1:19 in the video for a visual tutorial)
Top with Blueberry Compote (recipe below) and optional Vegan Buttercream rosettes as shown in the picture
BELOW IS THE RECIPE FOR HOMEMADE BLUEBERRY COMPOTE
CLICK HERE FOR VIDEO TUTORIAL (ALTHOUGH IT IS CHERRY IN THE VIDEO IT IS THE SAME METHOD)

Blueberry Compote
Ingredients
Fresh or Frozen Blueberries 1½ lbs (600g)
Granulated Sugar ¼ cup (50g) *adjust to your taste
Instructions
Place theblueberries and sugar into a heavy bottomed sauce pot, cover and cook over low heat stirring occasionally to prevent scorching
Cook for about 15 - 20 minutes or until the fruit has started to break down slightly.
You will notice a sauce begins to form and it is getting thickened as the cherries cook down
Remove from heat and cool before using
Notes
Refrigerate compote for up to 1 week in a clean airtight container