Ok so I'm not going to lie.
I think vegan desserts are just better. There I said it.
I will be honest though, as I was creating the recipe for this new Cookies and Custard and Cream Cake, I had my reservations as to how it was actually going to turn out.
Because let's face it, vegan desserts can be challenging.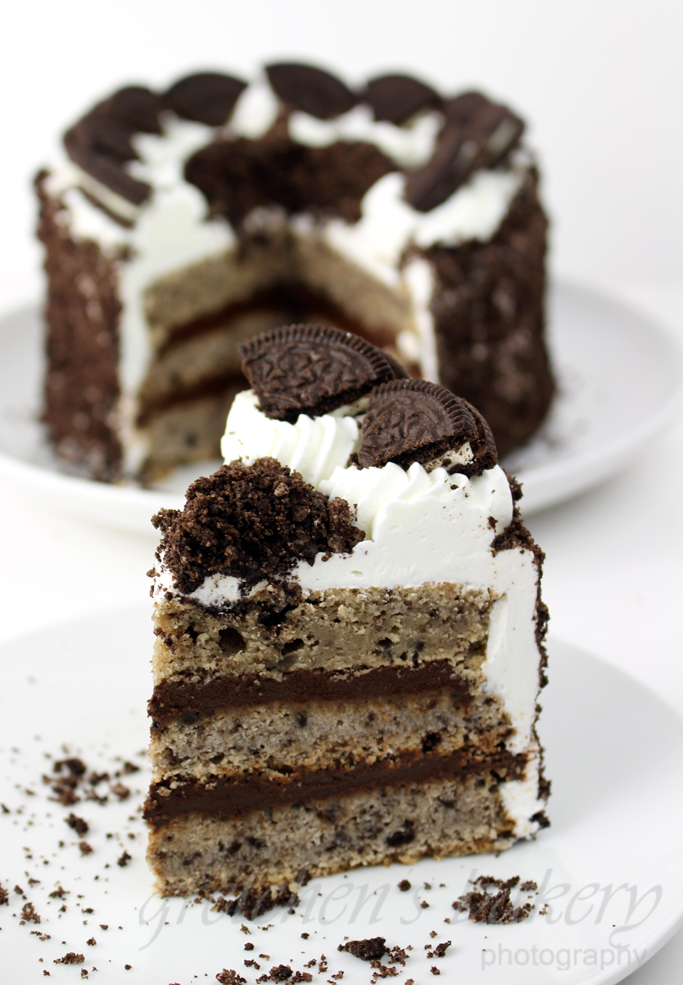 I mean whoever heard of whipping bean water to simulate egg whites to make a meringue?
But as I did it and then folded it into my luscious cookie loaded cake batter I had my fingers crossed that it was all going to work out fine.
Well guess what?
Better than fine!
Presenting a new improved version for the classic Cookies and Cream cake.
This time it is a Cookies and Custard and Cream cake!
This version takes this already amazing combination to another level by adding a filling of smooth creamy chocolate custard.
Custard made out of…. wait for it………….. a sweet potato!
Now before you get all crazy and huff and puff yourself on out of here saying how you will "never make a cake out of sweet potatoes and chick peas! Gretchen has just lost her mind and I'm unsubscribing….."
LOL Just wait! Have I ever steered you wrong before!?
Look, here is the reason why I say vegan desserts are better.
I just ate that entire cake I made in the video below and I don't feel sick! Or bad!
I feel awesome! And you can too if you just open your mind to the world of vegan baking!
Ok Ok…. I got a little excited for a minute, because truly I don't feel ill from eating that whole cake!
Now it's true, I have been really getting into smaller cakes lately, so as you will see I made mine into a 5″ cake with the very versatile ring mold that doubles as a bake pan AND also a mold to build the cake inside.
Of course if you do not want to purchase the mold or prefer to have a larger cake and make it traditional layer cake style rather than molded, just double the recipes below for 2 – 8″layers.
Ok let's get to this recipe and enough of me talking about it!
But one more thing, in the video I made too small of a cake recipe, and had to remake the layers again to give me 4 instead of 2 but I only ended up using 3 anyway!
So, the recipe below is worked out to make 3 thicker layers or 4 thinner layers. Whatever you prefer, just be aware that this cake MUST BE BAKED IN SEPARATE LAYERS for best results.
I ended up eating that 4th layer by itself….so again, whatever you want to do.
It's your sand box, I just play in it.
Cookies and Custard and Cream Cake
The below recipe has been double from the video to make 4- 5" layers or 2- 8" layers
*remember I only used 3 layers though, I'm not sure why.... hmmmm- confusing!
Click here for the 5" Ring Mold
Ingredients
½ Recipe Vegan Buttercream
For the Cake Batter:
All Purpose Flour ¾ cup (98g)
Cake Flour ¾ cup (90g)
Baking Powder 1½ teaspoons (7g)
Salt ½ teaspoon (3g)
Vegan Butter 1 sticks (8 Tablespoons) (113g)
Granulated Sugar 1 cups (200g)
Vanilla Extract 2 teaspoons (10ml)
Aquafaba ½ cup (120ml)
Alternative Milk ½ cup (120ml)
Chopped Sandwich Cookies with the centers 1 cup
For the Chocolate Custard:
Sweet Potato 1 small (approx 1½ cup) 150g
Cocoa Powder 12 Tablespoons
Sugar 8 Tablespoons
Milk Alternative ½ cup (120ml)
Arrowroot 2 teaspoons
Vegan Butter 4 Tablespoons (56g)
Maple Syrup 4 Tablespoons (56g)
Salt pinch
Instructions
For the Cake:
Combine the vanilla with the milk and then sift the baking powder,salt and flour together.
Cream the butter with the sugar until light a fluffy, approximately 3-5 minutes on high speed.
Once the butter and sugar has been creamed sufficiently, you will add in about ⅓ of the sifted dry ingredients to the creamed butter mixture
Next add milk /vanilla mixture slowly while continuing to mix on low speed. Stop the mixer to scrape down the sides of your bowl to ensure you are always incorporating the ingredients evenly.
Once the liquid has been absorbed, you will now go back to your dry ingredients with another addition, repeat with the remaining liquid in the same fashion, and then the last addition of dry ingredients
Add the crushed cookies
Whip the aqufaba to stiff peaks then fold into the cake batter
Pour immediately into prepared pans
Bake in preheated 335° F oven for approximately 25 minutes depending on the size pans you used - but they will start to brown on the edges and be springy to the touch when you gently press the centers
Meanwhile prepare the custard:
Boil the sweet potato until it is super soft
Combine the milk with the arrowroot (if you are using it, it is not 100% necessary if you omit it, you will have a softer setting custard)
Place all the ingredients into a food processor or blender and blend smooth
Assemble the cake as shown in the video
Notes
Cake should stay refrigerated but can withstand room temperatures for up to 4 or 5 hours.

Store leftover cake in the refrigerator for up to 5 days