S'mores Cake Roll ~ Graham crackers, chocolate and toasted marshmallows is what summer is made of!
I don't know how you feel about it, but vegan cake rolls can be a nightmare!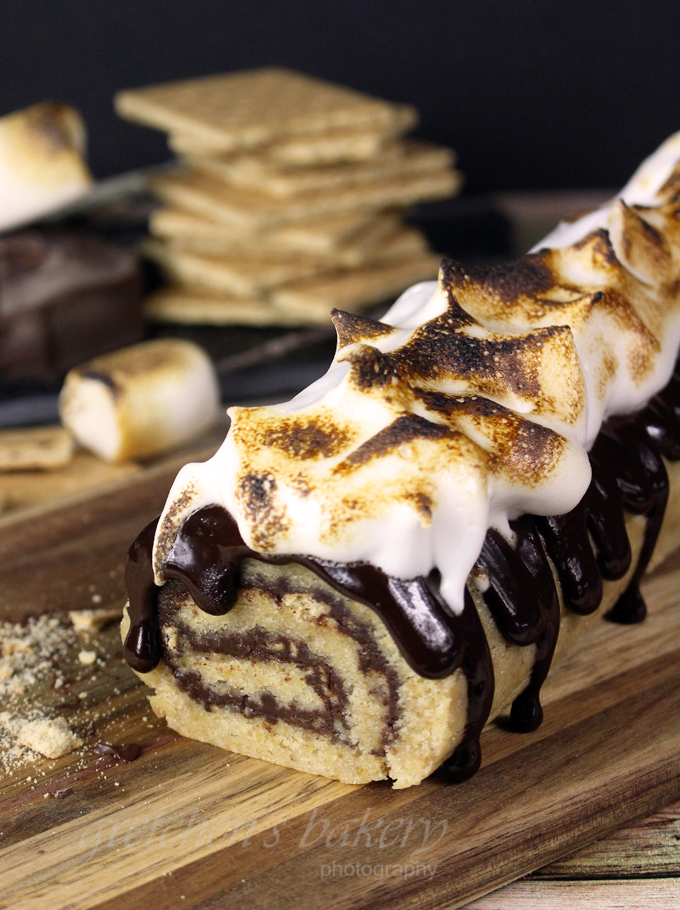 Traditional roll cakes are primarily foamed egg cake recipes which gives them the flexibility needed to roll without cracking.
Vegan cakes obviously have no eggs and are typically more moist by nature so our ability to roll up an egg-less cake can be quite difficult to say the least!
But this cake rolls up like a dream!
Filled with chocolate ganache and then slathered with vegan marshmallow that is toasted to perfection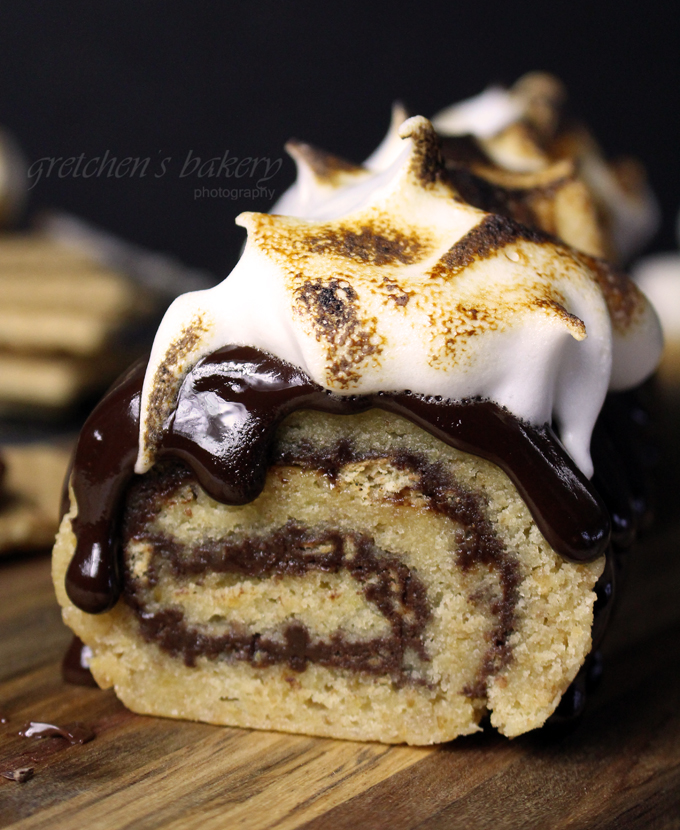 Aquafaba is that magical chickpea water that makes unbelievable marshmallow a.k.a meringue!
By simply whipping the water from a can of chickpeas, or from the boiling water from dry chickpeas
CHECK OUT THIS DETAILED VIDEO TO LEARN MORE ABOUT AQUAFABA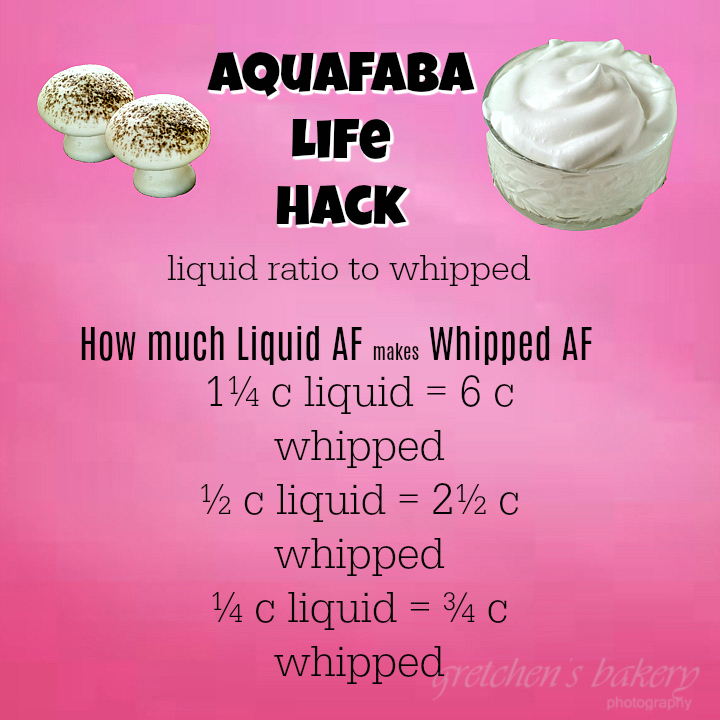 In minutes you will have thick glossy billowy marshmallows!
Your summer just got a whole lot better!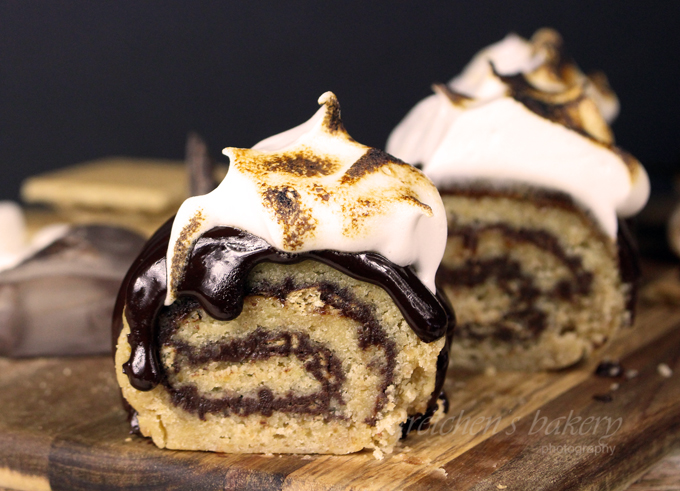 CLICK HERE FOR THE FULL YOUTUBE VIDEO TUTORIAL FOR HOW TO MAKE THIS CAKE!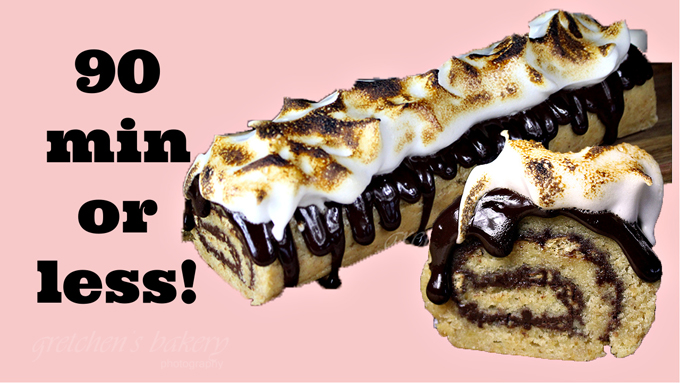 Notes for Success:
If you do not have cream of tartar the aquafaba will still whip up, it just will not be as stable
Be sure that all of your ingredients are at room temperature before beginning
Prepare a half sheet pan 12″ x 18″ with grease & parchment liner and also lightly spray the parchment paper top after lining the pan
Cornstarch is a very difficult ingredient to measure consistently with a volume/spoons measure
So while I list both measures below I cannot stress enough how the grams measure with a scale is going to give you the best results.
Many times people have complained that their custard is like rubber and they don't know why!
This is from a heavy measure of cornstarch when using volume measuring spoon vs the 100% accurate scale measure in grams.
If you do not have graham crackers you can use digestive biscuits equally successfully
For more recipes using aquafaba click the links below!
Aquafaba Italian Meringue Buttercream Recipe
Four Mousse Recipes Using Aquafaba
Yield: Serves 10 people
S'Mores Cake Roll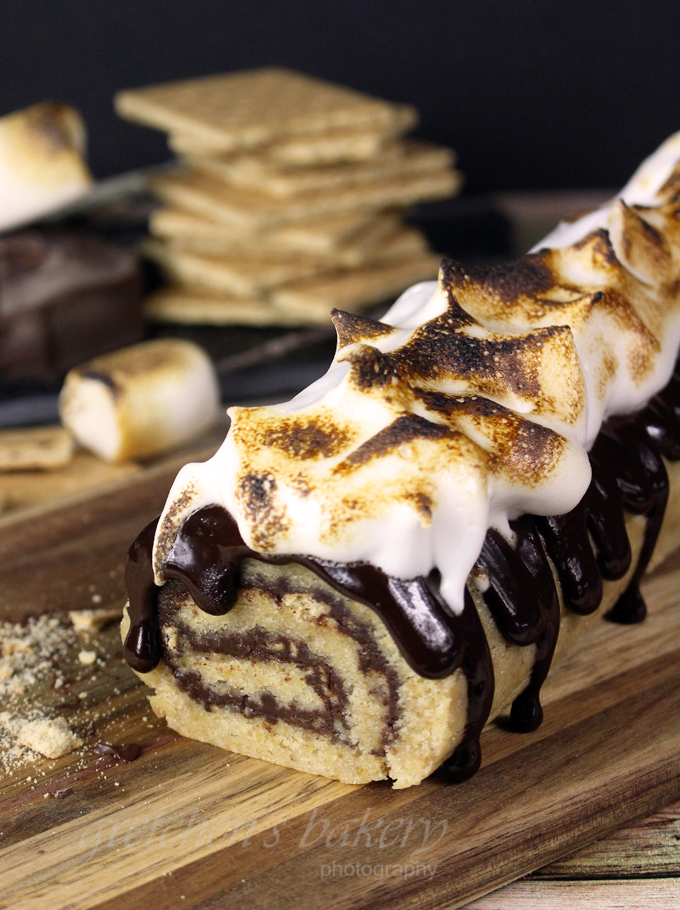 Total Time
2 hours
25 minutes
Ingredients
Vegan Butter 12 Tablespoons (170g)
Granulated Sugar 1 cup + 2 Tablespoons (225gg)
Flax Meal 2 Tablespoons (16g)
Hot Water 4 Tablespoons (60ml)
Plant Milk *I use soy milk 1 cup (237ml)
White Vinegar 1 Tablespoon (15ml)
Vanilla Extract 2 teaspoon (10ml)
All Purpose Flour 1½ cups (190g)
Graham Cracker Crumbs crushed to fine crumbs 1 cup (100g)
Baking Powder 4 teaspoons
Salt ½ teaspoon
Cornstarch 1 Tablespoon (8g)
For the Marshmallow Topping:
Aquafaba ½ cup (118ml)
Confectioners Sugar ½ cup (60g)
Cream of Tartar ¼ teaspoon *see notes above
Vanilla Extract 1 teaspoon (5ml)
Instructions
First prepare the cake batter by combining the flax meal with the hot water. Whisk smooth, set aside to thicken for 5 minutes
Combine the plant milk with the vinegar and the vanilla extract, set aside
Sift all of the remaining dry ingredients together
With the paddle attachment to your stand mixer or with your electric hand mixer cream the vegan butter with the sugar until light & fluffy, this will take about 3-5 minutes
Scrape the bottom and sides of the bowl and then add the flax paste, whip on high speed for 3o seconds to emulsify
Add 1/3 of the sifted dry ingredients and mix just until incorporated
Then add half of the liquids
Another 1/3 of the dry, the remaining liquid then the last of the dry.
Spread the batter evenly into the prepared pan and bake in the preheated 350°F oven for approximately 25-30 minutes or when it is springy to the touch when you gently press the center
While the cake is baking prepare the vegan ganache as per the instructions on that article, set it aside at room temperature to cool and thicken slightly
Once the cake is cooled remove it gently from the pan, spread about 1 cup of the ganache over the cake and then roll it up jelly roll style.
*I used about 1 cup medium crushed graham crackers for the filling as well, this is optional
Refrigerate the cake to set for about 30minutes and then prepare teh marshmallow topping.
Prepare the aquafaba meringue by whipping the cold aquafaba with the cream of tartar until frothy and starting to gain volume, then add the sifted confectioners sugar 1 Tablespoon at a time while whipping on high speed until thick and glossy peaks are formed.
Ice the cake with the meringue as shown in the video or as desired and then with a blowtorch lightly toast the outside often cake
Notes
Smores cake roll can be kept at room temperature for 1 day, but for best results keep refrigerated until serving.

Smores Cake Roll will stay fresh in the refrigerator for up to 1 week

You can freeze the cake roll un-iced for up to 1 month wrapped well to prevent drying