No Bake! No Nuts! and No Mixers required!
I'm on a Vegan Cream Pie hot streak! And this Double Chocolate Cream Pie ended up stealing the show!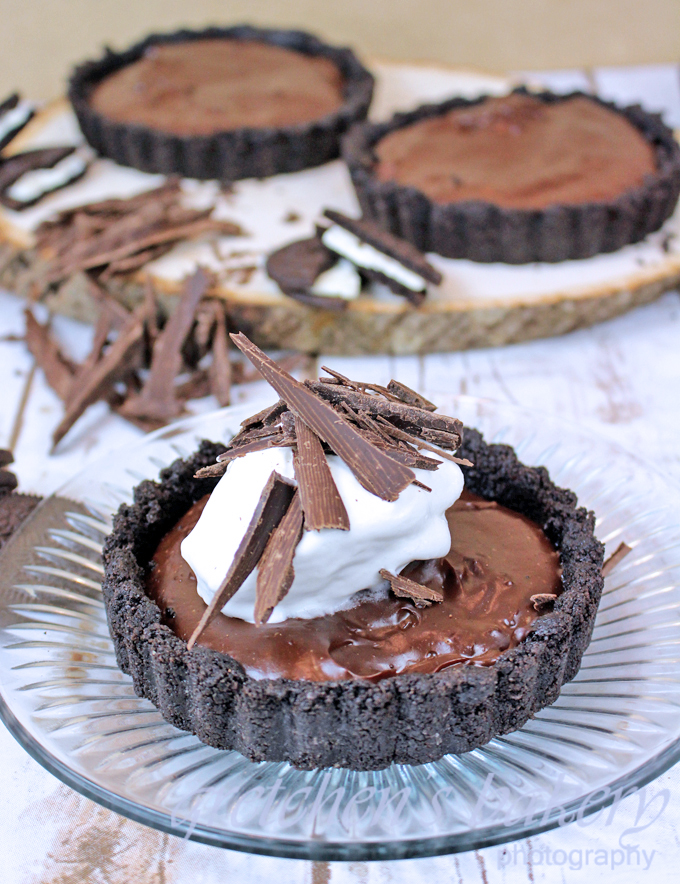 For the chocolate custard I am using both cocoa powder & semi sweet chocolate.
I love the deep rich cocoa addition without the added sugar together with the silkiness of the vegan semi sweet chocolate! *See notes below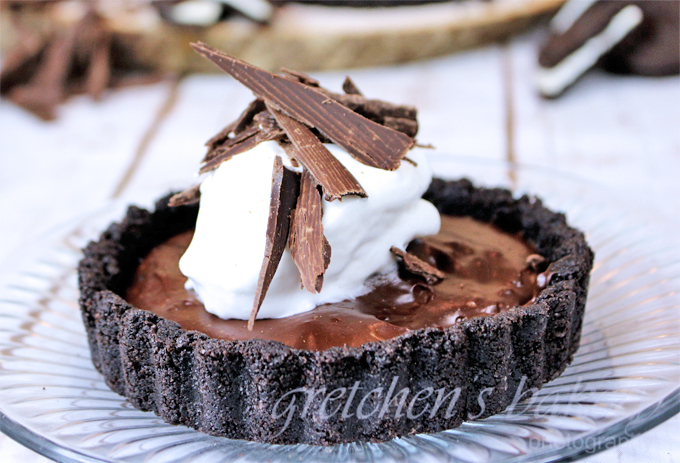 Notes for Success:
Using both cocoa powder and chocolate:
If you don't have both ingredients or you just don't want them so super chocolatey like I do you can omit one or the other
If you opt for just the cocoa powder and not the chocolate addition, definitely increase it to 4Tbs and you may want to add a touch more sugar too!
I would recommend about another ¼ cup of sugar to compensate for the sugar that would have been in the chocolate
When measuring cornstarch I cannot stress enough that a kitchen scale is the best way to go.
Cornstarch is a very difficult ingredient to measure consistently with a volume spoons measure, so while I list both measures below I cannot stress enough how the grams measure with a scale is going to give you the best results.
I cannot tell you how many times people have complained that their custard is like rubber and they don't know why!
This is from a heavy measure of cornstarch when using volume measuring spoon vs the 100% accurate scale measure in grams.
I am using the Wilton 4.75″ Tart Molds for these today
However you can instead make a larger 9″ Pie from this same recipe if you prefer.
CLICK HERE FOR THE FULL YOUTUBE VIDEO TUTORIAL FOR HOW TO MAKE THESE DOUBLE CHOCOLATE CREAM PIES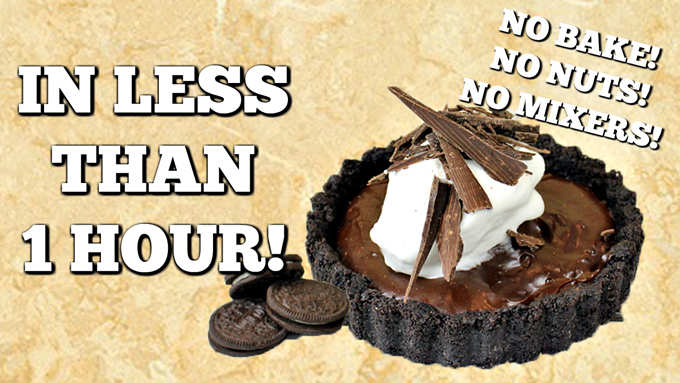 There is much debate & decision making as to whether you want to accept Oreos as being vegan
Since here in the USA the sugar that Nabisco uses to make these cookies is indeed processed through animal bone char.
If you want to be sure you are 100% ethically vegan here, you can make your own Oreo Cookies using my recipe for Copy Cat Vegan Oreos!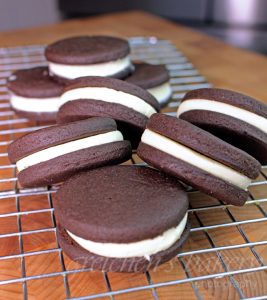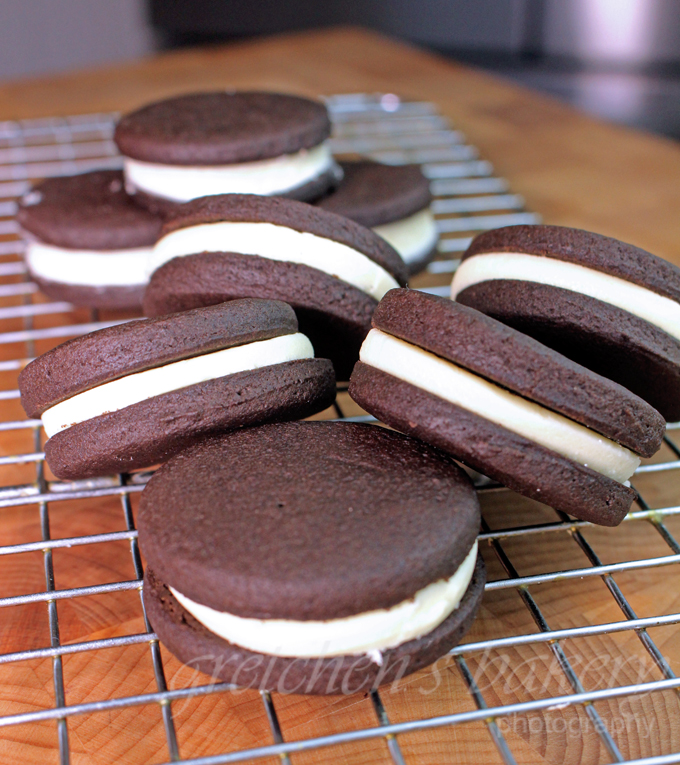 FOR MORE CREAM PIE RECIPES CLICK THE LINKS BELOW
Yield: 6
Double Chocolate Cream Pie ~ Vegan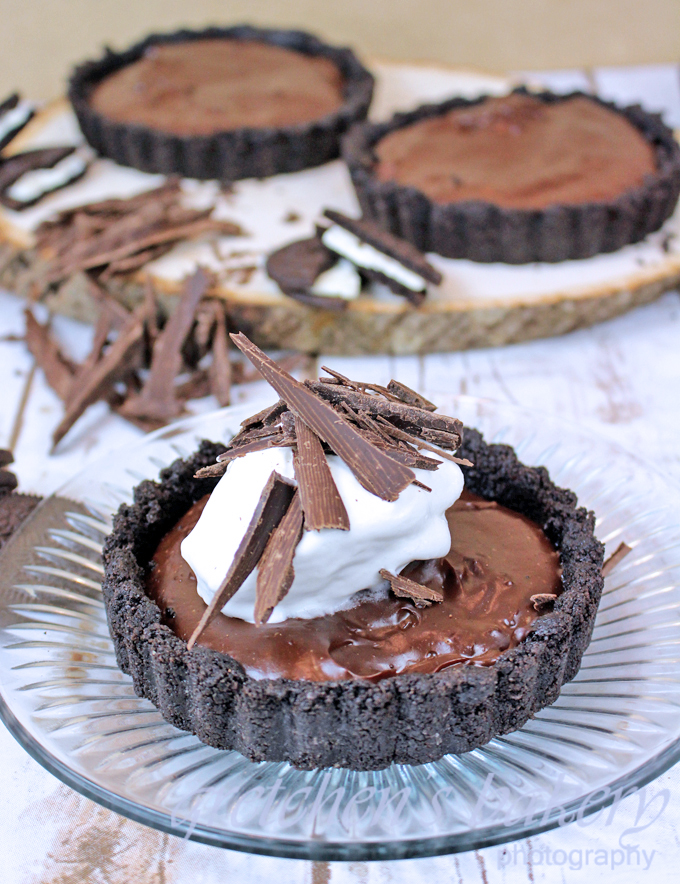 Total Time
1 hour
6 minutes
Ingredients
For the Crust:
Chocolate Sandwich Cookies 36 (*with the fillings)
Melted Vegan Butter 7 Tablespoons
For the Chocolate Custard:
Plant Milk 2 cup (474ml)
Granulated Sugar 1/2 cup (100g)
Cornstarch 4 Tablespoons (32g)
Cocoa Powder 2 Tablespoons
Vegan Semi-Sweet Chocolate 2½ ounces (approx ½ cup)
Vegan Butter 1½ Tablespoons (21g)
Vanilla Extract 1 teaspoon (5ml)
[url:2]1 Recipe Vegan Whipped Cream[/url
Instructions
For the crust grind up the sandwich cookies in a food processor until fine crumbs.
Add the melted vegan butter and process until it is even and resembles wet sand
Press this mixture into an un-greased pie plate (9") or your un-greased 4" tart molds (6) and refrigerate until needed OR for a crispy pie shell, bake in a preheated 350F oven for 12-15 minutes to crisp
Prepare the custard by combining plant milk, sugar, cocoa powder & cornstarch in a medium sauce pot over medium to high heat and bring to a boil stirring constantly to avoid scorching the bottom .
Once it starts to bubble remove from the heat and add the vegan butter & the chocolate, stir to melt evenly throughout.
Add the vanilla extract.
Pour into the prepare pie shell or the tart shells then refrigerate for about 20minutes to cool & set.
Top with vegan whipped cream & optional chocolate shavings
Notes
Cream pies must stay refrigerated and will stay fresh for up to 1 week.