Snickers Cheesecake is everything you expect it to be!
If you don't know me by now you probably don't know that my vegan cheesecake recipes are unmatched.
On all of social media and the internet I am the famous Vegan Cheesecake Queen!
Try it for yourself and you will see! How about starting with this Snickers Cheesecake?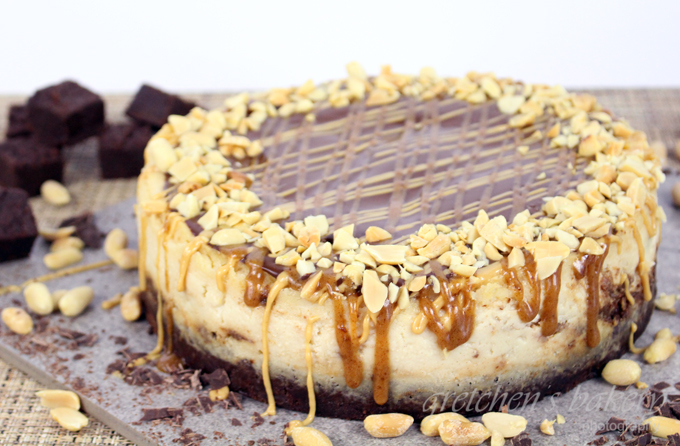 I'm pretty sure you will convert your non vegan friends in an instant with this one!
Fudge brownie base with a a layer of roasted peanuts and caramel swirl throughout the dense and creamy New York Style Cheesecake batter!
More caramel and peanuts on top and a hefty drizzle of chocolate ganache!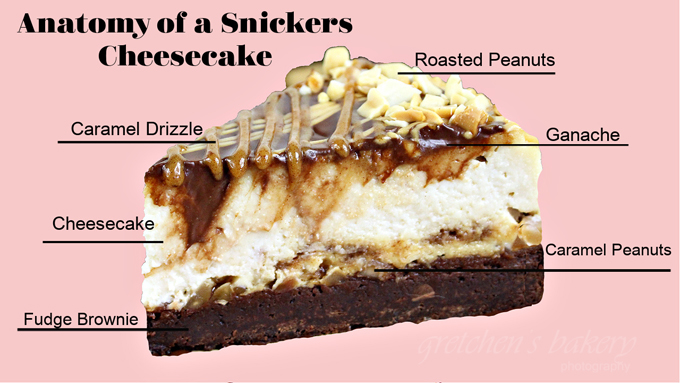 Today I used a date caramel recipe because I wanted to get away from using so much refined sugar in this recipe.
Between the chocolate ganache, cheesecake batter & the brownie base it's kinda chock full of refined sugar, so the date caramel was a good idea and I absolutely love it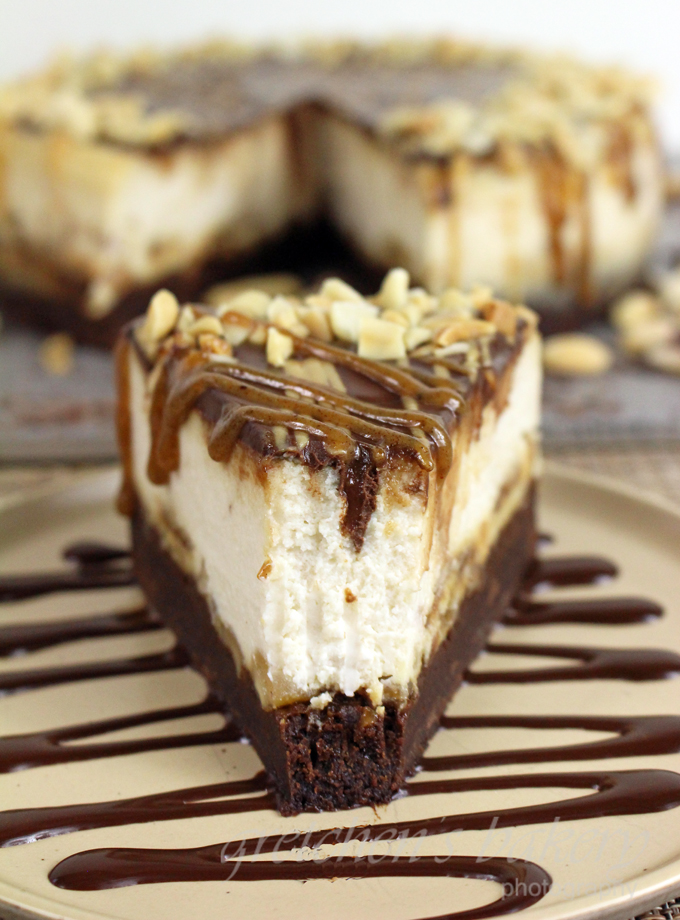 CLICK HERE TO SEE THE FULL STEP BY STEP VIDEO TUTORIAL FOR HOW TO MAKE THIS CHEESECAKE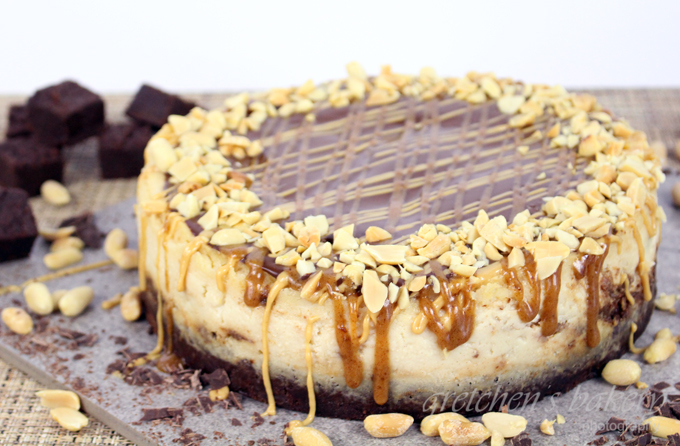 Notes for Success:
Normally I bake all of my cakes including cheesecakes in 7″ x 2″ pans, not springform pans but for this recipe I used a 3″ deep pan
Because of this deeper pan and the amount of ingredients in it, I had to increase the bake time on the cheesecake portion to 90 minutes versus the usual one hour bake time
I am still keeping it in the oven for the additional hour after shutting the oven down though, to cool down slowly and firmly
But the most important thing is to just be wary of that extra bake time and whatever you do ~~ Jiggle Jiggle Jiggle TEST!
Skip to 4:09 in that video to see the actual Jiggle Test in action!
I never use springform pans and I have an entire article explaining why
One more important thing before we get to the recipe and that is that I only use Tofutti Brand Cream Cheese for baking! *not sponsored
I have had major fails with every other brand, however more recently some of my viewers have commented on some of those brands that now seem to work in baked recipes.
One noted having success with Violife and another person stated they used Miyokos original and it turned out divine,
While Treeline cream cheese in Connecticut; and in the UK, the Asda supermarket brand works great
Cornstarch is a very difficult ingredient to measure consistently with a volume/spoons measure
So while I list both measures below I cannot stress enough how the grams measure with a scale is going to give you the best results.
Many times people have complained that their cheesecake is like rubber and they don't know why!
This is from a heavy measure of cornstarch when using volume measuring spoon vs the 100% accurate scale measure in grams.
For more Snickers Recipes click the links below!
Yield: serves 10 people
Snickers Cheesecake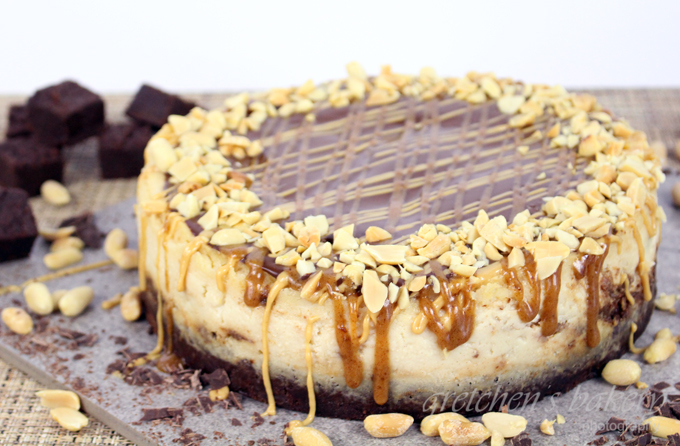 Prep Time
1 hour
30 minutes
Cook Time
1 hour
30 minutes
Ingredients
For the Brownie Base
All Purpose Flour 1 cups (125g)
Baking Powder 1/3 teaspoon
Salt 1/3 teaspoon
Granulated Sugar 5.5oz (155g) *this is about ¾ cup
Vegan Butter 6 Tablespoons (85g)
Molasses 2 teaspoons (10ml)
Strong Brewed Coffee 3 fluid ounces (88ml)
Semi Sweet Chocolate 1½ ounces (43g)
Natural Unsweetened Cocoa Powder 9 Tablespoons (43g)
Vanilla Extract 2 teaspoons (10ml)
For the Cheesecake Batter
Vegan Cream Cheese *see notes 16ounce (454g)
Vegan Butter melted 2 tablespoons (28g)
Granulated Sugar 1 cup (200g)
Cornstarch 4 Tablespoons (32g)
All Purpose Flour 3 Tablespoons (24g)
Plant Milk *I use soy milk 6fl oz (177ml)
Vegan Lactic Acid or apple cider vinegar 1 teaspoon
Salt ¼ teaspoon
Vanilla Extract 3 teaspoons (15ml)
For the Date Caramel:
Medjool dates 1 cup approx 12 dates (212g)
Raw Cashews ½ cup (75g)
Full Fat Plant Milk 1/3 cup (80ml)
Salt ½ teaspoon
Vanilla Extract 1 teaspoon (5ml)
Roasted Peanuts approximately 1½ cups
Instructions
First prepare the brownie base and bring the vegan butter & molasses to a boil in a small sauce pot
Add the cocoa powder & the chocolate and whisk to melt smooth
Add the hot coffee and then transfer to a large mixing bowl, add the vanilla extract & the sugar
Whisk smooth
Sift the flour, baking powder & salt into the batter and stir just to combine, do not over mix
Spread into the greased & parchment lined cake pan
Bake in a preheated 350F oven for 18 minutes *it may seem under baked that's ok, it gets baked longer once you prepare the cheesecake batter
Prepare the caramel date recipe by first pitting the medjool dates then bring the cashews in about 1 cup of water to a boil, then let stand for about 20 minutes.
Drain cashews and then add to a high speed blender with the rest of the ingredients and blend smooth~ Spread 1/4 cup on top of the baked and cooled brownie *still in the pan & reserve the rest for the topping
Sprinkle with approximately 1 cup of the roasted peanuts, set it aside
Prepare the cheesecake batter by placing all of the cheesecake ingredients into the work bowl of your food processor and pulse to blend
Scrape the sides of the bowl to ensure an even mix then blend again to a smooth mixture
Pour the batter into the pre baked and slightly cooled brownie base in the same cake pan and bake in a water bath in a preheated 350°F oven for 90 minutes
After 90 minutes turn the oven off but leave the cheesecake in the oven to cool slowly for another 30 minutes
Remove the cheesecake cool completely at room temperature and then refrigerate for at least 2 hours to set or overnight before unmolding.
Loosen the sides and bottom of the cheesecake pan with a blowtorch or by submerging the pan into hot water and running a small spatula around the edges
Vegan Cheesecakes unmold very easily so flip int out onto your serving platter then garnish and decorate as shown in the video
Notes
Snickers Cheesecake must be kept refrigerated and will stay fresh for up to 1 week wrapped to prevent drying
3.5.3251
3.5.3251