I am in love with easy recipes and this Strawberry Cake Recipe is exactly that!
Another easy food processor cake mix to add to your favorites list!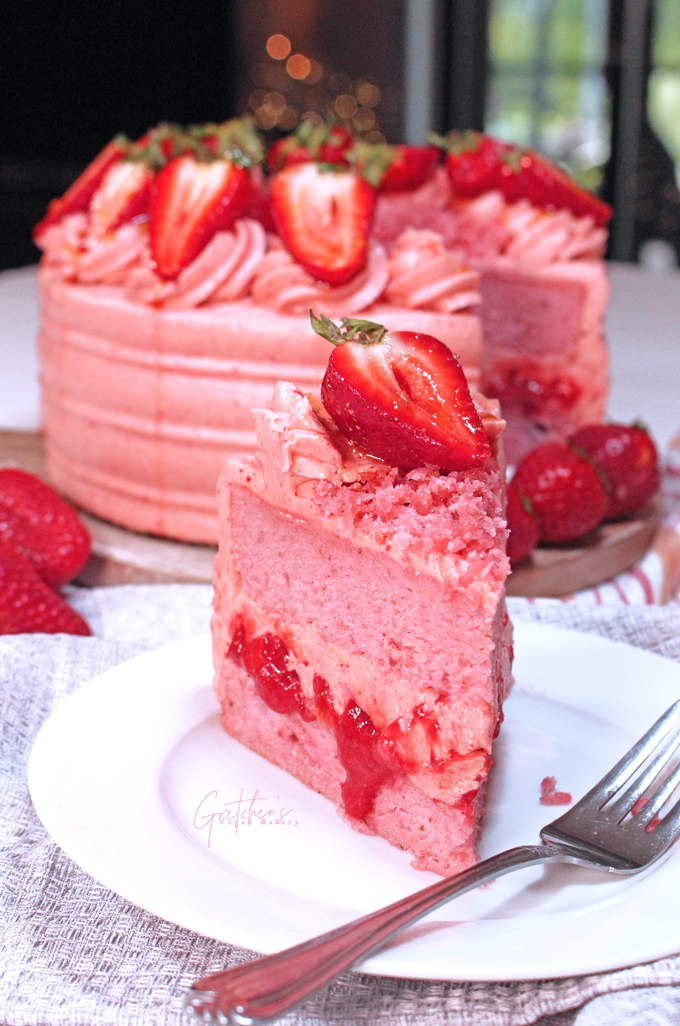 Strawberry Cake layers are light, fluffy, springy and spongy!
Quick stove top compote get cooked up while the layers cool!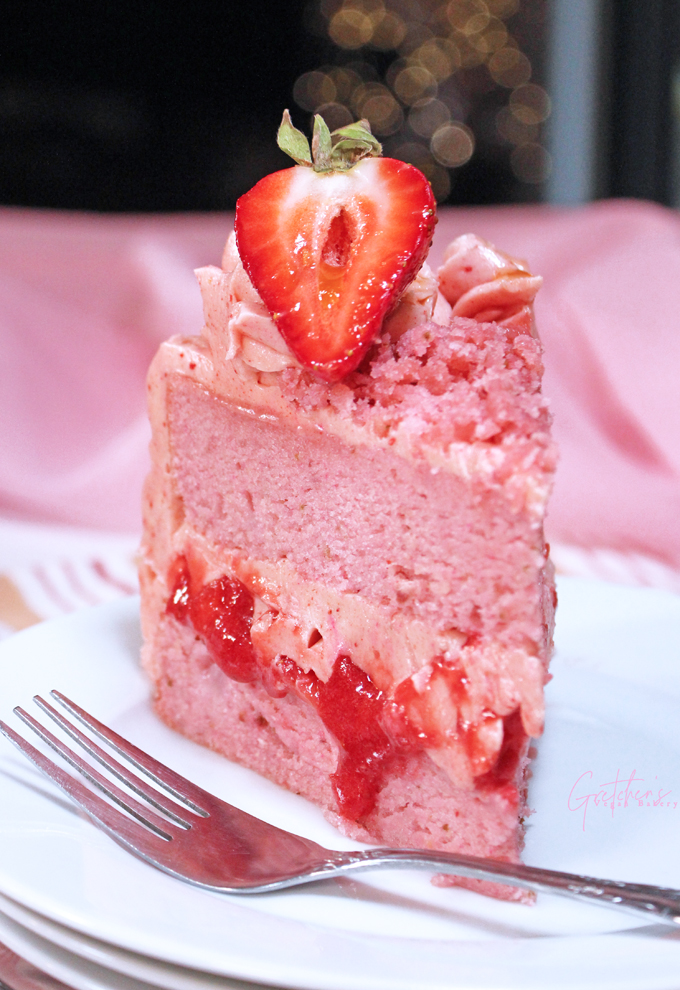 My new obsession for the icing is the five times lower sugar recipe for buttercream!
Freeze dried strawberry powder turns it instantly into strawberry buttercream!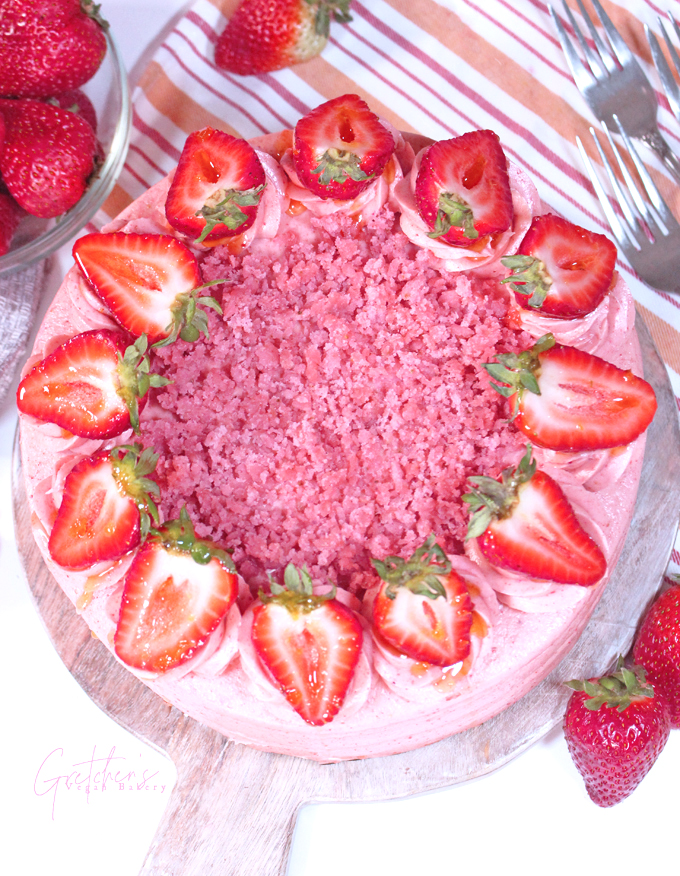 If you have not yet tried my "food processor cake recipes" yet today is the day you must!
There are no egg replacers in this recipe since the pectin in the strawberries do more than enough to help this cake bind together!
Adding anything more would border on heavy and gummy so this recipe is perfect and easy just the way it is!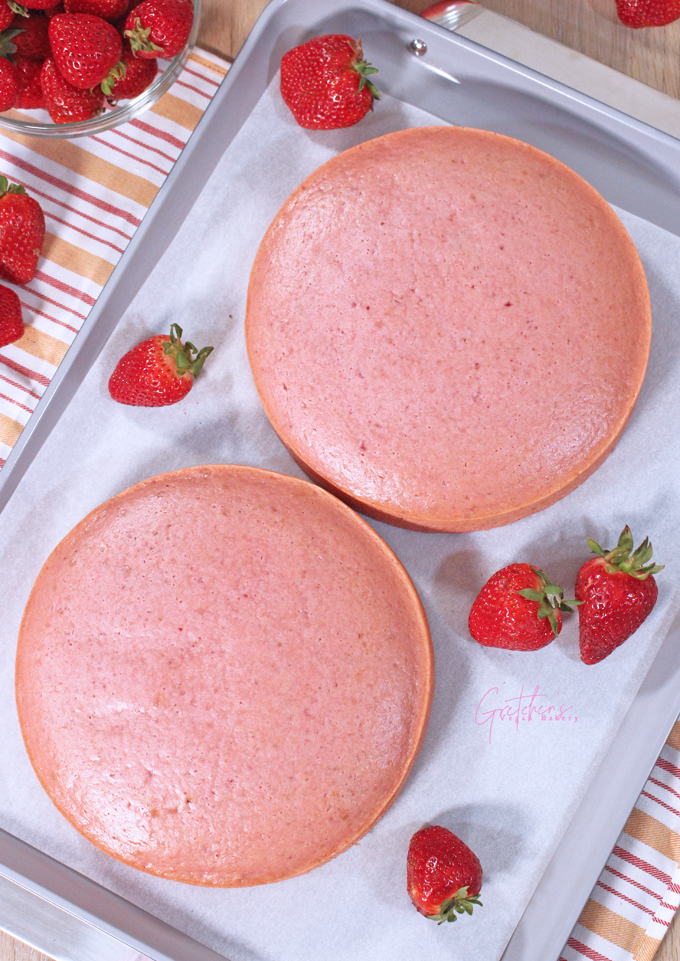 Why Does This Work?
This method is essentially a spinoff from my "one bowl mix" cakes, the original lazy cake method was born when I was feeling particularly lazy one day
Because I had to drag out the food processor to puree the fruit I decided to just throw the rest of the ingredients into the blender too!
Beautiful moist and fluffy cake layers were born!
Oil based or "one bowl cake mixes" like this, where you essentially add the wet ingredients to the dry ingredients is nothing more than a muffin style recipe
If you wanted to covert a cake recipe that requires creaming of the vegan butter and sugar at the first stage of mixing this method would not work
Creaming method is a mechanical leavening action that aids in the rise of your cake layers
A food processor mix or one bowl mix like this one relies primarily on added baking powder for the rise
The texture is more of a velvet or pound cake with a tighter crumb than most vegan cakes we are used to! But I love that!
Notes for Success:
This recipe make 2 thick 8″ cake layers so a 14 cup capacity food processor is needed to hold all the batter
If you have a smaller food processor you will have to cut the recipe in half or mix the batter by hand in a large bowl after pureeing your strawberries separately
You can divide this batter amongst 3-7″ pans or 2-9″ pans or make 1~ 9″ x 13″ cake layer
This recipe also makes beautiful cupcakes, just fill the batter half full for approximately 30 cupcakes
Weighing your ingredients on a scale is recommended for all baking recipes but this one in particular since a little bit too much of flour or even strawberries can make a really big negative difference
While I often advocate for frozen berries, in the video I mentioned that fresh strawberries are needed here
Frozen strawberries have their place and that place today is in the compote!
But for the cake batter you will have to use fresh berries, since frozen berries leech too much liquid and will turn your cake heavy and rubbery
Additionally I used a drop of pink food color to get this vibrant pink color since just fresh strawberries alone (while it will be pink) it will be very light pink color
Pan Sizes and Baking Times
You can of course bake this cake batter into any size pan(s) you prefer
Even cupcakes would be amazing with this recipe!
Rule of thumb for changing pan sizes for any recipe is to fill the pans just a handful more than half way full to give the batter ample room to rise properly
This recipe will make 2 thick 8″ cake layers or 3- 7 " layers
24 Cupcakes, 1- 9″ x 13″ layer, 4- 6″ layers, 1 Large Loaf pan (10″ x 5″ x 4″) or 1 – 12 cup capacity bundt pan
Here is a list of everything I am using for this cake recipe!
*I am an Amazon affiliate so if you purchase through my links I make a few extra pennies! Thanks in advance! 🙂
14 Cup Capacity Cuisinart Food Processor
Freeze Dried Strawberry Powder
WATCH THE YOUTUBE VIDEO TUTORIAL FOR HOW I MADE THIS CAKE!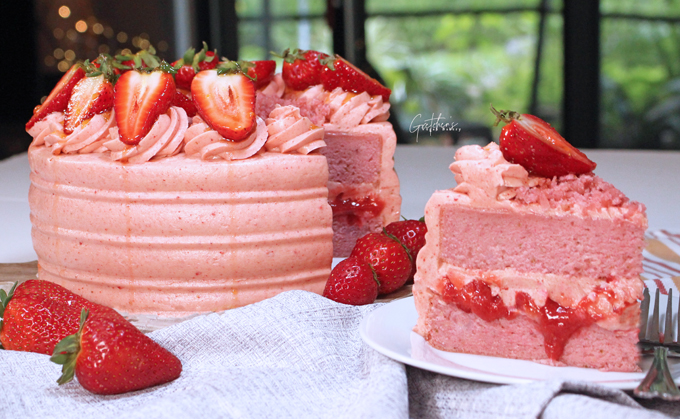 For more awesome one bowl ~ food processor cake recipes like this one, click the links below!
Yield: serves 16ppl
Strawberry Cake Recipe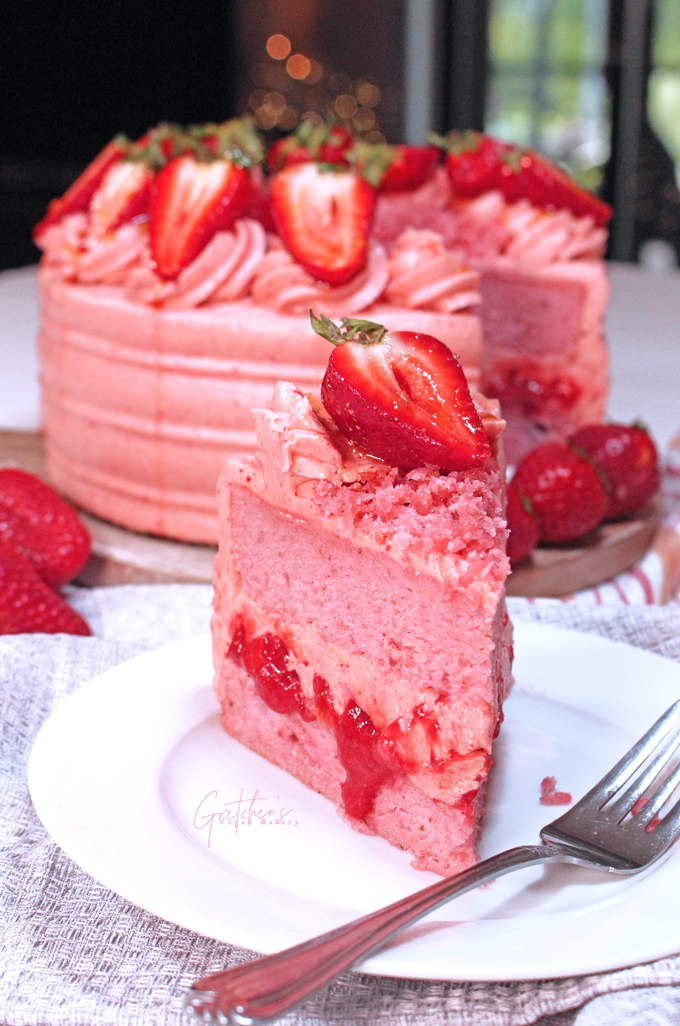 Total Time
2 hours
30 minutes
Ingredients
Plant Milk 1½ cup (350ml) * I use soy milk
Fresh Strawberries 10ounces (280g)
Vanilla Extract 2 teaspoons (10ml)
All Purpose Flour 3 ½ cup (440g)
Granulated Sugar 1¼ cups (250g)
Baking Powder 6 teaspoons
Salt 1 teaspoon
Vegetable Oil 18 Tablespoons (270ml)
For the Strawberry Buttercream:
1oz Freeze Dried Strawberries
For the Strawberry Compote:
Fresh or Frozen Strawberries 10 ounces (280g)
Cranberries *optional ¼ cup (30g)
Sugar *optional 0-4 Tablespoons
For the garnish: fresh strawberries optional 6 large
Instructions
Preheat the oven to 350°F
Grease and parchment line 2-8" cake pans
First wash the strawberries warm water, then take out their stems
Place all of the cake ingredients including the strawberries into a food processor and processor until smooth batter (about 1 minute)
Pour batter evenly between the 2 greased and parchment lined 8" cake pans
Bake in a preheated oven at 350°F for 15 minutes then I like to turn the oven temperature down to 300°F for another 15-20 minutes or until a toothpick inserted into the center comes out clean and the cake is springy to the touch when I gently press the center
While the cake is baking prepare the strawberry compote by cooking the strawberries withe the optional cranberries and sugar in a small sauce pot over medium to high heat.
bring to a boil then reduce the heat to low and simmer until the berries break down and the sauce starts to thicken (it will thicken more upon refrigeration) cooking for about 20 minutes total
*If you use frozen strawberries you will have to add about 2-3 Tablespoons of water to help them cook and avoid scorching
Next prepare the buttercream recipe as per the instructions on that recipe post and then add the freeze dried strawberry powder at the last stage of mixing
Assemble the cake as shown in the video
Notes
Strawberry cake can be kept at room temperature for half the day but for longer storage refrigerate for up to 1 week.
Cake layers can be frozen wrapped well for up to 2 months