The best vegan cheesecake recipe just keeps on giving!
Fresh strawberries bless the batter for the most beautiful and delicious strawberry cheesecake!
Just in time for Valentine's Day this beauty is the stuff that love is built upon!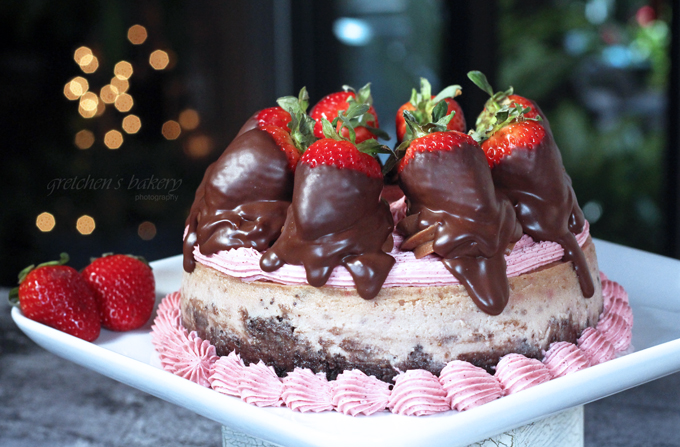 If you watch the video linked below you will see why I ended up with two cheesecakes!
You can decide which way you want to enhance the strawberry cheesecake batter *read more below in recipe section
And then decide which decorations you like the best!
Abstract modern?
Or dripping chocolate dipped strawberries?
But first things first!
If you have not yet tried my famous vegan cheesecake recipe yet
There's no better time than today!
Quite possibly my most proud recipe recreation, since you just cannot tell this is vegan!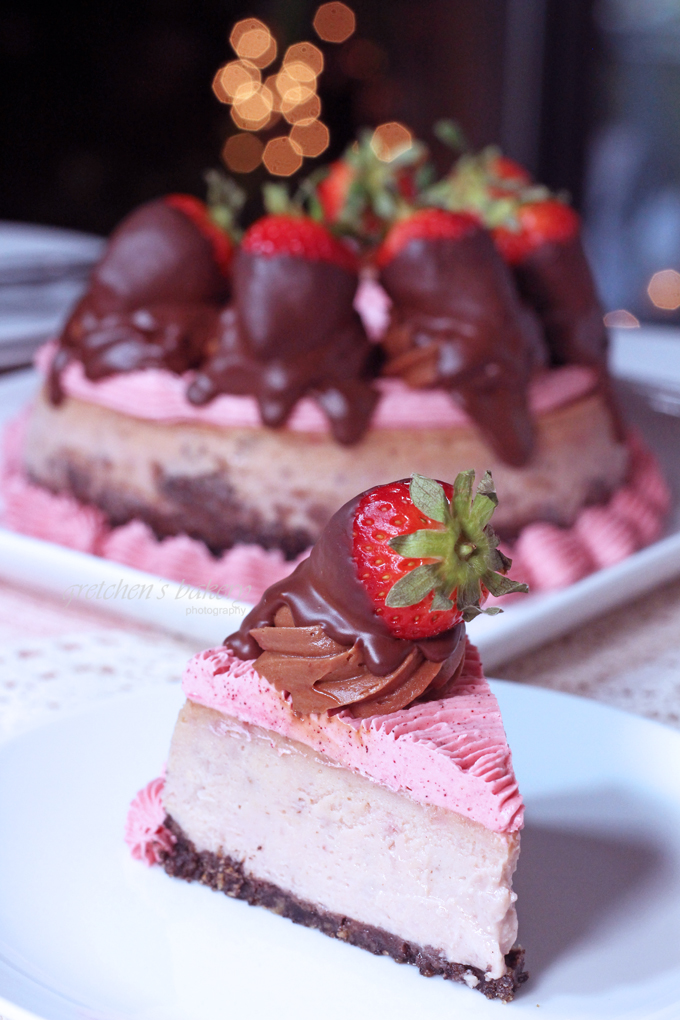 Whenever I want to impress my non vegan friends I will always serve up one of my Vegan Cheesecakes!
I will never get tired of hearing "NO WAY THIS IS VEGAN!"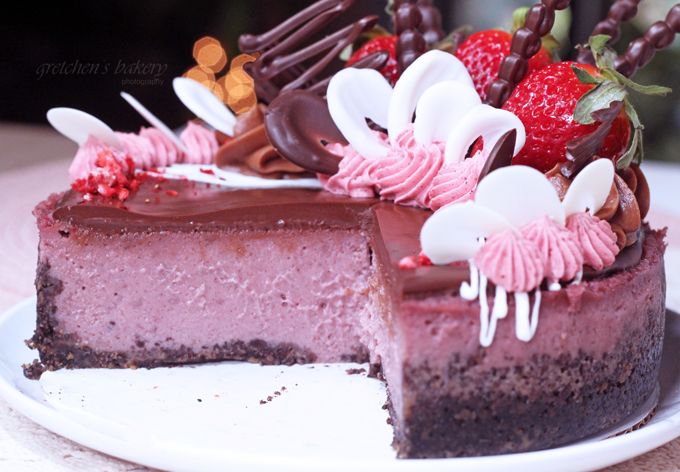 Since this recipe whizzes up in a food processor in minutes;
Stressing over cheesecake recipes is a thing of the past
Throw it all in and go!
In just a few hours from start to finish you will have the creamiest New York Cheesecake ever!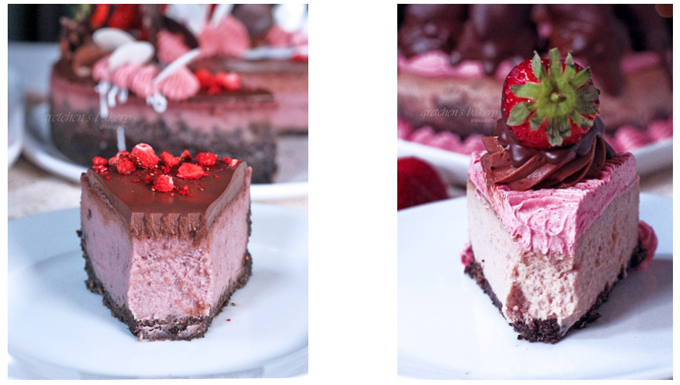 CLICK HERE FOR THE FULL YOUTUBE VIDEO TUTORIAL FOR HOW TO MAKE THIS CHEESECAKE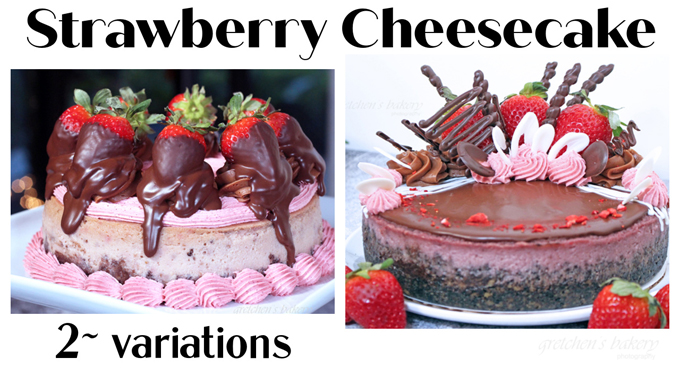 Notes for Success:
You may notice that my base recipes for cheesecake are always the same with some slight variations to the sugar or an added spice depending on what flavor I am making.
At times I add an addition of firm tofu in place of some of the cream cheese for a lightened up version and to cut some of the fat calories.
I do not find an extremely noticeable difference in the outcome of straight vegan cream cheese versus the tofu addition,  so for me I like the tofu version.
If you prefer all vegan cream cheese you will have a more dense, heavier cheesecake
Additionally I only use Tofutti Cream Cheese for my BAKED recipes. *not sponsored
I have not had success with any other brand in BAKED recipes.
For some reason the other more expensive brands I've tried have broken down into an oily mess when baked.
Cornstarch is a very difficult ingredient to measure consistently with a volume spoons measure
So while I list both measures below I cannot stress enough how the grams measure with a scale is going to give you the best results.
Many times people have complained that their cheesecake is like rubber and they don't know why!
This is from a heavy measure of cornstarch when using volume measuring spoon vs the 100% accurate scale measure in grams.
You may substitute raspberry, mango or guava paste in place of the strawberry I used here, with no changes needed
I use cake pans for all my cheesecakes never spring form pans.
CLICK HERE TO READ MORE  ABOUT WHY I DO NOT USE SPRINGFORM PANS
I liked the addition of beet root powder & hibiscus flower powder for a more intense color to the cheesecake as shown in the version below
This is not a necessary ingredient
Alternatively you can add a drop or two of food color instead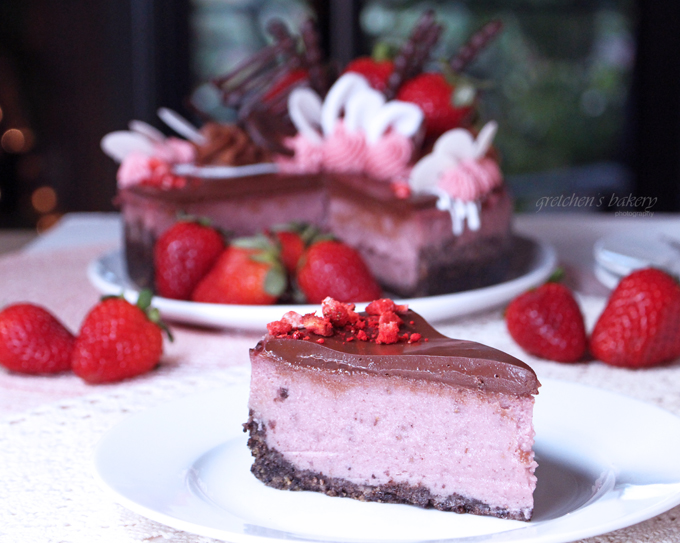 AFFILIATE LINKS TO PRODUCTS USED: *not sponsored, but I am an Amazon affiliate so I make a few pennies if you click through my links 🙂
Hibiscus Flower Powder Super Food Color
For the my most popular vegan cheesecake recipes click the links below!