A Good Humor Cake Collection is not complete without the Toasted Almond Cake!
Bringing back childhood memories of chasing the ice cream man down the street in the summer, only to be faced with the most difficult decision ever
Which one to chose?
Toasted Almond Cake is the last addition to my Good Humor Ice Cream Bar series!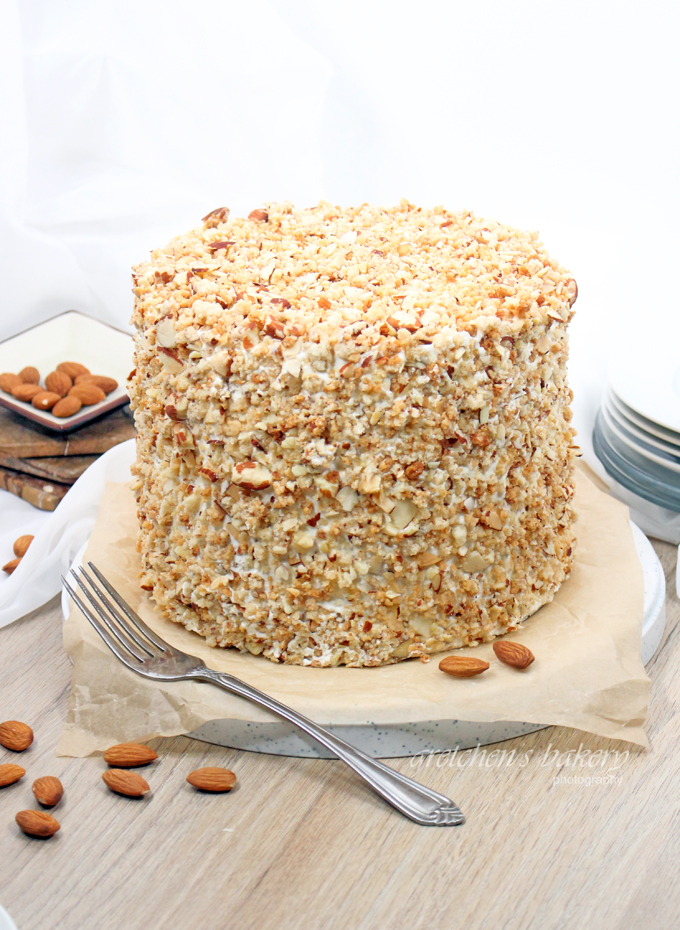 With the success of the Strawberry Shortcake Crunch Cake and the Chocolate Eclair Cake
The toasted Almond Cake completes this fabulous trio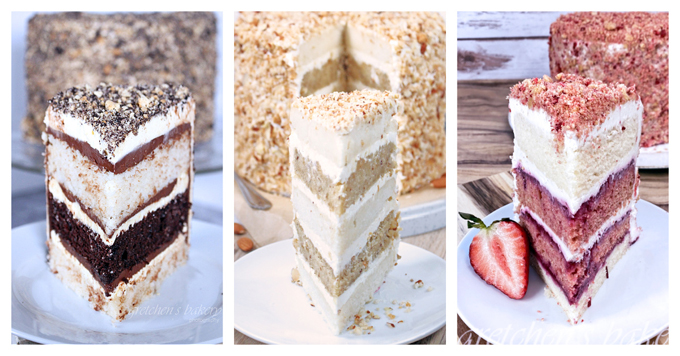 Almond sponge cake and white cake layers with almond and vanilla buttercream too!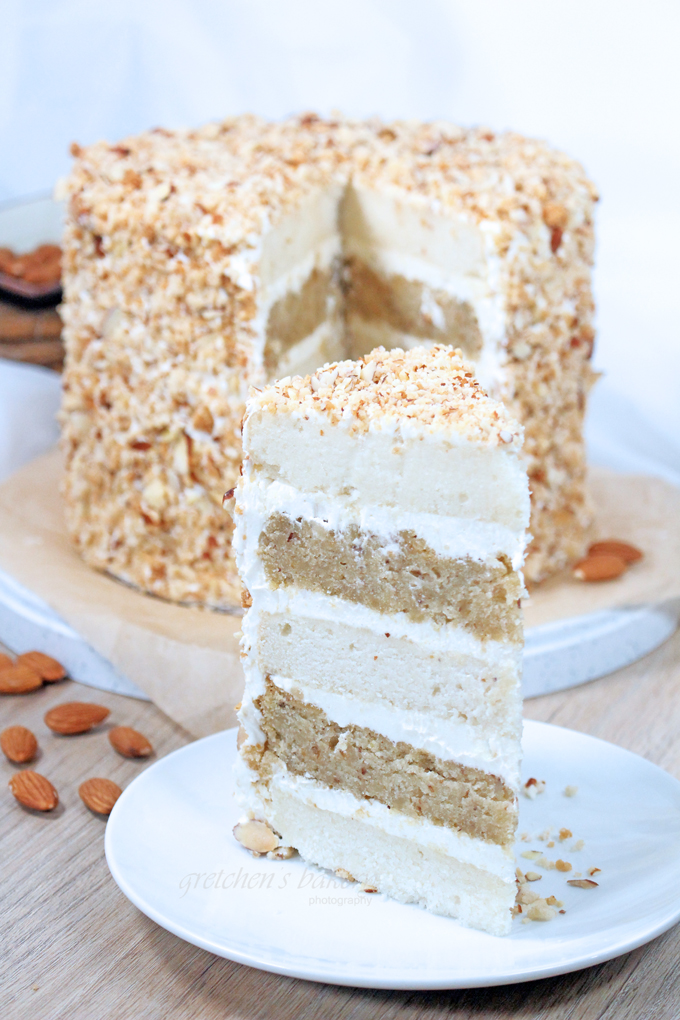 Of course the signature crunch coating is the winning touch for all the Good Humor cakes!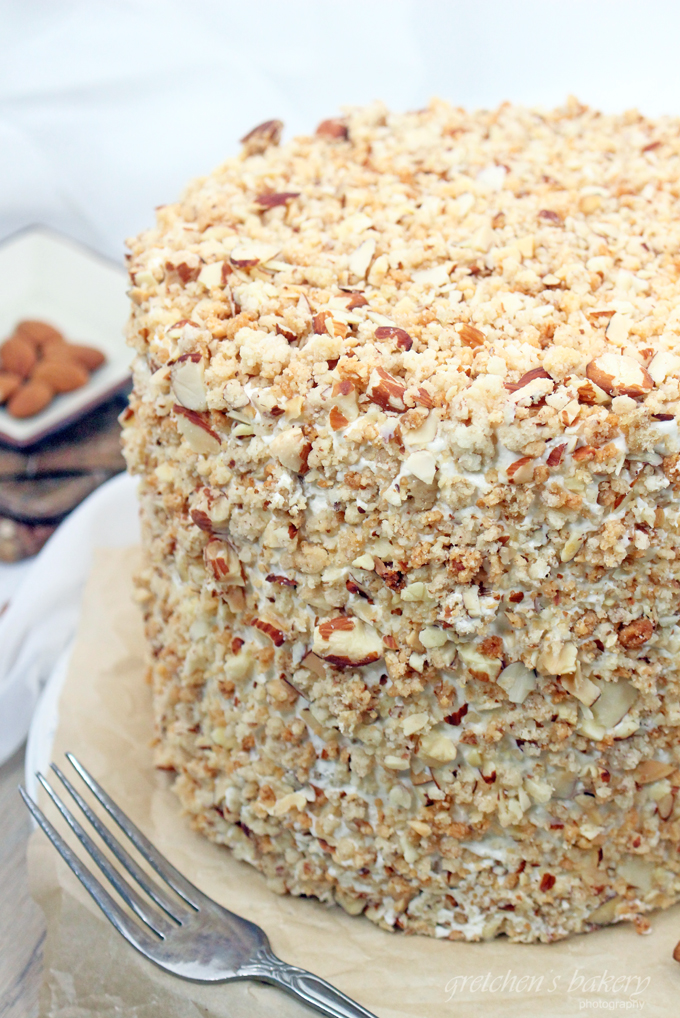 That extra cake layer got all toasted up with a handful of almonds for the best crunch coating ever!
This is a building on recipes project as all layer cake creations are; so you just have to prepare your recipes ahead of time
Then the building of this cake is not only fast but fun!
For this cake I am using my white cake recipe and my almond sponge cake
So yes, that's two separate cake recipes to make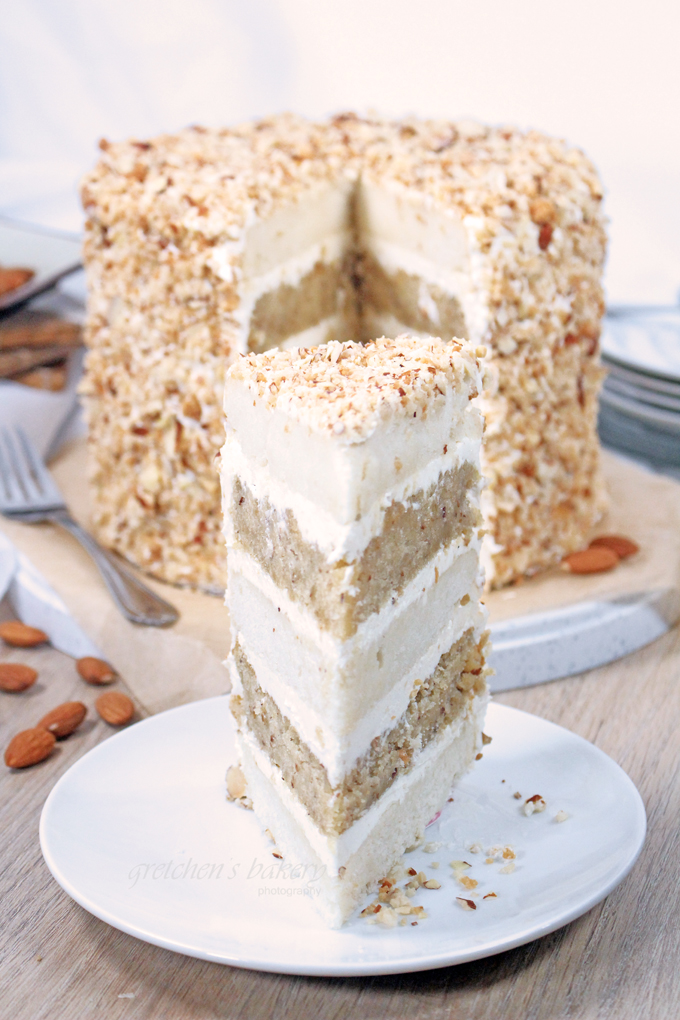 One recipe of buttercream split in half with almond paste added to one portion and the other half pure vanilla
I happened to have some leftover almond paste from my Cassata Cake last month
The best quality almond paste from Olive Nation makes  all the difference in the world!
Not to mention that almond extract!
If you want to try some of their products they have extended a 20% off coupon just for you!
Use discount code GVB20 at checkout for 20% off anything you order!

So I know this Toasted Almond Cake project is a lot to prepare believe me! But it's totally worth it
This cake came out exactly the flavors of the Good Humor Toasted Almond ice cream bar that I remember!
Only in cake form!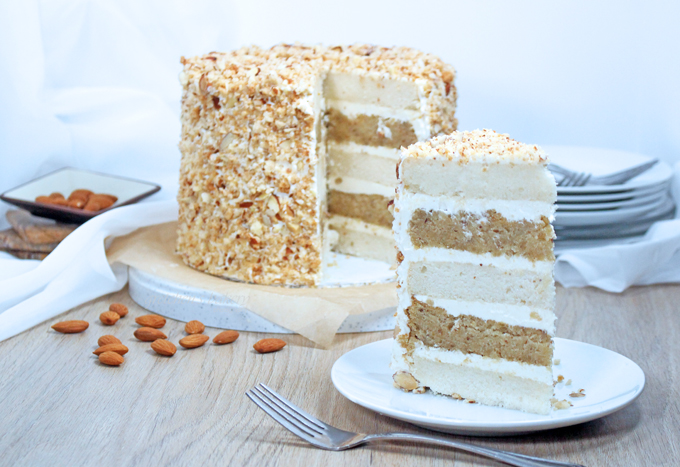 Notes for Success:
In the video I mentioned my white cake mistake that turned out to be a true win!
I made a mistake on my math conversion from a one time recipe to double recipe of the white cake
With only half of the baking powder in the recipe. the resulting cake layers were dense and velvety and pound cake like in texture
However if you like your layers to be more fluffy (*umm, the way they are supposed to be?) just follow the white cake recipe as it was originally written below
Additionally I used almond flour for the almond sponge cake this time, and I have to say~ I did not love it
Compared to the original version where I used finely ground whole almonds this cake came out a bit too dense and compact for my liking
I would recommend to stick to the original recipe as listed below and grind your own almonds rather than using almond flour like I did in the video
If you think this is just too many recipes for one cake, you can of course omit the white cake layers altogether and just make the almond sponge cake
CLICK HERE TO WATCH THE YOUTUBE VIDEO TUTORIAL FOR HOW TO MAKE THIS CAKE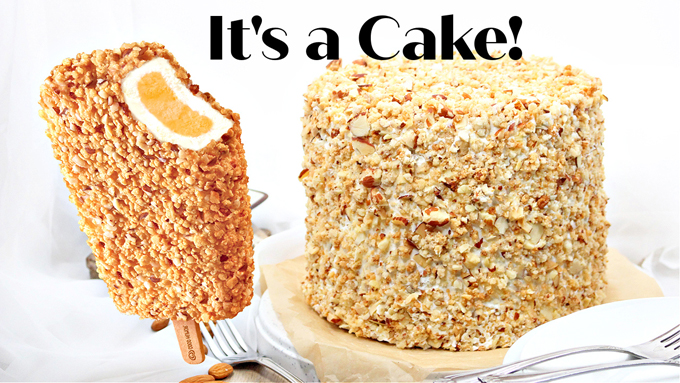 Don't forget the other two Good Humor Cakes! Click the links below!
Toasted Almond Cake
I am using 7" cake pans for each cake recipe for a total of 3 layers from each.
If you prefer to use 8" pans you will divide the batter between 2-8" pans
Ingredients
For the White Cake:
Vegan Butter 4 tablespoons (50g)
Coconut Oil 4 Tablespoons (50g)
Granulated Sugar ¾ cup (150g)
Plant milk ¼ cup (50g)
Water ¼ cup (60ml)
Clear Vanilla Extract 1 teaspoon (5ml)
Almond Extract *optional ¼ teaspoon
All Purpose Flour 3 Tablespoons (24g)
Cake Flour 1½ cup (180g)
Baking Powder 2 teaspoons
Salt ¼ teaspoon
Cornstarch 1 Tablespoon (8g)
Aquafaba ½ cup (118ml)
For the Almond Sponge Cake:
Vegan Butter 1 cup (226g)
Granulated Sugar 2 cups (400g)
Golden Flax Meal 3 Tablespoons (24g)
Hot Water 6 Tablespoons (90ml)
Vanilla Vegan Yogurt *any brand ½ cup (150g)
Plant Milk *I am using soy milk 1 cup (237ml)
Vanilla Extract 2 teaspoons (10ml)
All Purpose Flour 3 cups (375g)
Baking Powder 1 teaspoon (6g)
Baking Soda (6g)
Salt ½ teaspoon (3g)
Raw Unsalted Almonds 1½ cups (225g) *See notes section!
For the Almond Buttercream:
Vegan Butter 6 sticks (678g) * I am using Country Crock Olive Oil sticks
Sifted Confectioners Sugar 5 cups (600g)
Almond Paste ½ cup (140g) *optional ~ replace with 1 more cup confectioners sugar if omitting
Almond Extract 2 teaspoons (10ml)
Vanilla Extract 2 teaspoons (10ml)
Salt ¾ teaspoon
For the Cake Crunch:
1 layer of extra cake from either of the recipes above plus any cake trimmings
1 cup raw almonds
Instructions
Preheat your oven to 350°F and grease & parchment line your cake pans
For the white cake recipe: Combine the softened vegan butter with the coconut oil and granulated sugar and mix on high speed with the paddle attachment for 3-5 minutes until light and fluffy, be sure to scrape the bottom & sides of the bowl from time to time.
Combine the plant milk with the water and extracts and set it aside.
Combine the aquafaba with the cornstarch and whisk together so there are no lumps
Once the butter mixture is creamed, add the aquafaba/cornstarch to it and whip on high speed to emulsify & the mixture will get very silky and smooth
Meanwhile sift the flour with the salt and baking powder and add ⅓ of that to the creamed mixture, blend just until combined then add half of the milk mixture
Blend just until combined then add another ⅓ of the dry ingredients and then the remaining liquid and last the remaining dry ingredients.
Be sure to scrape the sides & bottom of the bowl and whip it on high for 10 seconds to blend well.
Divide the batter evenly between your pans and bake immediately in the preheated oven that has been set to 350°F
After you have loaded your cake pans into the oven, immediately lower the temperature to 325° and bake for a total of 30-35 minutes or when a toothpick inserted into the center comes out clean.
Cool in the pans and the turn them out onto a cooling rack to cool completely then wash the pans and re-grease & parchment line for the next cake recipe
For the almond sponge cake Be sure all your ingredients are at room temperature before beginning.
Preheat the oven to 350°F
Combine the flax meal & hot water together in a small bowl and set aside to thicken for about 5 minutes.
Grind the almonds in a food processor or chop as fine as possible by hand with a knife, set aside
Combine the plant milk with the extracts and set aside.
Sift the flour with the salt, baking powder & baking soda
In a large mixing bowl, cream the vegan butter and sugar on medium to high speed until light & fluffy, this may take 3-5 minutes.
Scrape the bottom & sides of the bowl from time to time to ensure an even mix.
Add the flax paste to the creamed mixture and then whip on high for 20 seconds to emulsify
Turn the speed back down to low and add ⅓ of the sifted dry ingredients and mix just until it is combined
Add half of the plant milk mixture and mix just until combined
Repeat with another ⅓ of the dry ingredients, the other half of the plant milk and then the last of the dry ingredients.
Add the finely ground almonds and mix well
Portion the batter into your prepared pans and bake in the preheated 350°F oven for 25 minutes.
Turn the oven temperature down to 300° and bake for another 15-20 minutes or when a toothpick inserted into the center comes out clean, no raw cake batter.
*I turn the oven temp down half way through because this is a very thick cake layer I do not want it to over brown on the outside & edges while the inside batter cooks
Cool the cakes in the pans until they are cool to the touch, then flip them out onto a wire rack to cool the rest of the way
Be sure to remove the parchment paper lining.
Next prepare the buttercream recipe:
Cream the almond paste smooth with the paddle attachment then add the softened vegan butter about ½ cup at a time until the entire mixture is smooth as possible
Add the salt and then the sifted confectioners sugar and blend smooth
Add the almond & vanilla extracts and whip on high speed for about 30 seconds
For the Cake Crunch: take the trimmings from your cakes and one of the extra layers and grind it in a food processor with about 1 cup of raw almonds
Spread out onto a sheet pan and toast for about 20 minutes at 350°F until browned and crisp
Build the cake as shown in the video tutorial
Notes
Because of the tweaks that I made to both cake recipes~ the results were very close to European style Frangipane or Petit Four cakes, rather than traditional American style butter cakes

If you like this type of cake great! you will:
*Reduce the baking powder on the white cake recipe listed below to 1 teaspoon instead of 2
*Use 1 cup almond flour + ½ cup ground raw almonds & 2½ cups of all purpose flour instead of the grounds nuts 1½ cups of nuts & 3 cups of AP as listed below!

STORAGE:
Toasted Almond Cake can be left at room temperature for up to 3 days, for longer storage keep refrigerated wrapped well for up to 10 days

Best served at room temperature