Sometimes simple is the best way to go
With this Foolproof Vanilla Custard Cake you really can't go wrong
Also known as the California Fruit Cake~ the Vanilla Custard Cake is
An old school bakery cake that caused lines to form outside of the bakery door on a Sunday morning!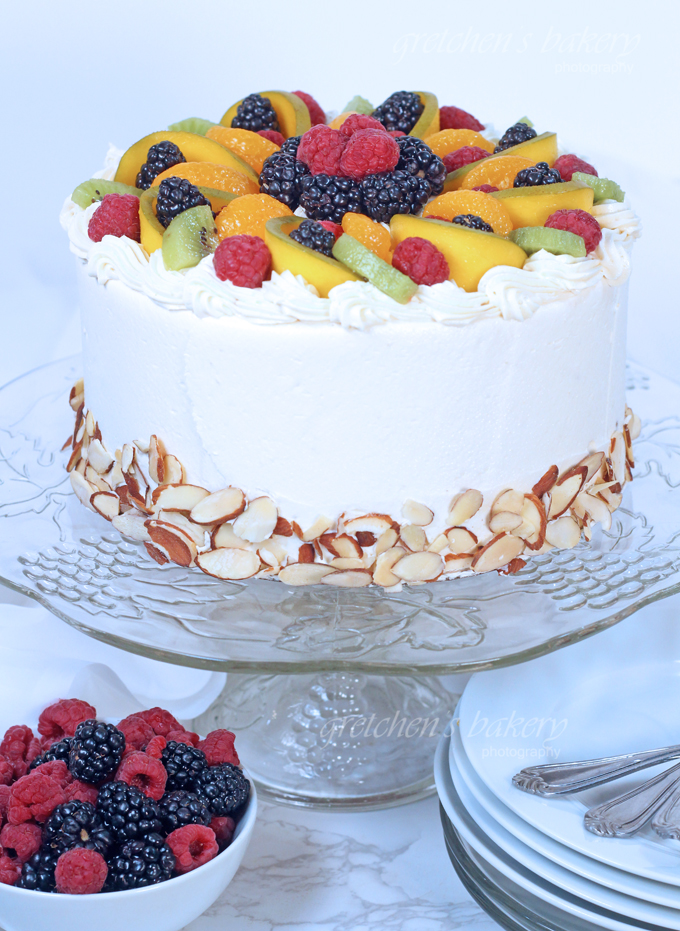 Simply made with two layers of fluffy yellow cake and a quick stove top custard!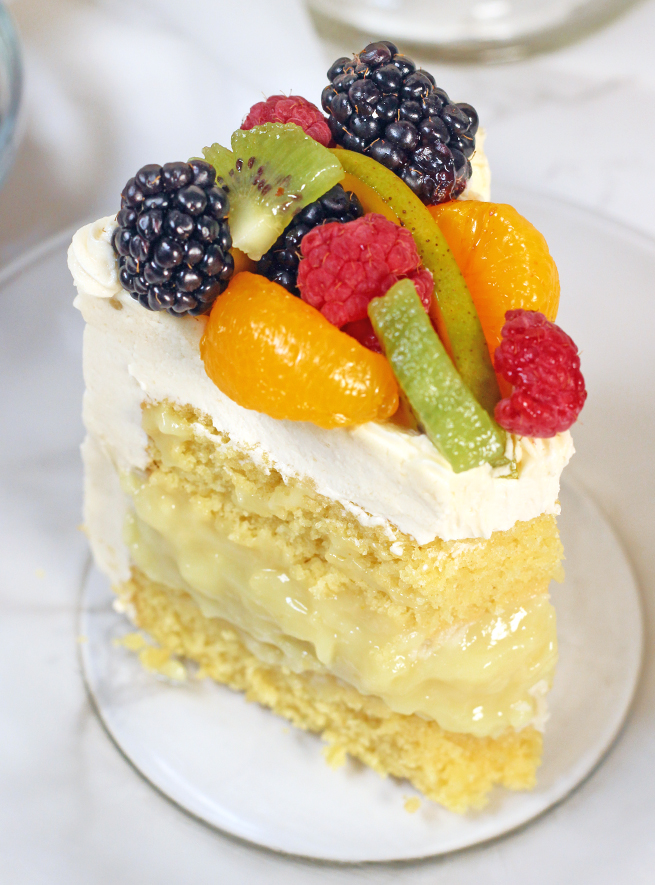 Normally I make three layer cakes but this time I really wanted to showcase the thick layer of creamy vanilla custard
No being chintzy here toady!
Load that cake up with the entire recipe of the vanilla custard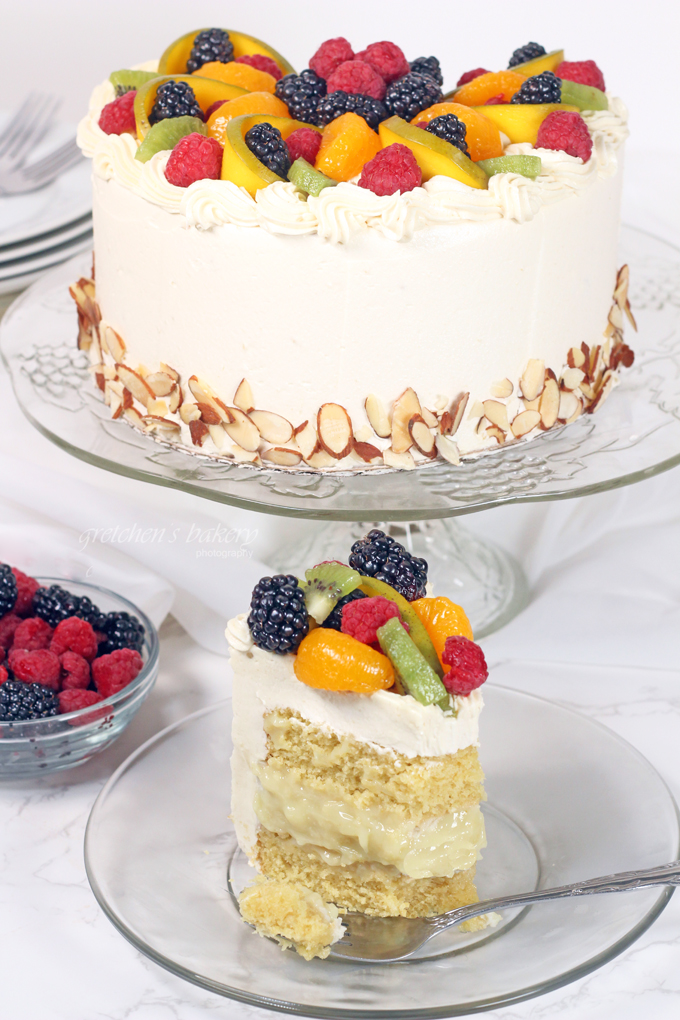 A light almond buttercream to finish it all off
Sliced toasted almonds to decorate the edge
The California Fruit Cake~ as it was made in all the bakeries in New jersey including mine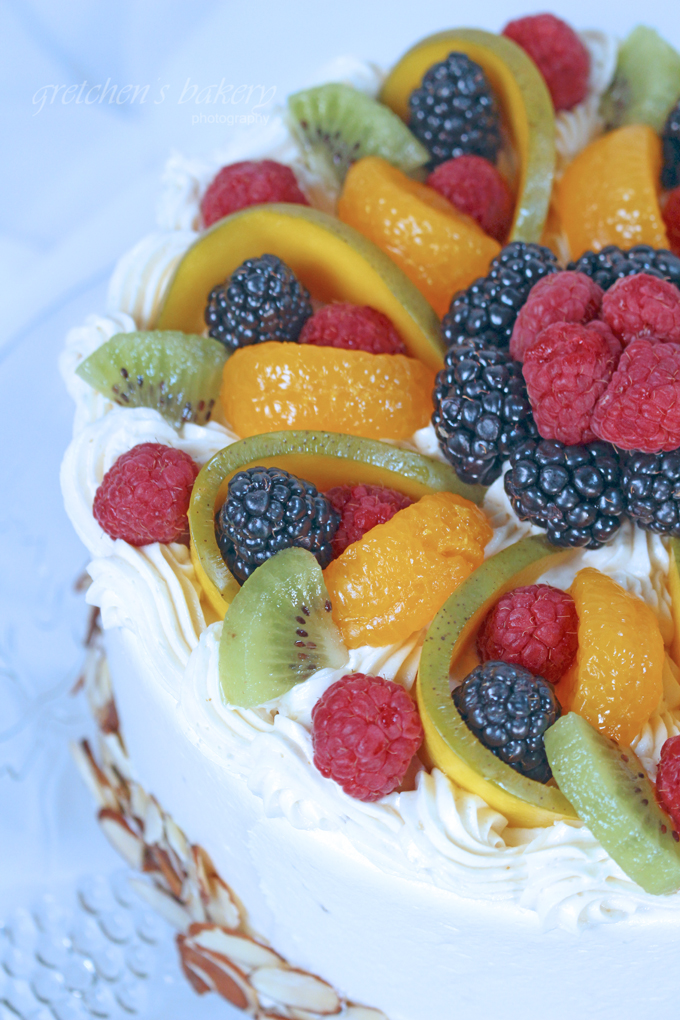 Was adorned with all the fresh fruits of the season and sometimes canned peaches or pineapples too
So you can really use whatever fruit you love the most for this cake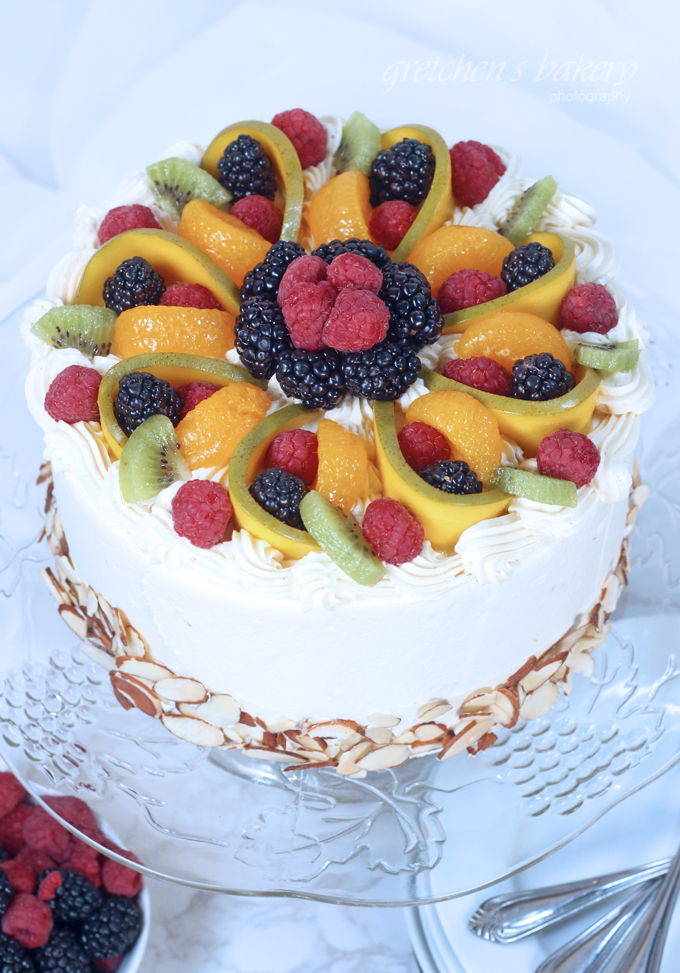 If you plan to serve this cake over several days I would recommend to melt some apricot jelly with a tablespoon or two of water to a thin glaze
This will seal the fruits on top from air exposure and prolong the shelf life
Notes for Success:
For the custard, cornstarch is a very difficult ingredient to measure consistently with a volume spoons measure
So while I list both measures below I cannot stress enough how the grams measure with a scale is going to give you the best results.
Many times people have complained that their custard is like rubber and they don't know why!
This is from a heavy measure of cornstarch when using volume measuring spoon vs the 100% accurate scale measure in grams.
I tend to use cake flour and all purpose flour together in many of my cake recipes
Some people are not familiar with what cake flour is so be sure to click the link to read all about it!
But I have also used all ~ All Purpose Flour too in the total amount of 370g
I often get questions about gluten free options with my recipes
While I am not a gluten free baker I can confidently say this yellow cake recipe works great with a 1:1 Gluten Free mix *I've used Bob's Red Mill
Now I did mention that I have several vanilla cake recipes
Depending on your equipment set up and the ingredients you may or may not have you can pick which one suits you *they are all great!
Original Fluffy Vanilla Cake Recipe
Bakery Style Yellow Cake *as used here & recipe listed below
Truly White Vegan White Cake Recipe
The Ultimate Box Cake hack for vegan cake!
I have several buttercream recipes to choose from too,
You can  read all about the different ones here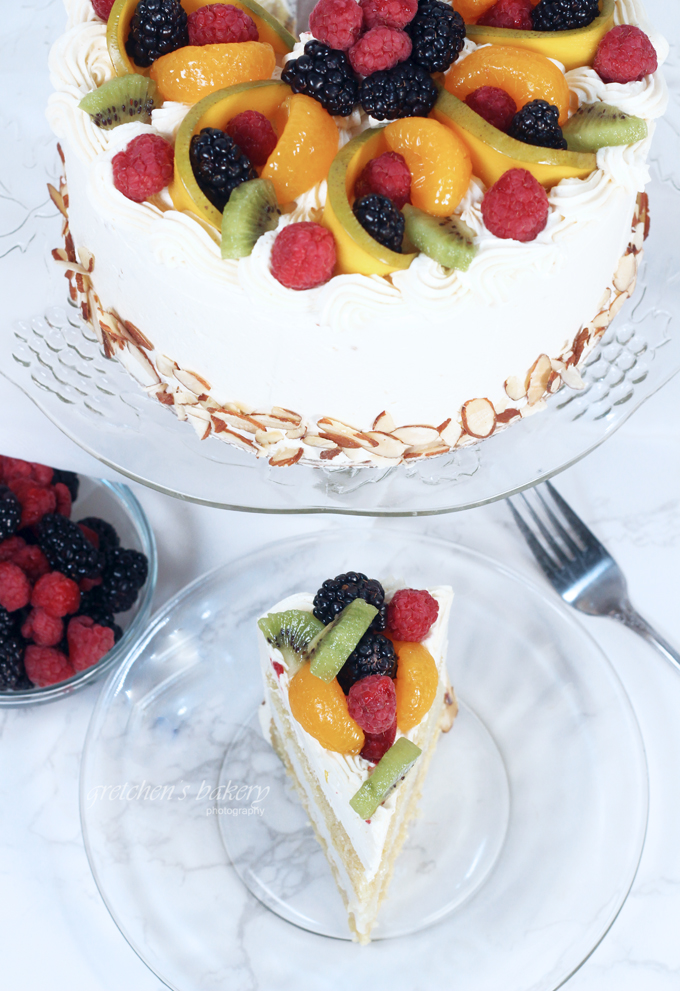 Foolproof Vanilla Custard Cake~ California Fruit Cake
Grease & Parchment line 2-8" cake pans Preheat the oven to 350°F
Ingredients
For the Yellow Cake Batter:
Soy Milk 1½ cups (355ml) *soy milk is the only plant milk that will thicken like buttermilk, but you can use whatever plant milk you prefer
White Vinegar 1½ Tablespoons
Vegan Butter ½ cup (113g)
Vegetable oil of your choice ½ cup (117ml) *or more vegan butter melted
Granulated Sugar 1¾ cup (350g)
Salt ½ teaspoon
Vanilla Extract 3 teaspoons (15ml)
All Purpose Flour 2 cups (250g)
Cake Flour 1 cups (120g) *see notes in body of the text article for more info on cake flour
Baking Soda 2 teaspoons
For the Custard:
Soy Milk 2¼ cup (533ml)
Granulated Sugar ¾ cup (150g)
Cornstarch 5 Tablespoons (40g)
Turmeric ¼ teaspoon
Vegan Butter 1½ Tablespoons (21g)
Vanilla Extract 1 teaspoon (5ml)
1 Recipe your favorite buttercream * I used American Buttercream with a teaspoon of almond extract added
Sliced toasted almonds for garnish approx ¾ cup
Assorted fresh and/or canned fruits of your choice
Apricot Jam ¼ cup *optional, see notes above
Instructions
First prepare the cake by combining the vegetable oil with the melted vegan butter add the vanilla extract and set aside
Combine the soy milk with the vinegar and let stand for 5 minutes to thicken.
Sift all the dry ingredients together in a large mixing bowl, including the sugar.
Pour the wet ingredients into the dry ingredients in the mixing bowl and whisk smooth (this will be the plant milk mixture and the butter/oil mixture)
Pour the batter into the greased and parchment lined pans and bake immediately in the preheated 350°F oven for 15 minutes, then turn the open temperature down to 325°F to bake the rest of the way, approximately 15 minutes more or when you gently press the centers they are springy to the touch. Or do the toothpick test for moist crumbs.
Cool in the pans until you can safely touch without burning yourself then turn the cakes out onto a cooling rack to cool the rest of the way.
Next prepare the custard: combine all the ingredients except for the vanilla extract and the vegan butter in a medium sauce pot over and cook over medium to high heat and bring to a boil stirring constantly to avoid scorching the bottom .
Once it starts to bubble let it boil on low heat for about 10 seconds.
Remove from the heat and add the vegan butter and vanilla extract and stir until melted and smooth.
Once the cakes are completely cooled (I Like to refrigerate mine for several hours to make sure they are also very COLD)
Build the cake with a ring of buttercream to hold in the custard filling.
Crumb coat and then do a final icing with the buttercream
Decorate the edge with sliced toasted almonds and then arrange the fresh fruits on top.
Notes
The California Fruit Cake must be kept refrigerated at all times and will stay fresh for about 6 or 7 days wrapped loosely to prevent drying.

I do not freeze cakes filled with custard as they turn soggy & the custard will crystallize