The classic Chocolate, Strawberry and Vanilla~ Neapolitan Cake is here!
With my top three cake recipes for Chocolate Cake, Vanilla Cake & Strawberry Cake iced to perfection with vanilla buttercream, but don't forget the fudge and strawberry filling too!
You will be surprised how light this cake is despite everything going on all at once!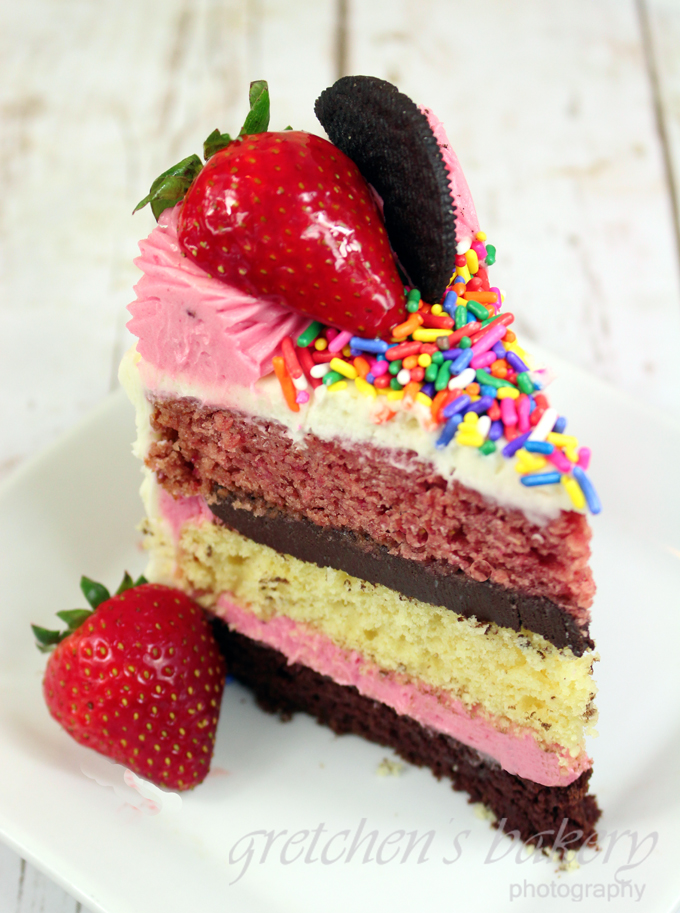 This is a hefty building on recipes project since you do have to make 3 different cake recipes plus the buttercream and fudge icings; so this is not for the weak hearted since it will seem as if you are spending an eternity in the kitchen!
I do break it all down for you below to take you step by step through the process to make it all easier!
Check out my Building on Recipes theory to get familiar with how you can make your baking life so much easier!

Neapolitan Cake
In the video I made a 3- layer 7" cake. But the recipes below will give you enough to make a 3-layer 8" cake
If you are not up to measuring & mixing the scratch recipe for the vanilla & chocolate cakes, you can always use my
Cake Mix Box Hack CLICK HERE
*Just note you will ONLY NEED ½ Box each!
Instructions
Prepare your 8" cake pans with my professional bakery pan grease & parchment liners
Preheat the oven to 350°F
Prepare the cake batters as per the instructions on those recipes and then prepare the buttercream & fudge (or ganache).
Assemble the cake as shown in the video tutorial
Notes
This cake can stay at room temperature for up to 1 day, but for longer storage & freshness, keep for up to 1 week in the refrigerator covered to prevent drying out of the layers.
While the recipe links above direct you to HALF recipes of all the cakes to get just that one layer of cake needed for this Neapolitan Cake, I do recommend to just go ahead and mix the entire recipes!
You can freeze the excess (baked layers) for a later project OR make the extra batter into cupcakes like I did for these awesome Strawberry Cupcakes!
If you do decide to just cut the recipes in order to NOT have excess, BE CAREFUL with your math on adjusting these recipes to 1/2 & 1/4!
This is where most people have recipe failures! Double check your math before mixing!