Although this recipe is for vegan candied pecans you can of course use any nut you prefer or a combination of all different nuts!
I love this recipe as a topping for so many different things.
I made it originally  as the topping for my pumpkin cheesecake bars but I didn't stop there.
Well first of all I ate most of them before they even made it to the top of that pumpkin cheesecake bar!
But as I ate them I thought, "what a really great gift idea this holiday season!"
So off I went making more to fill up in little jars to give as gifts.
Subtly spiced with cinnamon, nutmeg, ginger and cloves; and the secret ingredient to make these 100% vegan is the aquafaba!
As many of you may know the key to candied nuts is the egg white that sort of sticks everything together making a sugary glaze and a crispy crunch.
Well aquafaba to the rescue (again!) and you have yourself a really easy, really delicious topping for ice cream, cakes, pies and more!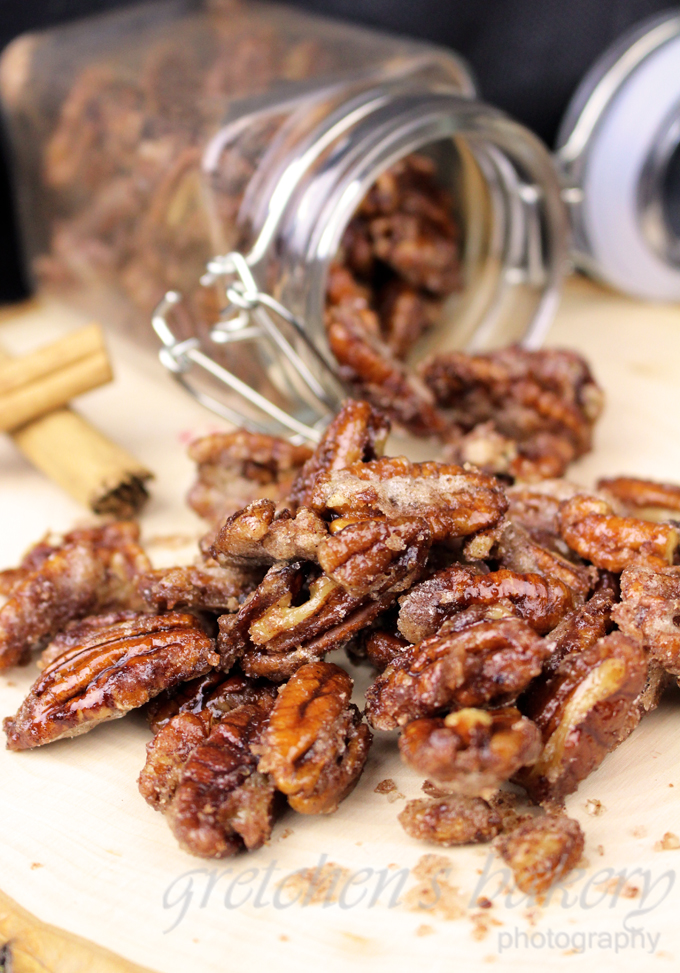 Vegan Candied Pecans
Ingredients
Aquafaba 3 Tablespoons
Vanilla Extract 1 teaspoon
Pecan Halves (or other nuts) 2 cups
Granulated Sugar ½ cup (100g)
Cinnamon 1 teaspoon
Nutmeg ⅛ teaspoon
Ginger ¼ teaspoon
Cloves ⅛ teaspoon
Salt pinch
Instructions
Whip the aquafaba in a large mixing bowl until foamy.
Add the vanilla extract and whip it to incorporate
Add the pecans and toss to coat well
Combine the sugar, salt & spices and add to the pecans in the bowl.
Toss well to evenly coat
Spread onto a silicone mat or a lightly oiled sheet pan
Bake in a preheated 300°F oven for 20 minutes, stir them up after you take them out of the oven and redistribute and cool
Store in an airtight container for up to 1 month at room temperature