Who doesn't love a good old fashioned dirt cup?
Now we can love them even more with the Adult version of Dirt Cups ~ It's an Edible Terrarium!
Thanks to Must Love Herbs on Instagram for the inspiration for this adorable little dessert for two!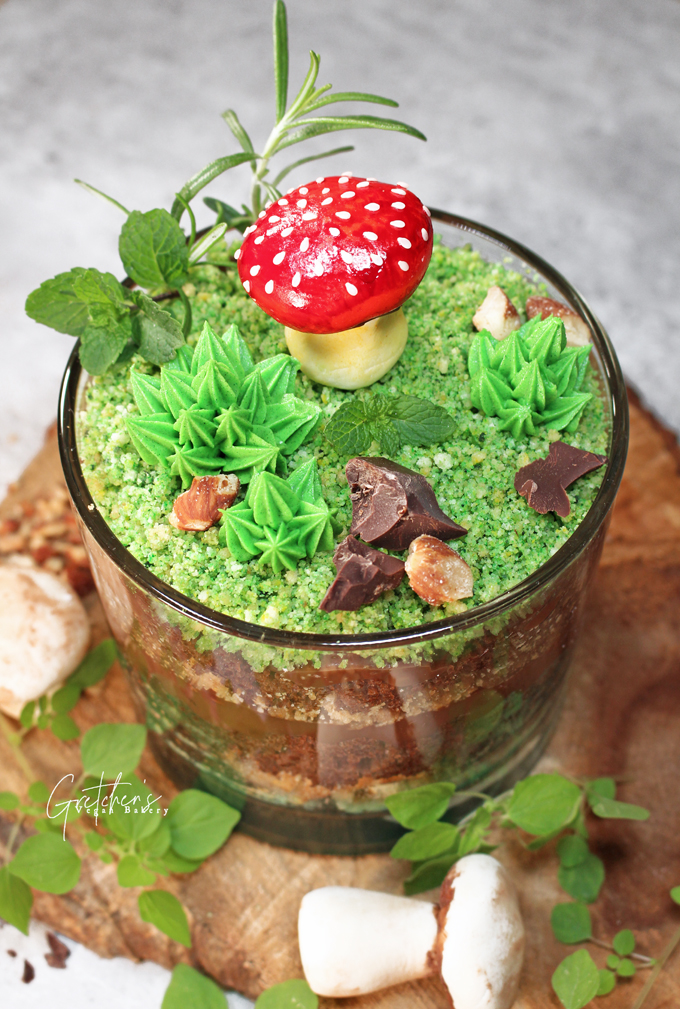 You don't need too much to recreate this adorable Edible Terrarium
A slice of chocolate cake for the dirt, some Pretzels and graham crackers for the rocks and sand
And a small recipe of my awesome double chocolate pudding for the mud!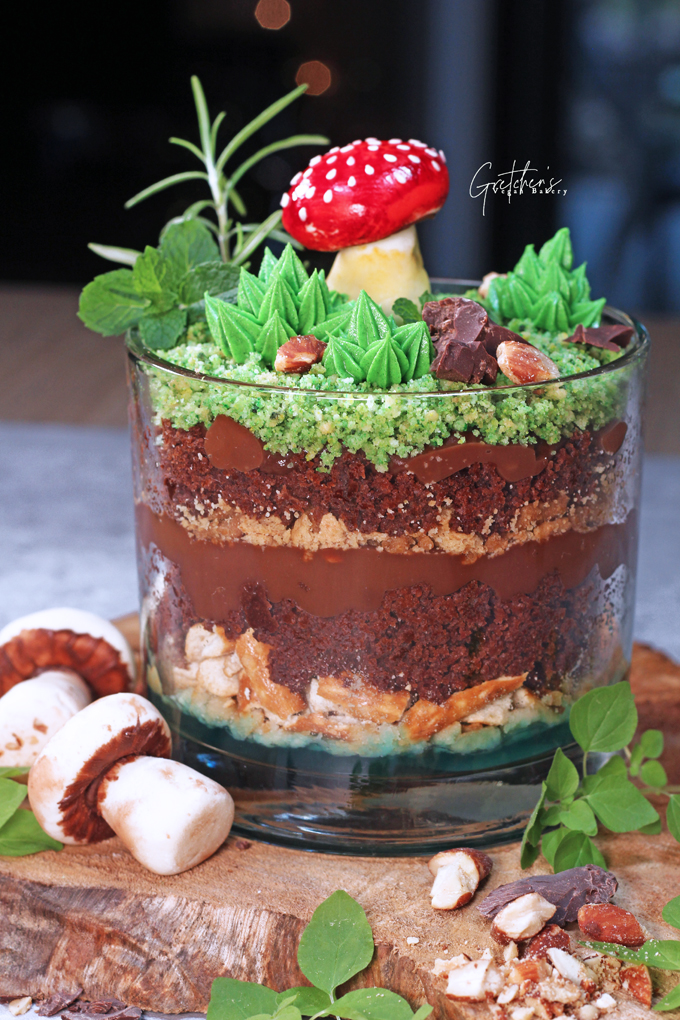 Decorating an edible terrarium is all the fun and you can really use whatever you love the most!
Buttercream succulents and fresh herbs with a chunk of chocolate and almond "rock" is all I used!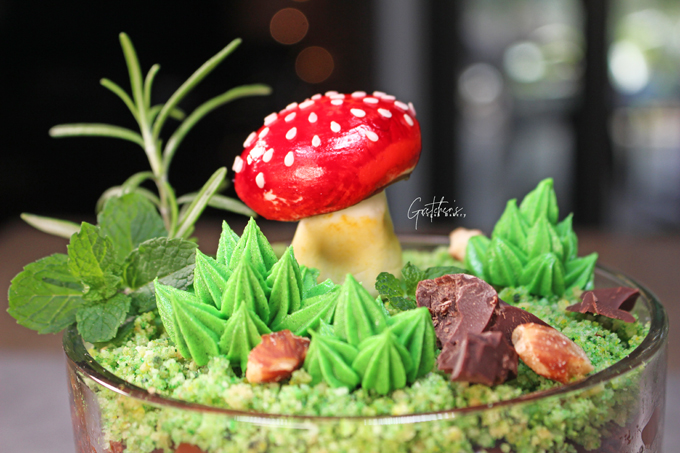 My obsession with mushroom decorations seems to continue on
So be sure to check out the video for how to make these cutest little marshmallow mushrooms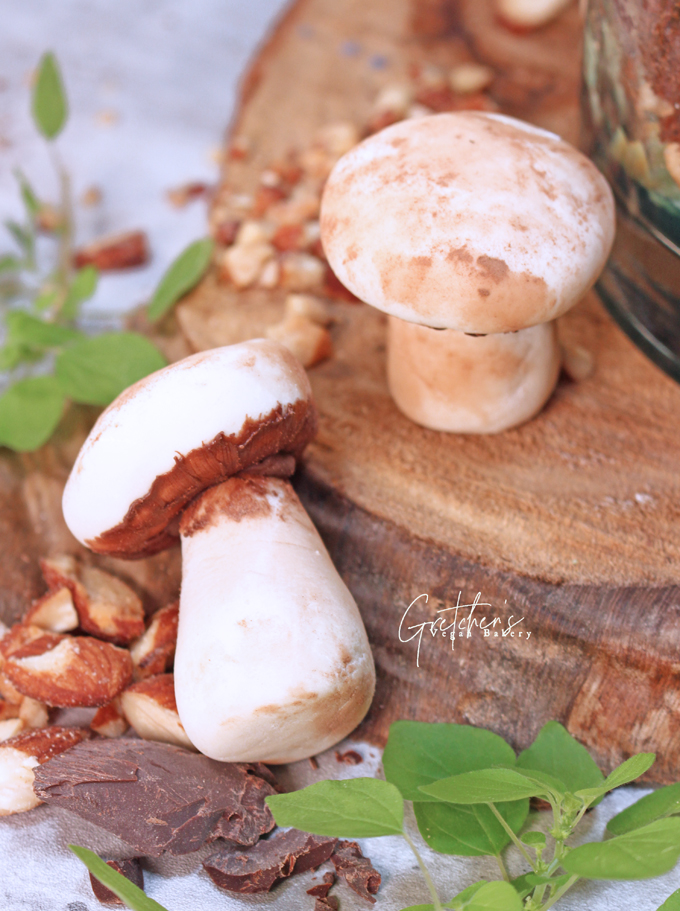 Notes for Success:
If you are like me and you have lots of cake scraps and extra layers in your freezer~ you won't even have to turn on the oven!
Matcha cake is perfect for the mossy green "grass" cake crumble but you can also use vanilla cake scraps colored green to make it easier!
The only specialty item you really need for this is a glass trifle bowl or glass jar with a lid, so you can see all the layers
The recipe listed below is for a 4 cup capacity jar so be sure to double the recipe if you need a larger serving!
WATCH THE YOUTUBE VIDEO TUTORIAL FOR HOW TO MAKE THIS EDIBLE TERRARIUM!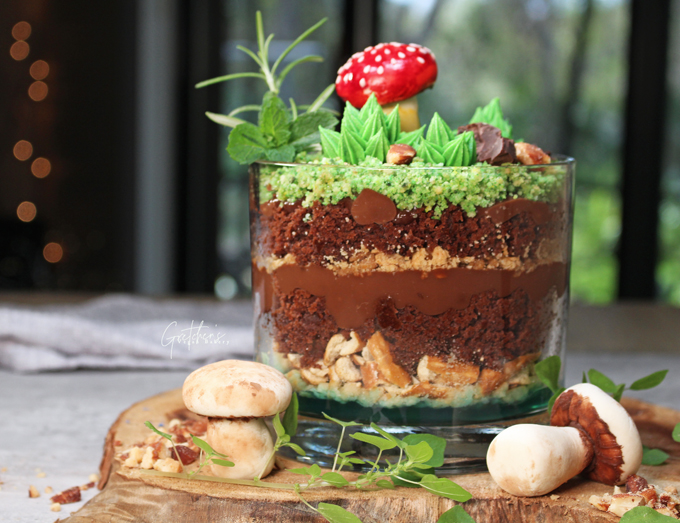 For more whimsical desserts like this one click the links below!
Miniature Cheesecake ~ Spring Assortment
Assorted Box of Chocolates ~ Mini Cupcakes

Yield: serves 2-4 ppl
Edible Terrarium ~ Adult Dirt Cups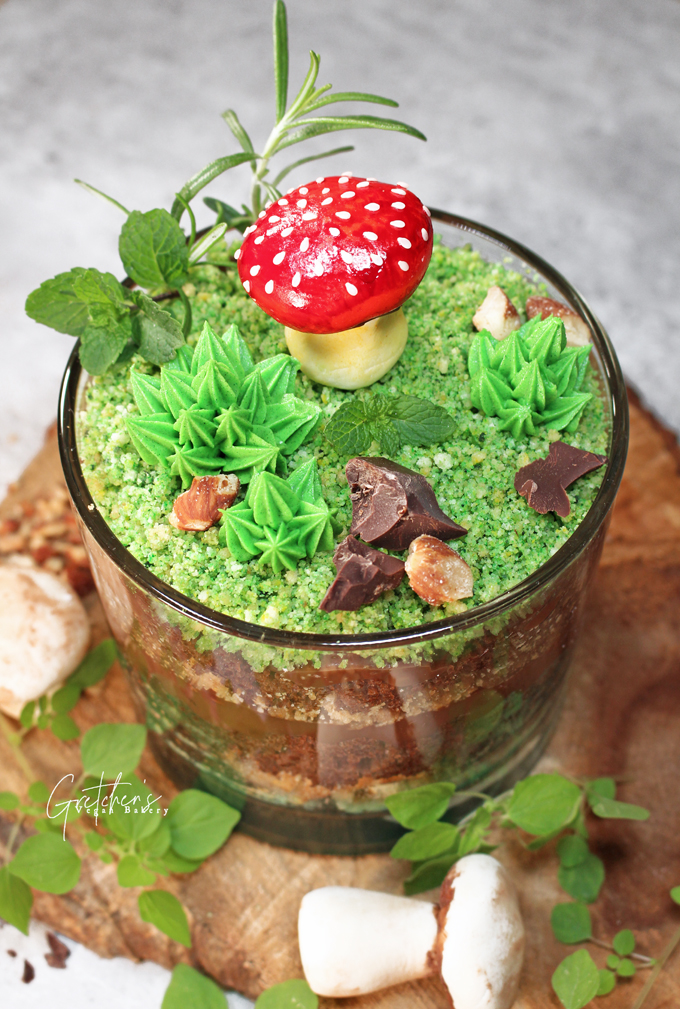 Total Time
2 hours
25 minutes
Ingredients
1 Sleeve Graham Crackers (about 10 crackers)
6 Pretzel Rods
For the Chocolate Pudding:
Plant Milk 2 cups (474ml)
Granulated Sugar 1/2 cup (100g)
Cornstarch 3 Tablespoons (24g) *see notes above
Cocoa Powder 2 Tablespoons
Vegan Semi-Sweet Chocolate 2½ ounces (approx ½ cup chopped)
Vegan Butter 1½ Tablespoons (21g)
Vanilla Extract 1 teaspoon (5ml)
For the Agar Jell-O Water * optional
Fruit Juice 1 cup
Agar Powder ¼ teaspoon
Sugar 1 Tablespoon *optional
Blue food color as needed
¼ Recipe Buttercream for decor
Fresh herbs for natural decor as needed
Instructions
First prepare your cake recipes according to the instructions on those recipe posts, bake the batter into any pans you like because you are going to be breaking them up to crumbs anyway
If you are making the buttercream decor for the succulents you will need a very small recipe of buttercream, so prepare that now and reserve.
For the Agar Jell-O Water combine the fruit juice, agar & optional sugar in a small sauce pot and bring to a rolling boil remove from heat & add blue food color
Pour into the bottom of the trifle bowl and refrigerate to set
Be sure to have all of your components ready to go before you prepare the custard since it is easier to assemble this trifle when the custard is warm~ although it can be done when it is cold & simply scooped & spread into the layers
Prepare the custard by combining plant milk, sugar, cocoa powder & cornstarch in a medium sauce pot over medium to high heat and bring to a boil stirring constantly to avoid scorching the bottom .
Once it starts to bubble remove from the heat and add the vegan butter & the chocolate, stir to melt evenly throughout.
Add the vanilla extract stir to mix well.
Now you can start to layer all the components to this Edible Terrarium as shown in the video & as pictured above.