After a very long hiatus from making videos and sharing recipes; I am back and of course my first recipe out of the gate is a Cheesecake!
Yes, cheesecake was always my favorite dessert from my non-vegan days so naturally I have spent most of my hours out of any on this blog, testing and tasting as many vegan cheesecake recipes as possible to bring you the BEST one ever!
And here it is! Vegan Double Chocolate Cheesecake!
There is a bonus though, if you are one of the peeps who likes to check out my videos, be sure to watch the full version video CLICK HERE and watch to the end for the tasting of my homemade cheesecake recipe here versus the Daiya Chocolate Cheesecake I bought.
See what Jason (a non vegan) thinks of both!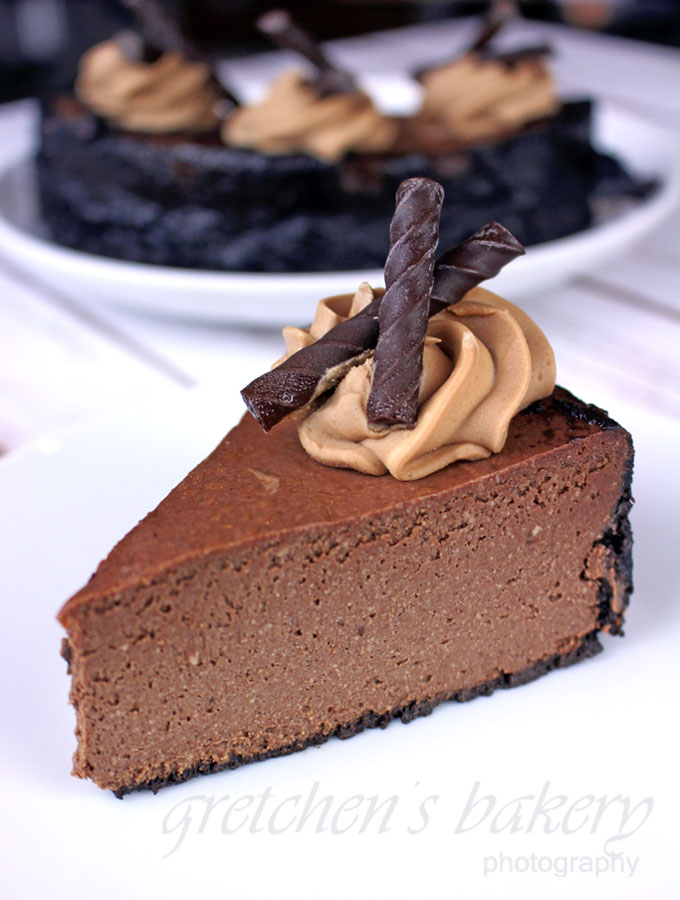 This recipe can also be made gluten free simply by using gluten free sandwich cookies of your choice for the crust!
Or just skip the crust altogether if you can't easily find gluten free cookies in your supermarket, just be sure to use that parchment paper lining to make sure the cheesecake will come out of the pan! (Because as we all know I do not prefer spring form pans! Click here to know why!)
Vegan Chocolate Cheesecake
Serves:
1-7" cake serves 8-10
Ingredients
For the Crust:
Vegan Chocolate Sandwich Cookies 12
Vegan Butter 2 Tablespoons (28g)
For the Cheesecake Batter:
Vegan Cream Cheese (I use Tofutti brand) 1-8ounce package (226g)
Medium or Firm Tofu half package drained 7ounces
Semi Sweet Baking Chocolate 4 ounces (113g)
Granulated Sugar ½ cup (100g)
Cornstarch 2 Tablespoons (20g)
Natural unsweetened Cocoa Powder 2 Tablespoons (
Salt ¼ teaspoon
Lactic Acid 1 teaspoon (or 1 tsp apple cider vinegar)
Vegan Butter 2 Tablespoons (28g)
Soy milk ¾ cup
Instructions
Prepare the crust by crushing the sandwich cookies (with cream fillings) in a food processor and then add the melted vegan butter
Press it into the greased and parchment lined 7" cake pan and freeze while you prepare the cheesecake batter
Place all cheesecake ingredients except for the milk & the chocolate and vegan butter into the food processor and process smooth
Melt the chocolate with the vegan butter over a low heat stirring constantly (or in the microwave) and then add it to the other ingredients in the food processor.
Process smooth while pouring the milk alternative through the feed tube while processing to a smooth batter
Pour batter into prepared pan with the cookie crust and bake in a water bath in a preheated 350°F oven for 1 hour, then turn the oven off and leave the cheesecake inside for another hour.
Remove from the oven and refrigerate overnight or at least 4 hours to set before unmolding
Decorate as you like, or leave it plain.
I used about 1 cup of my Vegan Buttercream recipe with a small amount of ganache to make it chocolate, this is completely optional.
Notes
Cheesecake should be kept refrigerated at all times, but can stay out at room temperature for up to 2hours

Store refrigerated for up to 1 week

Freeze, wrapped well for up to 2 months