Here I go again with my new obsession. No bake desserts.
I told you I get hooked on themes and for the last few weeks my theme has been "Do not turn on that oven!"
It's been way too hot for that mess here in New Jersey!
So today I have for you another cheesecake (yes, another cheesecake since that was my theme about a month ago, it was a literal cheesecake festival up in here for a good month straight!)
I should correct myself to say that it is not 100% no bake because I forgot I used a brownie layer for the base.
That can be fixed easily though with a cookie crust for the base or no base at all!
Or if you are already turning that oven on for something, go ahead and pop a brownie recipe in there at the same time!
Save a move and be efficient in your summer baking strategy!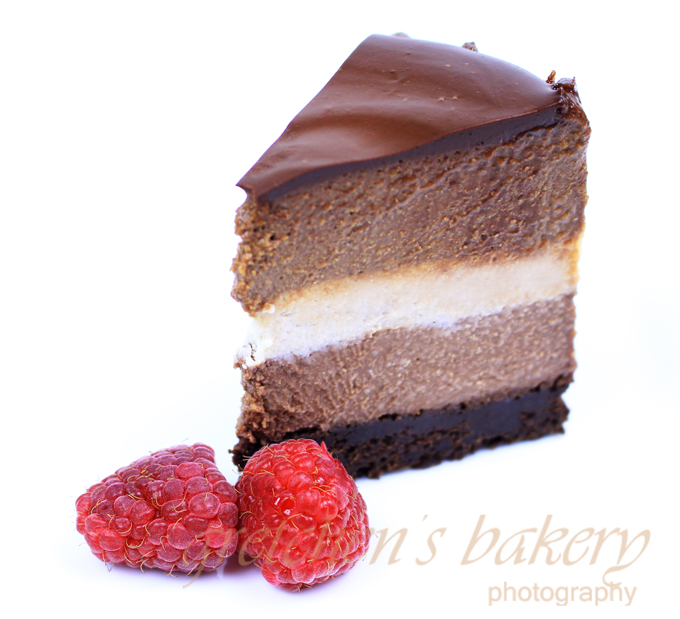 I always have random cake layers in my freezer for projects like this that pop up from time to time!
If you watched the video (below) I did mention that this is a cashew cream based cheesecake.
If you are allergic to nuts though, you may want to stick to my regular cheesecake recipes.
But for those of us who can eat pretty much anything, Let's Go!
Oh wait one thing about nuts in no bake desserts: You will have to soak the nuts ahead of time. Not only does this soften them for the recipe, but the soaking process also releases enzyme inhibitors which make the nuts easier to digest therefore making them more nutritionally valuable.
Simply pour water over the nuts in a large bowl and soak 8 hours or overnight. Then drain them and rinse them before using in the recipe
If you forget to do it a day in advance simply pour hot boiling water over the nuts and let them sit for 1 hour.
No Bake Vegan Tri Layer Cheesecake
Ingredients
For the Cheesecake Batter:
Cashews *soaked 8 hours or overnight 1½ cups (255g)
Vegan Sour Cream ½ cup (113g)
Coconut Oil melted ¼ cup (56g)
Coconut Milk (unsweetened full fat) ½ cup
Apple Cider Vinegar 1 Tablespoon (15ml)
Confectioners Sugar (or regular sugar) ¾ cup (90g)
Vanilla Extract 2 teaspoons (10ml)
Vegan Chocolate Semi or Bitter Sweet 2 ounces (56g)
Instant Coffee Granules ½ teaspoon *or more to your taste
Hot Water 2 teaspoons
Instructions
Combine the instant coffee with the hot water and reserve for later.
Place all of the other ingredients into a blender (except for the chocolate) and blend to a super smooth batter. *At the time of making this recipe back in 2017~ I did not have a super heavy duty blender (Like a Vitamix) so I used the food processor and you can see that it did not puree the nuts as smooth as I would have liked, since then I use the blender and it is much better! So if you have one definitely use it!
Divide the cheesecake batter in half and add the melted chocolate to one half.
Then take half of the vanilla and pour into a medium mixing bowl and take half of the chocolate and add that as well.
Add the coffee paste and whisk smooth
Layer the 3 different flavors into the ring mold but be sure to freeze each layer for at least 1 hour or until it is completely set
Unmold when the entire cake is set then top with optional ganache by melting 4 ounces of chocolate with 4 Tablespoons of any milk alternative of your choice.
Notes
Cheesecake must stay refrigerated or frozen. Store covered loosely for up to 10 days.


Freeze for up to 2 months