Throw away all your preconceived notions about fruitcake.
This Vegan Fruitcake recipe is going to change your mind!
No green and red glaceed cherries here!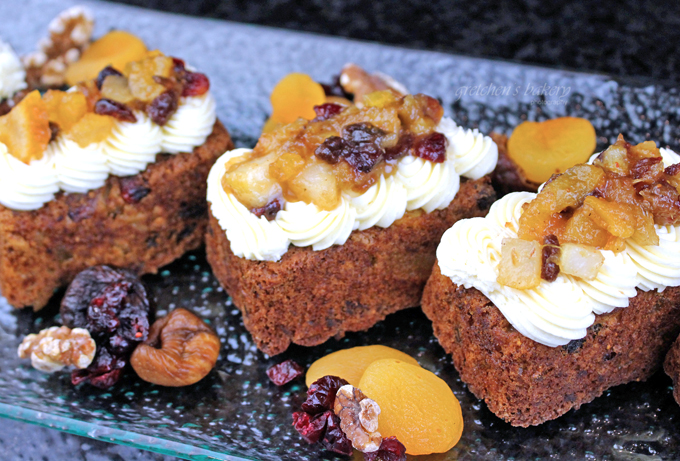 This Vegan Fruitcake recipe is loaded up with various dried fruits and nuts and spices galore!
I have been making this recipe for almost a decade and it is always a winner.
Mostly I change up the types of fruits I use each year depending on what sparks my fancy
But this year I used a combination of dried apricots, raisins, pineapple, dates, figs, cranberry and even a fresh pear!
Fresh grated ginger, cloves, anise, cinnamon, allspice and cardamom spice up this fruit cake to exotic proportions!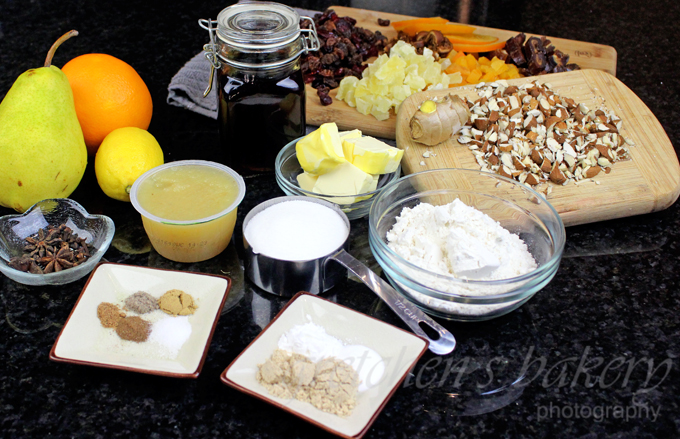 If you have never tried a fruitcake recipe before I urge you to start with this one
This is not the time to experiment with someone else's recipe!
Fruitcake is really very delicious and a Christmastime specialty!
The hardest part about the whole thing is chopping up those fruits to tiny pieces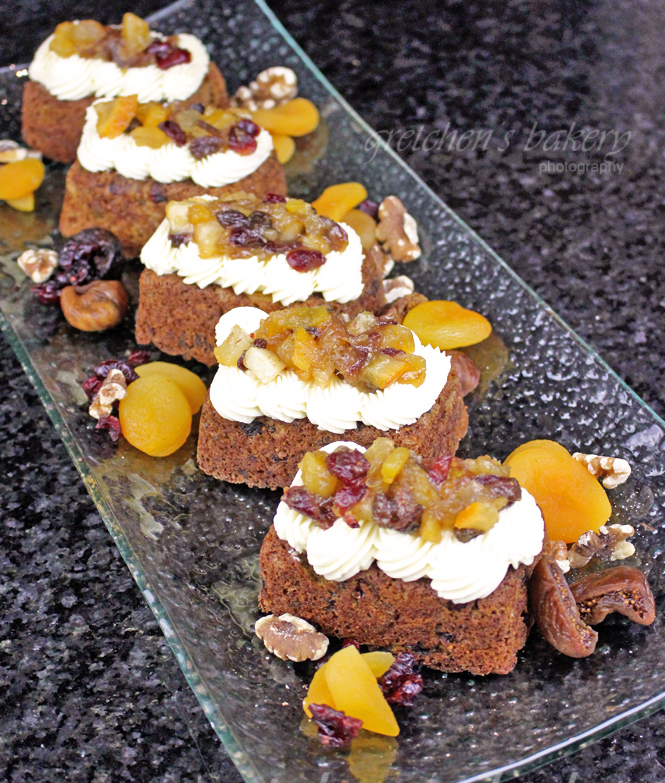 But otherwise this is a one bowl mix- NO MIXERS REQUIRED!
And boy do I love those kinds of recipes!
Yes there is rum in the recipe, but the alcohol gets cooked off in the first stage and then it gets baked too
So you can be sure there is no residual alcohol in the final cake
Just layers and layers of awesome deep fruitcake flavor!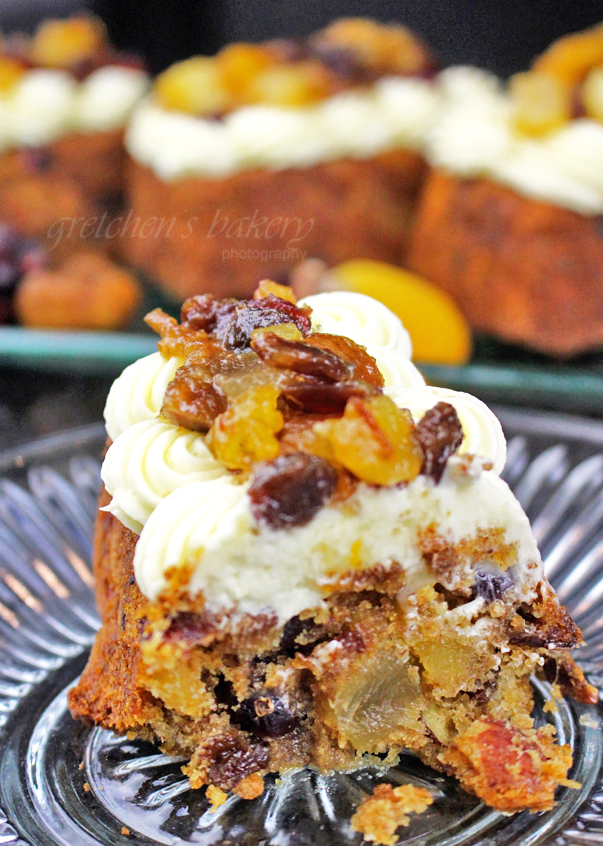 I know many of you are alcohol free no matter what so you can substitute in apple juice for the rum portion, but it will be missing that signature flavor that a fruitcake is known for.
I will also be brushing my final cakes with more rum, and again this is optional *see notes for success below
If you are using the apple juice substitution just brush them with more apple juice infused with some additional spices like cinnamon sticks, anise pods, cloves etc!
I am using a mini loaf pan for individual servings, but this whole recipe can go into 1 standard loaf pan too.
The mini loaf pan I linked above seems to be different than the one I have, mine only has 6 cavities, but either way you will fill the batter almost to the top of the loaf pan no matter what pan size you use.
Last but not least I am also icing mine with buttercream!
This is also optional but believe me it really makes this fruitcake extra special and I've even made some extra fruit compote too!
Basically the recipe for the macerated fruits cooked with the rum and butter to go on top for a really impressive individual dessert
A different and special way to give a fruitcake this year!
If the fruitcake is too much for you to take on, try my recipe for
Notes for Success:
In traditional fruitcake baking, there are three steps to making the fruitcake:
The actual baking, the aging process, and then proper storage.
The aging process for a true fruitcake is between one and three months, but I am not doing that here.
Fruitcakes soaked in liquor can last for months or even years if you periodically add more liquor, which I do not do.
I am simply giving them a brushing of alcohol after baking and serving mine within days.
FOR MORE INFORMATION ABOUT TRADITIONAL FRUITCAKES CLICK HERE
In the video tutorial you will notice I was using the Plant Based Egg as an egg replacer
This product does not seem to be available anymore so I regret using it, but you can easily change it to whatever egg replacer you prefer!
This is a very friendly recipe to make changes!
I have gone back to using flax meal reconstituted with aquafaba but you can also use water if you do not have the bean water
The recipe listed below reflects this updated change
The types of fruits you use can be changed to suit you, but this year I used a combination of dried apricots, raisins, pineapple, dates, figs, cranberry and even a fresh pear!
CLICK HERE FOR THE FULL YOUTUBE VIDEO TUTORIAL FOR HOW TO MAKE THIS CAKE!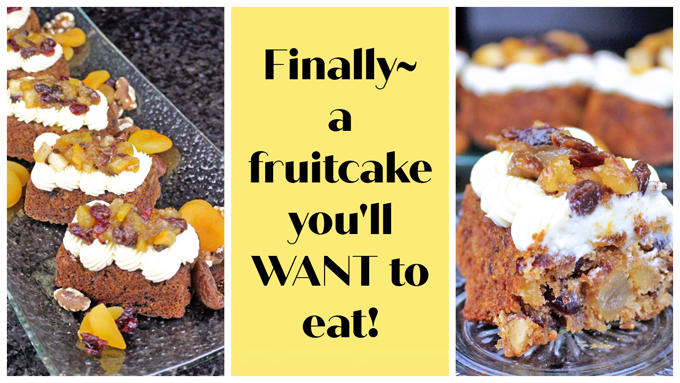 For more awesome Christmastime recipes click the links below!
8 Vegan Holiday Cakes ~ from beginner to advanced

Vegan Fruitcake Recipe
Serves:
1 standard loaf pan or 6 mini loaves
Ingredients
Dark Raisins ¼ cup
Dried Cranberries ¼
Dried Pineapple ¼ cup
Dates ¼ cup
Dried Figs ¼ cup
Fresh Pear ½ cup
Candied Orange *optional or just replace with another fruit ¼ cup
Fresh grated ginger approximately 2 teaspoons
Orange zest 1 teaspoon
Lemon zest 1 teaspoon
Rum spiced or gold your choice ½ cup + more for basting *Optional
Granulated Sugar ½ cup (100g)
Flax meal 2 Tablespoons (16g)
Aquafaba 6 Tablespoons (90ml) Or hot water
Baking Soda ½ teaspoon
Baking Powder 1 teaspoon
Salt pinch
Ground Cinnamon 1 teaspoon
Ground Ginger ½ teaspoon
Cardamon ¼ teaspoon
Allspice ⅛ teaspoon
Nutmeg ⅛ teaspoon
Anise pods 4
Whole Cloves about 10-12
All Purpose Flour ¾ cup + 2 Tablespoons (109g)
Applesauce ½ cup (100g) OR OIL if not using applesauce
Vegan Butter 5 Tablespoons (70g)
Nuts of your choice I used almonds ½ cup
Instructions
Place the star anise pods and the whole cloves in a small pouch of cheesecloth so you can easily pull them out of the mixture later.
Cut all the dried fruits and the pear to the same size as the raisins and cranberries and in a medium bowl, pour the rum over top.
Let it macerate overnight at room temperature (Or to speed the process microwave for 1 minute to reconstitute) and then let it sit for 3 hours
Chop the nuts to same size, but reserve aside for last.
In a large sauce pot combine the macerated fruits, the zest, grated ginger, spices, sugar, applesauce and vegan butter and bring to a boil.
Reduce heat and simmer for 10 minutes on low heat.
Let it cool for about 15 minutes, remove the sack of whole spices (anise pods and cloves) and discard then add the nuts and the sifted flour, egg replacer, baking soda and powder .
Pour the batter into a greased 9" x 5" loaf pan or if you are using the mini loaf pan like me, you will only get 6, be sure to fill the batter almost to the top (about ¾ full) for whatever size [an you are using.
Bake in a preheated 375°F oven for 10 minutes, then reduce heat to 350°F for another 10 minutes for the MINI LOAFS for a total bake time of 20-25 minutes.
The large standard loaf will take 35-40 minutes total bake time.
Cool in the pan until you can touch the pan without burning yourself and then flip out onto a wire rack to cool the rest of the way.
While still warm, brush with additional rum *Optional see notes above the recipe section
Cool completely then wrap well and store in the refrigerator for up to 2 weeks
Sprinkle loaves with confectioners sugar or ice with optional buttercream and additional fruit compote as shown in the picture
Notes
Please read the notes for success for a link to a more traditional fruitcake recipe and the storage of that kind.

Since this is more of a fruitcake recipe that is meant to be served within days and not stored for years!

This recipe for fruitcake will stay fresh at room temperature fro up to 5 days, for longer storage refrigerate for up to 1 week.

Freeze for up to 2 months