Maybe traditional fruitcake ain't yo' thang
But let me tell you something about these Fruitcake Cookies!
Brandy marinated fruits and nuts all packed into one bite sized morsel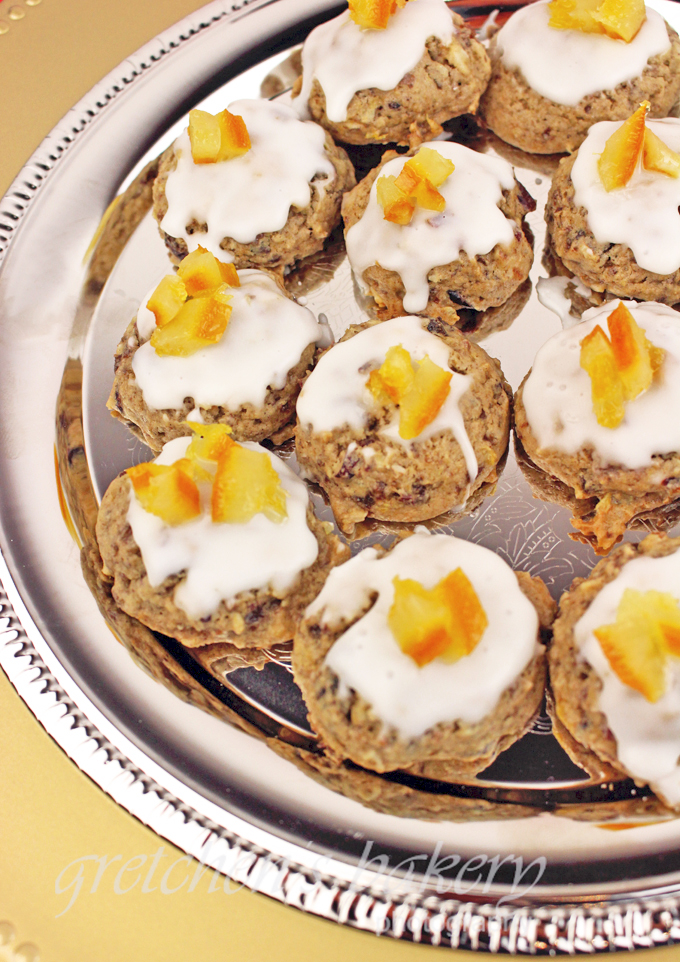 I was surprised at how much I really loved these!
But then again it's no surprise really when you taste the cranberries, raisins, almonds, pecans and of course my candied orange rind
All in one perfect burst of holiday cheer!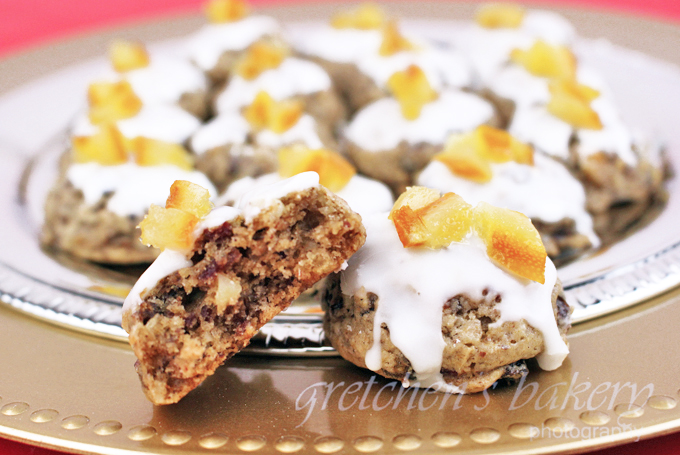 Exactly what  fruit cake is supposed to be only in cookie form!
Of course if you are alcohol free you can still have an amazingly delicious cookie just substitute the brandy for apple juice or any fruit juice really!
This was the last addition to my 12 Days of Christmas Cookies recipe series
The recipe makes about four dozen and that may seem like too much
But believe me these little gems are going to be the most sought after cookies in your holiday assortment!
They also freeze really great so you can get a jump on the baking now!
Notes for Success:
This is a very friendly recipe and it will take on pretty much any egg replacer you prefer!
I have used Bob's Red Mill with great results
Flax meal reconstituted in the aquafaba would be my second choice!
CLICK HERE FOR THE FULL YOUTUBE VIDEO TUTORIAL FOR HOW TO MAKE THESE COOKIES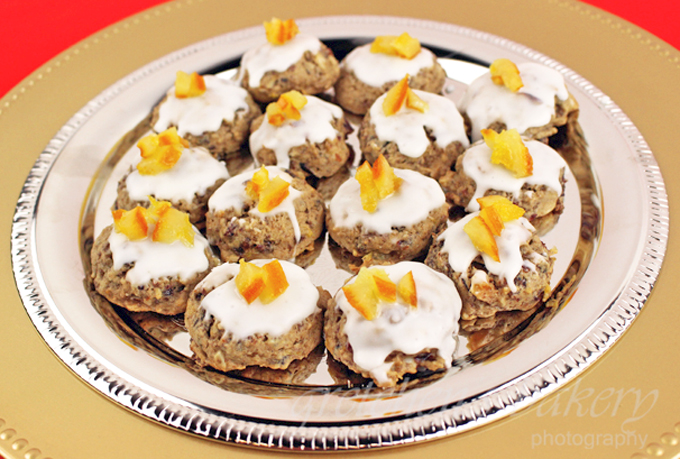 For more of the best Christmas cookie recipes click the links below!
Christmas Cookies The Best Sugar Cookie Dough Recipe
The 12 Days of Christmas Cookies
Firm & Chewy Gingerbread Cookies ~Best Cut Out Recipe

Vegan Fruitcake Cookies
You can make my recipe for candied orange rind, or buy it- OR sub in another candied fruit
You may see that I am using
The Plant Based Egg by Freely Vegan
as the egg replacer, but you can sub in another proprietary blend egg replacer of your choice ~ I have used Bob's Red Mill with good results
Ingredients
All Purpose Flour 1½ cups (188g)
Baking Soda ½ teaspoon
Baking Powder ¼ teaspoon
Cinnamon ½ teaspoon
Ground Cloves ⅛ teaspoon
Salt ½ teaspoon
Egg Replacer 3 teaspoons
Vegan Butter 7 Tablespoons (98g)
Light Brown Sugar ½ cup (105g)
Liquid Aquafaba 2 Tablespoons (30ml)
Plant Milk ¼ cup (60ml)
Pecans, Walnuts, Almonds, Cashews- any combination of nuts to total 2 cups
Candied Orange Rind approximately ½ cup Divided *see note above
Dried Cranberries 1 cup
Raisins 1 cup
Brandy or Fruit Juice ¼ cup (60ml)
For the glaze:
Confectioners Sugar 1 cup
Brandy or Plant Milk 1 Tablespoon
Instructions
Combine the nuts and fruits together in a large bowl and pour the brandy over top.
Cream the vegan butter with the light brown sugar until light and fluffy approximately 3 minutes on high speed, then add the liquid aquafaba and vanilla extract.
Scrape the bottom and sides of the bowl for an even mix, then add the sifted flour, egg replacer, spices, baking soda, baking powder and salt all at once mixing on low until it is all incorporated
Add the plant milk slowly while mixing on medium speed
Place the brandy nut and fruit mixture along with only 2 Tablespoons of the orange rind in a food processor and process fine, it will be pasty from the liquids, but you just don't want large chunks of nuts.
Add the fruit/nut mix to the dough and mix just until combined
Scoop onto parchment lined sheet pans spaced 1" apart and bake in a preheated 375°F oven for 5 minutes, then lower the temperature to 350° F for another 10 minutes.
Cool then dip the tops of the cookies in confectioners sugar icing glaze and then top with the remaining orange rind
Notes
Store cookies in an airtight container for up to 1 week at room temperature, for longer storage freeze for 1 month