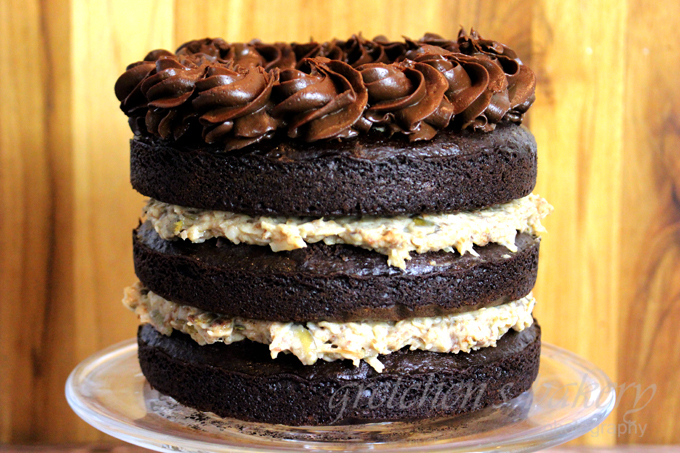 Finally a Veganized version for German Chocolate Cake!
Sure, there are others out there on the net, but not a Gretchen's Vegan Bakery recipe!
I am not sure why it took me so long to get this one out there, especially after the success of my German Chocolate Cheesecake!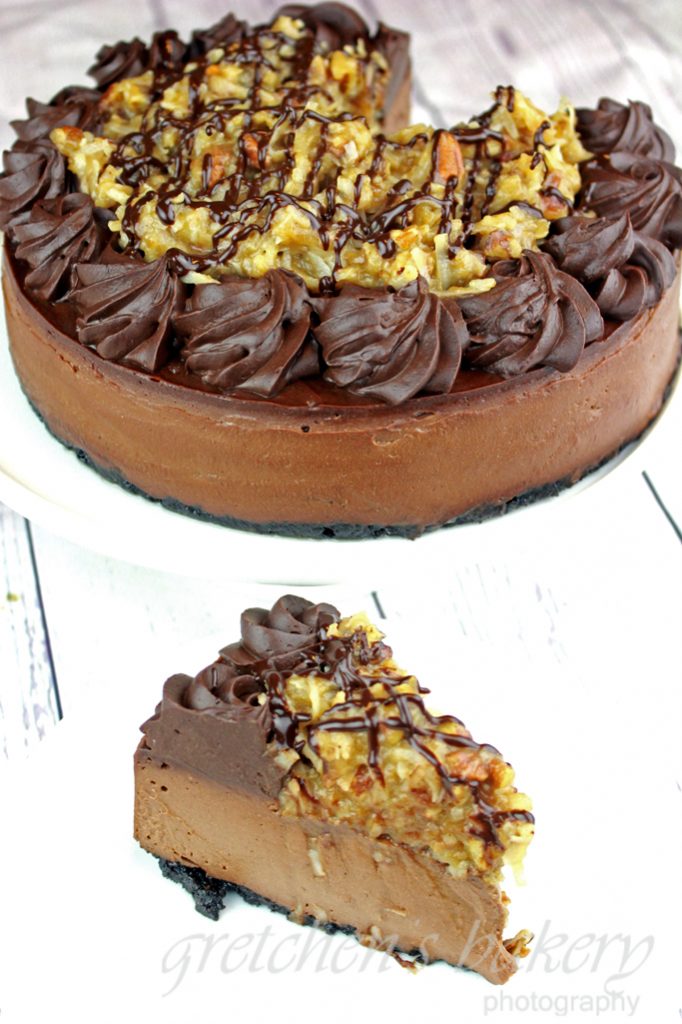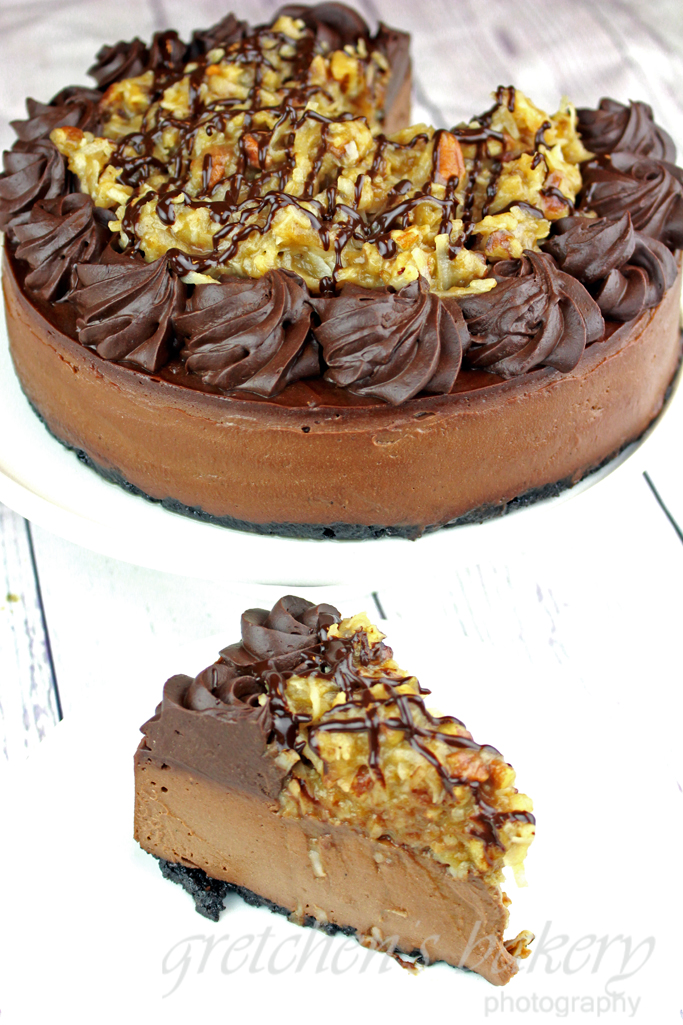 AND not to mention this recipe from start to the totally finished cake will take you just about an hour!
I am not lying!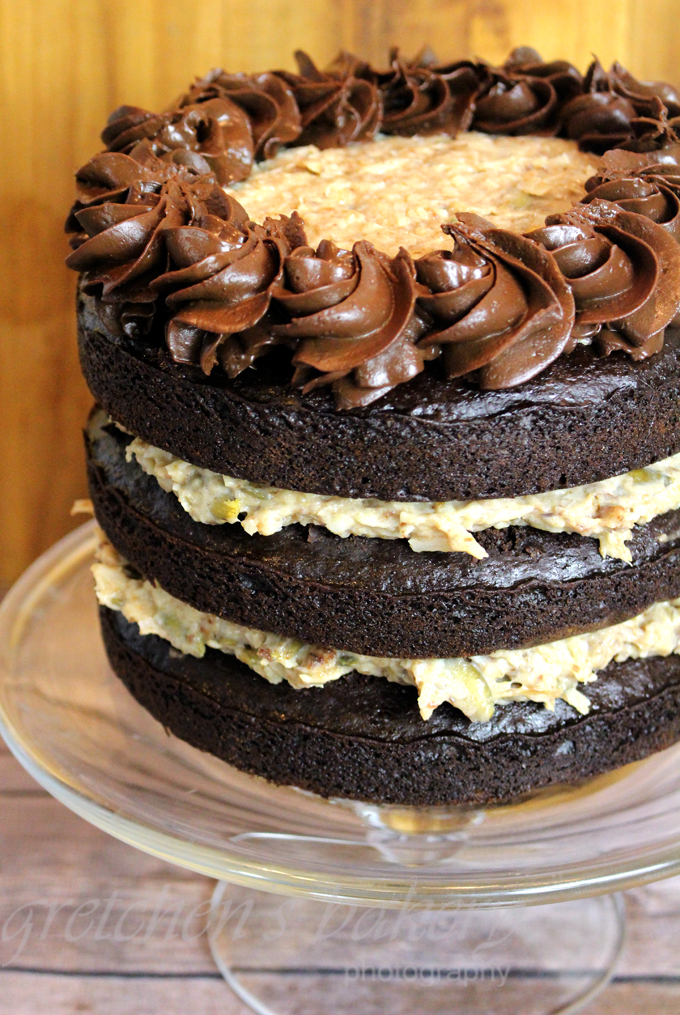 A one bowl recipe for Chocolate Cake and an equally easy recipe for date caramel with pecans & coconut folded in, you will be building this cake in no time!
So go ahead and get your base recipes prepared and start building a cake!
That would be Chocolate Cake~ German Chocolate Filling ~ and Vegan Ganache!
Vegan German Chocolate Cake
The recipe below makes 1- 8" cake (in the video I made a smaller 6" cake) Prepare your 3-8" cake pans with
professional bakery pan grease
& parchment paper, preheat the oven to 350°F **
Optional: I decreased the sugar to 1½ cups and used ½ cup applesauce in place of ½ cup of the oil
Ingredients
For the Chocolate Cake:
All Purpose Flour 3 cups (375g)
Natural Cocoa Powder 8 Tablespoons (40g)
Granulated Sugar 2 cups (400g)
Salt 1 teaspoon (6g)
Baking Soda 2 teaspoons
Apple Cider Vinegar 2 teaspoons
Vanilla Extract 2 teaspoons
Vegetable Oil ¾ cup (177ml) **see note above
Strong Brewed Coffee 2 cups *Or add 3 teaspoons instant coffee to the water (approx 18g)
For the German Chocolate Filling:
Dates 6 ounces (approx 1 cup packed)
Almond Milk ½ cup (120ml)
Hot Water 2 Tablespoons (30ml)
Shredded Un-Sweetened Coconut 1 cup
Toasted Pecans ¾ cup
For the Vegan Ganache:
Semi Sweet Vegan Chocolate 4 ounces
Soy or Almond Milk ¼ cup
Instructions
First prepare the cake: Sift both flours, baking soda, salt, and sugar together in a large mixing bowl.
Combine the natural cocoa powder with the hot coffee and then add the vinegar, oil and the vanilla extract.
Pour the wet ingredients into the sifted dry ingredients and whisk vigorously with a hand whisk until smooth (about 15 strokes)
Divide the batter evenly among st the greased and parchment lined 8" cake pans
Bake immediately in a preheated 350°f oven for approximately 20-25 minutes or until a toothpick inserted into the center comes out with moist crumbs
Next prepare the German Chocolate filling by combining the dates, hot water, almond milk and salt in a high speed blender or food processor.
Blend smooth then fold in the coconut and toasted pecans
Prepare the vegan ganache by combining the chocolate and milk in a small saucepot and melt over a low heat stirring constantly. Allow it to set at room temperature to a pipe-able consistency.
Assemble the cake as shown in the video.