One of the most confusing topics in baking and one of the most asked questions I get is:
Is Dutch Process Cocoa Powder Better than Natural Cocoa Powder?
First of all let's try to make some easy sense of what cocoa powder actually is, and what it does in your recipes.
Cocoa Powder is unsweetened and tastes very bitter, but gives a deep chocolate flavor which makes it great for recipes like brownies, cookies and some chocolate cakes.
For obvious reasons people tend to think that Dutch Process Cocoa powder should be used in every single recipe calling for cocoa powder.
After all it is more expensive so it must be better right?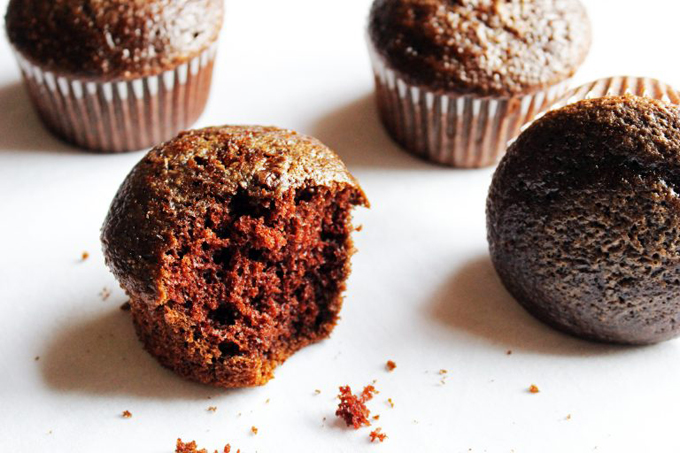 While Dutch Process Cocoa Powder may seem to have all of the qualities you have been searching for when it comes to deep, dark chocolate in a recipe;
Using this cocoa powder in a recipe that calls for Natural unprocessed cocoa can actually give you confusing devastating results!
The biggest culprit demonstrating this phenomenon is the red velvet cake
Red Velvet Cake is technically a chocolate cake that develops a slight red tinge upon baking due to the chemical reaction of the baking soda and the cocoa powder in the recipe
*see photo above for a true and original red velvet cake!
Nowadays though we have grown so accustomed to adding red food color for the most vibrant (and often times revolting) red color that is just so unnatural
But again over time people have become used to this color and expect it in all things Red Velvet
**Quick tip: Natural unprocessed Cocoa Powder works in ALL recipes, Dutch Process is not so forgiving!
Let's first take a look at what makes one different from the other and why it is important to understand a little bit of science here when choosing which one is best for your recipe.
If the recipe has baking SODA in it- you will use Natural Cocoa Powder.
If the recipe has baking POWDER in it you will use Dutch Process (or of course- Natural)
If the recipe has both baking soda and baking powder (with baking powder being the more dominant quantity) is is also fine to use either cocoa powder that you prefer.
Dutch Process Cocoa Powder

(or Alkalized) is made from cocoa beans that have been washed with a potassium solution, then treated with an alkali to neutralize its acids.
Because it is neutral it DOES NOT react with baking soda therefore it is necessary to use it in recipes calling for baking powder as the leavening agent.
Remember baking powder is a combination of baking soda and an acid which when a liquid is present it starts the reaction.
Some recipes may still include baking soda in cocoa powder recipes, it just is not in the quantities relied upon for the main leavening
CLICK HERE FOR MORE INFORMATION ABOUT THE DIFFERENCES BETWEEN BAKING POWDER & BAKING SODA!
Natural Cocoa Powder
Because natural cocoa powder has not had its acidity tempered it is used in recipes calling for baking soda which will then cause a reaction in your recipe and create leavening of your baked goods.
Not to mention that red tinge of color that sparked the original Red Velvet Cake!
Again: natural cocoa can be used in recipes with baking powder as well- so basically
NATURAL COCOA POWDER CAN BE USED INTERCHANGEABLY IN RECIPES NO MATTER WHAT THE LEAVENER
However I will always advise it is best to follow the recipes as they are written
Rather than try to adjust the recipes to suit your ingredients
However if you must use Dutch Process Cocoa Powder in a recipe that contains baking soda:
ADD 2 TEASPOONS BAKING POWDER FOR EVERY 1 TEASPOON OF BAKING SODA THAT IS LISTED IN THE RECIPE
Omit the baking soda and salt in the recipe
Dutch-Processed Cocoa:
1 cup = 92 grams
Natural or Nonalkalized Cocoa:
1 cup = 82 grams