Never heard of a Guerrilla Cookie? Me either.
I'll urge you to dive into the history or rather MYSTERY of the once famous Guerrilla Cookies!
Once you do you'll be obsessed!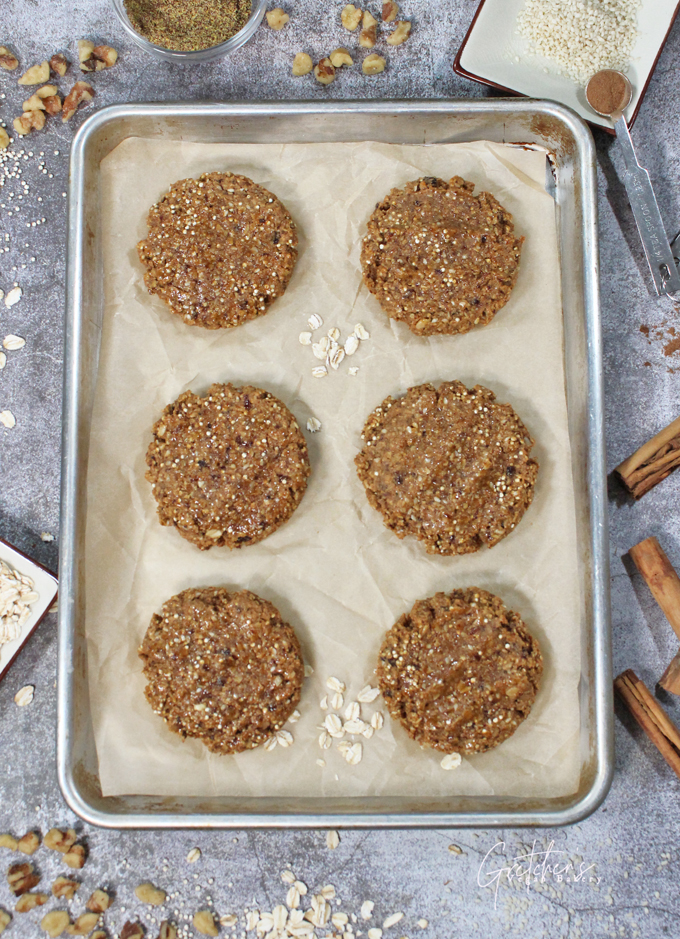 Disclaimer: My Vegan Guerrilla Cookie rendition is most likely a far cry from the original!
I have since tweaked the recipe three more times since the release of this recipe in late September of 2023 and have settled on the version below!
While I am sure it is even farther from the original version now, I happen to love this one the most!
With an addition of cocoa powder and more liquids to the recipe the result is a super moist and dense granola cookie with hints of brownie!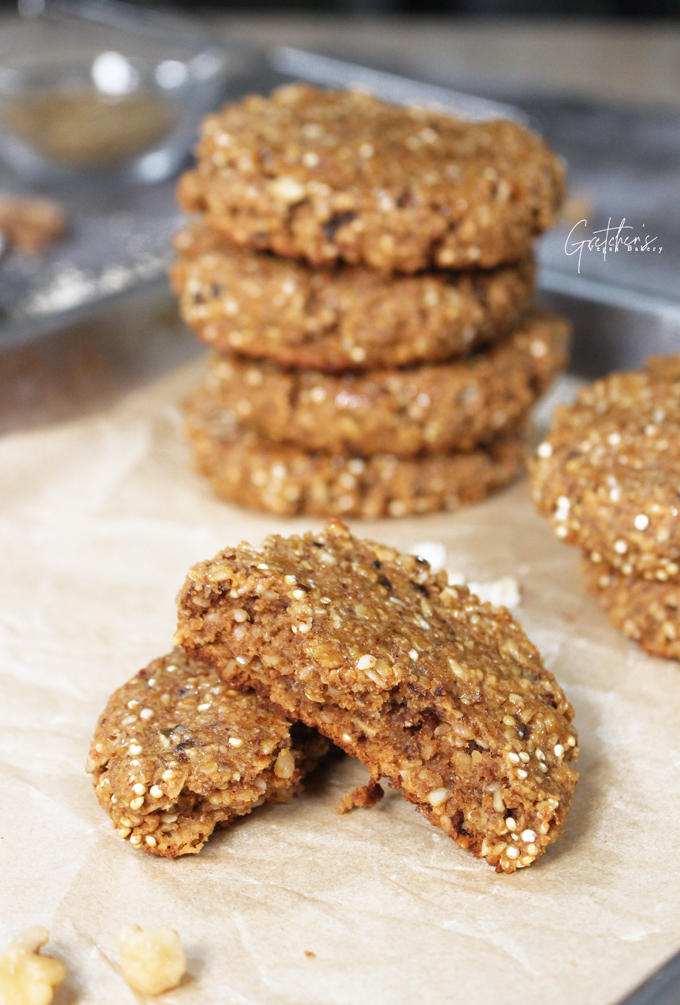 I did an incredible amount of research around the origins of the Guerrilla Cookies
Consequently I found out pretty quickly that there is an unbelievably broad spectrum of nostalgic memory and what is believed to be "the original formula" dating way back to the late 1960's
There are entire websites dedicated to figuring our the closest recipe that was a staple for students at the University of Wisconsin Madison from the late 1960's through to the 1980's
The original baker Ted Odell took the recipe to his grave in 2021 and was even quoted as saying "The guerrilla-cookie recipe is evil and needs to be kept out of this world!"
WOW! Talk about a mysterious cookie!
Nonetheless there is a very real quest to replicate this now infamous Guerrilla Cookie from the 60's and I can now say I have joined the ranks with an equal obsession around this cookie!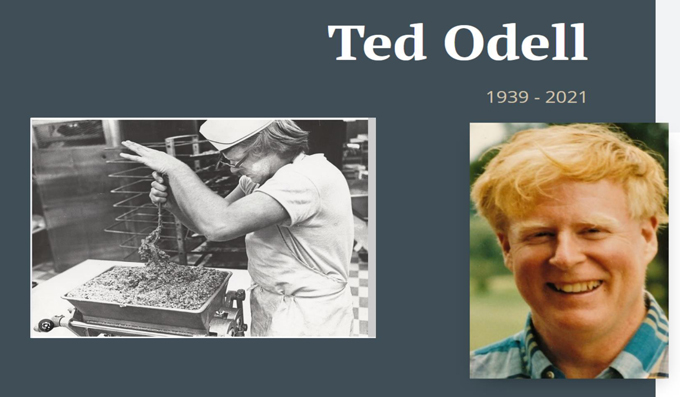 UPDATE: Dave Denison Editor of The Baffler has sent me a wonderful article that goes in depth to the history of the Guerrilla Cookie as well as the life and personality of the famous, late Ted Odell!
It's a fun read to dive into as you sip your morning coffee while munching on a Guerrilla Cookie!
WATCH THE VIDEO FOR MORE HISTORY & TO SEE THE MAKING OF MY VEGAN GUERRILLA COOKIES!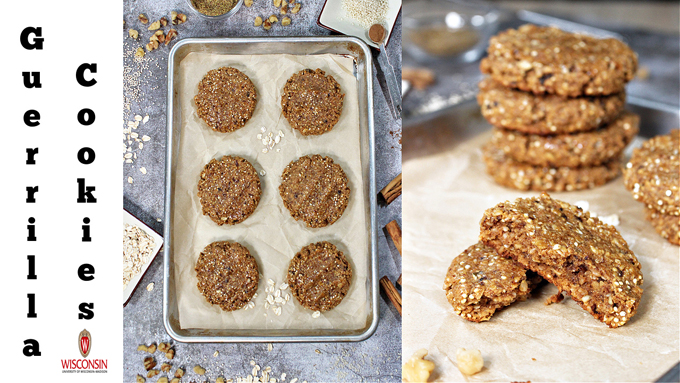 Yield: 12
Vegan Guerrilla Cookies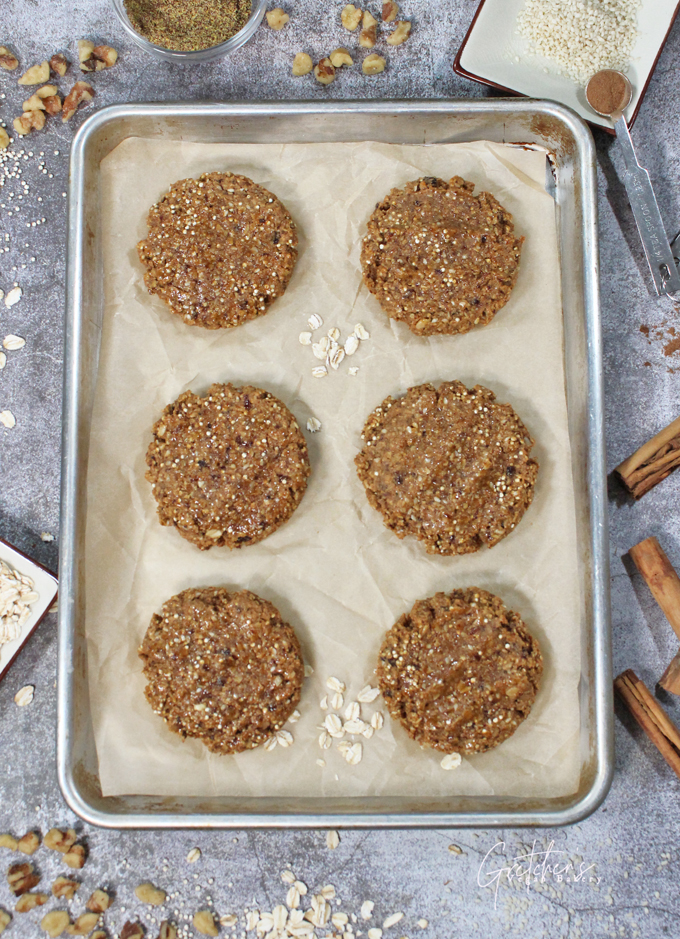 Ingredients
Old Fashioned Oats 1½ cups (150g)
Raisins ½ cup
Agave ¼ cup (60ml)
Molasses 6 Tablespoons (90ml)
Vegan Butter 5 Tablespoons (70g)
Vanilla Extract 2 teaspoons (10ml)
Peanut Butter 2 Tablespoons
Unsalted Sunflower Seeds 2 Tablespoons
Sesame Seeds 2 Tablespoons
Walnuts 2 Tablespoons
Flax Meal 3 Tablespoons
Hot Water 8 Tablespoons
Vegan Vanilla Protein Powder 2 Tablespoons
Bran Flakes or Wheat Germ 2 Tablespoons
Cocoa Powder 4 Tablespoons
Quinoa 2 Tablespoons
Cinnamon ¼ teaspoon
Baking Soda ¼ teaspoon
Salt ¼ teaspoon
Miso Paste *optional 2 teaspoons
Whole Wheat Flour 4 Tablespoons (30g)
Instructions
Preheat the oven 350F
First combine the flax meal with the hot water and whisk smooth, let stand to thicken for 5 minutes
Combine all the rest of the ingredients together in the food processor EXCEPT THE FLOUR and pulse several times to break everything up
Add the flax meal and pulse to a dough then add the flour
Scoop the dough with a cookie 2 ounce scoop onto a parchment lined sheet pan and bake for about 12-15 minutes until they are light golden brown
Cool before serving
Notes
Guerrilla Cookies will stay fresh in an airtight container at room temperature for up to 5 days