Vegan Caramel Cake is my latest obsession!
And since caramel is my second favorite thing next to chocolate, I am in heaven with this one!
I'll admit I'm in love with the snack cake sheet cake style too because this type of cake is just so easy to make because no fussy layers to stack, and no forks or plates either!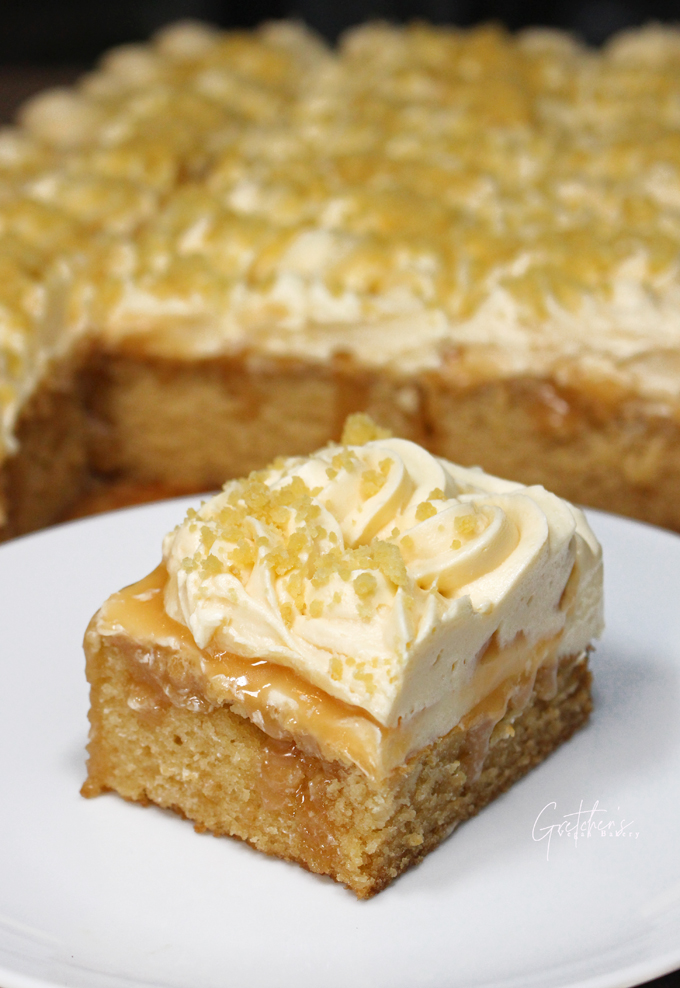 Large chunks of this cake disappear without a trace
This Vegan Caramel Cake recipe is a perfectly moist and fluffy with a layer of gooey caramel and caramel buttercream to top it all off
With just three simple recipes you can have this caramel cake ready to go in a matter of a couple hours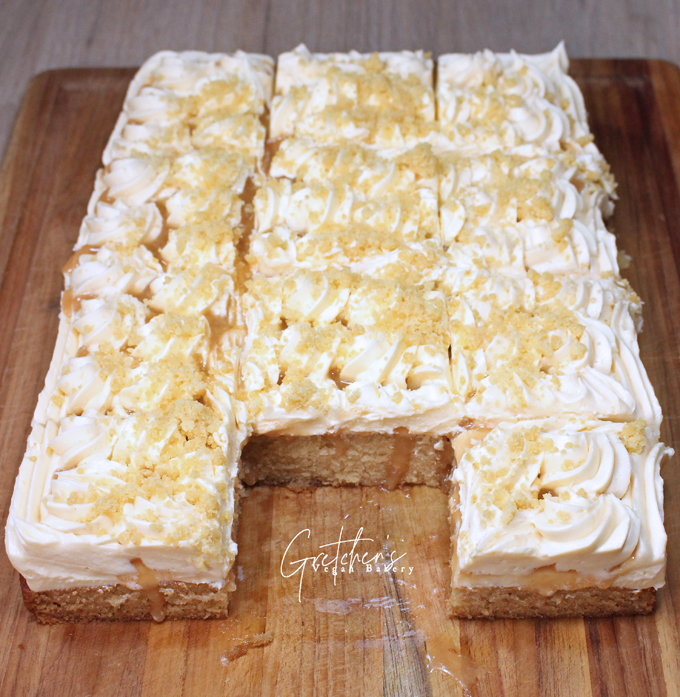 This website may contain links as part of the Amazon Affiliate program, which means when you click a link and make a purchase through my website I may earn a small commission at no additional cost to you
Notes for Success:
All the batter will fit into a 9″ x 13″ pan for the snack cake style and it baked up in just about 25 minutes
But of course you can transform this cake into a layer cake like I did with my Billionaire Banana Pudding Cake recipe!
Cupcakes are equally possible with this cake recipe just fill the cupcake liners 3/4 of the way full
Baking at 350F checking to see if they are done at around 18 minutes
You will get about 24 standard cupcakes with this recipe
Cake flour is added in combination with all purpose flour in my cake recipe
For those who do not know what Cake Flour is CLICK HERE
Alternatively you can use all All Purpose Flour in the total amount of 2½ cups (315g)
WATCH THE VIDEO TO SEE HOW EASY IT IS TO PUT THIS ALL TOGETHER!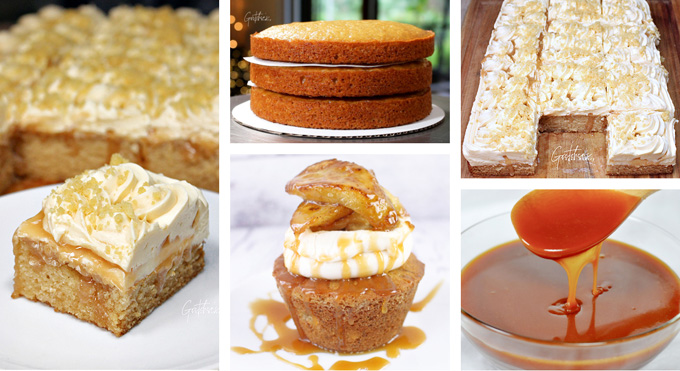 Get to know your Caramel by clicking through to my Caramel 3 Ways Article!
Yield: serves 15ppl
Caramel Cake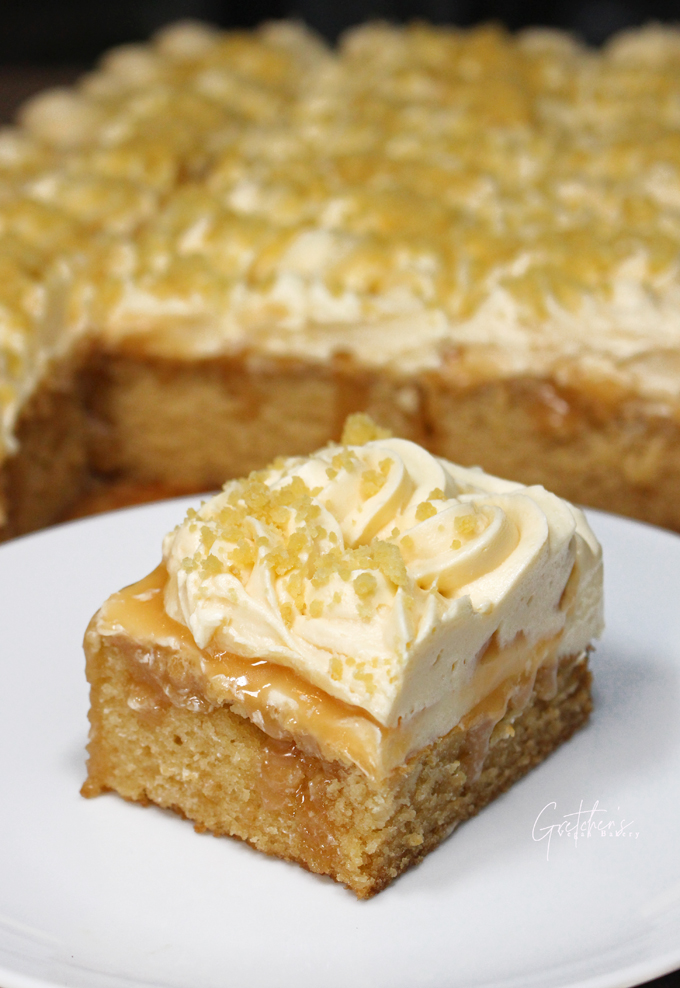 Total Time
2 hours
25 minutes
Ingredients
For the Caramel Sauce:
Granulated Sugar 2 cups (400g)
Water 6 Tablespoons (90ml)
Vinegar 1 teaspoon
Plant Milk *highest fat milk works best 1 cup (240ml) *room temperature
Vegan Butter 2 Tablespoon (28g)
Sea Salt l ½ teaspoon
For the Cake:
Plant Milk 1½ cups (355ml)
White Vinegar 1½ Tablespoons
Vegan Butter ½ cup (113g)
Vegetable oil of your choice ½ cup (117ml) *or more vegan butter melted
Granulated Sugar ¾ cup (150g)
Caramel Sauce *from recipe listed above 1 cup (237ml)
Salt ½ teaspoon
Vanilla Extract 3 teaspoons (15ml)
All Purpose Flour 2 cups (250g)
Cake Flour 1 cup (120g) *see notes
Baking Soda 2 teaspoons
Instructions
First prepare the caramel sauce so it has time to cool
In a large heavy bottom sauce pot on high heat combine the sugar, vinegar & water together stirring to combine and help dissolve the sugar
Once the mixture starts to boil STOP STIRRING and let it full boil until it reaches light amber color
Watch carefully as it will turn from light amber to dark caramel or almost burn very quickly!
Once it is medium amber remove from heat to stop the cooking and carefully add the room temperature plant milk
It will bubble up very rapidly so be very careful! Wait a minute before stirring it down
Stir in the salt & vegan butter
Pour into a heat proof container and refrigerate until needed *it will thicken as it sits!
Divide the caramel sauce into 1 cup for the cake batter ½ cup for the buttercream & ½ cup for the filling layer
Next preheat the oven to 350F
Prepare the cake batter by combining the vegetable oil with the melted vegan butter, add the vanilla extract and set aside
Combine the plant milk with the vinegar and let stand for 5 minutes to thicken. *soy milk is the only plant milk that will thicken
Sift all the dry ingredients together in a large mixing bowl, including the sugar.
Pour the wet ingredients into the dry ingredients (this will be the plant milk mixture and the butter/oil mixture including the 1 cup of cooled caramel sauce into the dry ingredients and whisk smooth about 50 strokes to develop the batter
Pour the batter into the greased and parchment lined pan and bake immediately in the preheated 350°F oven for 25 minutes or when you gently press the centers they are springy to the touch. Or do the toothpick test for moist crumbs.
Cool in the pan until you can safely touch without burning yourself then turn the cake(s) out onto a serving platter
Meanwhile prepare the buttercream recipe of your choice and at the last stage of mixing add in ½ cup of that COLD COOLED caramel sauce
Assemble the cake as shown in the video
Notes
Fully iced caramel cake should be stored in the refrigerator and will stay fresh for up to 1 week
It can stay at room temperature for 1 day in a cool dry climate
Caramel cake can be frozen wrapped well for up to 1 month