Perfect timing for a perfect Vegan Madeleine Recipe!
Madeleine's are petite butter cakes known for their unique shell shape since they are baked into a special pan called a Madeleine Pan
Pure vanilla spongecake and a light sprinkling of powdered sugar is all they need
Or nothing at all!
The recipe below is for a sugar free Vegan Madeleine Recipe
Since I switched the granulated sugar for monk fruit sugar and I even swapped out half of the butter for applesauce!
But you can stick to the original if you prefer and I make a note of that in the recipe section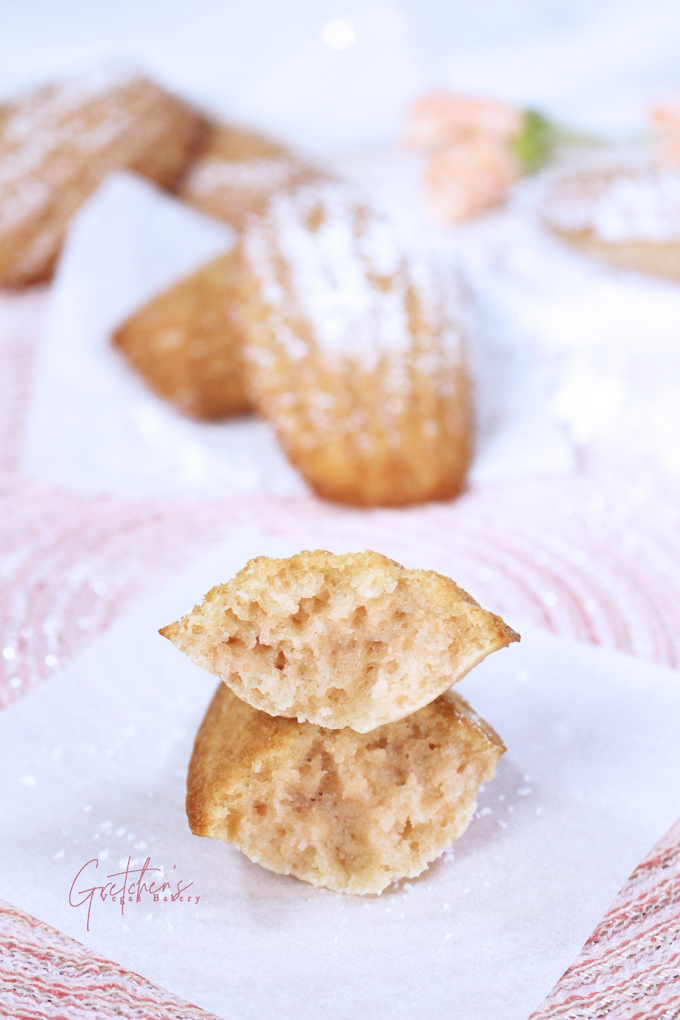 The addition of Silda's Blueberry Elderflower Jam is crown jewel to top these little gems!
Click here to check out Silda's 100% Vegan and Refined Sugar Free Jam!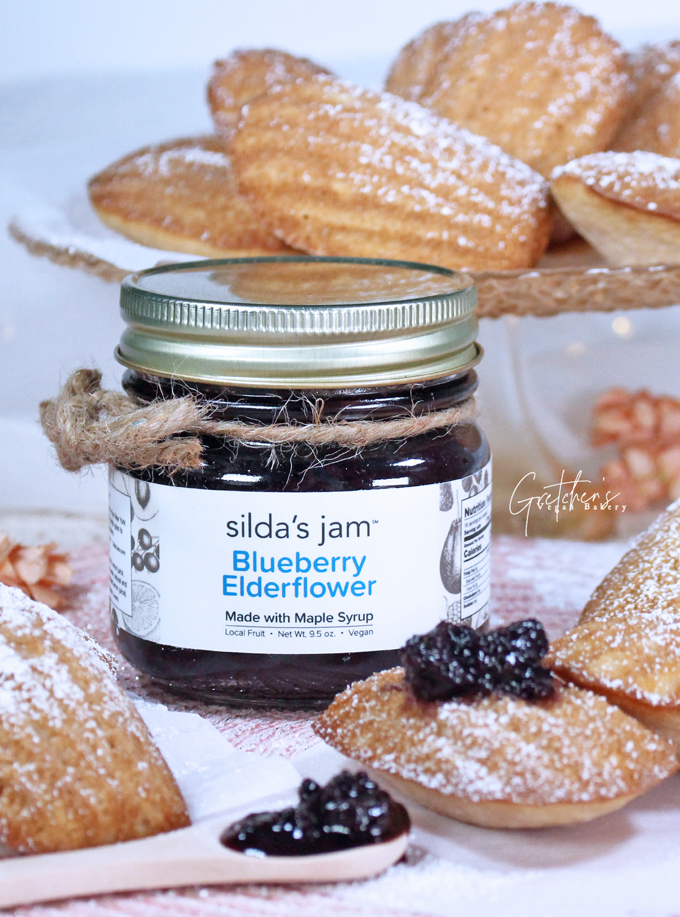 Notes for Success:
A light spray of pan grease and a sprinkling of flour is the best way to ensure your Madeleine's don't stick, especially if you are making the reduced oil recipe
For the best vanilla flavor be sure to use a vanilla flavor plant milk, I use soy milk for the best results
Combining cake flour and all purpose flour will give you the best lightest texture, but if you cannot get cake flour just use all~ all purpose flour instead but take out 2 Tablespoons from the total amount of both flours listed below
I use a #100 Scoop or one heaping Tablespoon for each cavity filling the batter slightly less than to the rim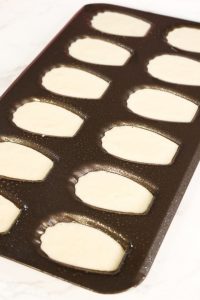 For more petite bakes like this one, click the links below!
Miniature Pastry For All Occasions
Yield: 24
Vegan Madeleine Recipe
Ingredients
Vanilla Plant Milk ¾ cup (180ml)
Vinegar 1½ teaspoons (7ml)
Melted Vegan Butter 4 Tablespoons (56g)
Unsweetened Applesauce 4 Tablespoons (62g) * see notes
Vanilla Extract 2 teaspoon (10ml)
All Purpose Flour 1 cup (125g)
Cake Flour ½ cup (60g) * see notes in article
Salt ½ teaspoon
Baking Soda 1 teaspoon (4g)
Monk Fruit Sugar granulated bake blend 2/3 cup (140g) * see notes
Confectioners sugar as needed *optional
Instructions
Preheat the oven to 350°F
Lightly spray the Madeleine pan with pan spray & a light dusting of flour
Prepare the cake batter by combining the vinegar with the plant milk
Add the vanilla extract and reserve
Combine the flours, baking soda, salt and monk fruit sugar in a large mixing bowl and whisk or sift together
Add the thickened plant milk, applesauce and melted vegan butter and whisk to develop the batter~ about 30 strokes.
Portion into the Madeleine Pan by using a #100 scoop~ each cavity will get a heaping scoop or fill just to below the rim to allow for rising
Bake for 10 minutes or until light golden brown and springy to the touch when you gently press the centers
Cool slightly in the pan them flip them out onto a cooling rack (a light tap on the pan will release the little cakes easily)
Wash, dry & re-grease the pan for the remaining batter
Once the cakes are cooled sprinkle with powdered sugar
Notes
If you want to replace the monk fruit sugar listed and use 3/4 cup granulated sugar instead.
To omit the applesauce replace with the same quantity of oil or more melted vegan butter
Madeleine cakes are best served the day they are baked, but can be served up to 1 day after.
Freeze for up to 1 month