Key Lime Juice adds perfect zing to this already perfect cake recipe for Fluffy Key Lime Cake!
The texture of this cake is just perfect and it's so easy to mix!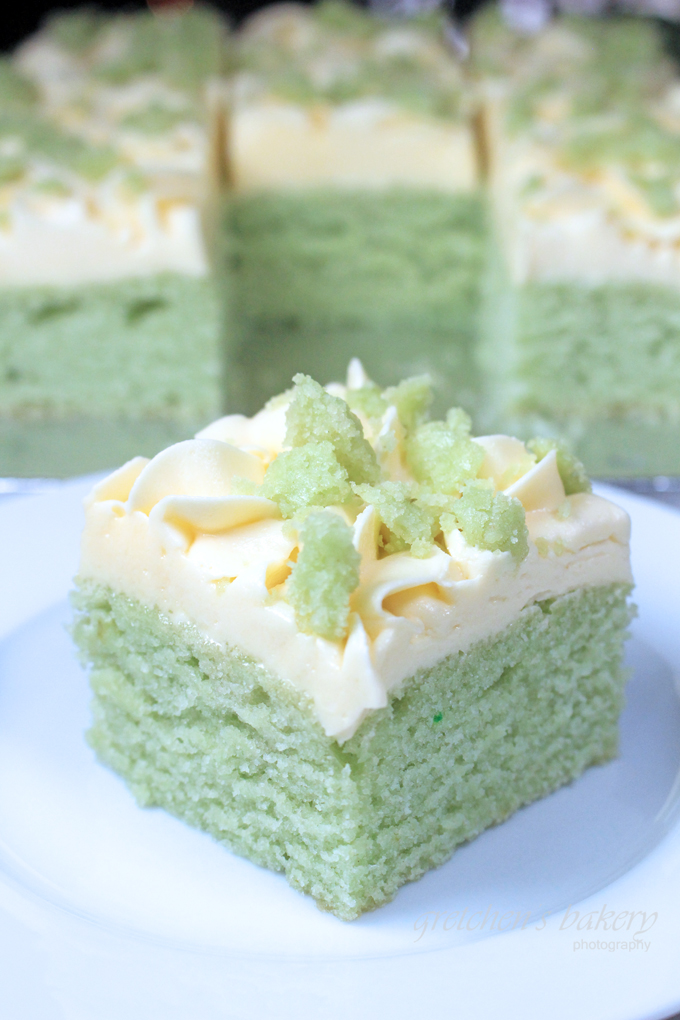 Another One Bowl Mix recipe method and it's iced with my new recipe for 2 ~ 2 ~ 2 Cream Cheese Icing!
Of course you can use whatever you like but this combination tastes divine!
Somehow each bite reminds me of a luscious Key Lime Pie!
This easy sheet cake snack cake is the stuff backyard summer parties are made of!
No refrigeration needed! Just grab a slice and go! You don't even need a fork or a plate!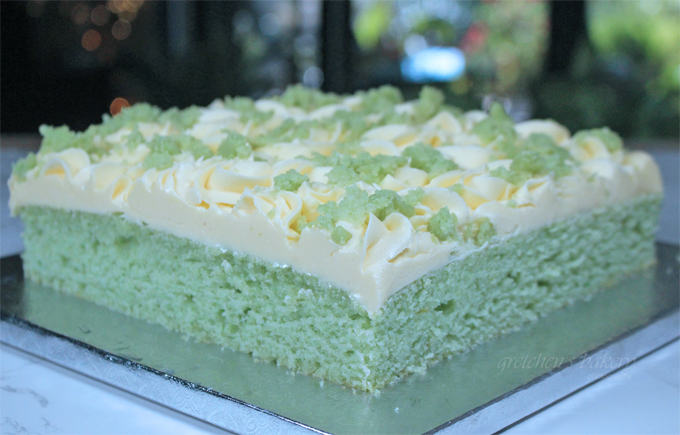 For an advanced option bake the cake batter into layers and make a Mojito Cake!
With light mint syrup, rum and lime juice in the icing turns this cake into an adult treat!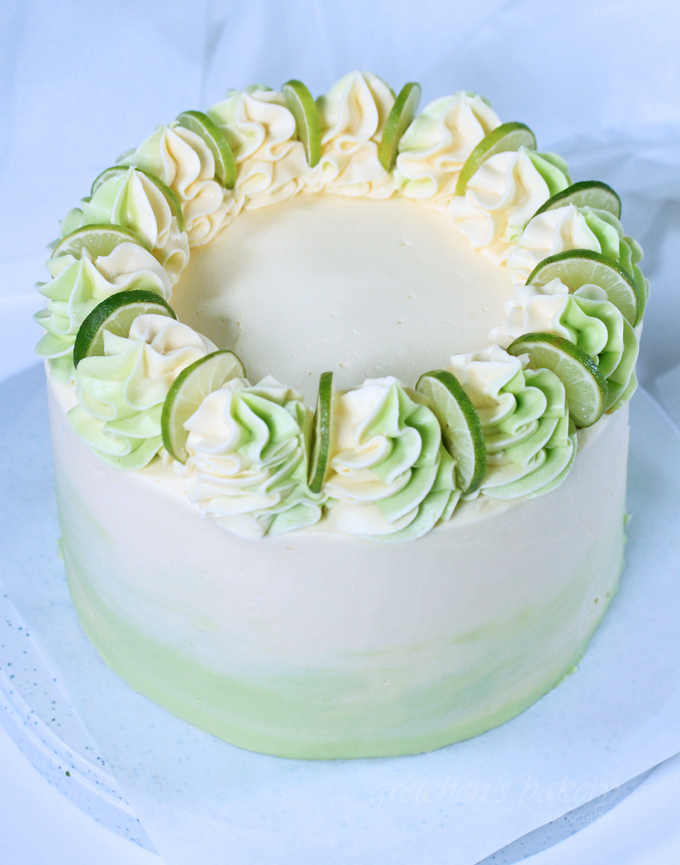 Another way to go is to just bake it into a loaf pan for a really easy grab and go slice for whenever the mood strikes!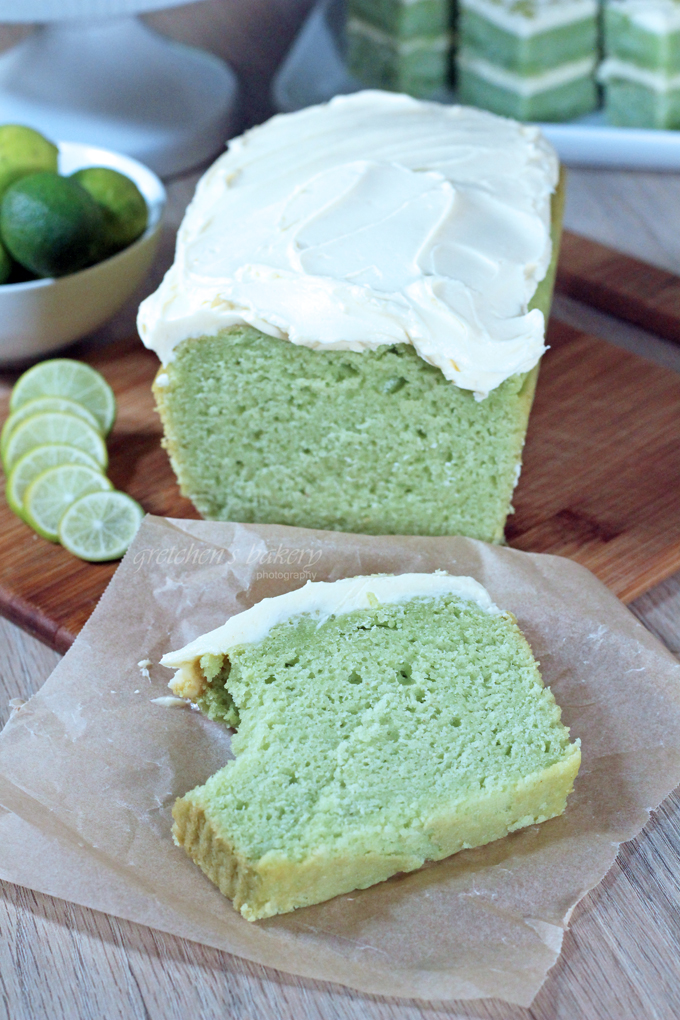 CLICK HERE FOR THE FULL YOUTUBE VIDEO TUTORIAL FOR HOW TO MAKE ALL OF THESE CAKES!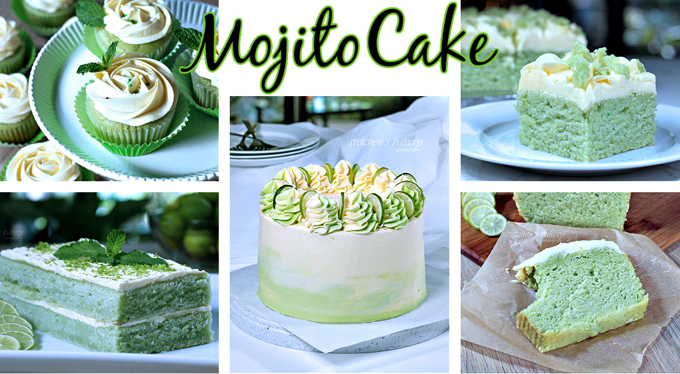 Notes for Success:
. The bake time on round cake pans may be slightly shorter, check cakes at 20 minutes Makes 24 cupcakes~ check at 18 minutes
If you are familiar with my bakery yellow cake recipe you will notice I am not using the cake flour as I usually do
I've tested it both ways and prefer the 100% all purpose flour here, especially since so many people have had negative results when using cake flour in recipes (especially vegan recipes)
This is a very liquid recipe and the added key lime juice changes the texture of the original cake formula, so to avoid a heavy gummy texture which often happens when we add fruit juices to cake batter, I've found the all purpose flour prohibits this by absorbing more liquid than cake flour will so I also like the combination of vegan butter & oil together versus just one or the other
But I have done all vegan butter and all oil in the total amount listed of ¾ cup with fine results, but the combination is preferable
For more awesome cake recipes like this one click the links below!
Truly White ~ Vegan White Cake Recipe
Fluffy Vegan Lemon Cake Recipe
Yield: serves 12-15 ppl
Key Lime Cake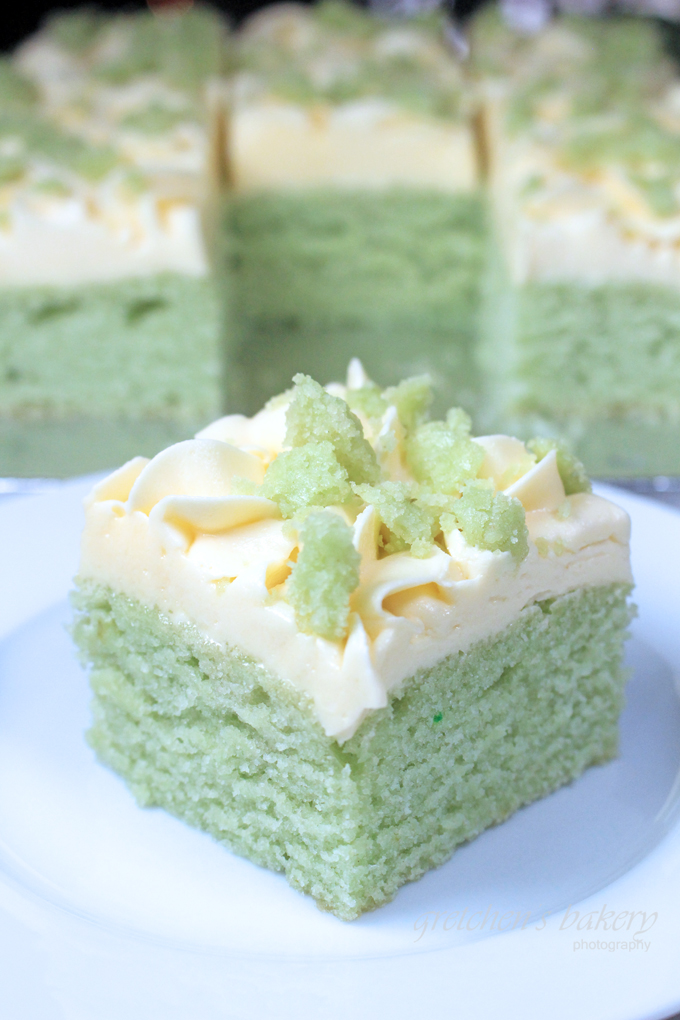 Ingredients
For the Cake Batter:
Plant Milk 1 cup (240ml) * I use soy milk for best results
Key Lime Juice ½ cup (118ml)
Vegan Butter ½ cup (113g)
Vegetable Oil ¼ cup (60ml)
All Purpose Flour 3 cups (375g)
Granulated Sugar 1½ cups (300g)
Baking Soda 1 teaspoon
Salt ½ teaspoon
Lime zest 1 teaspoon
Green food color 1 drop *optional
Instructions
Grease and parchment line your cake pan(s) This recipe will make 1-9" x 9" single layer cake OR 2- 8" layers OR 3- 7" layers
Preheat the oven to 350°F
Prepare the cake batter:
Melt the vegan butter and combine it with the vegetable oil
Combine the soy milk with the lime juice
In a large mixing bowl combine the flour, sugar, baking soda and salt and whisk together to incorporate all the ingredients very well.
Add the all liquids: the plant milk with the juice and the melted vegan butter o& oil and whisk smooth.
Add the lime zest & food color and whisk smooth
Divide the batter evenly between your prepared pans.
Bake immediately in a preheated 350°F oven for 25-30 minutes depending on the cake pans size and thickness of the layers, but always check at around 20 minutes
(Loaves should take about 45 minutes but definitely check them at the 30 minute mark just to be sure, as all ovens bake differently.)
I like to do the "toothpick" test to make sure there is no raw batter in the centers before taking them out
Cool the cakes on a wire rack until you can safely touch them with your bare fingers and then flip them out of the pans carefully to cool the rest of the way.
Prepare the 2 2 2 cream cheese icing according to the instructions on that recipe page, or build a layer cake as you desire!
Notes
Key Lime cake with 2 2 2 Cream Cheese Icing can stay at room temperature for up to 3 days.


For longer storage wrap cake layers loosely and keep refrigerated for up to 1 week.



The cake layer(s) can be frozen wrapped well for up to 1 month