For the cutest last minute dessert option
Black Forest Tarts are mini cookie cups filled with Silda's Cherry Pie Jam *sponsored post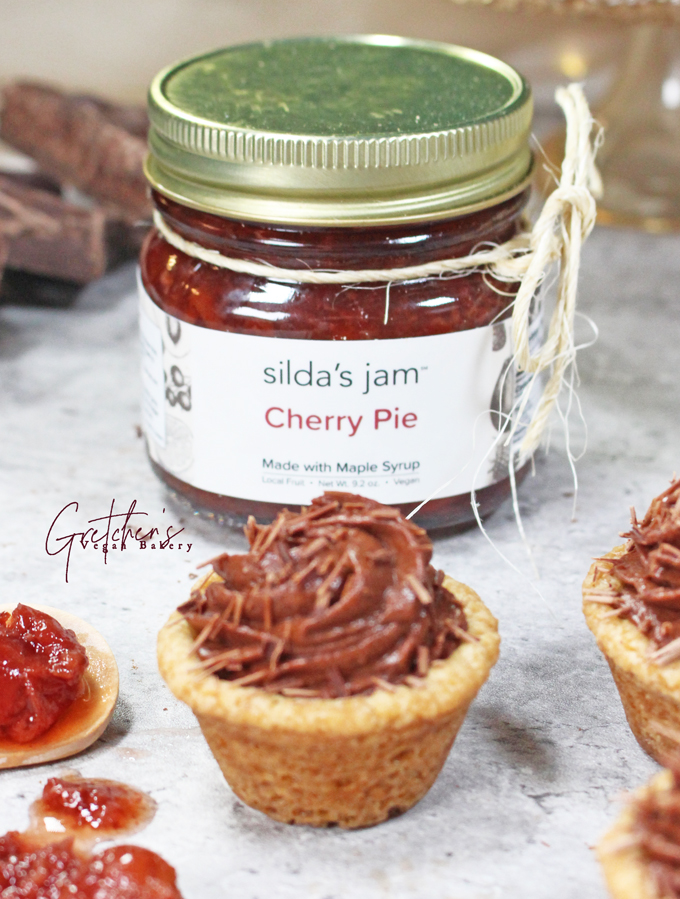 If you are looking for refined sugar free options for your baking and snacking Silda's Jam is the way to go!
Refined sugar free Jam made from Hudson Valley New York fruits and berries with real maple syrup instead of refined sugar!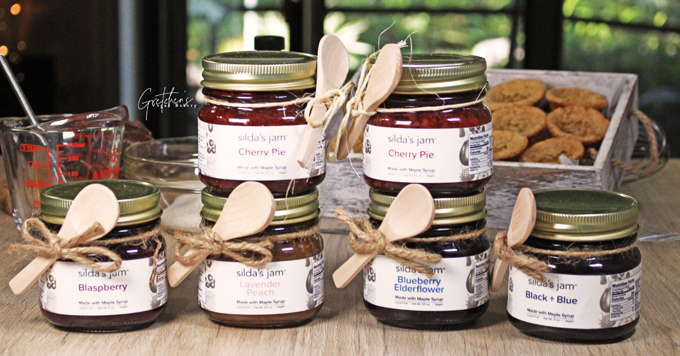 Be sure to check them out @SildasJams.com for a really unique gift option or to make your baking life so much sweeter!
Typically when eating jam, we expect a mouthful of sugar with some sort of hidden berry
However I was really impressed with the taste of this jam compared to that sugar shock we usually expect!
Silda's Jams are pure fruit with a subtle back note of maple syrup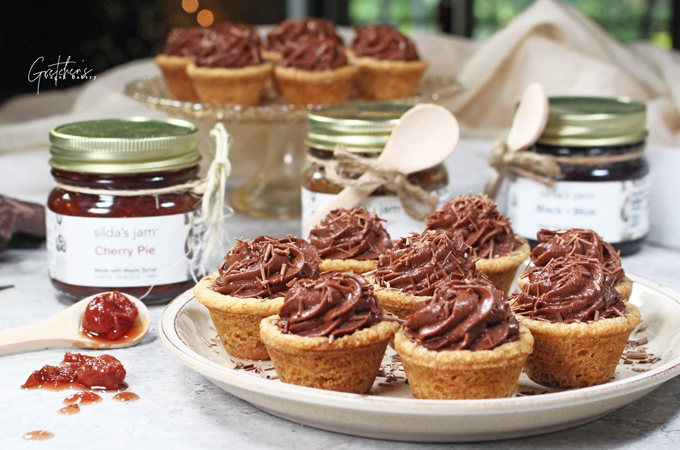 I love that this jam is not that thick sugary stuff or corn syrup pastry filling that we normally see!
Paired up with my chocolate mousse recipe and sugar free cookie cups it's absolutely Delicious!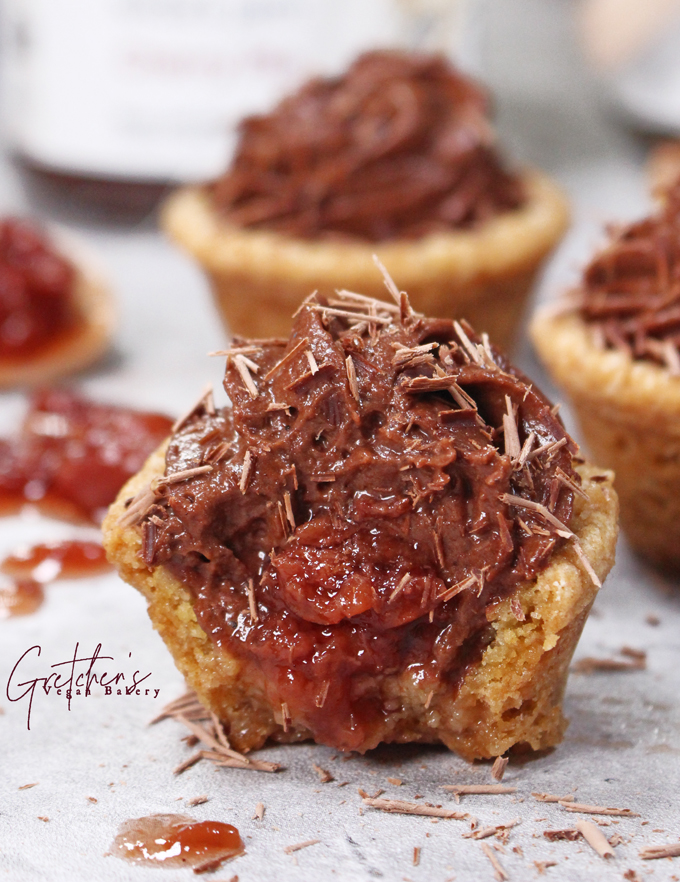 Notes for Success:
While this entire recipe is not sugar free, I did try to healthy up the individual recipes slightly by using monk fruit sugar in the cookie recipe and the original recipe is listed below with light brown and granulated sugars.
To sub in monk fruit sugar be sure to use a 1:1 baking blend for the 1 cup total listed in the recipe
For more about Sugar Free Baking Click here!
By using an 85% chocolate for the mousse recipe rather than the 60% I was able to add some monkfruit sugar to that as well
If you are using semi sweet chocolate omit the sugar listed in the chocolate mousse recipe below
Also, Silda's Jams are not as thick as the jellies and jams we are familiar with, they will seep liquid to the bottom of the tart, which for me actually tasted really nice!
But if you want to store these tarts at length or plan to leave them out for several hours on a buffet this could pose a problem
Therefore I would recommend a spot of ganache in the bottom of each tart to act as a barrier against that moisture seepage
As I mentioned in the video I did not add the agar to my chocolate mousse recipe as I often do
Agar will set the mousse more firm and it acts very quickly so keep that in mind if you do add it. See notes below in recipe
Definitely add the agar though, if you plan to serve these on a buffet where they will sit out for several hours or if they have to travel.
You will need a 24 cavity mini muffin tin for this project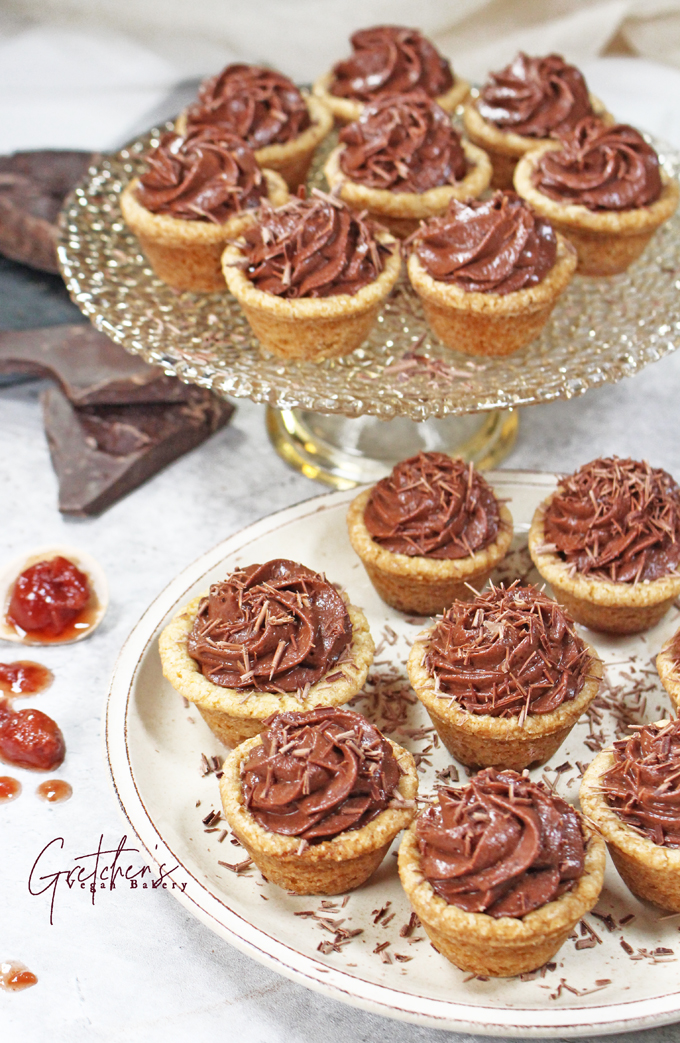 CLICK HERE FOR THE YOUTUBE VIDEO TUTORIAL FOR HOW TO MAKE THESE TARTS!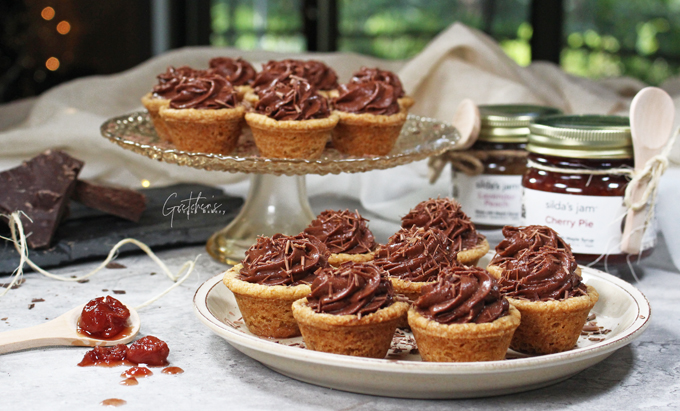 For more amazing recipes like this one click the links below!
No Bake Chocolate Raspberry Ganache Tart
Yield: 18-24
Black Forest Tarts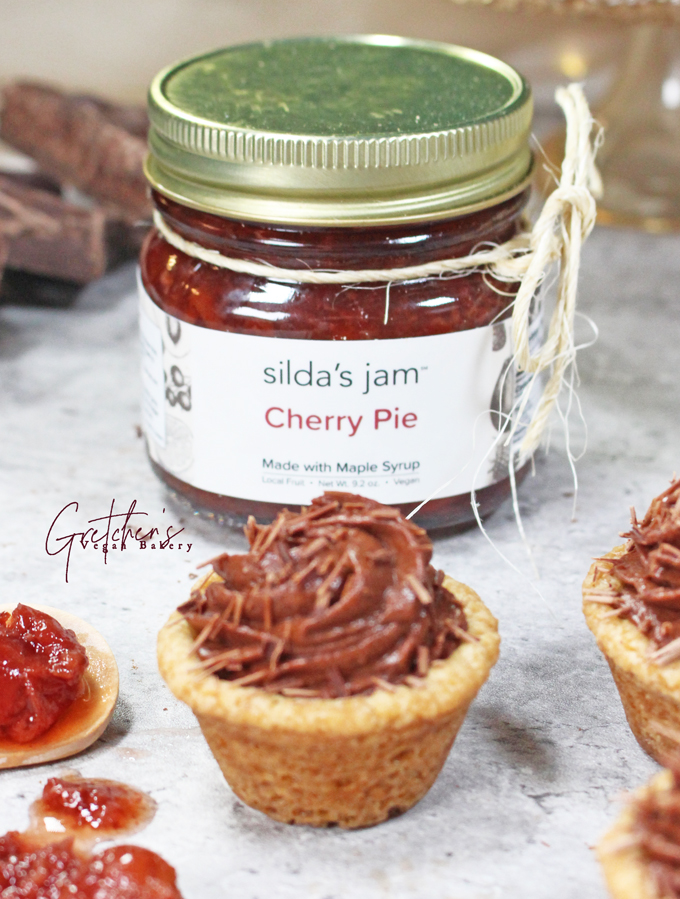 I am using aquafaba as the egg replacer for this cookie recipe, but you can use 1 teaspoon of any egg replacer you prefer, just be sure to add back the 2½ Tbs of liquid from the AF you are taking out Be sure to refrigerate your can of coconut milk overnight before starting this recipe
Total Time
2 hours
15 minutes
Ingredients
For the Cookie Cups:
Vegan Butter ½ cup (113g)
Granulated Sugar ½ cup (100g)
Light Brown Sugar ½ cup (100g)
Salt ½ teaspoon (3g)
Aquafaba 2½ Tablespoons (38ml)
Vanilla Extract 2 teaspoons (10ml)
All Purpose Flour 1¾ cups (217g)
Baking Soda ½ teaspoon
Baking Powder ¼ teaspoon
For the Chocolate Mousse:
Vegan Chocolate Couverture 8 ounces (226g)
Brewed Coffee 4 Tablespoons (60ml)
Vanilla Extract 2 teaspoons (10ml)
Liquid Aquafaba 4 Tablespoons (60ml)
Granulated Sugar 2 Tablespoons (28g)
Cream of Tartar ¼ teaspoons
Full Fat Canned Coconut Milk 1 can 15ounces
Instructions
First make the cookie cups by creaming the slightly softened vegan butter with both sugars and the salt in the bowl of your electric mixer with the paddle attachment
Cream for 3 minutes on medium speed or until light & fluffy
Add the aquafaba slowly while mixing on low speed until incorporated
Stop the mixer and scrape the bottom & sides of the bowl then add the vanilla extract and mix on high speed for 20 seconds to emulsify
Sift together the flour, baking powder and baking soda and then add all at once to the creamed mixture.
Mix just until it comes together
Preheat the oven to 350°F
Scoop the dough into your lightly greased mini muffin tin with a #100 scoop and bake for approximately 12-15 minutes or when they are nice and golden brown
They will have a slight indent already, but it is best to take a teaspoon measure while still hot and press gently to make a larger cavity to fill with the mousse & cherry
Cool completely and then add a heaping teaspoon of Silda's Cherry Pie Jam to the bottom of each cup
Next for the chocolate mousse, melt the vegan chocolate in a large mixing bowl and then add the hot brewed coffee and vanilla extract and whisk smooth
If you are using agar you will need 1/4 teaspoon added to the hot coffee and brought to a boil, but do not add that to the melted chocolate until you have your coconut whipped cream & aquafaba ready since the mousse will set almost instantly as soon as you add the coconut whipped cream & aquafaba
Whip the aquafaba with an electric mixer & the balloon whip attachment along with the cream of tartar until you have medium to firm peaks.
Slowly add the granulated sugar & whip to thick glossy firm peaks
Remove the can of coconut milk from the refrigerator & skim off the fat that is on the top, be careful not to get any of the liquid coconut water into the fat.
Give the coconut fat a light hand whisk in a small bowl to loosen it up then fold that into the chocolate mixture
Next fold in the whipped aquafaba *since I did not use agar in this recipe I had to wait for the mousse to thicken before piping into the cups
Notes
Black Forest Tarts can be left out at room temperature for up to 3 hours.
Store in the refrigerator for up to 4 days wrapped loosely
Freeze wrapped well for up to 1 month