Hands down Mud cake is my favorite chocolate cake of my entire lifetime.
I acquired this recipe way back as a pastry chef in my first job out of school
Once I tried it I knew why it was their signature cake
It brought new meaning to the phrase "sells like hot cakes"
Super rich, dense chocolate bundt cake that borders on brownie-like.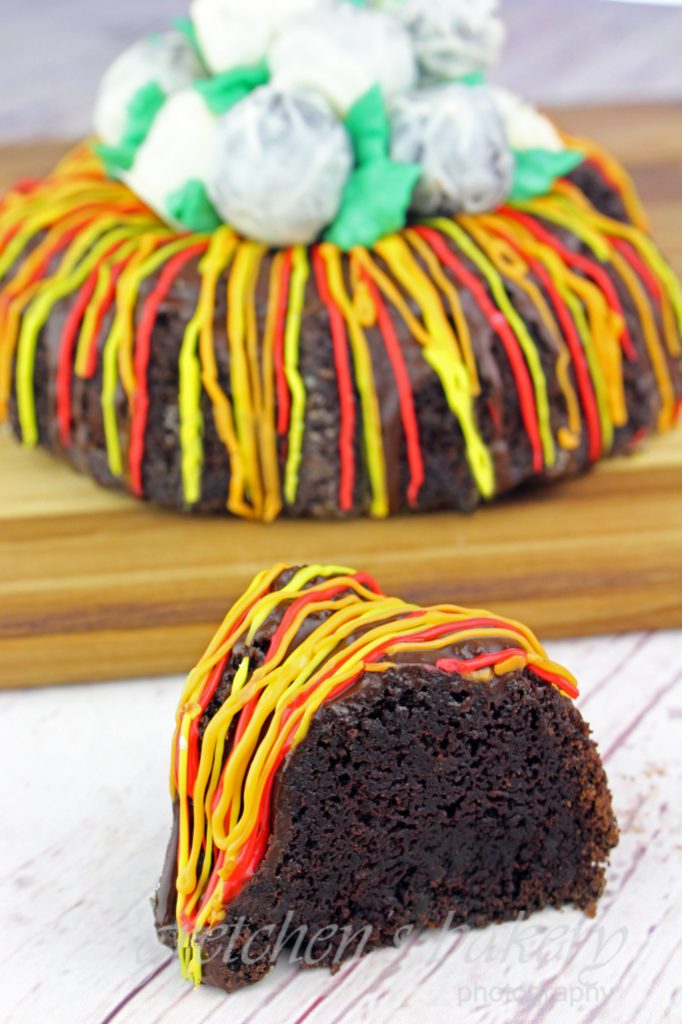 Chocolate that is enhanced by the addition of coffee and the whiskey takes this recipe to a level you have never experienced!
I know what some people are going to ask and that is, "can I leave out the whiskey? And the coffee?"
Well yes, I suppose you can; but don't blame me if your experience with this cake is just "meh"
I really recommend to follow the ingredients as listed
But I get it, some of you don't do alcohol in any way shape or form.
In that case you can replace the whiskey with more coffee, and if you don't do coffee either? Ay ay ay, just use water 🙁
Another question I know I'll get is, "What can I use instead of bourbon?"
Because let's face it, not everyone has a bottle of Jameson laying around.
Rum can be a suitable substitution, but I really recommend the whiskey.
As you can see I've decorated my finished cake with a sugar glaze in the colors of fall.
I was wishing it was Thanksgiving tomorrow because well, my dessert platter is ready!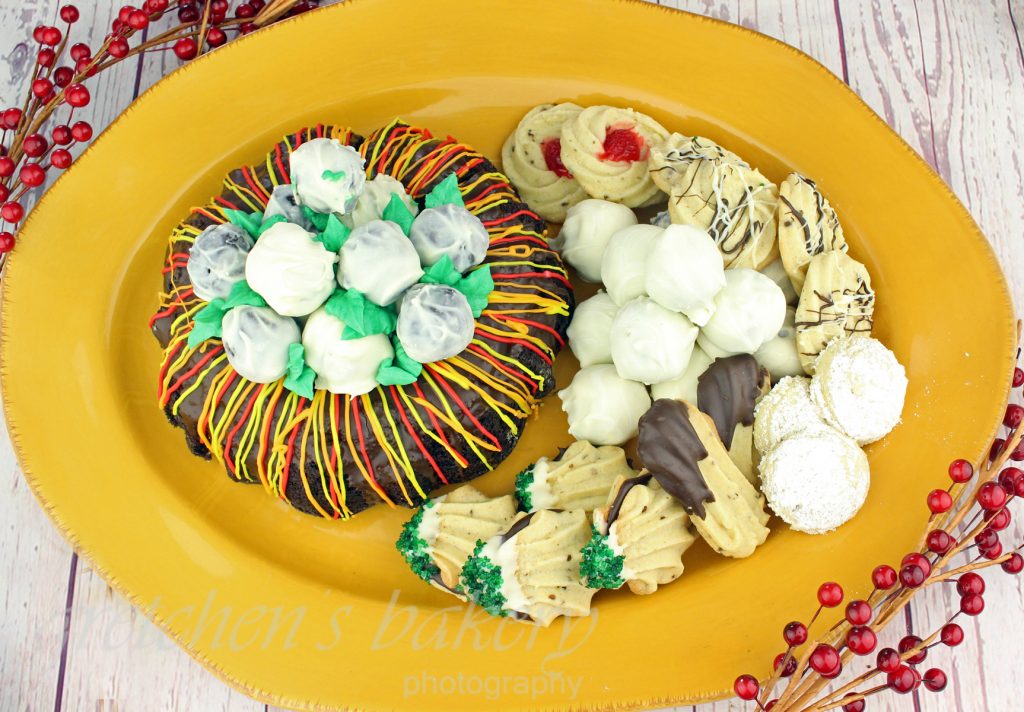 The sugar glaze is optional of course, as the original recipe actually used just ganache
You are going to love the moistness of this cake and the fact that it can be stored at room temperature for at least 4 days is a plus in my book
I do think this cake gets better after the first day and it is best served room temperature, however I kind of love the cold texture of this cake!
It reminded me a a thick dense fudge brownie!
Ok enough of me gabbing about this cake, just make it!
CLICK HERE FOR THE FULL YOUTUBE VIDEO FOR HOW TO MAKE THIS CAKE
For more recipes like this one, click the links below!
Chocolate Raspberry Truffle Cake
Mississippi Mud Cake
Generously grease and lightly cocoa powder your
6 cup capacity non stick bundt pan
and preheat the oven to 375° F
For the chocolate glaze combine 4 Tbs coconut oil witih 5 Tbs cocoa powder and 1½ Tbs agave, heat stirring constantly over a low heat
For the colored glaze: 2 cups of confectioners sugar with 2-3 Tablespoons of almond milk makes a very pourable glaze (just be sure the cake is 100% cooled before you do it) add color to your liking
Serves:
1 6 cup capacity bundt pan
Ingredients
Vegan Butter or Coconut Oil 8Tablespoons (113g)
Vegan Semi Sweet Chocolate 3ounces (85g)
Unsweetened Applesauce 2 Tablespoons
Light Brown Sugar ½ cup (105g)
Granulated Sugar ½ cup (100g)
Flax Meal 2 Tablespoons (16g)
Warm Water 5 Tablespoons (75ml)
Vanilla Extract 2 teaspoons (10ml)
Whiskey 2 Tablespoons (30ml)
Strong Brewed Coffee ½ cup (120ml)
*Or do what I did and use 1 tablespoon instant coffee granules and hot water
All Purpose Flour 1 cup + 1 Tablespoon (133g)
Natural Cocoa Powder 3 Tablespoons (30g)
Baking Soda ½ teaspoon
Baking Powder ¼ teaspoon
Salt ¼ teaspoon
Instructions
Combine the flax meal with the warm water and let stand to thicken about 10 minutes
Melt the vegan butter or coconut oil with the chocolate over a low heat stirring constantly
Sift together half of the sugar(s) with the flour, baking powder, baking soda, salt and cocoa powder
In a mixing bowl combine the other half of the sugar(s) with the flax paste, applesauce, vanilla extract, coffee and whiskey, mix well.
Add the melted chocolate and butter and mix well.
Add the sifted dry ingredients a heaping spoonful at a time while mixing on low until it is all incorporated
Pour into the prepared bundt pan and bake in a preheated 375° F oven for 15 minutes then turn the oven temperature down to 350°F for another 20 minutes
The cake will rise a lot and then fall slightly as it nears the end of bake time and when you insert a a toothpick into the center it will come out clean, you will know it's done
Cool completely and then ice with sugar glaze as I mentioned in the above text.
Notes
Mud cake can be stored at room temperature for up to 5 days in an airtight container.

For longer storage refrigerate for up to 10 days wrapped well or freeze (un-iced) for up to 2 months
UPDATE: I have to admit that I had a lot of disasters with this recipe.
First it wouldn't come out of the pan because #1 Bundt pans are impossible and #2 I was lazy and didn't make a batch of my Professional Bakery Pan Grease which ensures I will have a great release every time, and I used coconut oil spray instead.
But I always try to make my failures into successes and with my stupid stuck broken cake, the Whiskey Mud Ball was born!
A perfect way to fill up the center of my bundt cake and the presentation just went from 'Wow!" to "WHOA!!!!"
Of course I'm hoping you won't have a major fail like me, but that also means you won't have any whiskey balls to fill up your center! LOL
So if you want to make the bourbon balls anyway, here is the recipe!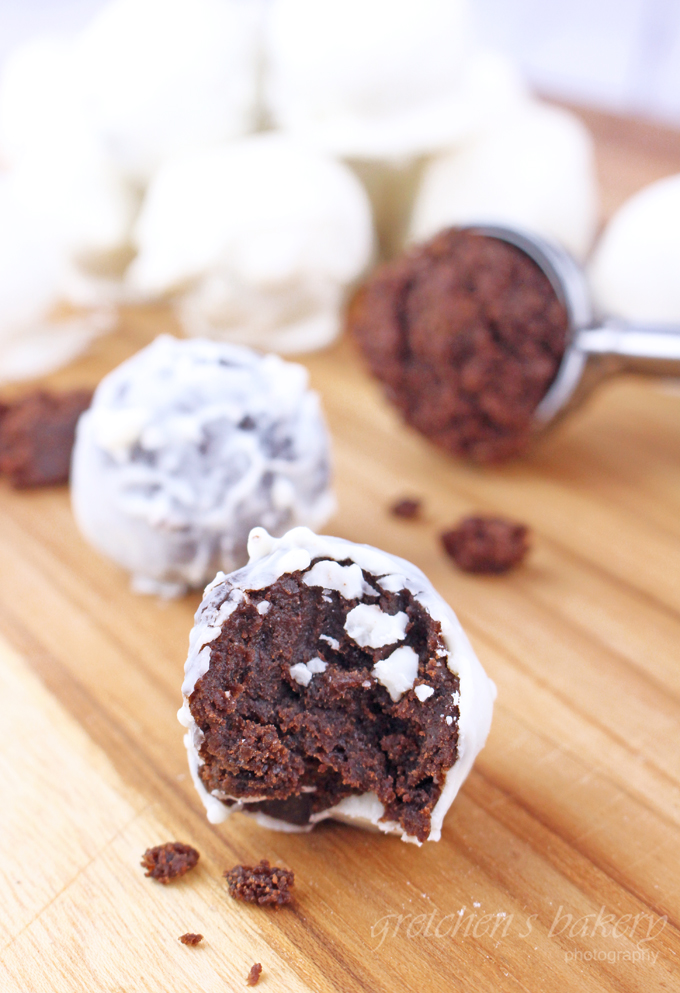 Use any chocolate cake of your choice, or just make this Mississippi Mud Cake again

Whiskey Mud Balls
Ingredients
1 destroyed cake that didn't come out of the pan! 🙁
*I used mine which was from a 6-cup capacity bundt pan and about ¾ of it was salvageable
Whiskey or Rum 2-3 tablespoons or to taste
Vegan White Chocolate 8 ounces (226g)
Instructions
In a large mixing bowl, break up the destroyed cake more than it already is!
Add the alcohol while mixing to form a "dough" like consistency that is firm and scoop-able but not super liquid and falling apart. You may have to adjust the amount of alcohol you are adding to get a good consistency. Traditional rum balls are not wet, but dense like a fudge brownie
Scoop them into balls and then roll the balls to form a nicer round shape.
Dip them in melted Vegan White Chocolate
Notes
Whiskey balls can be stored at room temperature for up to 1 week