Well, you may be already be asking, "Why would I make my own Oreo cookies? I mean, aren't they already vegan?"
I have to preface this blog post and recipe with a notation that:
I am not trying to start a wildfire around non vegan sugar and the use of palm oil here today
Can I just share my recipe for Homemade Vegan Oreos Cookies?!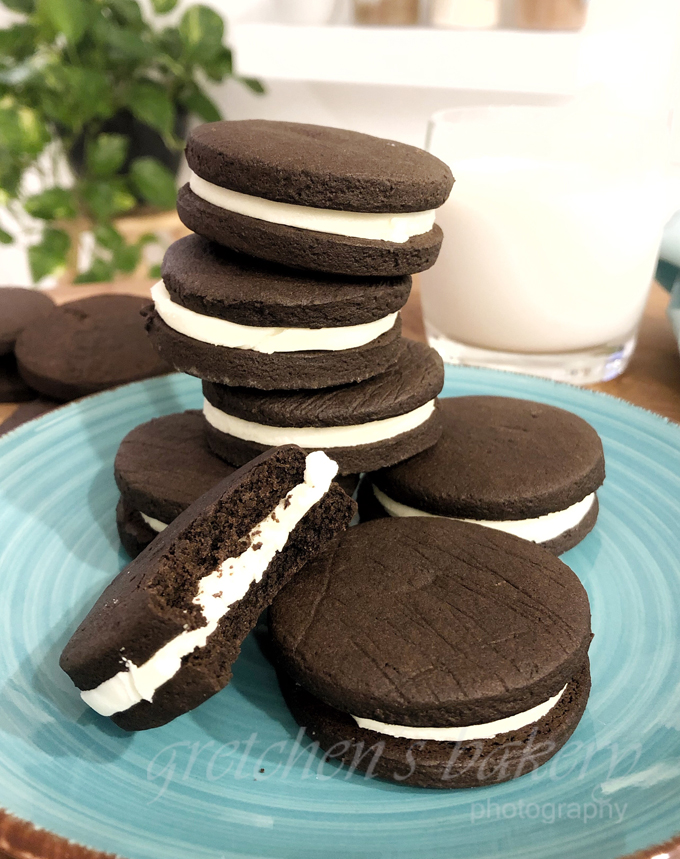 So to answer the question loosely whether or not Oreos are vegan, it depends on where the Oreo manufacturer is sourcing their sugar.
Wait a minute! Sugar is not vegan!???
Yes, and down the rabbit hole we go.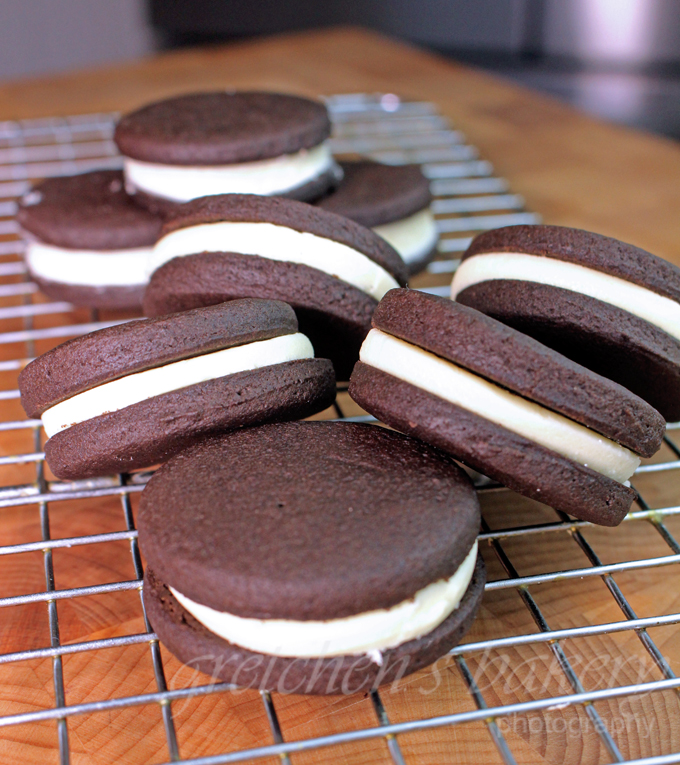 Any sugar that was processed through animal bone char cannot be classified as vegan
Since obviously it is using exploited animal bones for the processing.
So here in the USA most products containing sugar are not vegan.
In the UK though, I have been told they do not use animal bones, you lucky ducks across the pond!!
This poses another question which is the snub nosed "How vegan are you?"
This is a heated topic and one that I am not trying to debate here on my blog, but it does make you wonder
"What else are they using animals in and for that we don't even realize!?"
Not to mention the heavy amounts of glyphosate found in many of the products we consume regularly including Oreos that top the list!
But that is a topic for another day and conversation, dang what has happened to the world and our food system!??
I didn't even get into the Palm Oil discussion yet.
So for the self proclaimed hard core vegan and plant based eater, you probably wouldn't catch them eating Nabisco Oreos not only for the sugar but because of that company's heavy use of non sustainable palm oil.
To read more about it click here for Emily, the Bite Sized Vegan's clear and supported article around palm oil and it's exploitative practices.
Now with all that being said:
LET'S MAKE HOMEMADE VEGAN, ORGANIC, SUSTAINABLE, NON GMO- GLYPHOSATE FREE OREOS!!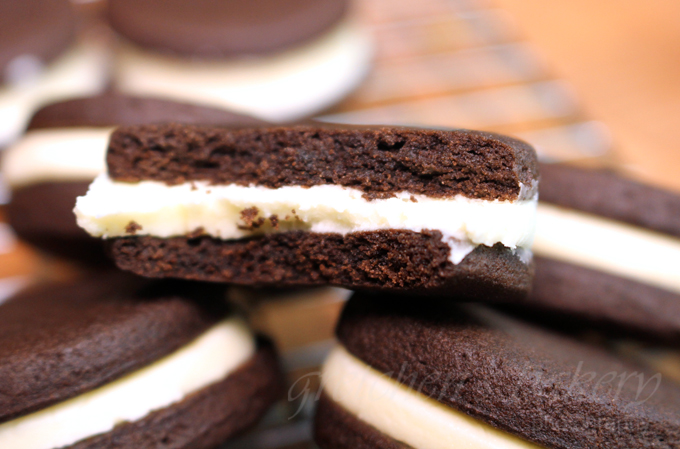 CLICK HERE FOR THE FULL YOUTUBE STEP BY STEP VIDEO TUTORIAL FOR HOW TO MAKE HOMEMADE VEGAN OREO COOKIES!
My cookies are already close to the Double Stuffed Cookies so you can adjust the thickness of the filling for the style you like best!

This recipe will also take flavorings like mint, coconut, strawberry extracts and many more!
For Chocolate stuffed cookies replace ¼ cup of the confectioners sugar with ¼ cup of cocoa powder
Yield: 24 cookies
Vegan Oreo Cookies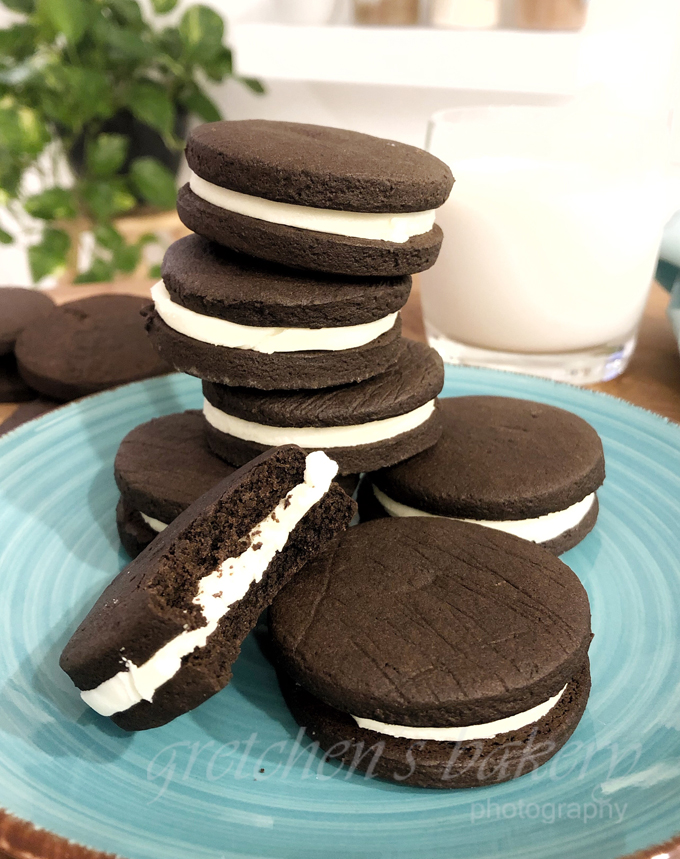 Another note: I am using Earth Balance Vegan Butter which has reported their switch to sustainable palm oil but what does that really mean? Click here and YOU decide.
Total Time
1 hour
12 minutes
Ingredients
For the Cookies:
Organic All Purpose Flour unbleached 1 cup (125g)
Dutch Process Cocoa ¼ cup (20g)
Baking Soda 1/8 tsp
Sea Salt pinch
Organic Confectioners Sugar ½ cup + 2 Tablespoons (75g)
Cold Vegan Butter 10 Tablespoons (140g)
Vanilla Extract 1 teaspoon (5ml)
For the Filling:
Organic Confectioners Sugar 1½ cups (180g)
Vegan Butter 4 Tablespoons (65g)
Instructions
First prepare the chocolate cookie dough by combining the flour, cocoa powder, baking soda, salt and confectioners sugar in a large mixing bowl.
Blend on low speed to combine, the add the diced cold vegan butter and continue blending on low to medium speed. It will seem that this is taking forever to come together and you will think there is something wrong with the recipe. Just wait. It may take 5 minutes or more
It will eventually come together and at that point you can add the vanilla extract and blend on high for 10 seconds to incorporate well.
Turn the very soft, sticky dough out onto a piece of plastic wrap or parchment paper (the plastic is way easier though) and then place another piece over top
Roll to about ¼" thickness as shown in the video.
Cut the dough with a 1¾" cookie cutter (dip the cutter in flour to make sure they don't stick in your cutter) and place them spaced ½" apart on a parchment lined (or non stick) sheet pan.
Bake in a preheated 350°F oven for 10-12 minutes and then transfer them to a cooling rack while you prepare the filling.
In a large mixing bowl combine the confectioners sugar and vegan butter and blend on low until it all starts coming together to a thick paste like dough.
This will also seem to take forever but it will eventually come together after about 2-4 minutes.
Exactly as you rolled the sticky cookie dough you will do the same for this filling. Between 2 pieces of plastic wrap or parchment paper (trust me the plastic wrap is way easier!) and then cut out with the same cookie cutter (or slightly smaller if you prefer) dipped in a bit of confectioners sugar to make sure they don't stick
Sandwich the filling with the cooled cookies and that's it!
Notes
Cookies can be stored at room temperature for up to 1 week in an airtight container or frozen for up to 2 months