Another iconic bakery recipe for Vegan Rainbow Cookies!
No Italian bakery is complete without an array of colorful rainbow cookies in the display case!
Although I'm not quite sure why they are called "rainbow cookies" since the colors are actually just red, green and white to match the colors of the Italian flag!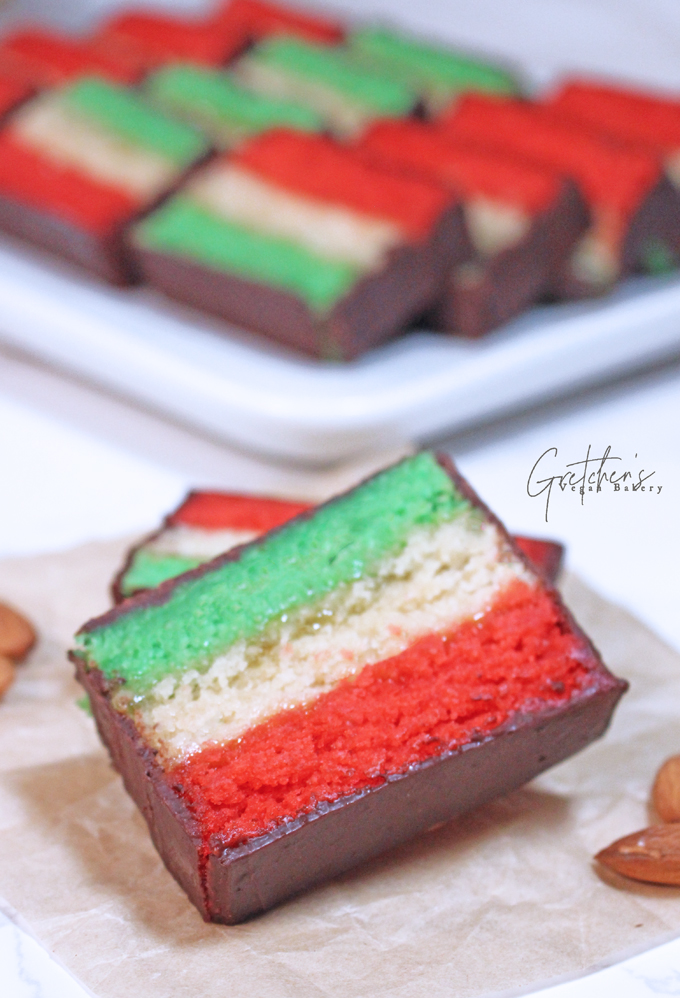 Petite squares of frangipane cake that is so delicate each bite melts in your mouth!
Coated with that thin signature chocolate shell these cookies are worth the effort!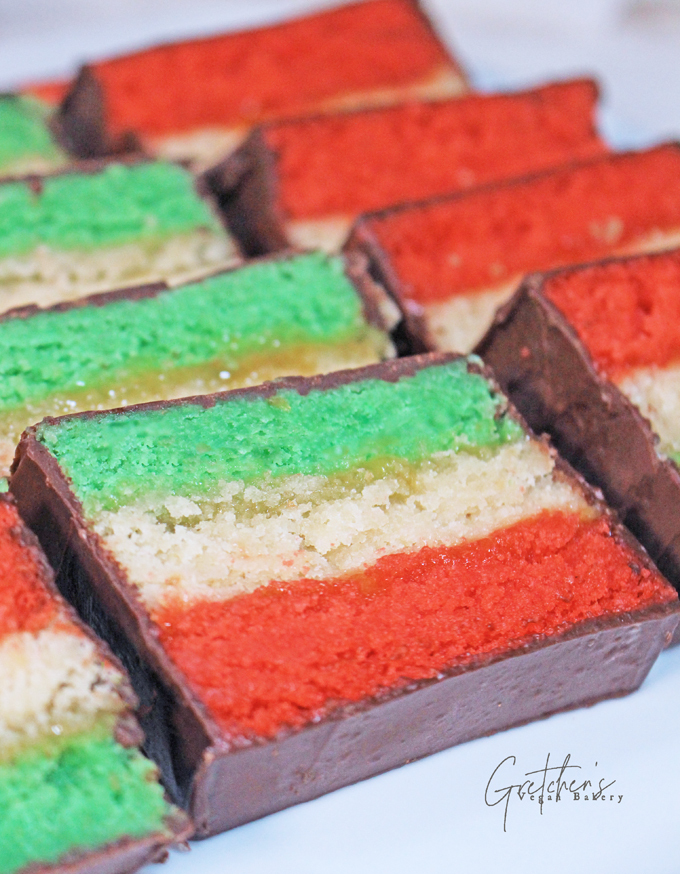 Homemade almond paste makes this recipe easy, accessible and addicting!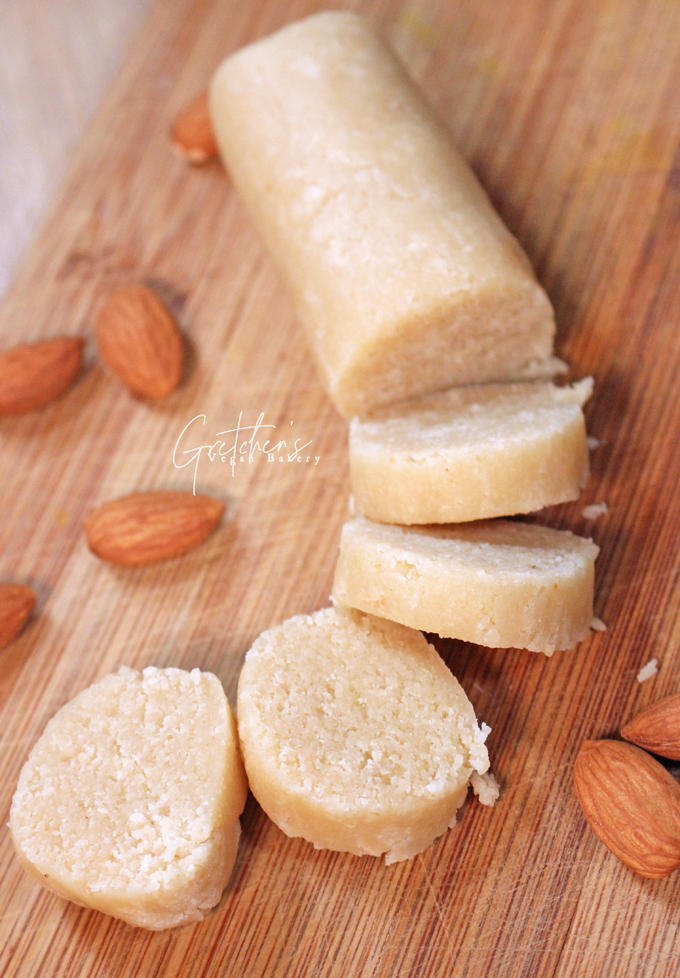 With minimal ingredients these soft almond layers bake up in no time!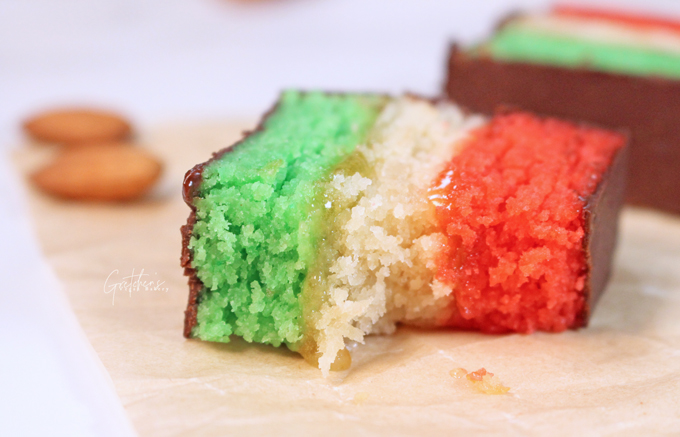 Notes for Success:
I've formulated this recipe to be baked into 3- 1/8th sheet pans
Once you stack the layers you will see that you can easily serve the entire "cake" as an actual cake!
Or proceed as I show you in the video for how to cut it into the iconic petite rainbow cookies!
These cookies can easily be converted to gluten free simply by using a 1:1 gluten free blend like bob's red mill and a gluten free cornstarch
My homemade recipe for almond paste is much softer than some store brands, so if you are buying yours it may be necessary to soften it with a tablespoon or two of the aquafaba from the recipe before mixing in the rest of the ingredients in order to ensure a smooth frangipane paste.
Apricot jam is my choice for the filling of these rainbow cookies but many people use raspberry jam instead, it is your option
I've used gel paste food color for this but you can easily use natural spirulina for the green and beet root powder for the red!
In the video I mistakenly said that I colored one of the layers white. I did not do that, I just left the batter plain for the white layer which is technically more ivory.
Be sure to temper your chocolate since these cookies will be kept at room temperature and if your chocolate is out of temper it will not set properly
Alternatively you can use a coating chocolate that does not require tempering, however I have a step by step YouTube video for how to temper chocolate
WATCH THE YOUTUBE VIDEO TUTORIAL FOR HOW TO MAKE THESE RAINBOW COOKIES!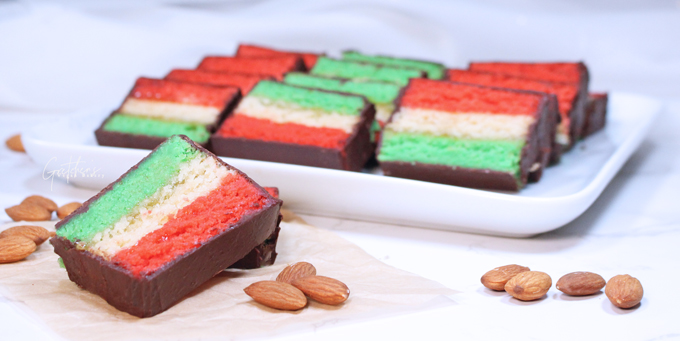 For more copy cat bakery recipes click the links below!
Vegan Spritz Cookies ~ Bakery Recipe
Yield: 24
Vegan Rainbow Cookies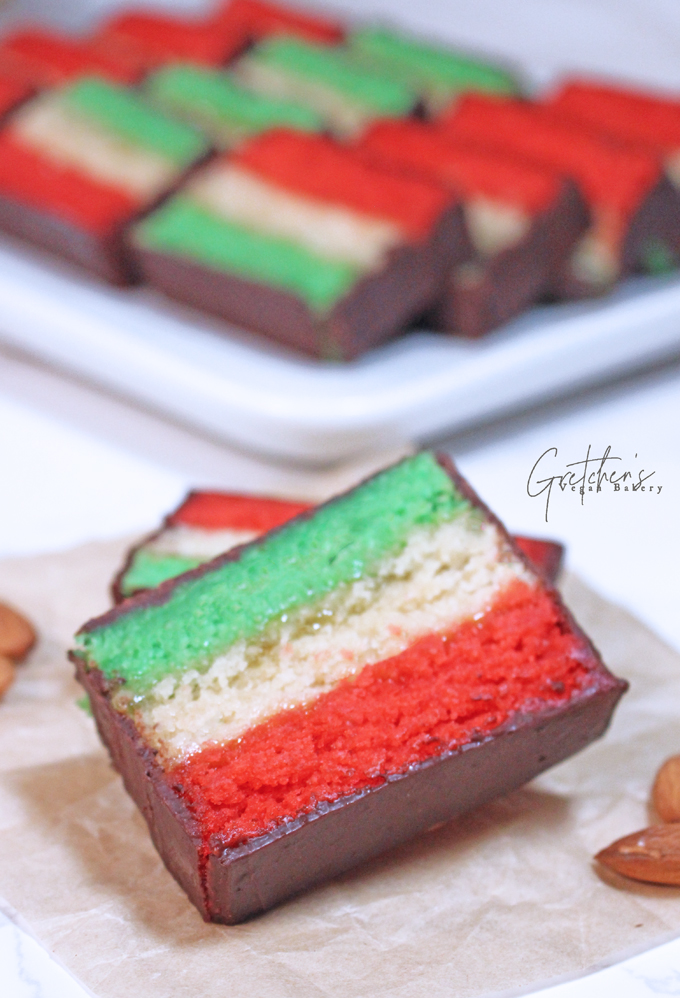 Total Time
2 hours
20 minutes
Ingredients
For the Frangipane Cake layers:
Vegan Butter softened 9 Tablespoons (126g)
Aquafaba 6 Tablespoons (90ml)
Cornstarch 3 Tablespoons (24g)
All Purpose Flour 9 Tablespoons (70g)
Baking Powder 1/4 tsp + 1/8tsp
For the Chocolate Coating:
Tempered Vegan Chocolate 8oz (226g)
Instructions
Grease & parchment line 3- 1/8" sheet pans & preheat the oven to 350°F
First prepare the almond paste (or use a good quality store brand) click through to that recipe to see how to make it!
With the softened vegan butter & the almond paste in a large mixer bowl cream it until it is all incorporated on low to medium speed stopping to scrape the bottom & sides of the bowl
Combine the cornstarch with the aquafaba and whisk smooth, add this slowly into the creamed butter.almond paste while continuing to mix on medium speed
Scrape the bottom & sides of the bowl again to mix evenly then whip on high speed for about 10 seconds
Add the flour and baking powder and mix to combine
Divide the batter evenly into 3 portions one will be colored red, one green and the other will stay plain white or ivory batter
Bake for 18-20 minutes or when the edges just start to get light golden brown~ check at 15 minutes since all ovens bake different and you do not want to overbake these!
Cool completely then turn out onto a parchment lined sheet pan & freeze to make it easier to assemble
Spread 3 Tbs jam for the filling of each layer
Trim the edges of the frangipane cake and then temper your chocolate
Watch the video tutorial for how to easily coat each side of the frangipane cookie logs
Notes
Rainbow cookies can be stored at room temperature for up to 1 week wrapped loosely to prevent drying
For longer storage wrap and refrigerate for up to 1 month, freeze for 3 months