It's hard to imagine a Valentine's Day without Red Velvet Cake!
So in honor of Cupid's Love Day
Make individual Red Velvet Cakes for your sweeties!

Perfect little cakes to give as gifts to the ones you love!
I even used my Russian Piping Tips to decorate them with a basket weave design!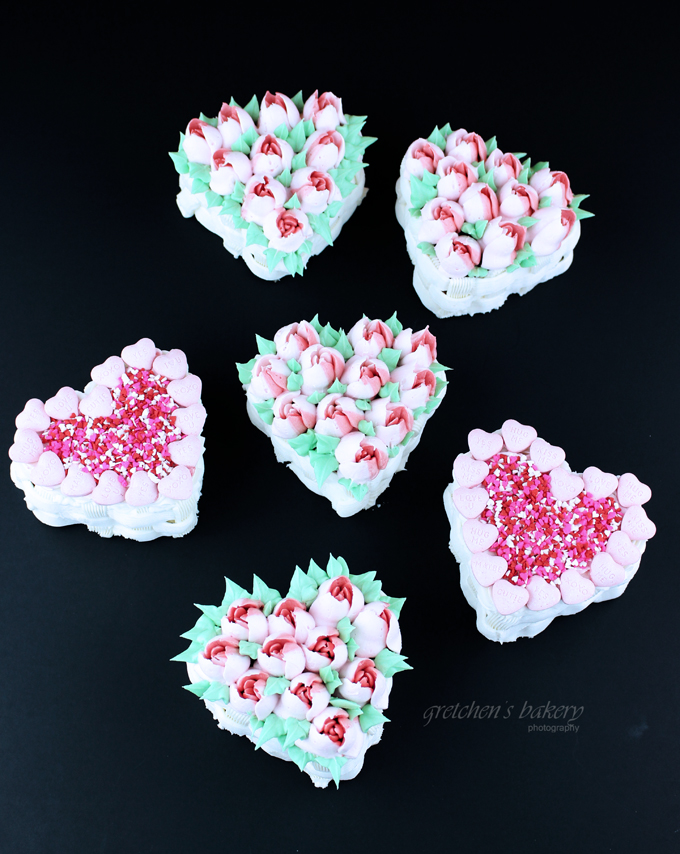 This cake is so moist with the traditional cream cheese filling and icing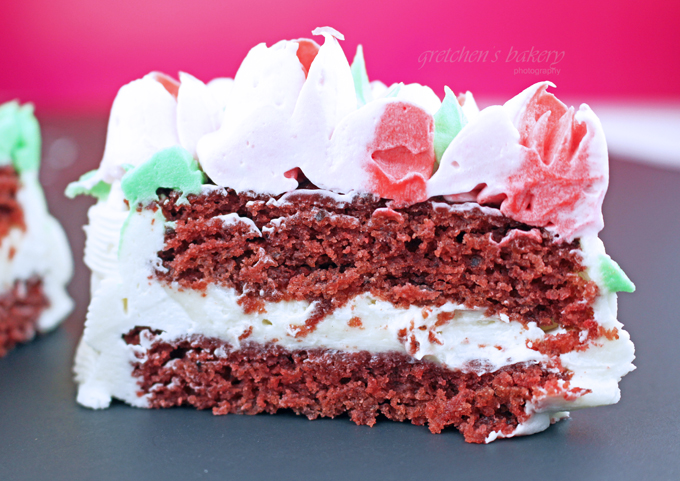 Of course you can make this entire recipe into an 8″ layer cake instead
Just by dividing the cake batter evenly into 2-8″ cake pans instead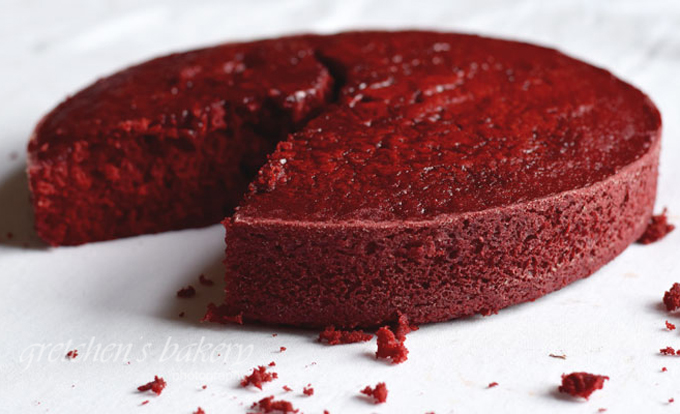 But if you want to spend a little bit more time on this project to make these adorable little individual cakes like I did
You would simply bake all the batter into a half sheet pan and then cut out each heart shaped layer! *video tutorial linked below
Totally worth the extra effort when you give these mini cakes as gifts to the special people in your life!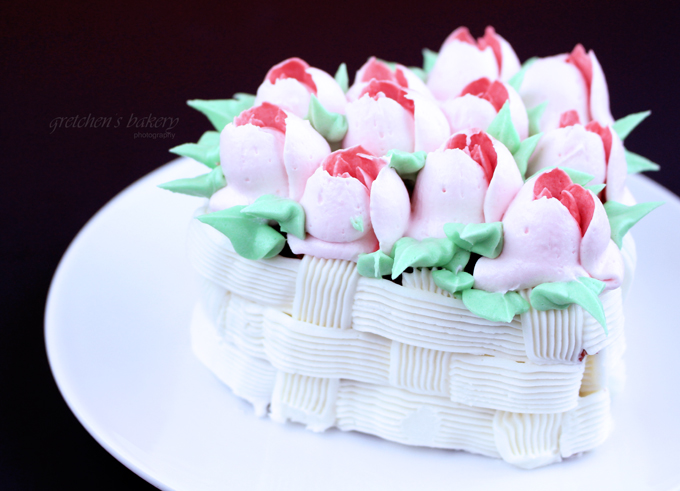 The only problem with doing it that way is the excess cake scraps left over when cutting shapes from a sheet cake
But I never fret over excess cake scraps since I will always use it in something else later
Like these adorable heart shaped cake pops for example!
Or these luscious Red Velvet Cake Balls dipped in white chocolate!
This is my original bakery recipe for red velvet cake that has been converted to vegan!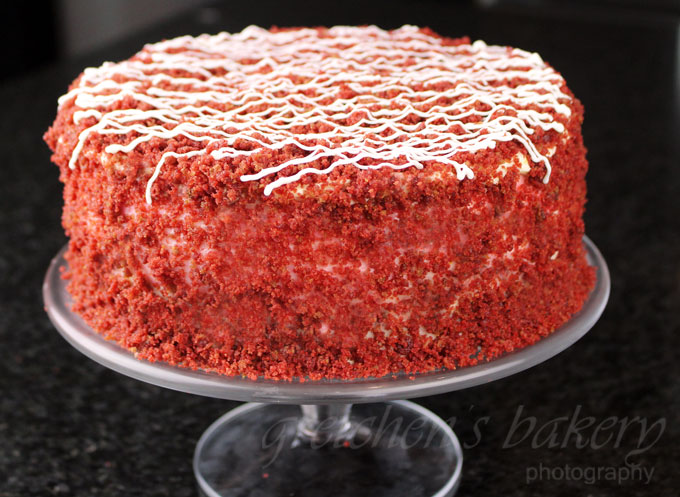 It does have red food coloring to make the vibrant red color
However I am no longer a fan of using harsh chemical dyes in my recipes anymore
So I have since developed a No Dye Red Velvet Cake recipe using beet root powder that is worth a look!

I have also developed a No Cream Cheese ~ Cream Cheese Icing recipe that is room temperature stable
Bonus: It doesn't require using vegan cream cheese which can be difficult to find nowadays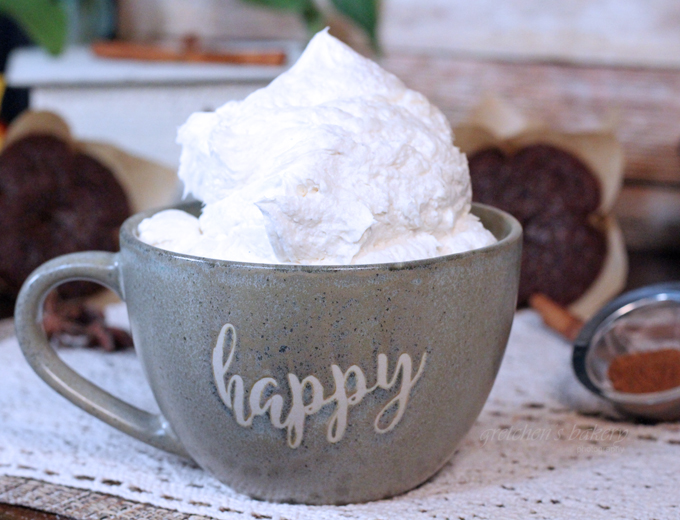 Another option is to just go straight up buttercream if cream cheese icing isn't exactly "your thing"
There are so many options for making the best red velvet cake for Valentine's Day this year!
Just type "Valentine" in the search bar here on my website and you will see the endless ideas!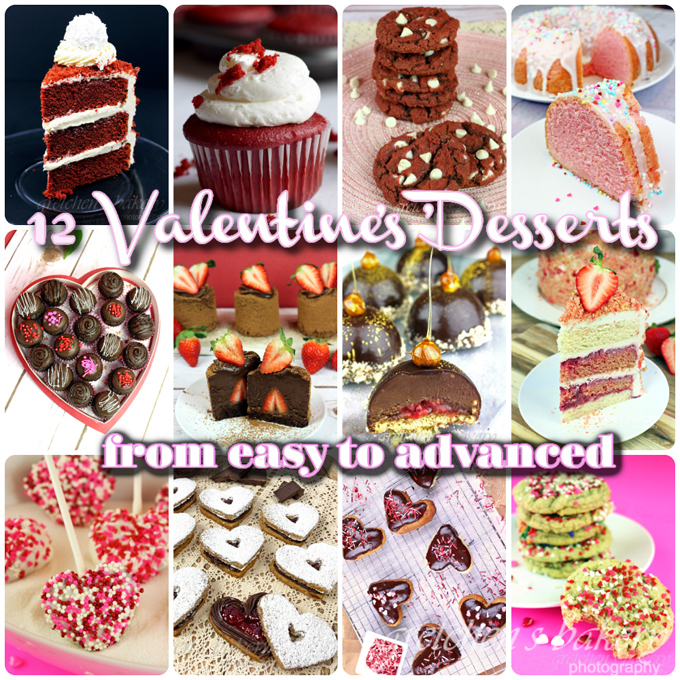 Notes for Success:
I am using my No Shortening Buttercream Icing recipe modified for Cream Cheese icing that does not require vegan cream cheese!
Be sure to read the entire blog post for that recipe and use the modified "no refrigerator" cream cheese icing version for the best cream cheese icing ever!
In the video for this recipe I was using beet juice for added color but I find that this is an annoying ingredient as well as an unnecessary one so I've replaced it with more water to reconstitute the flax meal
The Russian Piping Tips are optional of course, and if you have never used Russian Piping Tips before you will want to be sure your icing is as cold as possible before piping to give the flowers the best definition
Cocoa powder is the most important ingredient to understand when making Red Velvet Cake
Many people think Dutch process is the best to use and should be used in all recipes asking for cocoa powder
This is not true, and especially not true of red velvet cakes
CLICK HERE FOR THE YOUTUBE VIDEO TUTORIAL FOR HOW TO MAKE THESE LITTLE RED VELVET CAKES!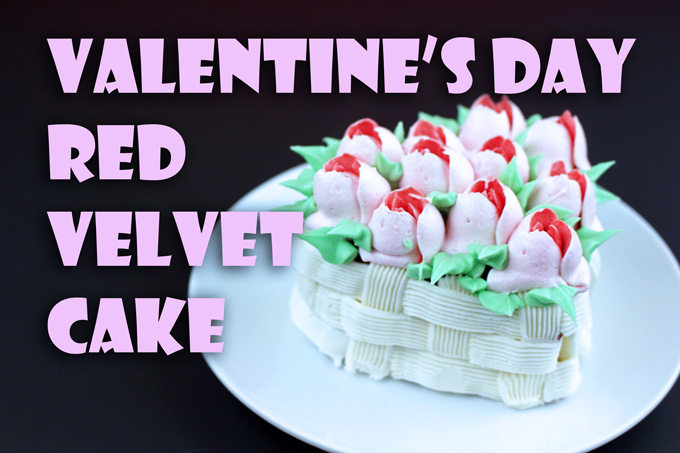 Check out all the Red Velvet Recipe versions below!
No Dye! Red Velvet Cake ~ Vegan
Red Velvet Cakes
Ingredients
For the Red Velvet Cake
All Purpose Flour 2½ cups (312g)
Granulated Sugar 1½ cups (300g)
Baking Soda 1 teaspoon (5g)
Salt ½ teaspoon (3g)
Natural Unsweetened Cocoa Powder 2 Tablespoons (12g) * see notes in notes for success above recipe section
Vegetable Oil ½ cup (120ml)
Plant Milk 1 cup (240ml) * I am using soy milk
Flax Meal 2 Tablespoons (16g)
Hot Water 6 Tablespoons (90ml)
Red Food Color optional
White Vinegar ½ teaspoon
Vanilla Extract 1 teaspoon (5ml)
Instructions
For the Red Velvet Cake:
Preheat the oven to 350°F
Grease & parchment line your cake pan(s)
First combine the flax meal with the hot water and whisk smooth, let it stand for 5 minutes to thicken
Combine the vinegar with the plant milk to sour
In a large mixing bowl combine the sugar with the oil, & vanilla extract and whisk smooth
Add the flax paste and the soured milk and whisk smooth
Sift all the dry ingredients into the sugar/oil mixture and whisk smooth again
Add optional red food color to spike it up then pour into a greased and parchment lined 12" X 18" pan and bake in a preheated 350°F oven for approximately 25-30 minutes or until it is springy to the touch when you gently press the center
If using 8" pans divide the batter evenly between both greased & parchment lined pans and bake for approximately 25 minutes, check with a toothpick to make sure it is done.
Cool the cake in the pan and then cut out the heart shapes with a 4" heart cookie cutter, save the scraps for another project like Cake Pops or Red Velvet Truffles *links above in text
Meanwhile prepare the cream cheese icing according to the instructions on that recipe post linked above
**You will notice it is titled "No Shortening" icing, but scroll down to the bottom of the post for the Cream Cheese version
Decorate the cakes as you like ~ watch the video tutorial for how to make the basket weave and the Russian piping roses decor
Notes
Since there is no vegan cream cheese in the icing, this cake will be fine at room temperature for up to 4 days.

For longer storage keep refrigerated for up to 1 week