The traditional holiday yule log cake is a beautiful sight to behold
Sponge cake roll filled and iced with ganache!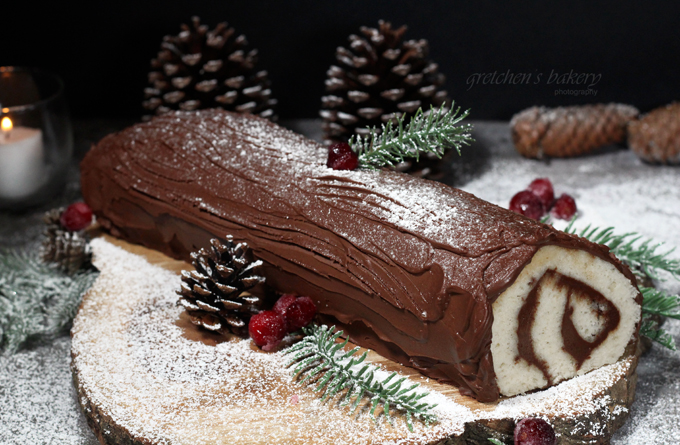 If anyone has ever struggled with the vegan roulade cake I have an easy solution for you today!
Yes it's the box cake hack!
OMG How Dare You!
But before you get your Bûche in a Bunch
If you have not yet tried my Box Cake Hack, you must click through to that recipe and watch the video explanation as well!
CLICK HERE FOR FULL VIDEO TUTORIAL & EXPLANATION
Seriously this is the easiest way to roll up a vegan yule log cake with no cracking and no tears of frustration!
If you have ever tried vegan roulades you know they are a literal pain in the rear!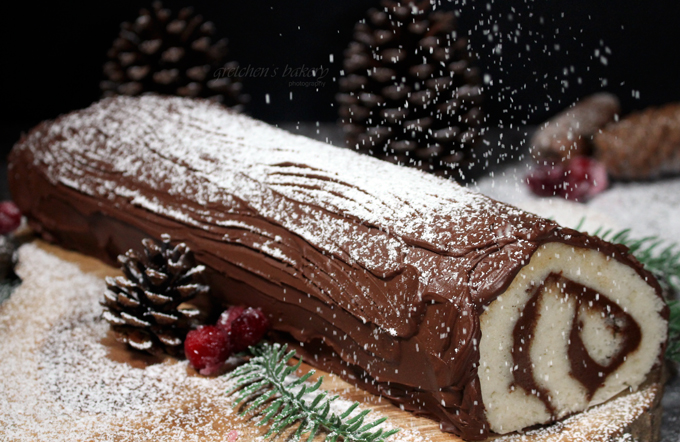 Like, such a pain that I never ever want to make them again!
Who has time to play around with cracking cakes and spilling fillings!?
Not me!
This method will work with any Duncan Hines flavor you like! *not sponsored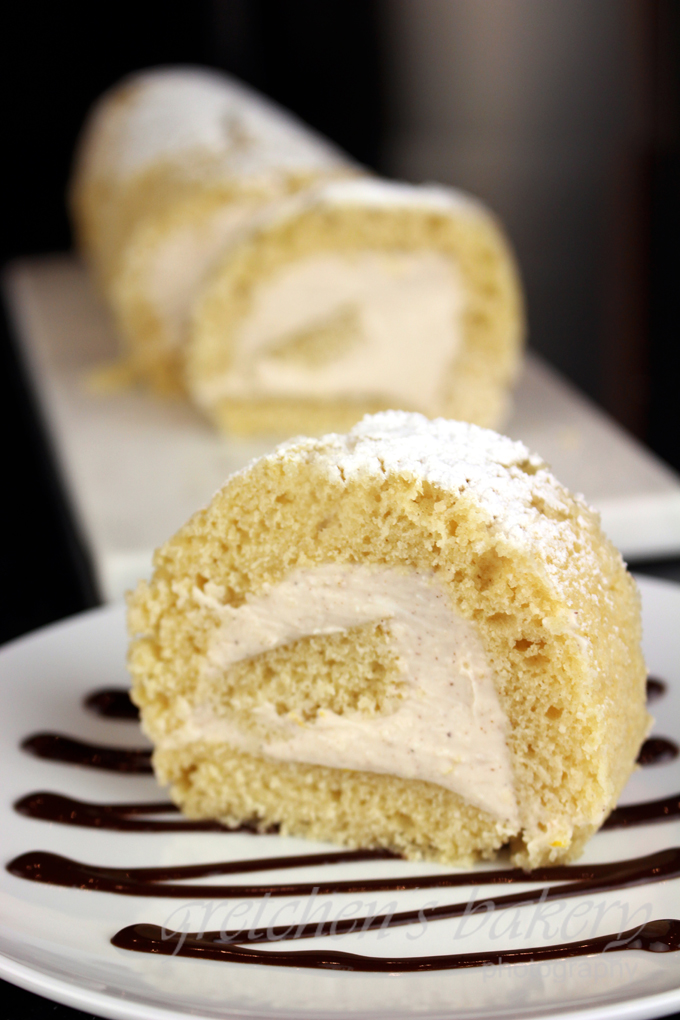 But you will only be using 4 cups of batter from full box the recipe for 1- 12″ x 18″ sheet pan
With the rest of the batter just bake it into some cupcakes or something, but do not use all the batter for the roulade!
Or your cake will definitely crack when rolling!
For the filling I went traditional ganache with ganache icing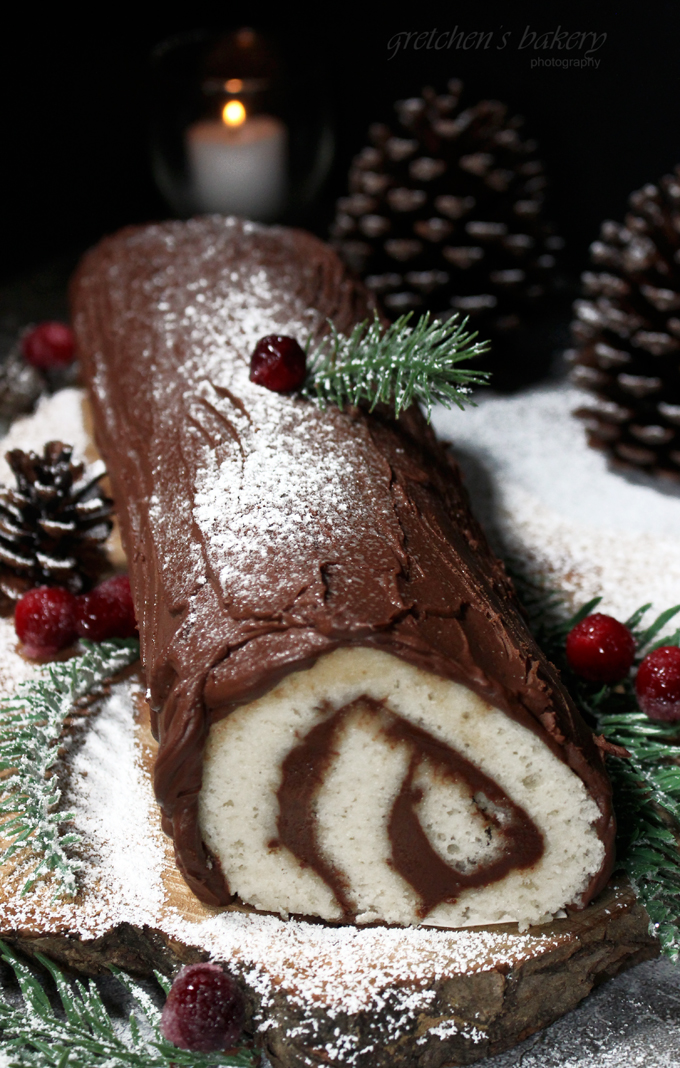 Because it's just so darned easy to make, not to mention rich and delicious too!
So pick your cake flavor and get your Yule log rolling faster than you can say
"My Bûche is in a Bunch!"
PLEASE READ EVERYTHING BELOW!
I have gotten some pretty heavy flack for this box cake fix straight out of the gate.
Many people berated me for using a store bought egg replacer as the fix it.
They just really wanted me to continue advocating for those other handy items like the can of soda as the ultimate fixer upper for a veganized box cake.
But I cannot advocate for something that while yes technically it works, the result is quite awful in my opinion!
So yes I did use a store bought proprietary blend egg replacer for this hack with the ultimate of ultimate results!
But not without the other ingredient additions and changes to support the structure, help the rise and make this cake even better than you remember a box cake to be!
You can use any egg replacer of your choice as long as you use implement the other ingredient changes to the recipe
For more Life Hacks click the links below!
How to Replace the Eggs in a Box Brownie Mix

Easy Vegan Yule Log Cake
Grease & parchment line a 12" x 18" sheet pan
Preheat the oven to 350°F The recipe ingredients listed below are the only ingredients you will need, you will NOT include any of the ingredients that the box instructions ask for.
Ingredients
For the Box Hack Recipe~ YELLOW or WHITE CAKE:
1 Duncan Hines Cake Box Mix *see notes above!
Vegetable Oil ⅓ cup
Water 1 cup
Plant Milk *I use soy milk ⅔ cup
All Purpose Flour 1 cup
Egg replacer 2 Tablespoons **see notes in text article!
Baking Powder ½ teaspoon
Granulated Sugar ½ cup
Apple Sauce 2 Tablespoons
______________________
FOR CHOCOLATE CAKE:
1 Duncan Hines Chocolate Cake Box Mix *see notes above!
Vegetable Oil ⅓ cup
Water 1 cup
Plant Milk *I use soy milk 1 cup
All Purpose Flour 1 cup
Natural Cocoa Powder ¼ cup
Egg replacer 2 Tablespoons **see notes in text article
Baking Powder ½ teaspoon
Granulated Sugar ½ cup
Apple Sauce 2 Tablespoons
______________________
Instructions
Preheat oven to 350°F
Grease & parchment line your cake pan(s)
Mix all the additional dry ingredients including the sugar into the box cake mix in a large mixing bowl then add all the liquid ingredients including the applesauce.
Mix on low to blend together evenly then mix on medium speed for 2 minutes.
Pour ONLY 4 cups of the batter into the greased & parchment lined sheet pan and spread evenly
bake in the preheated oven for approximately 20minutes or until it is springy to the touch when you gently press the center.
Or insert a toothpick to the center and if it comes out with moist crumbs, not raw batter it is ready!
Cool cake completely before filling with ganache and rolling up.
Prepare the ganache while the cake is baking and allow it to cool and set at room temperature
Once the cake is cold and the ganache is to spreadable consistency you can spread half of the ganache over the entire cake (still in the pan!) then gently roll the cake while using the parchment liner as a guide for rolling.
Refrigerate the rolled cake to set the filling then icing with remaining ganache
Using a fork to make the pattern of tree bark
Notes
Yule Log Cake can be left at room temperature for up to 4 days wrapped loosely to prevent drying.

For longer storage refrigerate for up to 8 days or freeze wrapped well for up to 1 month