Have you heard the big news?
The girl scouts just introduced a new cookie recipe to add to their 2022 lineup!
Unfortunately due to copyright laws, I cannot include any actual photos of the Girl Scout Cookie that is launching this winter
But a simple internet search will instantly show you what to expect!
However since I can't wait until January, not to mention there is no indication that this new variety of Girl Scout Cookie will be vegan
I had to create my own version~ the VegVentureful!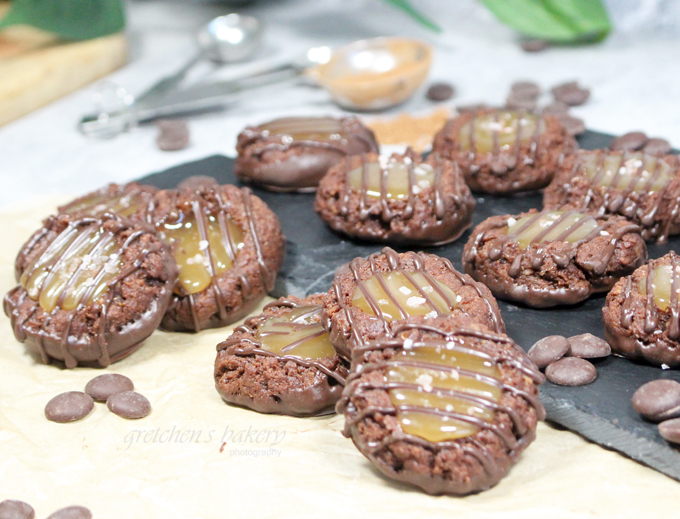 Chocolate and caramel together is my absolute favorite combination!
This cookie boasts a brownie style thumbprint cookie coated in chocolate on the bottom
Filled with caramel and a hint of sea salt!
*see note below about the salt

Thanks Girl Scouts! What a great idea!
I have tweaked up my famous Black Forest Brownie Cookie as the base cookie recipe for this fab new combo!
It's a simple cookie to make and it can all be done by hand!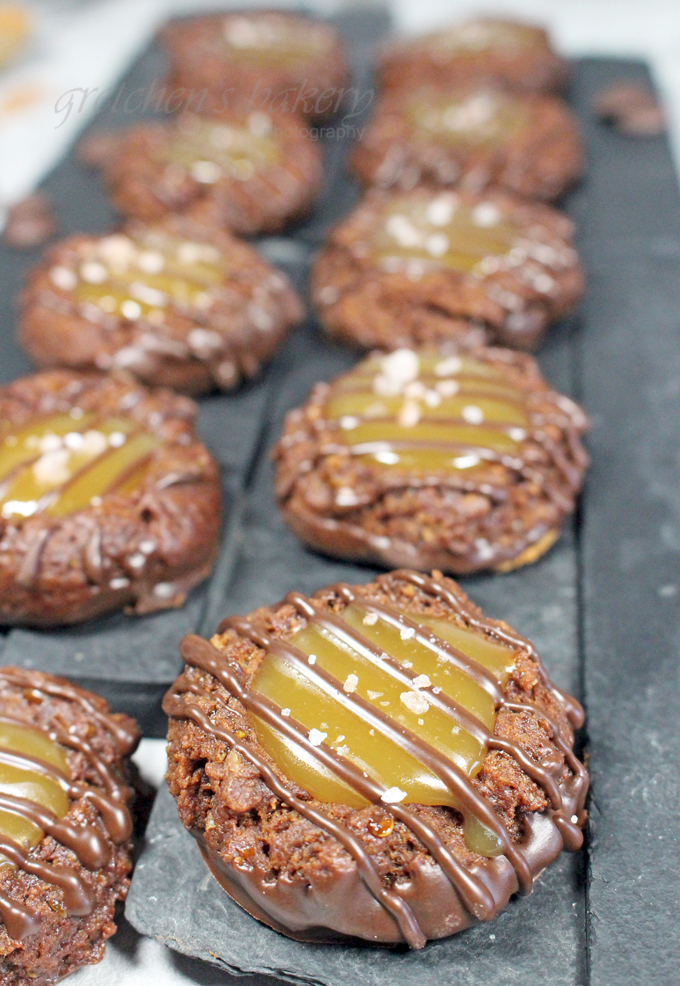 No mixers required!
With some semi sweet vegan chocolate and a few other stock pantry items that I am sure you already have
I was eating VegVenturefuls in less than 30 minutes!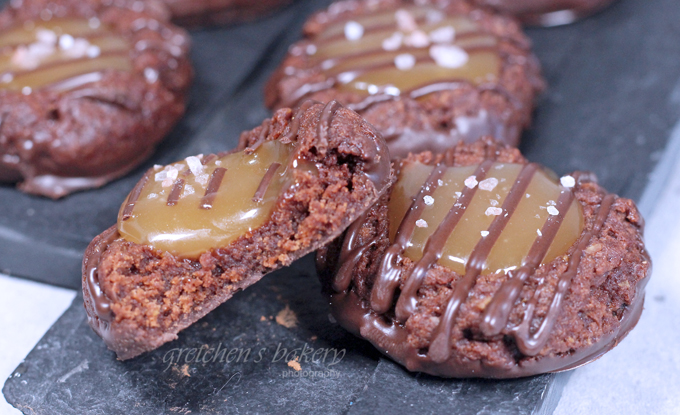 They only take 10 minutes to bake and you are well on your way to scarfing down these chewy and cake-y brownie insides!
With my favorite recipe for two ingredient caramel sauce that is so easy and will be ready by the time the cookies are cool!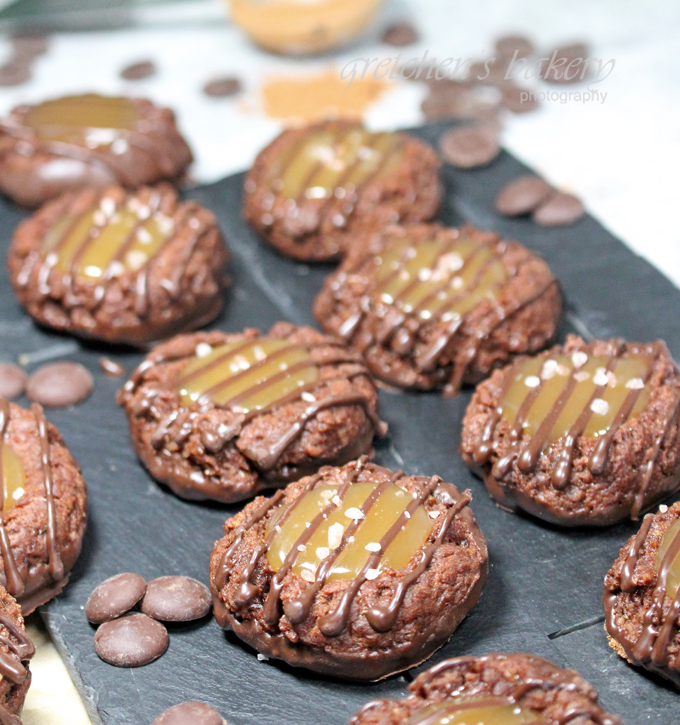 CLICK HERE FOR THE FULL YOUTUBE VIDEO TUTORIAL FOR HOW TO MAKE THESE COOKIES!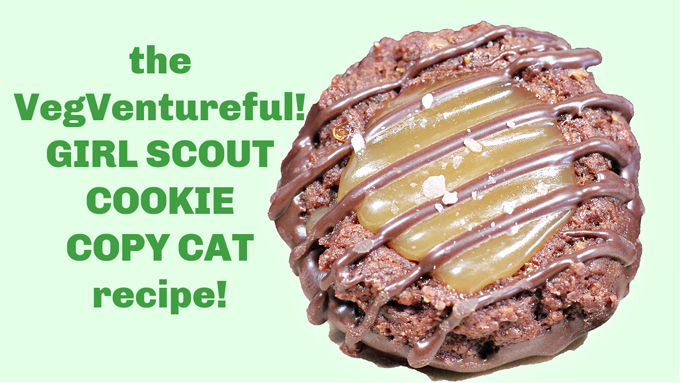 FUN FACT:
Palm sugar paste  is made from the sweet nectar of the coconut or toddy palm flowers.
It's an integral ingredient in Thai cooking and was referred to as "original sugar" in traditional Thai cuisine before white granulated sugar became a thing.
So this caramel turns out really sticky and gooey just like we want it for the filling in a thumbprint cookie!
Unlike palm oil, palm sugar is naturally produced in a sustainable, eco-friendly way, as trees are maintained for their sap instead of being cut down.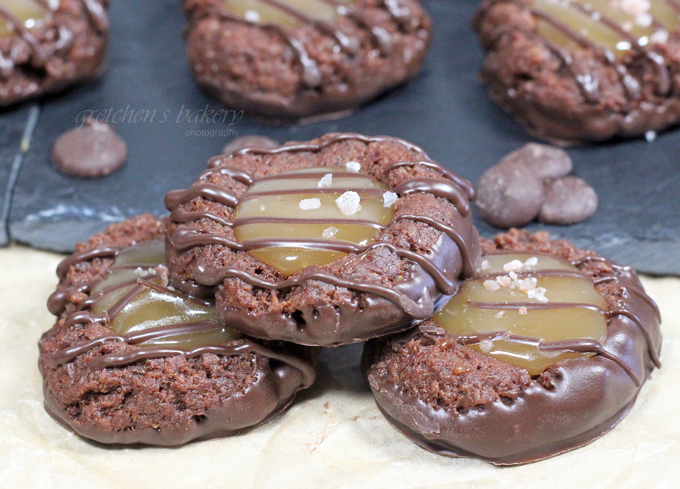 Notes for Success:
After a long debate, I have to say that I prefer the cookie without the sea salt sprinkle.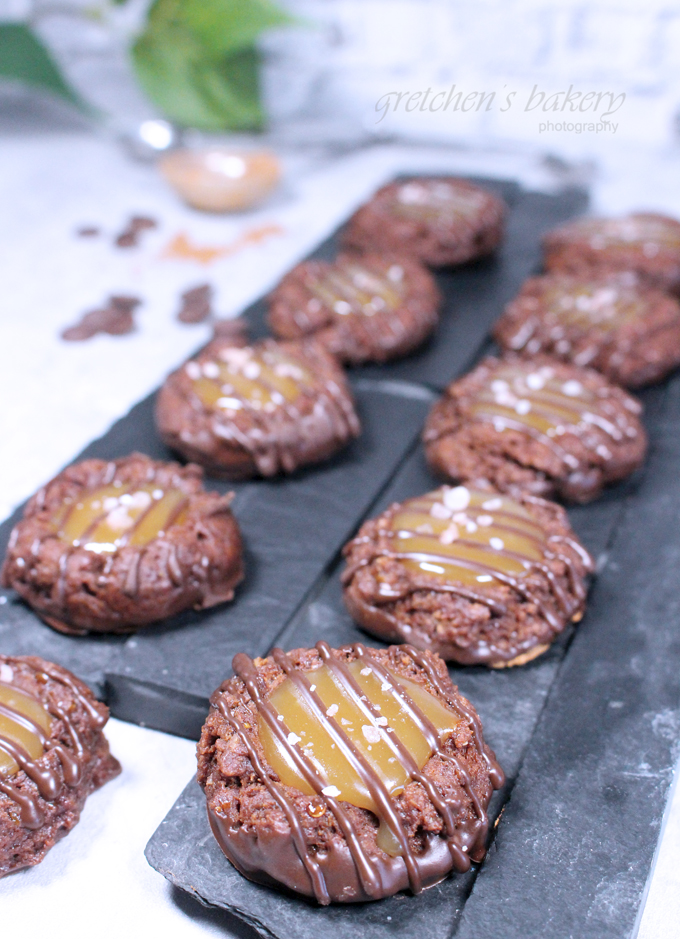 I find that the salt in the caramel recipe is enough and the sprinkle on the outside was overkill.
I am using flax meal for the egg replacer combined with aquafaba for "super flax egg"
But you can use any egg replacer you prefer *just not one with leaveners in it.
I prefer to sub in egg replacers that have only binders & thickeners not raising agents
Replace the 2 Tablespoons of flax meal with 2 teaspoons of your egg replacer of choice, keep the aquafaba OR replace that with water to reconstitute
For the chocolate bottom coating and drizzle I prefer to use King David Non Tempering Chocolate.
It is just easier and I do like the taste!
But for those who have regular couverture you will have to temper your chocolate for it to set properly
CLICK HERE FOR HOW TO TEMPER YOUR CHOCOLATE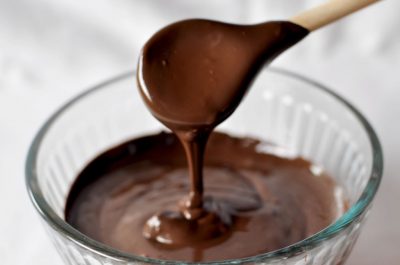 For more of the best Vegan Copy Cat Girl Scout Cookie recipes~ click the links below!
Vegan Samoas Recipe & Copy Cat Girl Scout Cookie
Copy Cat Tagalong Cookie Recipe
Vegan Thin Mint Girl Scout Cookies- Copy Cat Recipe

VegVenturefuls
I mixed the brownie cookie by hand, no mixers required, however you can use a mixer if you prefer
Ingredients
For the Brownie Cookie:
Semi Sweet Vegan Chocolate 1 cup (113g)
Vegan Butter 2 Tablespoons (28g)
Light Brown Sugar 4 Tablespoons (56g)
Vanilla Extract 2 teaspoons (10ml)
Golden Flax Meal 2 Tablespoons (16g)
Aquafaba 6 Tablespoons (90ml) **see notes above recipe in *notes for sucess
All Purpose Flour 18 Tablespoons (144g)
Baking Powder ¼ teaspoon
Salt ¼ teaspoon
For the Caramel:
Palm Sugar paste *see notes above ½ cup (165g)
Full Fat Coconut Milk ½ (108g)
Vanilla Extract 2 teaspoons (10ml)
Sea Salt ¼ teaspoon
Chocolate for dipping & drizzling approx ½ cup
Instructions
Prepare the brownie cookie dough by melting the chocolate with the brown sugar and vegan butter over a double boiler stirring until melted and hot, so the sugar will start to dissolve.
You can also use a microwave if your prefer.
Combine the flax meal with the aquafaba, let stand to thicken at least 5 minutes.
Sift the flour with the baking powder and salt
Once the chocolate mixture is melted add the flax paste and whisk smooth
Add the sifted dry ingredients and mix just until combined
Scoop with a #100 scoop into parchment lined sheet pan spaced 2" apart
Freeze the dough balls while you preheat the oven to 350°F
Once the oven is preheated, remove the dough balls and make an indent with a teaspoon measure to make the "thumbprint" into the center of the dough
Bake in the preheated 350°F oven for 10 minutes exactly.
Do not over bake or your cookies will be dry
While the cookies are baking prepare the caramel:
Combine the palm sugar paste with the coconut milk in a medium heavy bottom sauce pot.
Stir often to dissolve the sugar into the milk, but once it starts boiling just let it boil
You will reduce the heat to a simmer and reduce the total volume of caramel to ¾ cup but keep your eye on it so it doesn't boil over, **be very careful when working with caramel sugar!
Once the caramel is reduced to ¾ cup add the vanilla extract and salt and transfer it to a heat proof container and let cool
Once the cookies are baked & cooled, melt the chocolate *temper it if it is not summer coating chocolate! and dip the bottoms of the cookies in the chocolate.
Fill the indents with the caramel and then drizzle with the remaining chocolate
Notes
VegVenturefuls will stay fresh at room temperture in an airtight container for up to 1 week.

For longer storage you can freeze them *preferably without the caramel filling! for up to 1 month