When you can't decide between a Boston Cream Pie or the Chocolate Mousse Cake, you make both!
Boston Mousse Cake will become your new go to recipe for every occasion!
Layers of vanilla cake and chocolate cake with vanilla custard and chocolate mousse filling!
All the elements of the Boston Cream Pie and the Chocolate Mousse cake are joined together in delicious matrimony!
Ganche icing draped over the entire cake keeps this cake a mystery until it is sliced!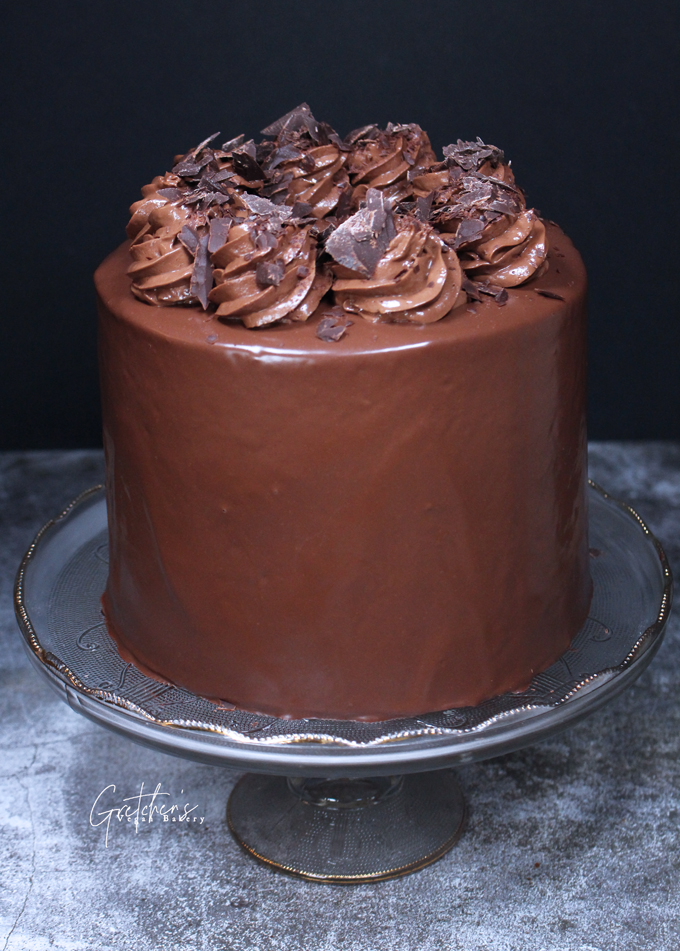 My original intention for this cake was to make it a three layer vanilla cake with two layers of chocolate cake
But something spooked me as I was building this cake on the video and I stopped at four layers!
The recipes listed below are for my original vision for this cake with a total of five cake layers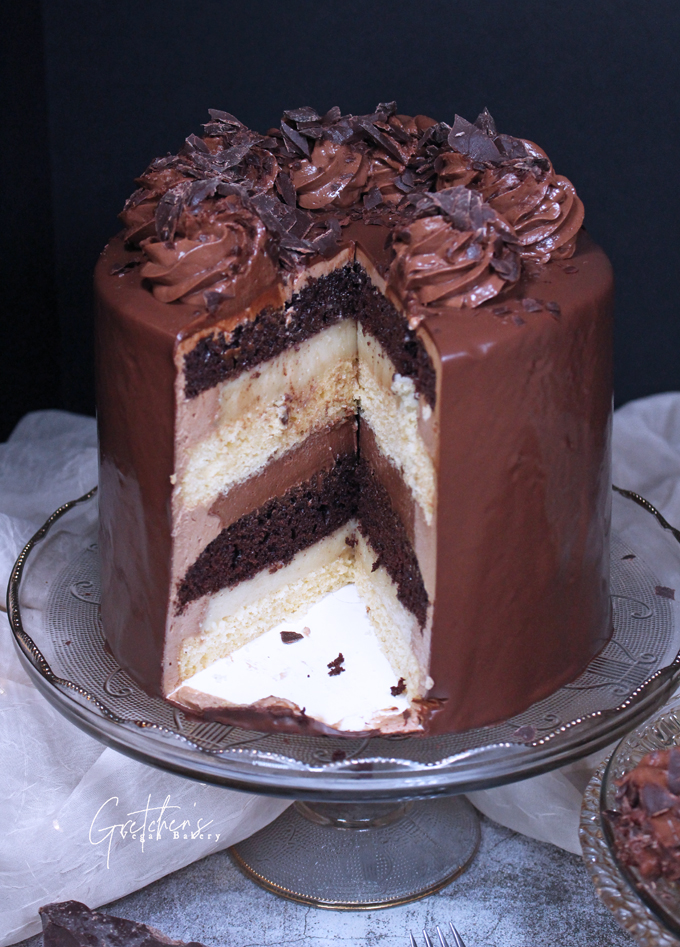 If you decide to stop at four layers like I did you can simply freeze that additional vanilla layer and use the excess chocolate mousse to pipe on top!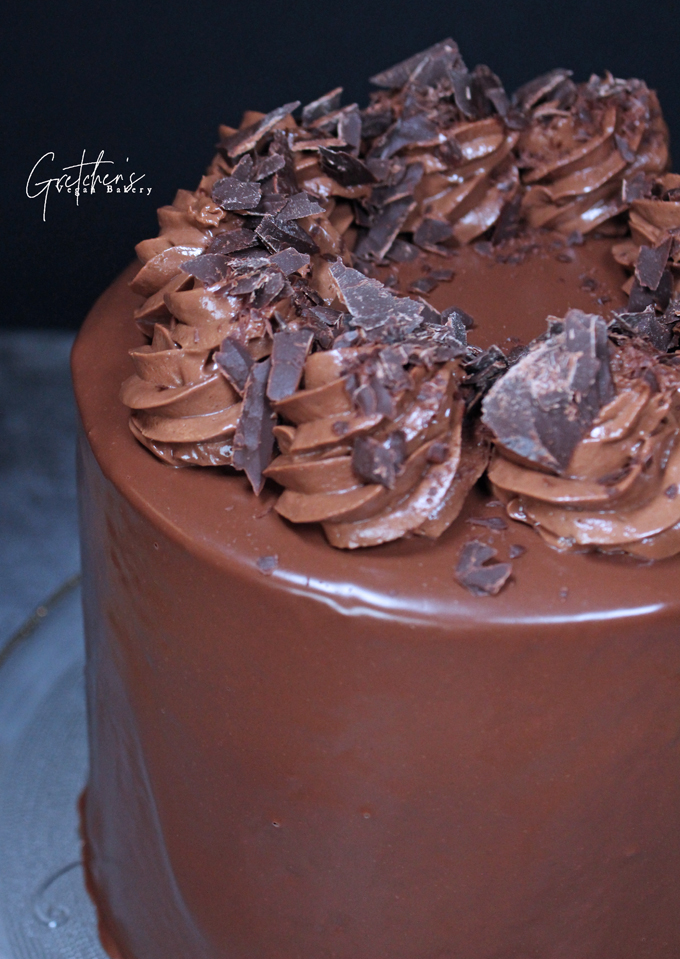 I've been lightening up my baking since the start of 2023 by using monk fruit sugar and other sugar alternatives in many of my bakes
The great news is you can implement those healthier choices in every recipe I am making today!
From both cake recipes to both fillings and even a ganache icing can all be made sugar free!
You can implement so many healthier choices with every recipe I am using today for this Boston Mousse Cake!
CLICK HERE FOR MORE ABOUT SUGAR FREE BAKING!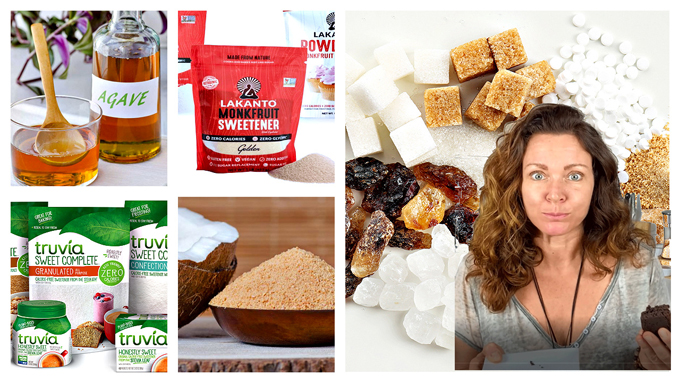 Don't forget your 20% off discount from OliveNation for the best vegan chocolate couverture for the Chocolate Mousse Recipe!
Use Discount code GVB20 at checkout for anything from their website!

Notes for Success:
In order to keep the thin ganache icing from cracking upon storage it is important to use a high fat plant milk such as canned coconut milk
I often use soy milk with an added fat bomb of coconut oil or vegan butter to ensure this doesn't happen
Cornstarch is a very difficult ingredient to measure consistently with a volume/spoons measure
So while I list both measures below I cannot stress enough how the grams measure with a scale is going to give you the best results.
Many times people have complained that their custard is like rubber and they don't know why!
This is from a heavy measure of cornstarch when using volume measuring spoon vs the 100% accurate scale measure in grams.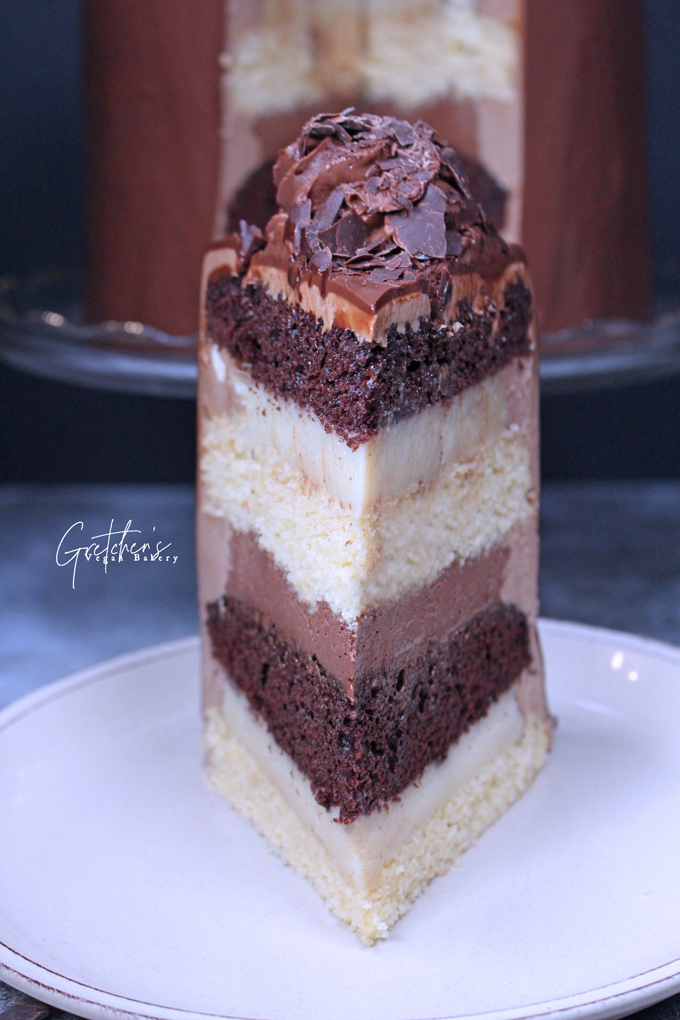 WATCH THE FULL YOUTUBE VIDEO TUTORIAL FOR HOW TO MAKE THE BOSTON MOUSSE CAKE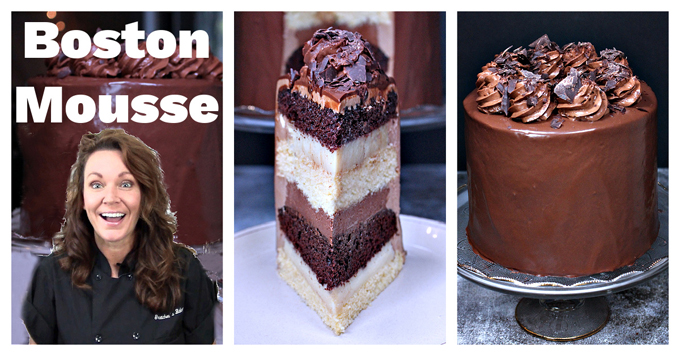 For more over the top cakes click the links below!
Double Fudge Chocolate 7 Layer Cake
Yield: serves 15ppl
Boston Mousse Cake
I ended up making a 4 layer cake in the video but my intention was to make a 5 layer cake. The recipes below are listed for a 5 layer cake for 3-7" Vanilla Cake Layers and 2- 7" chocolate layers.
Total Time
4 hours
30 minutes
Ingredients
For the Custard:
Plant Milk 2¼ cup (533ml)
Granulated Sugar ¾ cup (150g)
Cornstarch 5 Tablespoons (40g)
Turmeric ¼ teaspoon
Vegan Butter 1½ Tablespoons (21g)
Vanilla Extract 1 teaspoon (5ml)
For the Chocolate Mousse:
Semi Sweet Vegan Chocolate 8ounces (226g)
Hot brewed coffee 2 Tablespoons (30ml)
Vanilla Extract 1 teaspoon (5ml)
Aquafaba *Chickpea Water from Canned Chickpeas ¼ cup (60ml)
Agar powder 1/8 teaspoon *see note above
Granulated Sugar 4 Tablespoons (50g)
Cream Of Tartar ¼ teaspoon
Coconut Milk Full Fat 1- 15ounce can (*refrigerated overnight)
Instructions
First prepare the chocolate cake recipe as per the instructions on that recipe post and then divide the batter into 2-7" cake pans that have been greased & parchment lined.
Bake in a preheated 350°F oven for approximately 20 minutes or when they are springy to the touch when you gently press the centers
Cool the cakes in the pans and then flip them out onto a cooling rack to cool the rest of the way.
Wash & re-grease & re-parchment line the pans, but this time you need 3-7" cake pans
Prepare the yellow cake recipe as per the instructions on that recipe post & divide the batter evenly between your prepared pans
Bake in a preheated 350°F oven for approximately 20 minutes or when they are springy to the touch when you gently press the centers
Cool the cakes in the pans and then flip them out onto a cooling rack to cool the rest of the way.
Meanwhile prepare the chocolate buttercream according to the instructions on that recipe post
Next prepare the custard: combine all the ingredients except for the vanilla extract and the vegan butter in a medium sauce pot over and cook over medium to high heat and bring to a boil stirring constantly to avoid scorching the bottom .
Once it starts to bubble let it boil on low heat for about 10 seconds.
Remove from the heat and add the vegan butter and vanilla extract and stir until melted and smooth, reserve aside while you prepare the chocolate mousse recipe
For the chocolate mousse: Melt the chocolate in a large bowl over a double boiler or in a microwave safe bowl
Combine the hot coffee. sugar and the agar powder in a small sauce pot and bring it to a rolling boil.Keep it warm or the agar will set and you will have to remelt.
Next open the can of coconut milk that has been refrigerated overnight and carefully scoop out the fat that is on top and whisk it to smooth medium peaks in a small bowl with a hand whisk
Add the hot brewed coffee with the agar and then the vanilla extract to the melted chocolate all at once while whisking vigorously to incorporate well.
Cool the chocolate mixture to about 80°F or tepid to the touch before folding in the whipped cream or it will melt back to liquid.
Add the reserved whipped coconut cream and whisk smooth
Whip the aquafaba with the cream of tartar to stiff glossy peaks
Take a small portion of the AF meringue and fold into the chocolate mixture to lighten.
Fold in the rest of the AF gently
Set up your first cake layer in a cake ring mold lined with acetate cake strips *see video tutorial
Then build the cake inside the ring mold with a chocolate buttercream border to hold everything in, with the warm custard and the freshly made chocolate mousse alternating the cake layers as shown in the video tutorial
Notes
Boston Mousse cake must be kept refrigerated but will be fine out at room temperature for up to 4 hours in a cool shady spot.
This cake will stay fresh in the refrigerator for up to 10 days.
I do not like to freeze custard filled cakes as they tend to get watery & separate on the thaw.