The same Almond Rocher Custard Tarts that I sold in my bakery are easier to make than you think!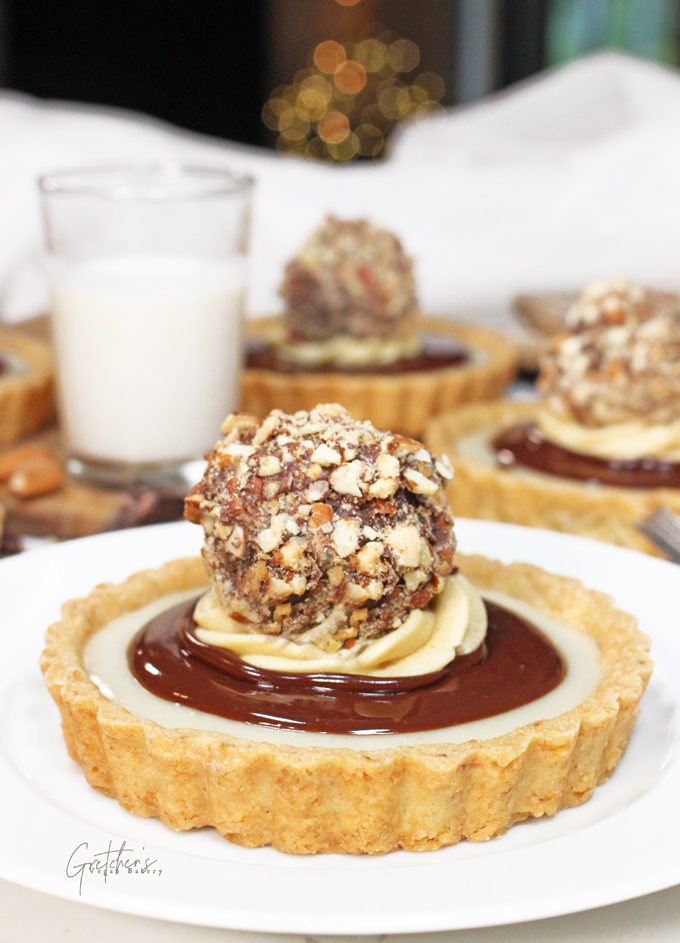 Individual tarts with a shortbread cookie crust and creamy almond custard
Just the right amount of ganache, adorned with a jumbo Almond Rocher truffle that has a surprise liquid center!
Each bite tastes like milk and cookies!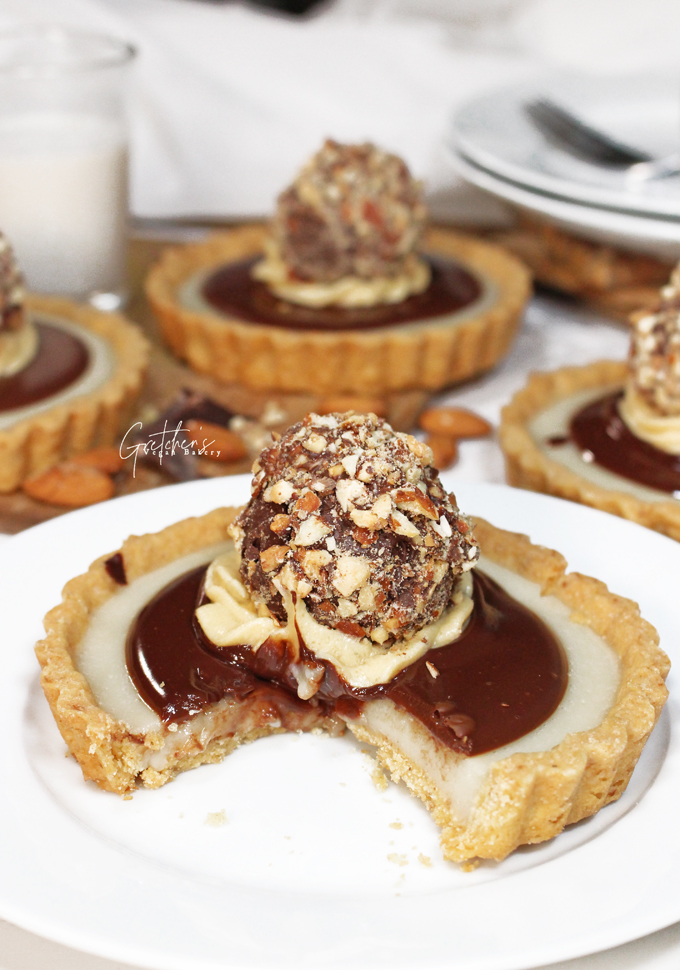 Notes for Success:
Due to the liquid milk center in the truffles it is important to know that they are messy to make and to eat!
So if you do not want to be liable for a dry cleaning bill you may want to opt for the traditional thicker cream center rather than the liquid one here!
See notes in recipe section for adjustments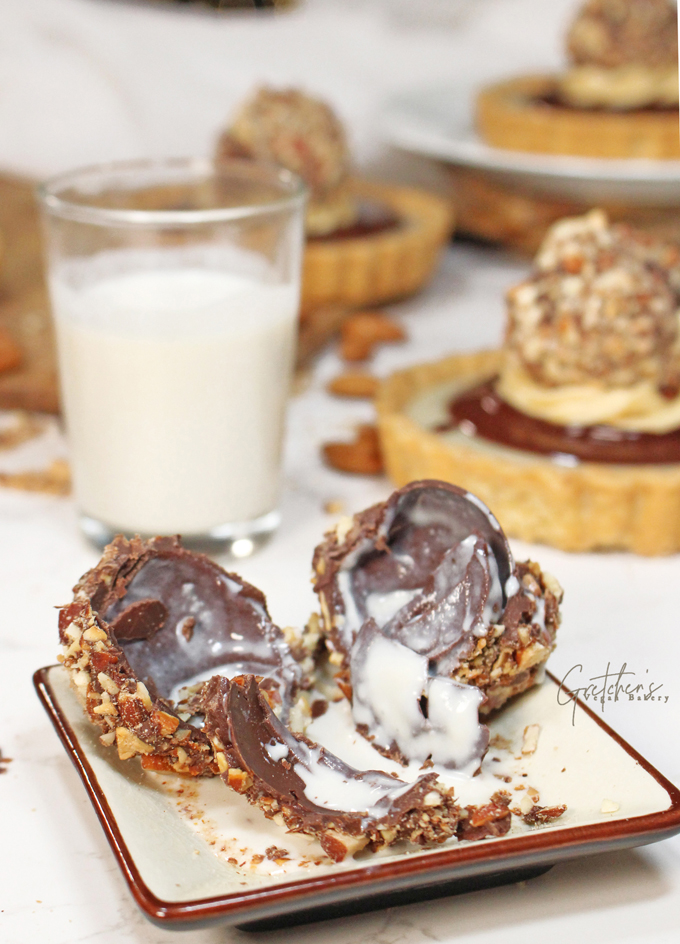 You will need a sphere mold to make the truffles and tempered chocolate is imperative
I always recommend using good quality couverture for truffles but this will need to be tempered
I have a full video tutorial for how to temper chocolate so be sure to watch that
Or just use a chocolate coating like the one from King David *not sponsored
Of course you can also make this project a zillion times easier by scooping truffle ganache and rolling into crushed almonds instead!
Like I did here in my recipe and video tutorial for two ingredient truffles!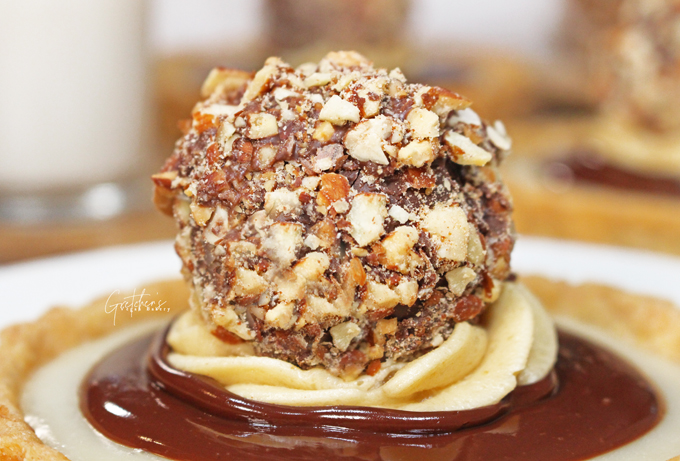 WATCH THE FULL YOUTUBE VIDEO TUTORIAL FOR HOW TO MAKE ALMOND ROCHER CUSTARD TARTS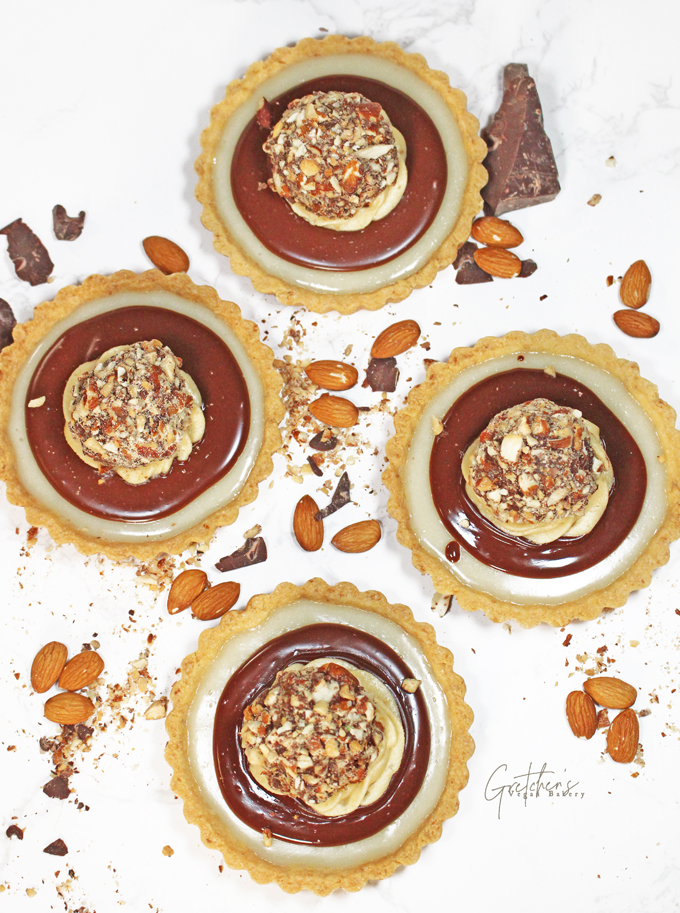 For more advanced pastry desserts like this one click the links below!
Chocolate Covered Strawberry Mousse Cake
Yield: serves 6 ppl
Almond Rocher Custard Tarts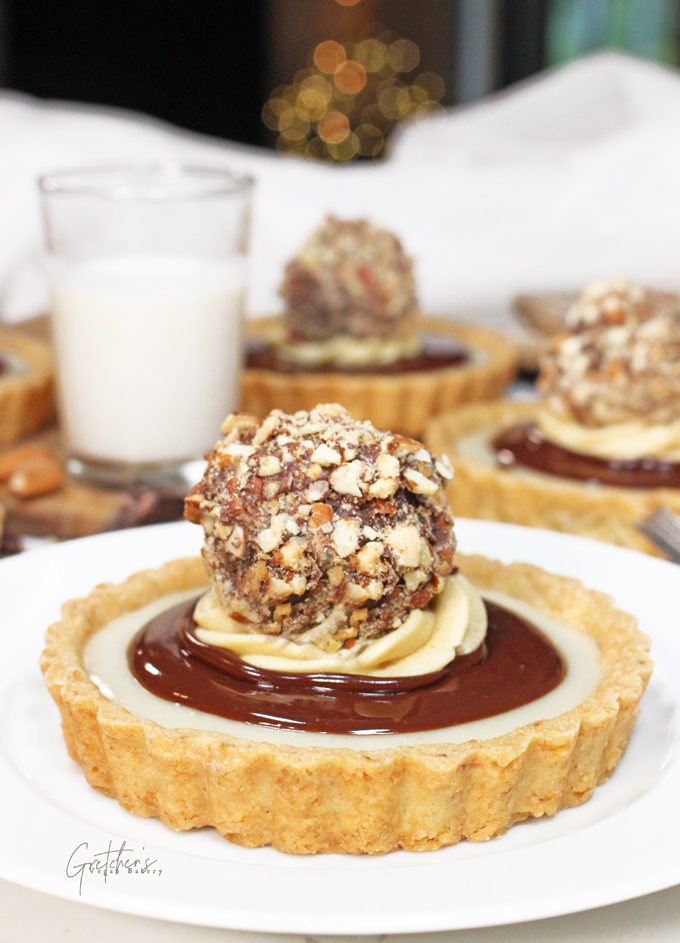 Total Time
2 hours
20 minutes
Ingredients
For the Cookie Dough Tart Shells:
All Purpose Flour 1½ cups (187g)
Baking Powder ½ teaspoons (2.5g)
Salt ¼ teaspoon (1.5g)
Vegan Butter ½ cup (113g)
Granulated Sugar ½ cup (100g)
Golden Flax Meal 1 Tablespoons (8g)
Hot Water 2 Tablespoons (30ml)
Almond Extract ½ teaspoon
For the Almond Custard:
Plant Milk 2¼ cups (540ml)
Granulated Sugar ¾ cup (150g)
Cornstarch 4 Tablespoons (32g)
Almond Extract 1 teaspoon (5ml)
For the Almond Rocher Truffles: *as shown in video
Tempered Chocolate 1lb (454g)
Crushed Toasted Almonds 1 cup
For the Liquid Centers:
White Chocolate ½ cup (2.5oz)
Almond Milk 6 Tablespoons (90ml)
Almond extract 1 teaspoon (5ml)
Almond Extract 1 teaspoon
Almond Butter 2 Tablespoons
Instructions
I like to prepare my ganache and buttercream recipes ahead of time according to the recipe instructions on both posts both recipes can be prepared up to a week ahead and kept refrigerated until needed
I added almond extract & almond butter to my buttercream at the last stage of mixing
Make the Liquid Center Almond Rocher truffles with the tempered chocolate shells as shown in the video tutorial, or simply make the thickened recipe for white chocolate ganache as noted below in the notes section & simply rolling the scooped balls of ganache in roasted crushed almonds *you will not have liquid centers this way, but the process is 100X easier
Either way you will melt the white chocolate together with the plant milk and then add the almond extract
Next prepare the cookie dough recipe by creaming the vegan butter with the sugar until light and fluffy, about 3- 5 minutes.
Meanwhile combine the flax meal & hot water then let stand to thicken
Add the almond extract to the flax paste
Add the salt and the flax paste to the sugar mixture and then mix on high speed for 20 seconds to emulsify
Stop the mixer and scrape the sides of the bowl then add the flour & baking powder
Mix until it all comes together to a soft dough
Wrap this dough disc in plastic wrap and chill for at least 2 hours or overnight before using
Once the dough is chilled roll it out on a lightly floured surface to about ¼" thickness and line your tart molds as shown in the video tutorial
Prick the bottom of each tart shell with a fork then bake for 18-20 minutes in a preheated 350F oven until golden browned.
Cool while you prepare the custard by combining the sugar, cornstarch & plant milk together in a medium sauce pot and whisking constantly over medium high heat
Bring to a boil them remove from heat and stir in the almond extract
Spoon the hot custard evenly into the cooled tart shells and then refrigerate to set
Once the custard is set , spread about 3 Tbs of warm ganache over each one then pipe a rosette of almond buttercream
Place an Almond Rocher truffle on each tart and then serve or refrigerate according to the notes section below
Notes
To adjust the liquid center to a soft truffle center increase the white chocolate by double the amount while leaving the rest of the ingredients the same.
Allow this white chocolate ganache to set to a scoopable consistency then roll the balls into roasted crushed almonds

Almond Rocher Custard Tarts must stay refrigerated and can be stored up to 5 days

For 20% off your order at OliveNation use GVB20 discount code at checkout!