Introducing Andes Mint Cake
The best dessert to serve all year round!
Thin layers of moist chocolate cake with a unique Andes Mint filling!
Since Andes Mints are not vegan
We have to get a little bit creative and make our own rendition of this after dinner mint!
The added decor of homemade Andes Mints are optional but it really makes this cake pop!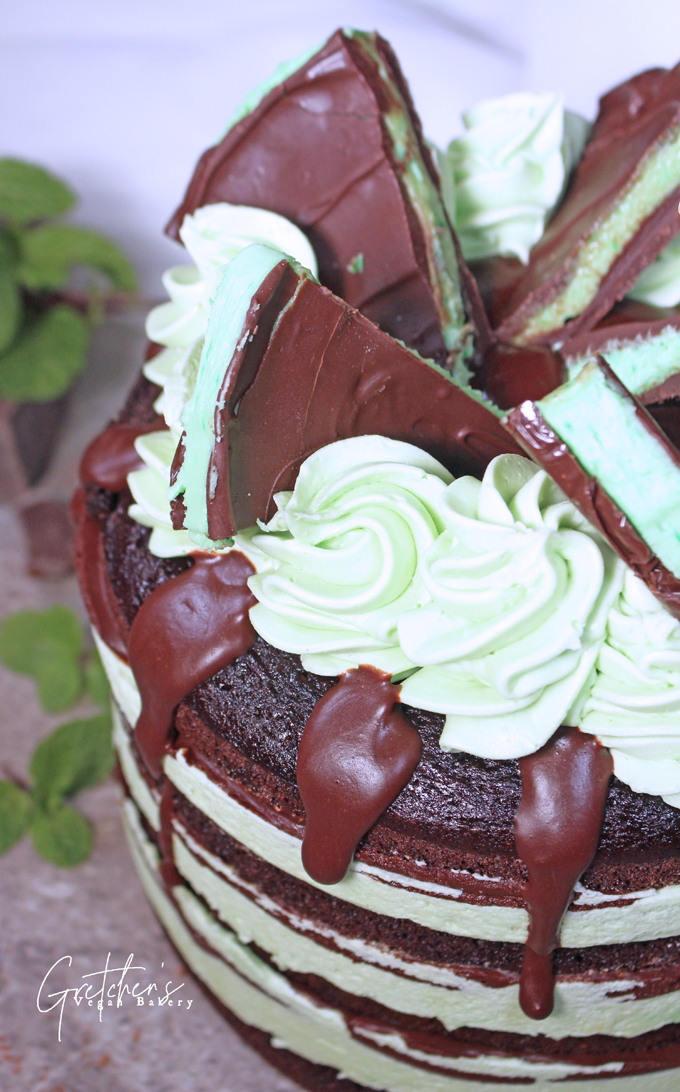 Alternating layers of ganache and mint cream with a subtle mint cake soak
The mint syrup is completely optional but I did like the added zing of mint in every bite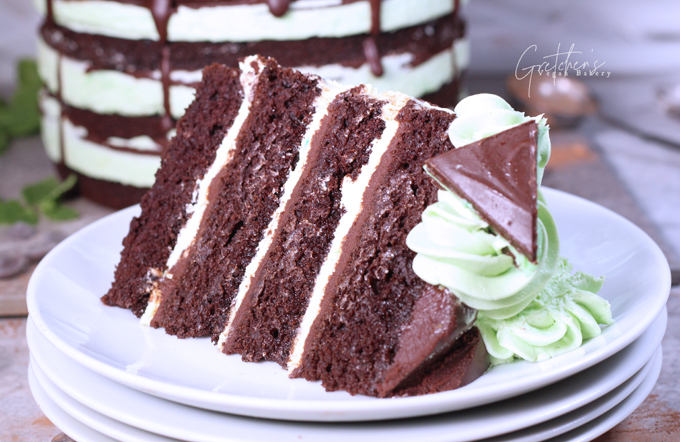 CLICK HERE TO WATCH THE FULL YOUTUBE VIDEO FOR HOW TO MAKE THIS CAKE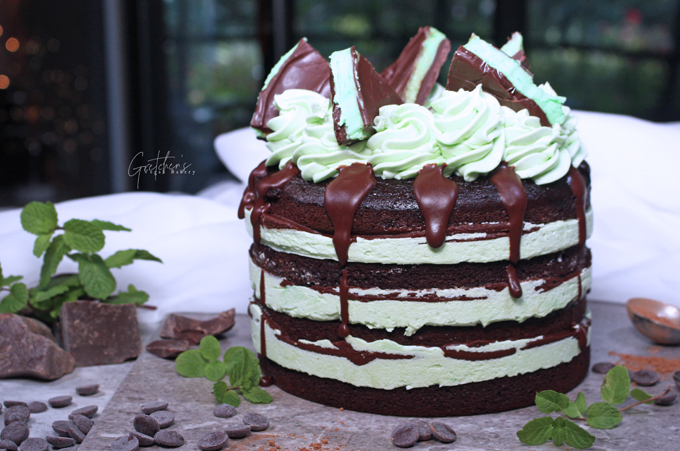 Notes for Success & Substitutions:
The chocolate cake recipe listed below works great with a 1:1 Gluten Free Blend!
No additional changes are needed to the recipe!
I had about 1½ cups of buttercream leftover since I did not ice the outside of the cake
Buttercream stores in the refrigerator for up to 1 month or the freezer for 3 months
As you will see in the video tutorial I used a stainless steel cake ring to build this cake
Whenever I have a multi layer cake with soft fillings like this one I will always implement a cake ring to ensure a sturdy build
If you do not want to buy a cake ring, just use an appropriate sized spring form pan with the bottom removed, it acts as the same thing!
I don't usually urge you to buy things, but to me the acetate cake strips are worth the investment!
You can also re use them by wiping them clean after unmolding the cake!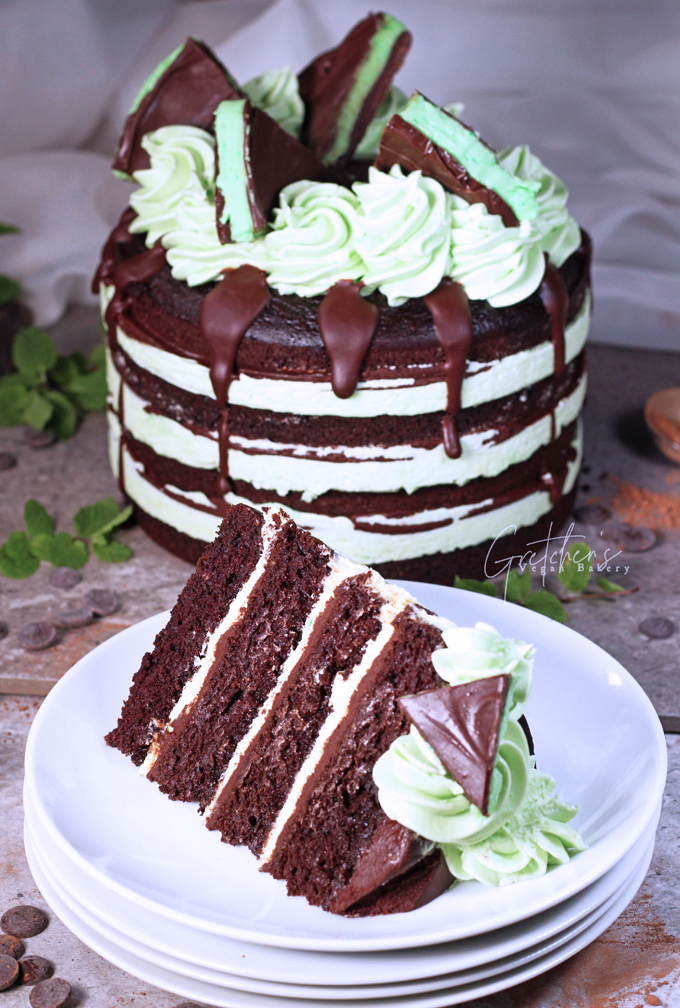 A note about Mint Extract!
There are so many different options for buying mint extracts and they range by brands and also by prices.
I can get a small bottle for about $1 in my local Shop Rite
However I find that it will give my cakes and pastries more of a toothpaste taste than anything else, so I try to stay away from that low grade stuff whenever possible.
There is one more thing to consider and perhaps you just haven't noticed
But there is Mint Extract and then there is Peppermint Extract and there are differences between the two
Mint Extract is most often a combination of Spearmint and Peppermint together.
Whereas Peppermint Extract is just that~ Peppermint.
The best way to describe the difference between the two is that Spearmint is the taste you get when you have a stick of Spearmint Gum; whereas Peppermint has a high level of menthol.
That menthol is going to give you a cool mouthfeel and will seem like it is stronger mint flavor because of that.
I find that using straight up peppermint extract in my recipes (especially those that have chocolate in them) give it a much better flavor than one of those "mint" extracts that have levels of spearmint which I am just not sure how to measure.
And nine times out of ten (OK 100% of the time) I am pairing mint with chocolate anyway, so the real deal Peppermint Extract is the winner in my book.
For the Best Peppermint Extract I go to OliveNation!
They have very reasonable prices for top quality baking ingredients!
Get 20% off your order at OliveNation by entering GVB20 in the coupon area at checkout for ANYTHING YOU ORDER!

*lightly sponsored: OliveNation provided the mint extract I used in this recipe for free! As well as the chocolate I used for the Andes Candy!
Yield: serves 10ppl
Andes Mint Cake
Total Time
3 hours
20 minutes
Ingredients
For the Mint Creme:
Mint Extract 2 teaspoons (10ml)
Green Food Color 2 drops
For the Andes Candy Chocolates:
Softened Vegan Butter 2 Tablespoons (28g)
Confectioners Sugar ¾ cup (90g)
Mint Extract ½ teaspoon
Green Food color 1 drop
For the Mint Simple Syrup *optional
Sugar ¼ cup (50g)
Water ¼ cup (60ml)
Mint Extract 1 teaspoon (5ml)
Instructions
Grease & parchment line 4-7" cake pans
Preheat your oven to 350°F
Prepare the chocolate cake recipe as per the instructions on that recipe post but divide the batter equally between your 4-7" greased & parchment lined cake pans
Bake for approximately 20-25 minutes or when a toothpick inserted into the center comes out with moist crumbs
Cool the cake layers in the pans until you can safely touch them without burning yourself & flip them out onto a cooling rack to cool completely
Prepare the optional mint syrup by combining the sugar & water together in a sauce pot & bring to a boil.
Boil for 1 minute then remove from heat & add the mint extract, reserve & cool until needed
Next prepare the buttercream recipe and at the last stage of mixing add the mint extract & the green food color
Prepare the ganache recipe and allow to cool at room temperature until needed
Prepare the Andes Copy Cat chocolate mint candies *optional
Line a 5" pan with plastic wrap and pour ½ cup of the melted chocolate into the pan, let it set
Mix the softened vegan butter with the confectioners sugar until light & fluffy then add the mint extract & the green food color
Press the mint creme mixture into the bottom of another 4" cake pan lined with plastic wrap & freeze solid
Once it is solid remove from pan & pull off the plastic wrap, place it carefully into the chocolate lined cake pan and press to seal the edges
Now pour the remaining ½ cup of melted chocolate over the mint creme & refrigerate to set
Cut the Andes Candy with a hot knife into wedges to decorate the top of your cake
Assemble the cake as shown in the video tutorial by alternating the mint soaked cake layers with the mint buttercream and then the ganache layer.
Notes
Andes Mint Cake can be kept at room temperature for just a couple hours, if it is too warm the cake will start to droop

Best to keep refrigerated and it will stay fresh for up to 1 week

Freeze wrapped well for longer storage up to 1 month