Yes it happened.
A vegan black bottom banana cream pie that is so close to the real thing even your most carnivorous of carnivorous friends will be fooled!
It's funny, I'm in the midst of writing a cookbook right now, and at the header before each recipe I list the equipment needed, a blurb about the recipe and then some labels to let people know the specifics like" Soy Free, Nut Free, Party Favorite, Non Vegan Appeal etc…
EVERY RECIPE IS LISTED AS NON VEGAN APPEAL! lol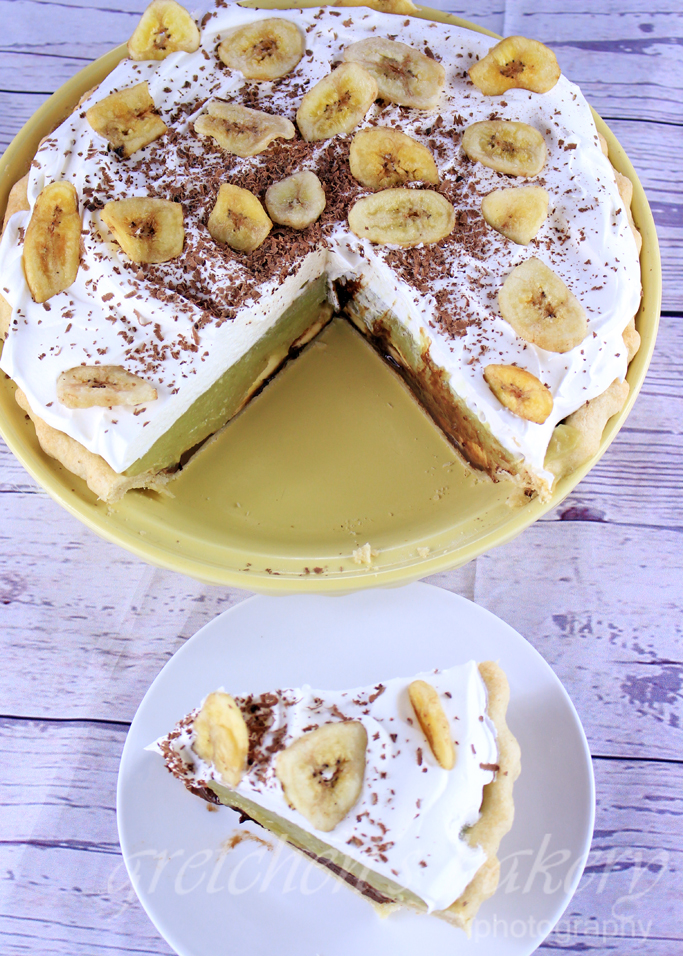 It's so true though! Without fail whenever I bring a Gretchen's Vegan Bakery dessert to an event, my desserts always go first and no one knows they are vegan and I get RAVE REVIEWS!
This Black Bottom Banana Cream Pie is no exception with it's creamy, custard-y banana loaded up interior and billowy coconut whipped cream topping.
Black Bottom of course because DUH… who do you think you are dealing with here?
But for all of you Non Chocoholics (who are you!??) you can surely leave that part out for a classic veganized version of the Banana Cream Pie.
Homemade Pie Shells are where it's at so if you want to do one extra recipe click here for How to Make Pie Shells.
Otherwise you can certainly buy a frozen pie crust at your supermarket.
I did Blind Bake the Pie Crust first since that is the only part you will need the oven for, this is a stove top custard and so easy once you get that pie shell baked and ready you will be eating this bad boy in less than 2 hours!
As always call your friends, because being left alone with a Gretchen's Bakery dessert is dangerous playing fields for the Diet!
I've already hacked up my pie into 4 giant pieces and will be on my way to visit some friends.
Yes~ I must get this pie away from me or it will not see the morning light! That is how good it is!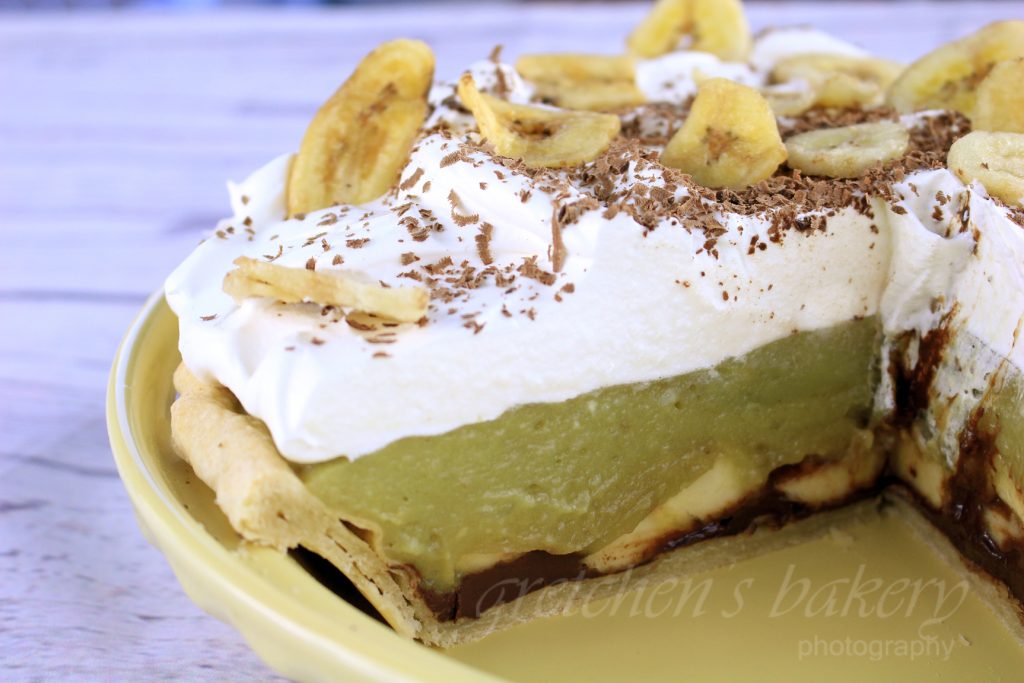 Black Bottom Banana Cream Pie
Be sure to prepare and
Blind Bake your pie shell
before beginning the custard since once it is ready you will need the pie crust ready too!
Ingredients
For the Banana Custard:
Any High Fat Milk Alternative of your Choice *I use coconut milk 1½ cups (355g)
Granulated Sugar ¾ cup (150g)
Vegan Butter 3 Tablespoons (42g)
Cornstarch 5 Tablespoons (35g)
Water 4 Tablespoons (60ml)
Vanilla Extract 2 teaspoons (10ml)
Medium Bananas 2 *puree = 1 cup
Tumeric 1 pinch
Salt pinch
Medium Bananas 2 (yes 4 total)
For the Black Bottom Ganache
Vegan Chocolate Semi Sweet 4 ounces (112g)
Milk Alternative 2 ounces (60ml)
For the Coconut Whipped Cream:
2 Cans Full fat coconut milk refrigerated overnight
¼ cup powdered sugar
vanilla extract 1 teaspoon
Instructions
First prepare the pie crust and blind bake it, then reserve to cool
Prepare the vegan ganache by combining the chopped chocolate with the milk alternative in a small saucepot over low heat and stir constantly until melted and whisk smooth, reserve
In a small bowl combine the cornstarch with the water and whisk smooth
Puree the bananas in a blender or food processor and reserve
Prepare the banana custard by combining the milk alternative with the sugar, vegan butter, salt and tumeric and bring to a boil, once the mixture boils add the cornstarch slurry and whisk constantly while bringing back to a full boil and boil for 30 seconds
Remove from the heat and add the banana puree and vanilla extract and whisk smooth
Pour the ganache into the bottom of the baked pie shell and then slice the remaining 2 bananas over the chocolate.
Pour the hot custard over the bananas and then refrigerate the entire pie to cool and set
Next skim off the coconut fat from 2 cans of cold coconut milk (the liquid is not used), whip to firm peaks with the sugar and vanilla extract
Cover the top of the pie with the coconut whipped cream and then garnish as you like