Vegan black bottom banana cream pie
Chocolate ganache in the crust, vanilla custard and bananas galore!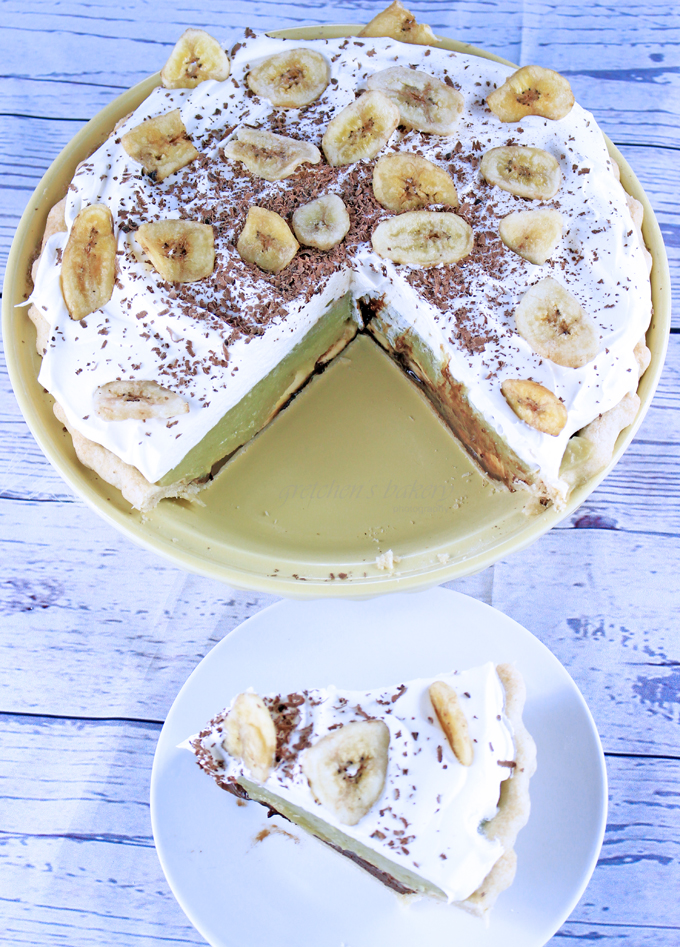 Without fail whenever I bring dessert to an event where there are other desserts, my desserts always go first and no one knows they are vegan!
This Black Bottom Banana Cream Pie is no exception to that rule since it got rave reviews!
Simple stove top custard and fresh bananas piled high with vegan whipped cream.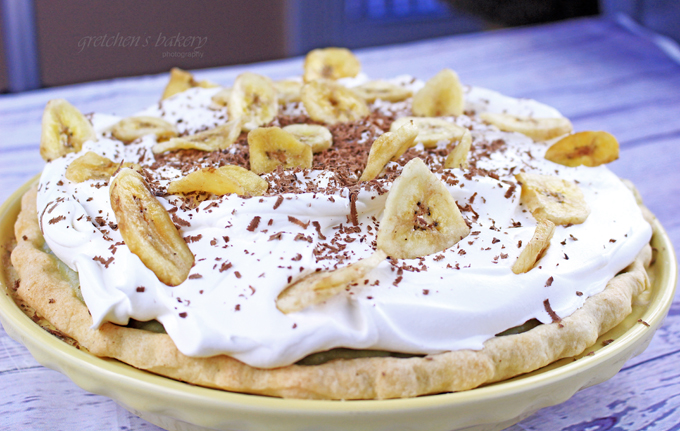 Black Bottom of course because DUH… who do you think you are dealing with here?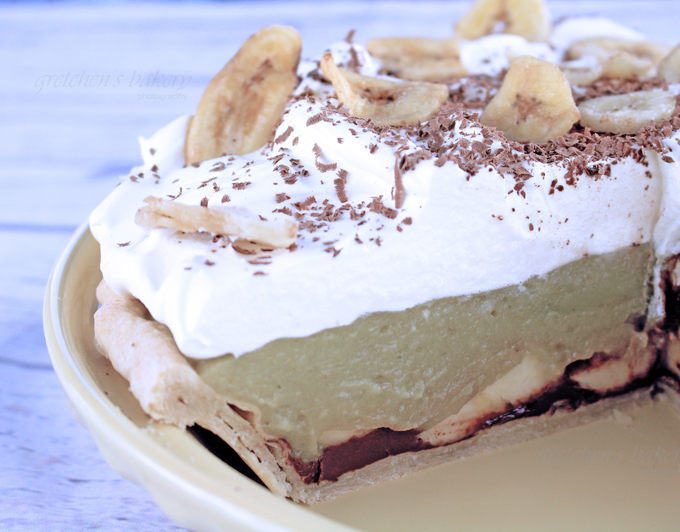 But for all of you non chocoholics you can surely leave that part out and go for the classic version of the Banana Cream Pie.
Homemade Pie Shells are where it's at
Click here for a step by step video tutorial for How to Make THE BEST Pie Shells.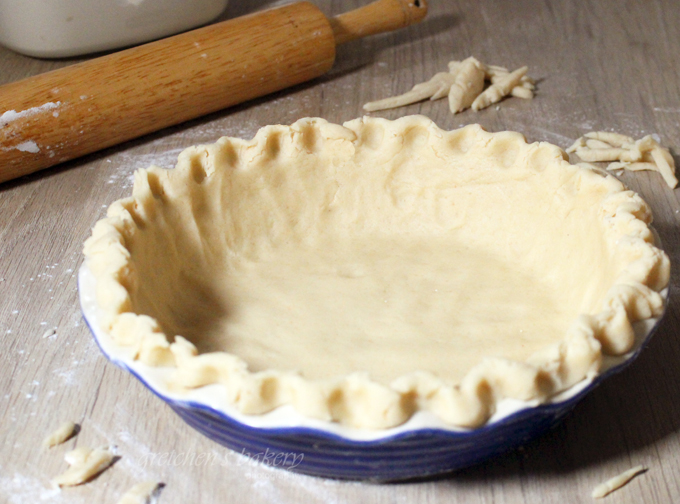 Or make a quick no bake cookie crust!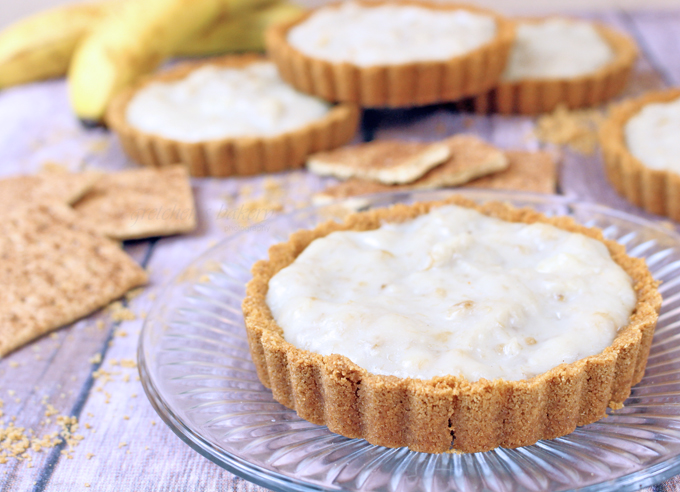 Notes for Success:
I have turmeric listed in the ingredients list for the custard, but I have had off color results at times when using turmeric for coloring
As you can see in some of hte pictures, it gives the custard a greenish tinge
Compared to the other custard where I did not used turmeric it is pure white with the bananas mixed into the custard rather than sliced in the bottom of hte pie crust
It is your option to do it however you prefer, just be aware than too much turmeric can turn the custard an unappealing color
Cornstarch is a very difficult ingredient to measure consistently with a volume spoons measure
So while I list both measures below I cannot stress enough how the grams measure with a scale is going to give you the best results.
Many times people have complained that their custard is like rubber and they don't know why!
This is from a heavy measure of cornstarch when using volume measuring spoon vs the 100% accurate scale measure in grams.
For a NO BAKE Cookie crust instead of a regular pie dough crust
Crush up 20 sheets of graham crackers or 75g of your favorite cookies
Add 9 Tablespoons of melted vegan butter and then press it into the pie plate! That's it!
Refrigerate or freeze until you are ready with the filling
CLICK HERE FOR THE YOUTUBE VIDEO TUTORIAL FOR HOW TO MAKE BANANA CREAM PIE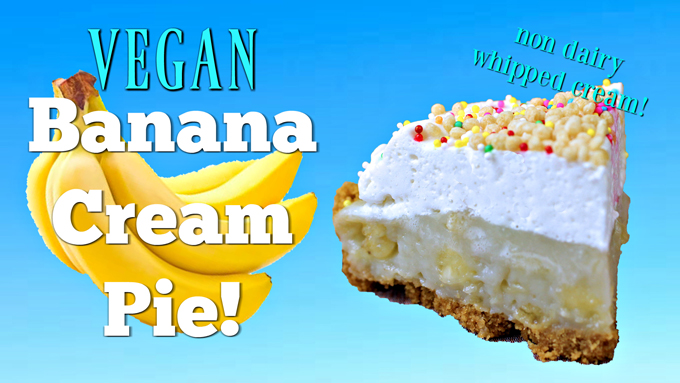 For more awesome vegan cream pies click the links below!
Double Chocolate Cream Pie ~ Vegan
Yield: 1-9" Pie
Black Bottom Banana Cream Pie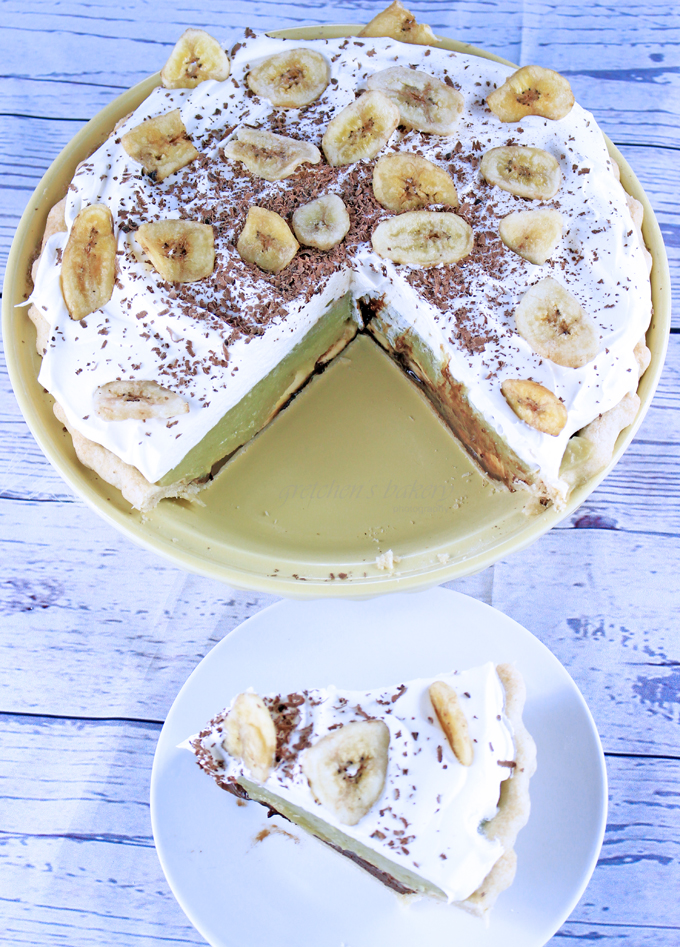 Prep Time
1 hour
30 minutes
Total Time
1 hour
50 minutes
Ingredients
For the Banana Custard:
Plant Milk *I am using soy milk 2 cups (474ml)
Granulated Sugar ½ cup (100g)
Cornstarch 6 Tablespoons (48g)
Vegan Butter 2 Tablespoons (28g)
Vanilla Extract 1 teaspoon (5ml)
Fresh Bananas 2 medium (approx 1 cup mashed banana) (180g)
For the Black Bottom Ganache
Vegan Chocolate Semi Sweet 4 ounces (112g)
Plant Milk 2 ounces (60ml)
Chocolate shavings & banana chips for the garnish optional
Instructions
First prepare the pie crust and then blind bake it, then reserve to cool
Prepare the vegan ganache by combining the chopped chocolate with the milk alternative in a small saucepot over low heat and stir constantly until melted and whisk smooth, pour this into the baked & cooled pie crust
For the custard, combine the plant milk, cornstarch & sugar in a medium sauce pot over medium to high heat and bring to a boil stirring constantly to avoid scorching the bottom .
Once it starts to bubble remove from the heat and add the vegan butter and vanilla extract and stir until melted and smooth.
Add the mashed bananas if you are adding them to the custard and whisk to incorporate
If you are not adding the mashed bananas directly to the custard recipe, slice them into the bottom of hte pie crust after pouring the ganache
Pour the custard into the prepared crust(s) and cover the tops directly on the custard to avoid oxidation of the bananas in the custard as it cools.
Prepare the coconut whipped cream of your choice from my blog post all about Vegan Whipped Cream OR thaw out your tub of CocoWhip.
Once the pie has cooled, generously ice the entire top with the whipped cream and garnish with your choice of decor.