They say variety is the spice of life.
However I will argue that you can basically just make this everyday for the rest of your life and still be completely satisfied.
The Ultimate Vegan Brooklyn Blackout Cake has just arrived.
YOU NEED THIS CAKE IN YOUR LIFE.
Chocolate Cake. Chocolate Custard. Chocolate Buttercream. Covered in moist cake crumbs.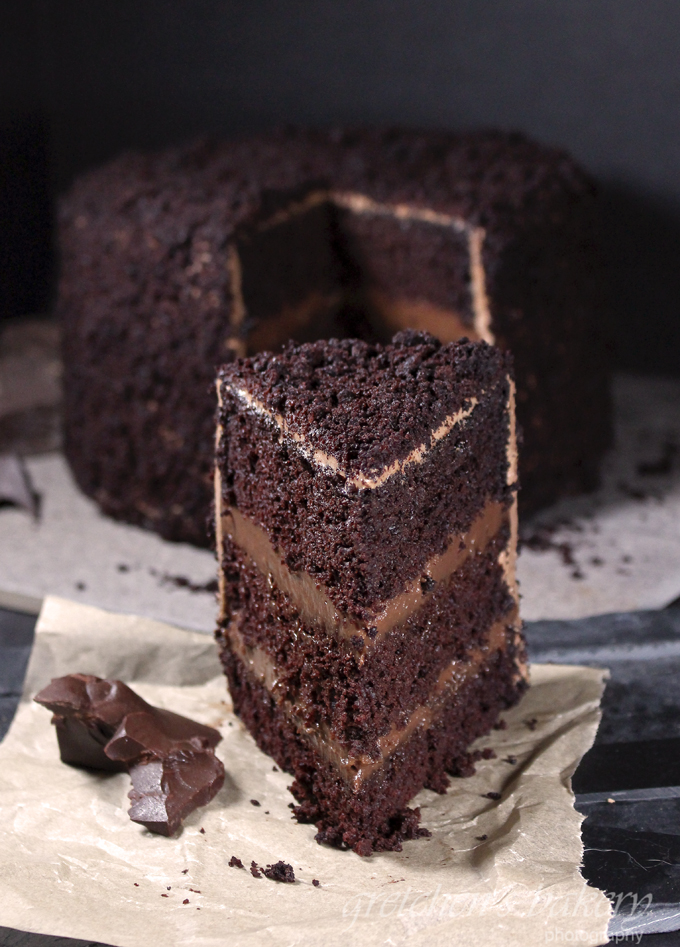 This is another easy cake to whip out since it is my  One Bowl ~ One Hour Chocolate Cake Recipe
Stove top double chocolate custard that is ready in minutes
Covered with a thin veil of chocolate buttercream and loaded up with moist cake crumbs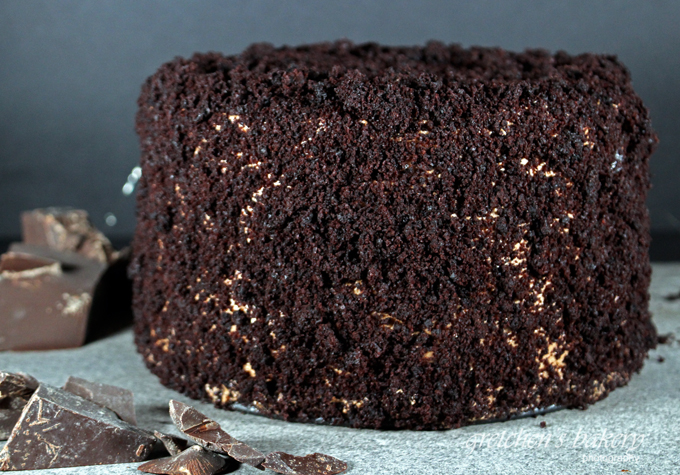 Before researching the unique nomenclature of the Brooklyn Blackout Cake
I decided it simply must be because
You will literally blackout from ecstasy upon eating it!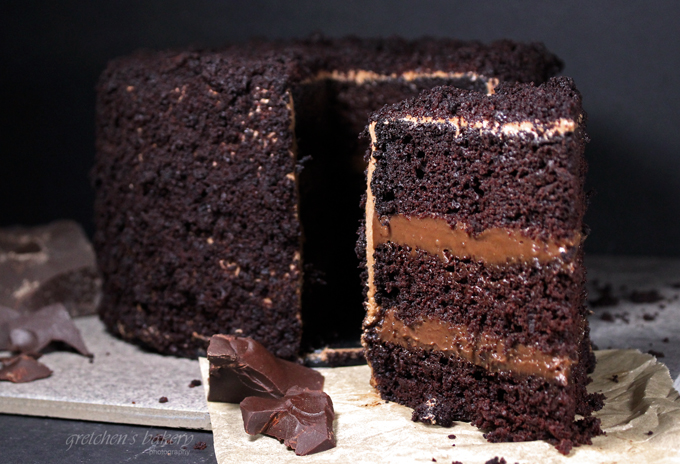 However the alleged true account of this cakes origin is that it was invented during World War II by a Brooklyn bakery chain named Ebinger's.
In recognition of the mandatory blackouts to protect the Brooklyn Navy Yard.
After the war, the name persisted and became a signature offering popular with Brooklyn residents.
While that history is interesting, I think my explanation is more fitting since I repeat:
You may just blackout after eating this cake!
With just two easy recipes and a little bit of buttercream that I always have in my refrigerator;
I was eating Brooklyn Blackout Cake in less than two hours.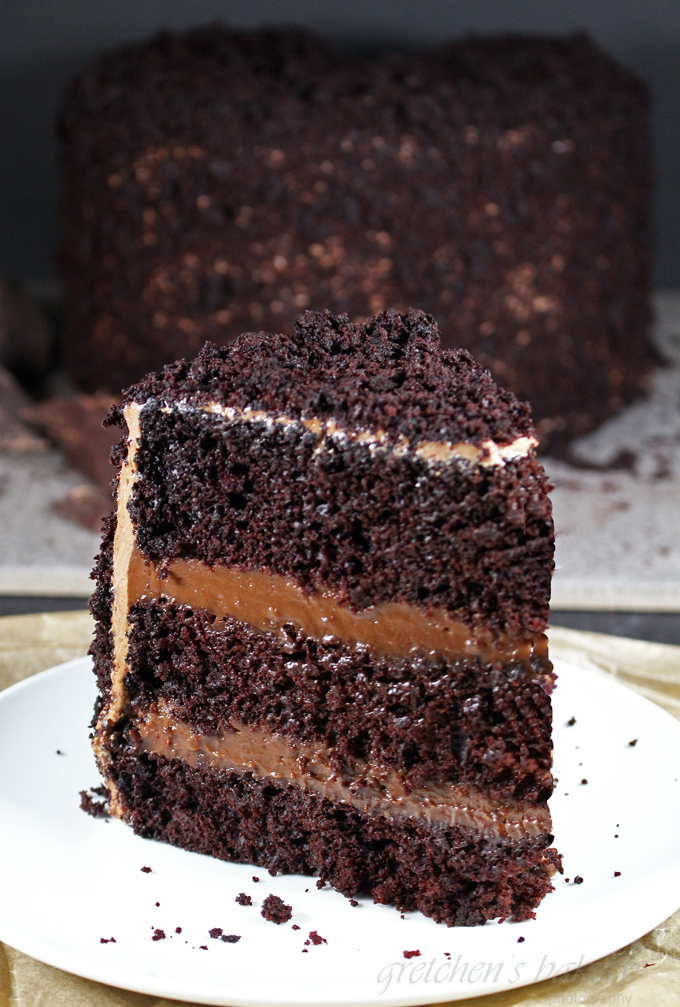 If you don't have stashes of buttercream in your fridge like me, you will take a little longer to make one more recipe
But with the easiest recipe for American Buttercream you can have that done well before your cake is even done baking.
In the video you will notice I used an acetate cake strip to pour the hot custard into the layers, rather than cooling the custard and spreading it in later.
I always preferred this method of building custard cakes because it allows the custard to set in the cake for a very smooth clean layer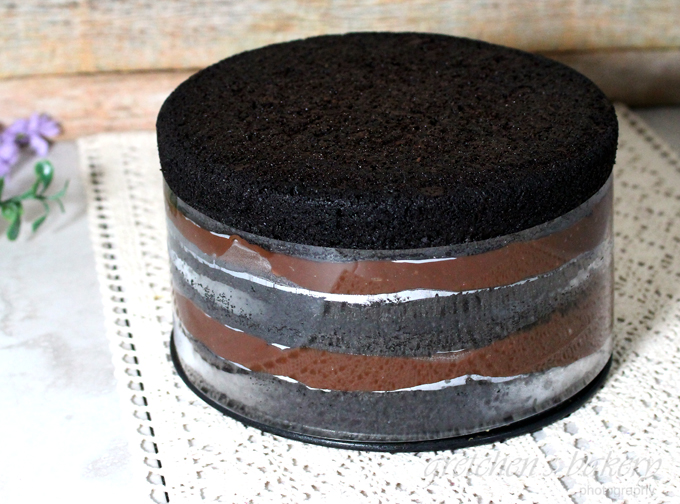 I find that vegan custard has a tendency to break down after it's been set, thus creating a very soft and unstable filling when you whip it up to go inside cakes.
Go ahead and try out my method of pouring the hot custard into the layers and I think you will be glad you did!
You will of course need to buy the Acetate Cake strips but this is one of the most valuable "extras" in the bakery kitchen
Used for a multitude of my cold preparation desserts, to me they are invaluable.
Of course you can build the cake traditionally with cold custard and a buttercream dam around the edges.
But either way you cannot ice this cake until it is completely cold and set.
Once it is though, give it a thin crumb coat of that chocolate buttercream and slather on those big fluffy, moist chocolate cake crumbs!
Notes about cake pans sizes: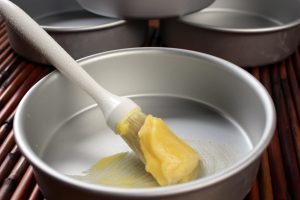 The recipe for the cake listed below will make 4- 7″ layers
Since I only used three layers for the cake the fourth layer was broken up for the cake crumb coating!
It was perfect!
Many of you prefer to bake in the more standard 8″ cake pan size; if that is you then just divide the batter evenly amongst 3-8″ cakes 
For a two layer cake with the third layer being used as the crumble.
CLICK HERE FOR THE FULL YOUTUBE VIDEO TUTORIAL FOR HOW TO MAKE THE BROOKLYN BLACKOUT CAKE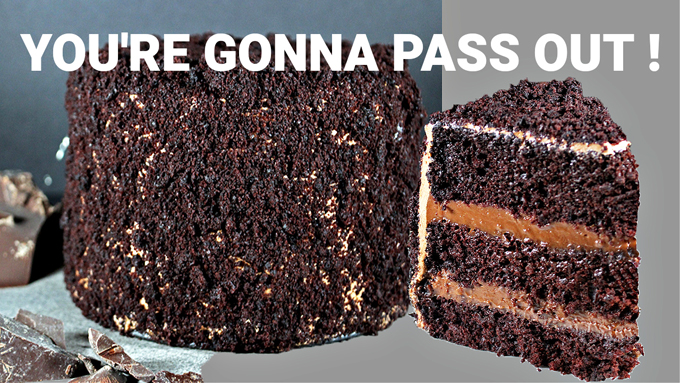 For more of the best chocolate layer cake creations click the links below!
The Chocolate Fudge Layer Cake
Chocolate Raspberry Truffle Cake
Notes for Success:
When measuring cornstarch I cannot stress enough that a kitchen scale is the best way to go.
Cornstarch is a very difficult ingredient to measure consistently with a volume spoons measure
So while I list both measures below I cannot stress enough how the grams measure with a scale is going to give you the best results.
Many times people have complained that their custard is like rubber and they don't know why!
This is from a heavy measure of cornstarch when using volume measuring spoon vs the 100% accurate scale measure in grams.
CLICK HERE FOR MORE ABOUT MEASURING WITH A SCALE VS CUPS
The Ultimate Vegan Brooklyn Blackout Cake
Prepare your cake pans with grease & parchment paper liner and preheat the oven to 350°F The recipe below for chocolate cake will make either 3-8" layers OR 4-7" layers. Which ever size you choose you must use one of the layers for the cake crumb coating
Ingredients
Cocoa Powder 4 Tablespoons
Hot Water 4 Tablespoons
For the Chocolate Custard:
Plant Milk 2 cup (474ml) * I use soy milk
Granulated Sugar ½ cup (100g)
Cornstarch 4 Tablespoons (32g) *see notes in notes for success above the recipe
Cocoa Powder 2 Tablespoons
Vegan Semi-Sweet Chocolate 2½ ounces (approx ½ cup chopped)
Vegan Butter 1½ Tablespoons (21g)
Vanilla Extract 1 teaspoon (5ml)
Instructions
First prepare the cake recipe as per the instructions on that page.
For the 7" layers, the oven temperature will stay at 350F but will probably take about 25 minutes to bake, always check at around 18 minutes just to see how it's going
While the cake is baking prepare the cocoa paste for the chocoalte buttercream by combining the hot water with the cocoa powder, whisk smooth then set aside to cool.
Prepare the buttercream recipe according to the instructions on that recipe post, and at the last stage of mixing add the cooled cocoa paste. Mix well.
Once the cakes are baked and cooling, you can then prepare the custard **if you are building the cake as I did with the hot custard, otherwise you can prepare the custard at any time ahead of time and build the cake at a later time
Prepare the custard by combining plant milk, sugar, cocoa powder & cornstarch in a medium sauce pot over medium to high heat and bring to a boil stirring constantly to avoid scorching the bottom .
Once it starts to bubble remove from the heat and add the vegan butter & the chocolate, stir to melt evenly throughout.
Add the vanilla extract stir to mix well.
Set up your cooled cake layers with the acetate strip and pour the custard into each layer *see video instruction for more clarity.
Refrigerate the cake until set and then ice with chocolate buttercream
Use the remaining cake layer to break up into large crumbs to stick onto the buttercream icing.
Notes
Brooklyn Blackout Cake must be kept refrigerated because of the chocoalte custard filling.

It will stay fresh, loosely covered for up to 7 days in the refrigerator
3.5.3251