Another classic cake recipe from way back when I owned my bakery which just happens to be my all time favorite cake.
I know I say that about all my cakes and recipes, but this time I have proof.
I literally ate a whole Brown Derby Cake one Sunday afternoon just before closing hours.
The cake sadly didn't sell that day and because of the whipped cream icing it just was not going to last until the following Tuesday.
So I did what anyone with a compassionate heart would do. I ate it.
Brown Derby Cake is so light and delicious that it's not so hard to eat it until it is gone.
But this time I made smaller versions so I wouldn't feel so bad about eating a whole cake!
You will probably want to make one larger family style cake though, so just follow the recipe as listed below but bake your cake layer in an 8″ pan instead.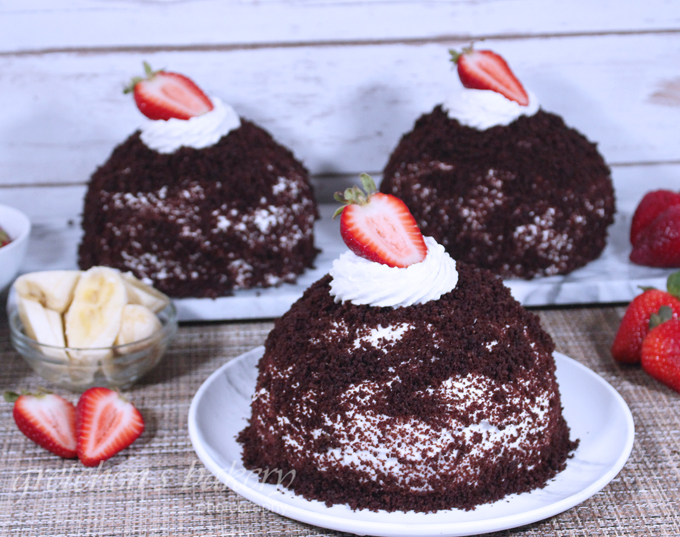 The name of this cake is derived from the style of hat from the late 1800's
Filled with fresh strawberries and bananas and traditionally in my bakery we used peach filling, but today I decided to go with cherry filling instead.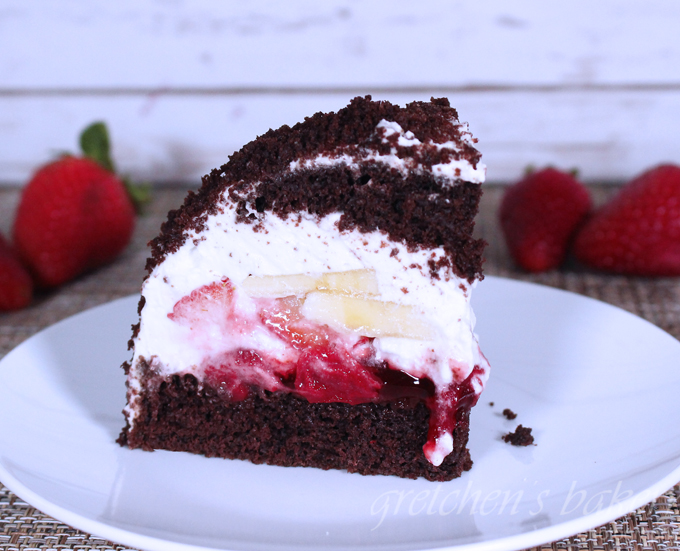 Notes for Success:
I have several options for making vegan whipping cream with a new recipe for stabilizer for all your whipped cream brands or homemade recipes!
The filling is simply fresh strawberries and bananas with cherry pie filling, although in my bakery we used peach filling, so you can really use whatever you like the most!
Tweak it up to your liking and quite honestly you can even make it with Vanilla Cake!
While you will not need a full recipe of chocolate cake for the layers, you should make the full recipe because you will use one whole layer to crumb up for the outside coating.
CLICK HERE FOR THE FULL STEP BY STEP YOUTUBE VIDEO TUTORIAL FOR HOW TO MAKE THIS CAKE!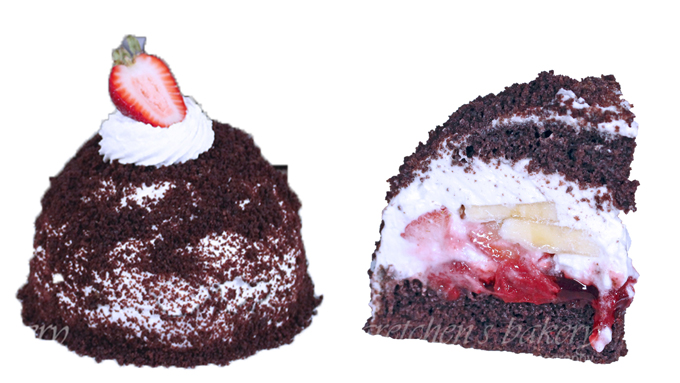 Yield: Serves 12 people
Brown Derby Cake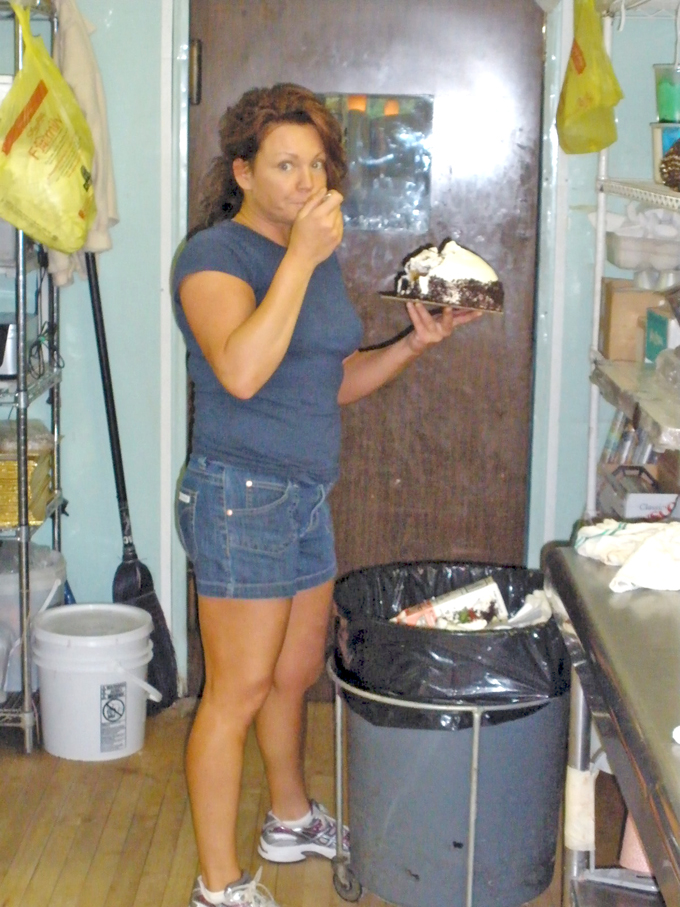 Prep Time
1 hour
30 minutes
Total Time
2 hours
5 minutes
Ingredients
or 2 Pints Store Brand Whipping Cream
1 pint fresh strawberries
2 large bananas
1 can (15oz) Cherry or Peach Pie Filling
Instructions
If you are making my recipe for homemade vegan whipped cream you must start that process the day before or at least in the morning to chill all day long.
*Please read the entire blog post for that recipe before beginning.
Prepare the half recipe for the chocolate cake and if you are making one larger family sized cake, bake the batter into an 8" cake pan
For the 3 smaller cakes divide the batter into 3- 6" cake pans
Bake in a preheated 350°F oven for 25-35minutes depending on the size of your cake pans.
Cool the cakes completely in the cake pans and then flip them out onto a wire rack to cool the rest of the way.
Cut the strawberries into small same sized chunks and slice the banana.
Whip the vegan whipping cream to soft peaks and then build the cake as shown on the video tutorial.
Notes
Brown Derby Cake must be kept refrigerated at all times.

It will stay fresh for up to 1 week covered loosely to prevent drying out.