Everyone needs a perfect Vanilla Cake Recipe right?
Well here you go! The Best Vegan Vanilla Cake Recipe out there!
You're welcome!
This truly is my go-to recipe for everything I need to make with vanilla cake.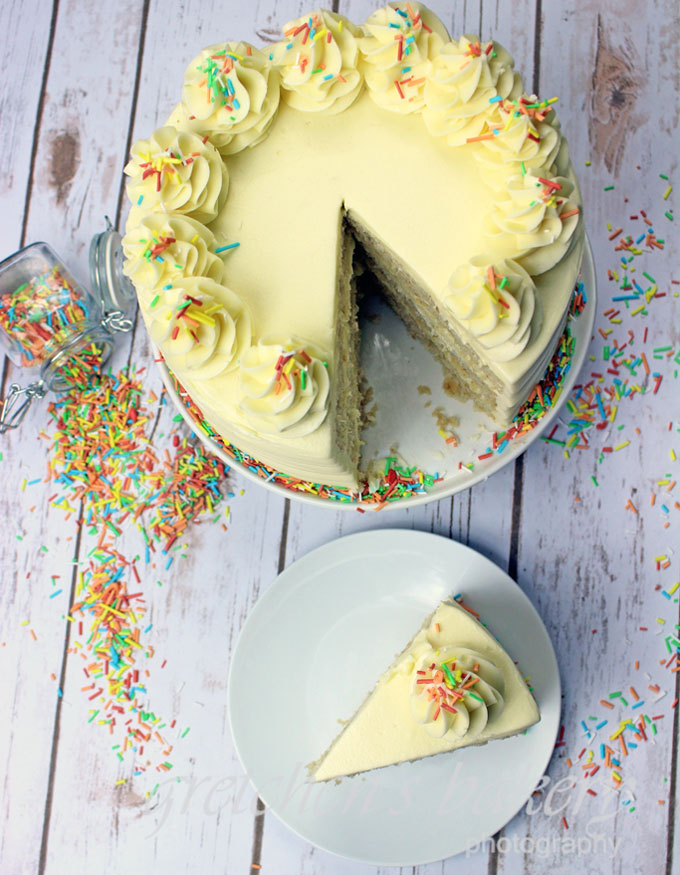 I used it for the base in my Tiramisu as well as for the lady fingers in my Tiramisu Cheesecake!
I use it for Vanilla Cupcakes (Oh what a rise you get!) and I recently got a really awesome comment from someone regarding this exact recipe.
She said: "Thank you, thank you, thank you! My Mom hasn't been able to find a vegan cake recipe in which the cake stays firm enough and 'together' enough to decorate easily.  I just made this vanilla cake – I used a hand mixer and took it out of the oven twice, just having to put it back in because it didn't seem done. (I'm not a baker!) And still it turned out wonderfully! My Mom is very impressed with how the cake held up to decorating and is even considering using this recipe for a wedding cake!   Thank you again!!!"
How awesome is that!? Well, for me, it is the ultimate! The best payback for me is when people tell me how much they love my recipes!
So when I say "this is the best" (which I often do say that about my recipes! LOL) I am just thrilled to be able to share true testimonials from people who agree so you can be sure that I'm not just another blogger claiming to have the best recipes!
I mean seriously, how can EVERYONE have "the best" recipe!?
So while you may be thinking, "Eh I don't need to try this recipe, I already have a vanilla cake that works…."
Please do try just one more! I promise you will be happy you did!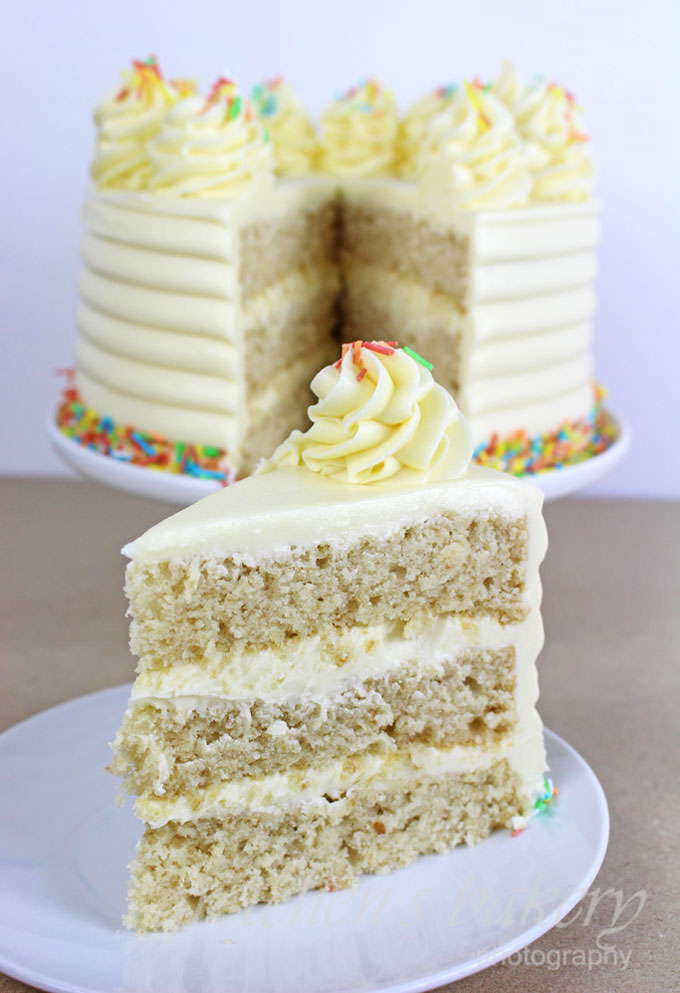 I've just kept it simple birthday cake style decor with a light buttercream filling and icing and don't forget the homemade Vegan Sprinkles too!
A fun little project you can make in bulk on a rainy day and store all the colors of the rainbow for when you need them later!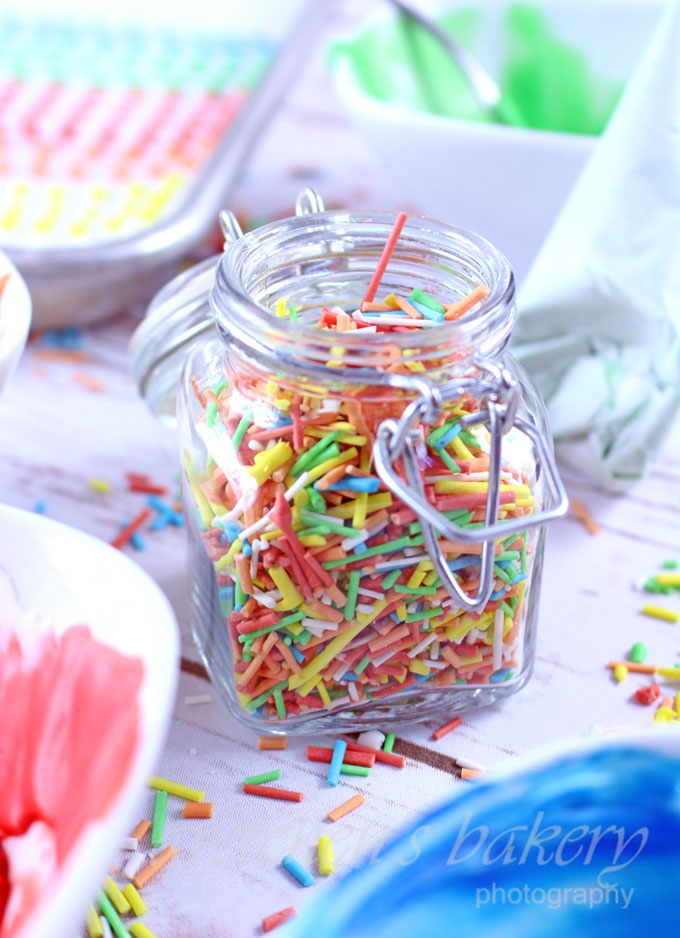 For those who are already asking, YES you can add the homemade vegan sprinkles to this cake batter for a Funfetti Cake batter!
The Best Vegan Vanilla Cake Recipe
I am using
3- 7" cake pans
for a 3 layer cake, but you can use 2-8" pans instead for a 2 layer cake
Since the development of
The Plant Based Egg egg replacer by Freely Vegan
I do prefer to use that now, I prefer it as you do not see the flax specks in the final cake and the binding properties is has compared to other egg replacers is by far my NEW FAV!
Click here for the recipe using The Plant Based Egg
I am also omitting the salt from the recipe, since there is a high amount of baking powder in addition to the Vegan Butter (*earth balance tends to be high in salt)
I will recommend using Aluminum Free and low sodium baking powder as well
Serves:
serves 8-10 people
Ingredients
For the Vanilla Cake
White Vinegar 1 Tablespoon (15ml)
Soy Milk 1 cup (237ml) *or any milk alternative of your choice
Vanilla Extract 2 teaspoon (10ml)
Cake Flour 2½ cup (300g) *all purpose is ok if you cannot get cake flour CLICKHERE
Golden Flax meal 4 Tablespoons (36g) *Or egg replacer, see note above
Hot Water 10 Tablespoons (150ml)
Granulated Sugar 1½ cup (300g)
Baking Powder 4 teaspoons (20g) *see not above
Vegan Butter 12 Tablespoons (170g)
1 recipe Buttercream of your choice * I am using the Aquafaba Swiss meringue Buttercream for this cake
1 Recipe Homemade Vegan Sprinkles
Instructions
First prepare the cake batter
Combine the flax meal with the hot water and let stand to thicken
Add the vinegar to the soy milk to sour then add the vanilla extract
Sift the flour with the baking powder
Cream the vegan butter with the sugar until light and fluffy and this may take about 3-5 minutes on medium to high speed
Add the flax paste to the creaming mixture while mixing on medium speed, scrape the bottom and sides of the bowl to incorporate evenly, whip on high for 30 seconds
Add about ⅓ of the flour to the creamed mixture while mixing on low speed just until combined, then add half of the remaining soured milk
Add another ⅓ of the flour and then the remaining sour milk
Add the last amount of flour and mix just to combine evenly.
Portion the batter between your greased and parchment lined cake pans and bake immediately in a preheated 350°F oven for approximately 25-30 minutes or until they are springy to the touch when you gently press the centers.
Meanwhile prepare the buttercream recipe of your choice by following the recipe on that blog post
Build and ice the cake as shown in the video and decorate with homemade vegan sprinkles!
Notes
Cake will stay fresh at room temperature for a day, but I like to store in the refrigerator for a longer shelf life- up to 1 week.

I do not like to freeze vegan cakes, as the texture will be compromised to a very dense heavy cake.