Is it a cookie or a cake?
Tender, soft , fluffy, coconut~vanilla cookie clouds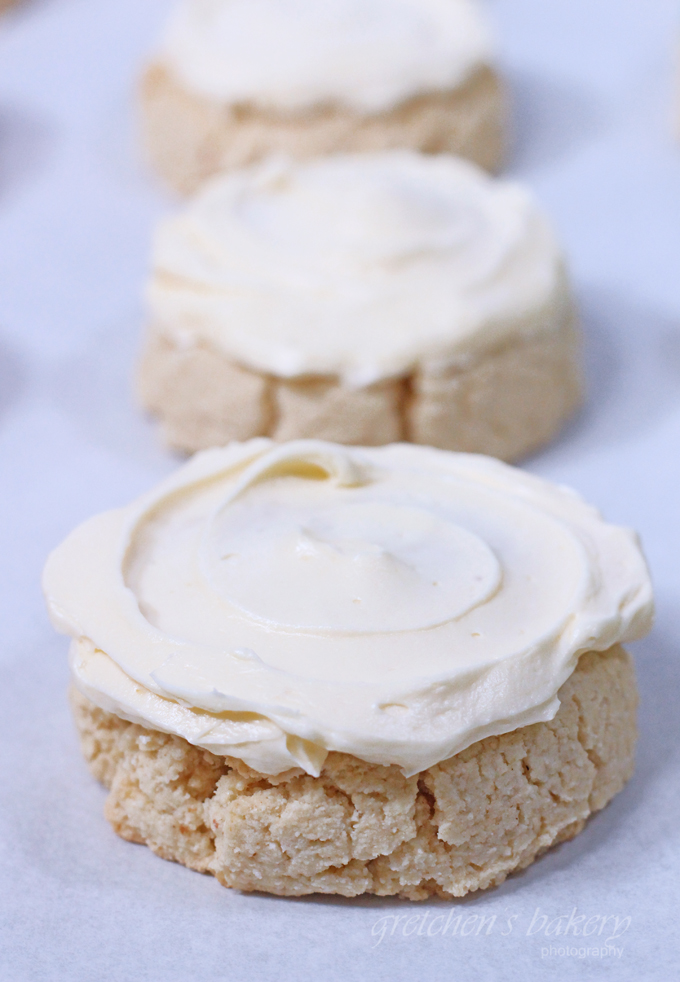 Aptly named Butter Fluff Cookies!
Make them all year round for any occasion
Or sprinkle them up with all the holiday colors of the season!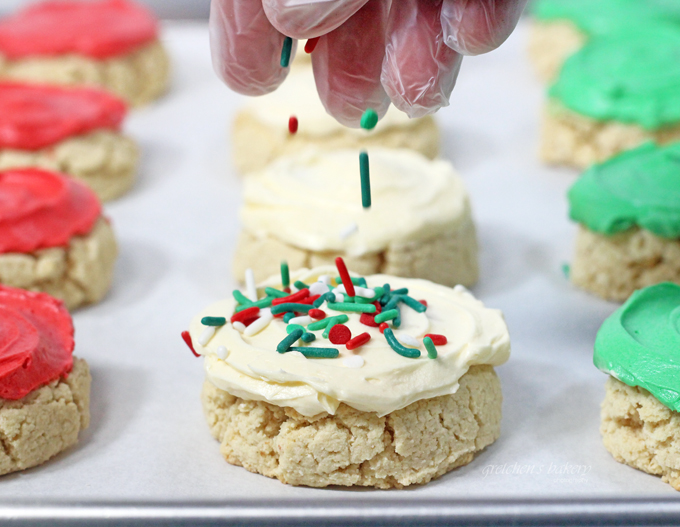 Iced with your favorite buttercream recipe
For a double dose of butter fluff!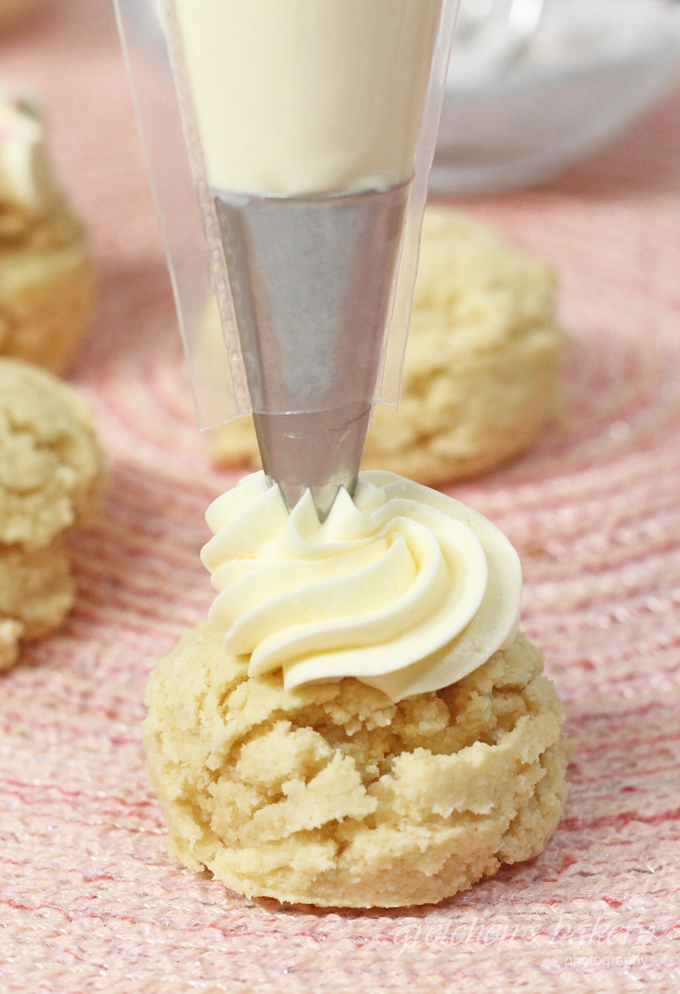 These cookies will fast become a favorite to eat and they are so easy to make!
Sprinkles for the kiddies and butter rum glaze for the adults table!
Honestly I prefer no icing at all
But I will say I loved the butter rum glaze perhaps a bit too much!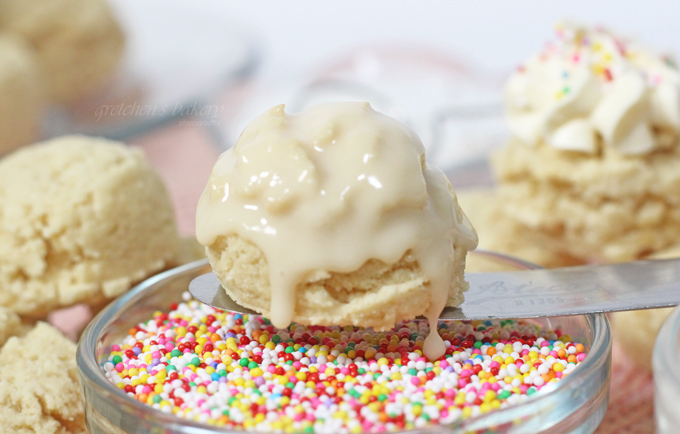 The recipe below only makes nine, so I would advise to double or even triple
Because these jumbo fluff balls are going to fly fast!
Alternatively you can use a #100 scoop instead for miniature clouds of joy!
CLICK HERE FOR THE COOKIE SCOOP SIZES THAT I ALWAYS ONLY USE
This little bite sized version stole my heart quickly!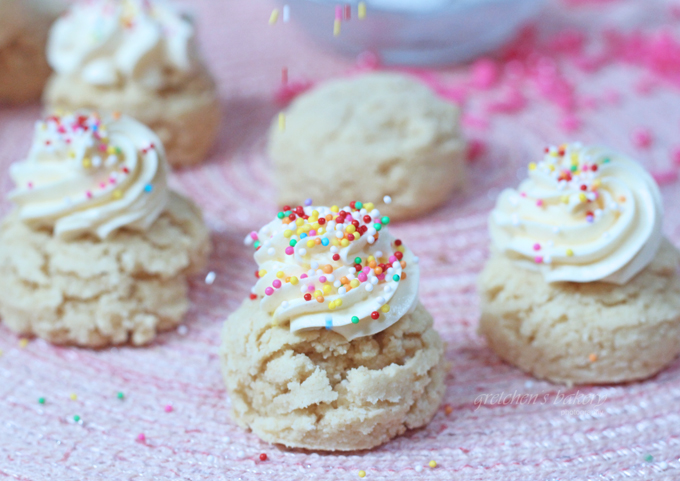 Just be wary of the bake time since the bigger 2 ounce scooped cookies took only 14 minutes to bake
So they don't really look too much different from when they go into the oven and when they come out
The miniature version will be done in less than half that time!
You don't want to over bake these or they will be dry
They barely start to turn golden in the oven so for me 14 minutes was perfection
Buttery, light and airy with just the right amount of sweet!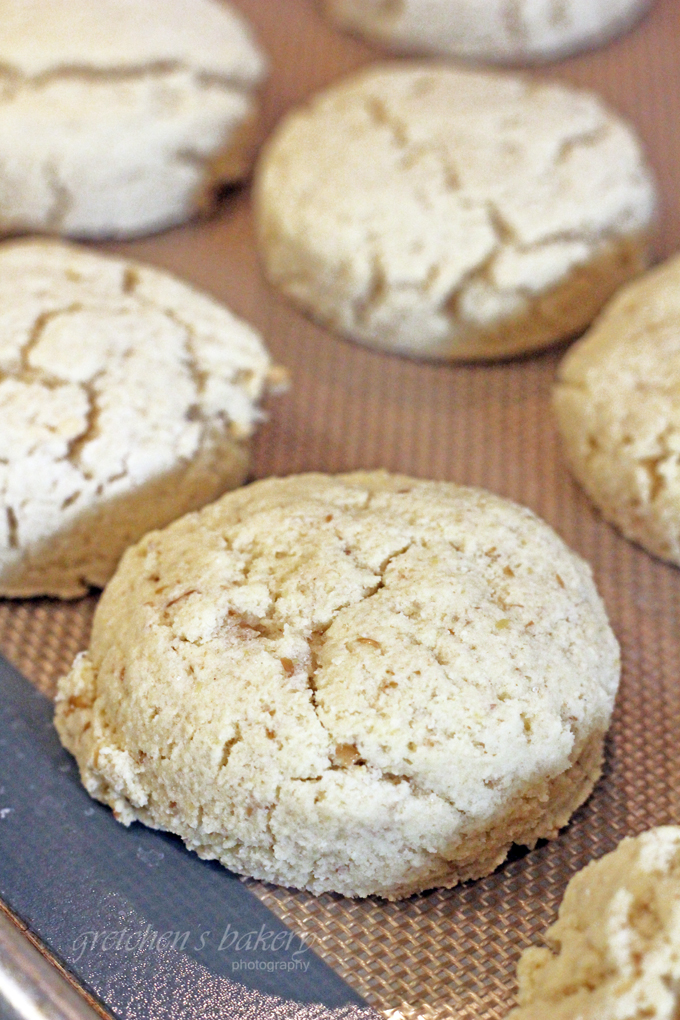 Notes for Success & Substitutions:
The dough will be very stiff so when you scoop them onto the sheet pan be sure to press them down to look like little patties.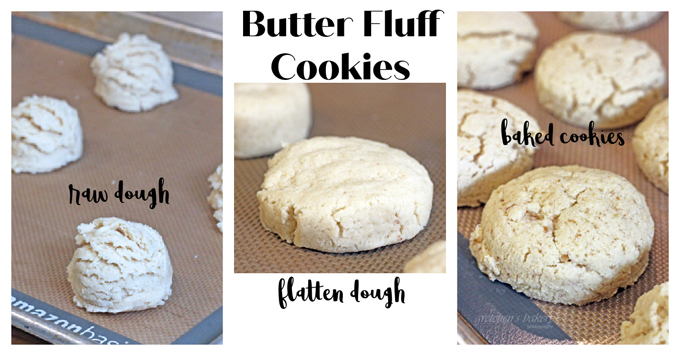 They will not spread but will puff up to a tender light and airy texture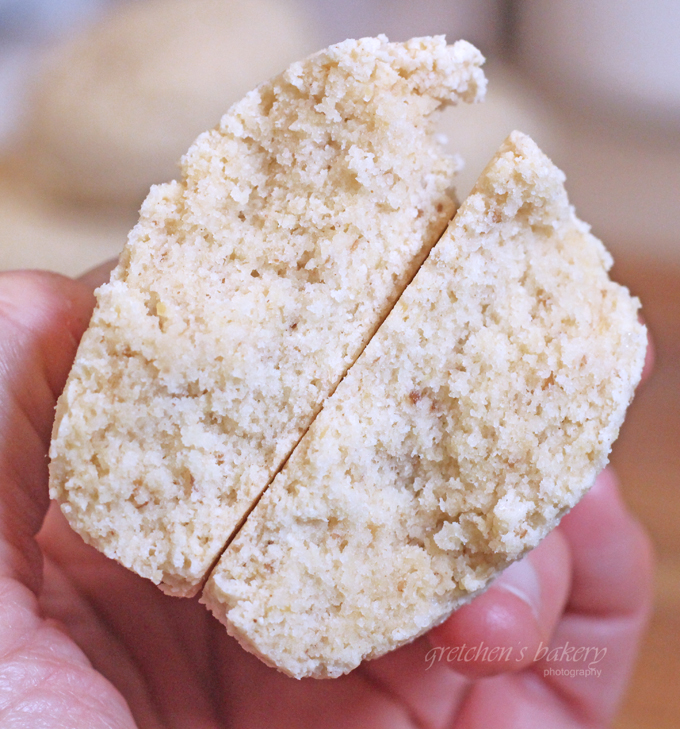 If you against coconut in your recipes you can substitute any nut flour instead
For those who don't like to see flecks of flax in their cakes and cookies
I have used Bob's Red Mill egg replacer instead of the flax meal and water
Instead of the water & flax listed below for the flax reconsitution
You would just add another 3 Tbs plant milk to the recipe and add 1 tablespoon of the egg replacer straight to the dry ingredients
For more of the best cookie recipes click the links below!
Butter Pecan Chocolate Chip Cookies
Butter Fluff Cookies
This recipe makes 9- 2ounce scooped cookies or 18 #100 scooped cookies
Ingredients
For the Cookie:
Vegan Butter 6 Tablespoons (85g)
Granulated Vegan Sugar ½ cup (100g)
Plant Milk 3 Tablespoons (45ml)
Vanilla Extract 1 teaspoon
Coconut Extract 1 teaspoon
Almond Extract *optional ¼ teaspoon
Ground Golden Flax Meal 1 Tablespoons (8g)
Hot Water 3 Tablespoons (45ml)
Cornstarch 1 Tablespoon (8g)
All Purpose Flour 1 cup (125g)
Coconut Flour or coconut flakes *grind to fine consistency 12 Tablespoons (90g) *see notes above for sub
Salt ½ teaspoon
Baking Powder 1 teaspoon
Baking Soda ½ teaspoon
For the Butter Rum Glaze:
⅔ cup confectioners sugar sifted (80g)
1 Tablespoon rum (15ml)
1 Tablespoon melted vegan butter (15ml)
warm water ½ teaspoon *if needed
OR ~
½ Recipe your favorite buttercream icing*optional
Instructions
Preheat the oven to 350°F
If using coconut flakes, be sure to grind the coconut flakes to a fine flour consistency in a spice grinder or a food processor.
Combine the flax meal with the hot water, whisk smooth let stand for 5 minutes to gel
Combine the room temperature plant milk with the extracts
Sift the flour, coconut flour & coconut flakes if using, with the baking soda, baking powder, salt, cornstarch
Cream the vegan butter with the sugar for about 3 minutes on medium to high speed until light and fluffy and then add the thickened flax paste, whip on high speed to emulsify
Add the sifted dry ingredients all at once and mix thoroughly until incorporated then add the coconut
Last add in the milk/extract mixture and mix well
Scoop with a 2 ounce or #100 scoop onto parchment lined or silicone sheet pans spaced 1" apart, lightly press each dough ball to flatten slightly
Then bake in a preheated 350° F oven for approximately 14 minutes or until starting to get golden browned
Meanwhile prepare your buttercream recipe of choice OR the butter rum glaze
Combine all the ingredients together in a small bowl for the butter rum glaze & whisk smooth
Dip the cooled cookies in the glaze or ice with buttercream
Notes
Butter fluff cookies will stay fresh at room temperature in an airtight container for up to 1 week.

For longer storage freeze the dough balls and bake them as you want freshly baked cookies.