It doesn't matter if you are Pumpkin Pie or Pumpkin Cheesecake because the best of both worlds just happened right here!
Pumpkin Cheesecake Bars with candied pecans for the win!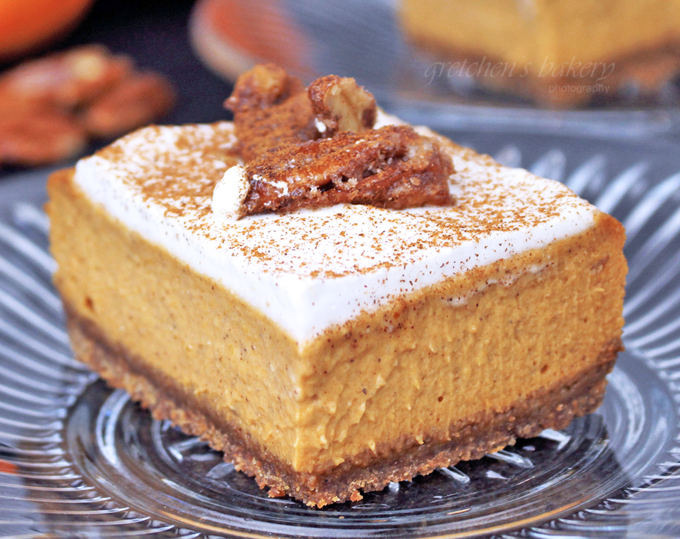 My baked vegan cheesecake recipe is becoming quite famous so if you have not tried it yet
What are you waiting for!?"
It's really simple to make since you just throw all the ingredients into a food processor and whiz it up smooth
Pour it into a gingersnap cookie crust and you just made the best recipe of the fall season!
Creamy pumpkin cheesecake bars with my famous gingersnap cookie crust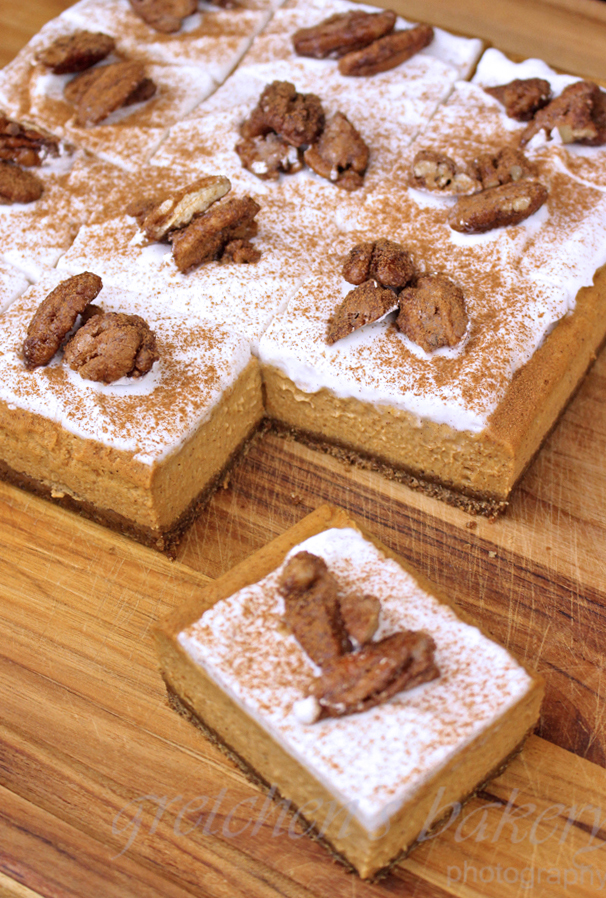 Candied pecans are seriously addictive and trying to steal this show
It is recommended to make a double batch of the pecans recipe since they may be gone before this cheesecake is finished baking!
They also make great edible gifts!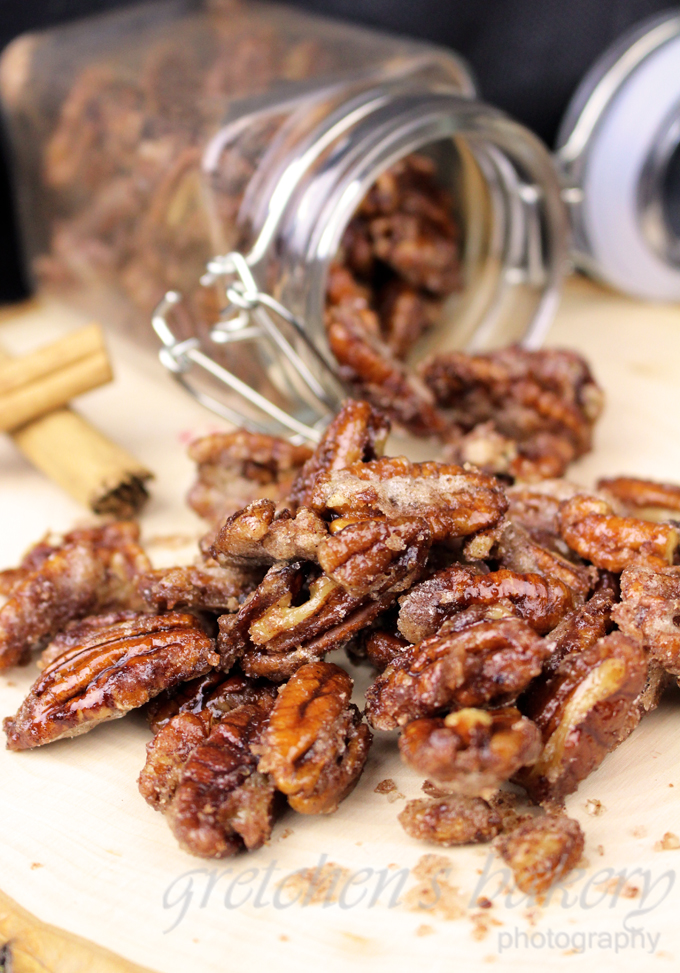 Notes for Success:
You can of course bake this into a 7″ round cake pan if you want a traditional pumpkin cheesecake
I only use Tofutti Cream Cheese for my BAKED recipes *not sponsored
I have not had success with any other brand in BAKED recipes.
For some reason the other more expensive brands I've tried have broken down into an oily mess when baked.
Cornstarch is a very difficult ingredient to measure consistently with a volume spoons measure
So while I list both measures below I cannot stress enough how the grams measure with a scale is going to give you the best results.
Many times people have complained that their cheesecake is like rubber and they don't know why!
This is from a heavy measure of cornstarch when using volume measuring spoon vs the 100% accurate scale measure in grams.
CLICK HERE FOR THE FULL YOUTUBE VIDEO TUTORIAL FOR HOW TO MAKE THESE BARS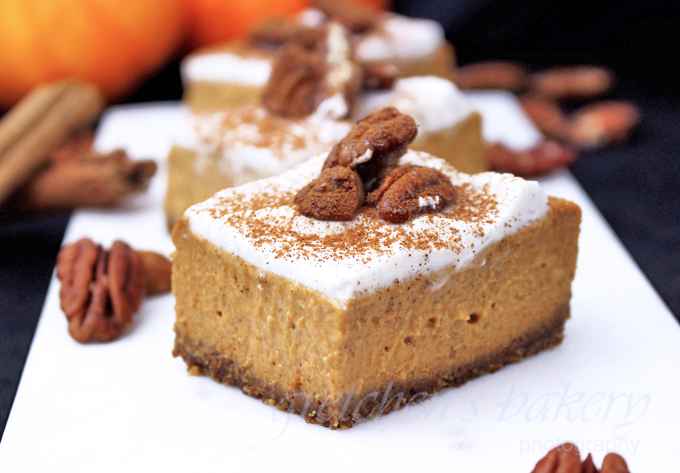 For more awesome cheesecake recipes, click the links below!
The Best Vegan Cheesecake Recipe Ever!
Twix Cheesecake ~ Vegan & Gluten Free
Yield: serves 12
Pumpkin Cheesecake Bars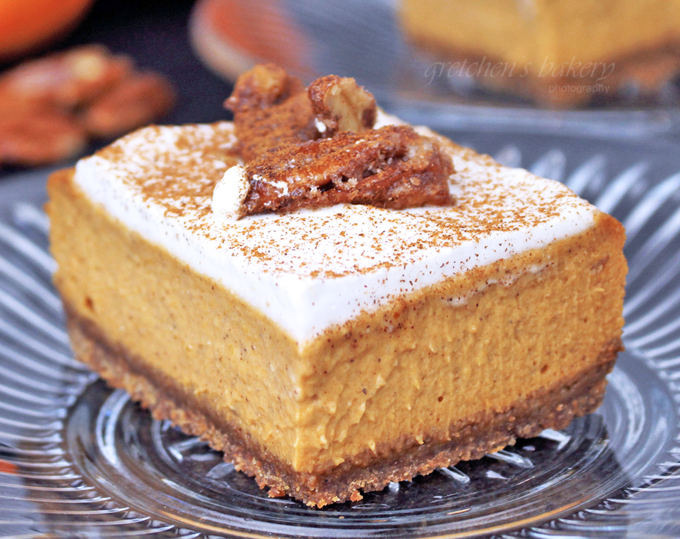 Ingredients
For the Candied Pecans
Aquafaba 1½ Tablespoons
Vanilla Extract 1 teaspoon
Pecans 4 ounces (approx 1 cup)
Granulated Sugar ¼ cup (50g)
Cinnamon ½ teaspoon
Ground Ginger ¼ teaspoon
Ground Nutmeg 1/8 teaspoon
Cloves 1/8 teaspoon
Salt pinch
For the crust
Ginger Cookies you only need about 15
Vegan Butter melted 3 Tablespoons
For the Pumpkin Cheesecake
Vegan Cream Cheese 1½ packages (16oz) (454g) *see notes
Canned Pumpkin 1 cup (226g)
Light Brown Sugar ¾ cup
Cornstarch 4 Tablespoons (32g)
All Purpose Flour 2 Tablespoons (15g)
Molasses 2 teaspoons *optional
Salt pinch
Cinnamon 1 teaspoon
Ground Ginger 1¼ teaspoon
Cloves ¼ teaspoon
Nutmeg ¼ teaspoon
Vanilla Extract 2 teaspoons (10ml)
Lactic Acid ½ teaspoon
OR Apple Cider Vinegar 1 teaspoon *optional
Vegan Butter 2 Tablespoons (28g)
Plant Milk 3 Tablespoons (90ml)
Instructions
First make the candied pecans by whipping the aquafaba until foamy. Add the vanilla extract and whip it to incorporate to a foamy meringue not a stiff peaked mernigue
Add the pecans and toss to coat well
Combine the sugar, salt & spices and add to the pecans in the bowl.
Toss well to evenly coat
Spread onto a silicone mat or a lightly oiled sheet pan
Bake in a preheated 300°F oven for 20 minutes, stir them up after you take them out of the oven and redistribute and cool. Store in an airtight container for up to 1 month
For the Pumpkin Cheesecake: Prepare the crust by combining approx 15 gingersnaps (1½ cups crumbs) and the melted vegan butter together in a food processor and process until it resembles wet sand.
Press into the bottom of the parchment lined cake pan or 8" x 8" square cake pan if you are making bars like me.
Be sure to let parchment paper hang over the sides of the pan so you can remove this cheesecake easier once it is cold.
Next combine all the cheesecake ingredients in a food processor and process smooth.
Pour the cheesecake batter over the prepared crust and bake in a water bath in a preheated 350°F oven for 60 minutes.
Cool out of the oven and then refrigerate for at least 4 hours or overnight.
Prepare the whipped cream by scooping the fat from the cans of cold coconut milk (reserve the liquid for another recipe) whip to soft peaks with the confectioners sugar and vanilla.
Spread over the cold cheesecake while still in the pan, sprinkle with the candied pecans
**The vegan whipped cream layer is optional
Notes
I serve these bars right out of the pan, but the parchment paper overhang helps to lift the entire bar out of the pan if you prefer to present it on a serving platter.

Cheesecake bars must be kept refrigerated but will be fine at room temperature for up to 2 hours.

Store for up to 1 week in an airtight container in the refrigerator