Sometimes we just have to go simple when it comes to making a statement and this recipe is surely one to pack a big punch with minimal effort!
Dipped in hearts sprinkles for Valentine's Day~  you are going to fall in love with this new recipe!
I wish I knew about Fancy Sprinkles when I originally made this video last year they have the BEST Vegan Sprinkles variety to choose from!
Or you can even make your own sprinkles click here to see how!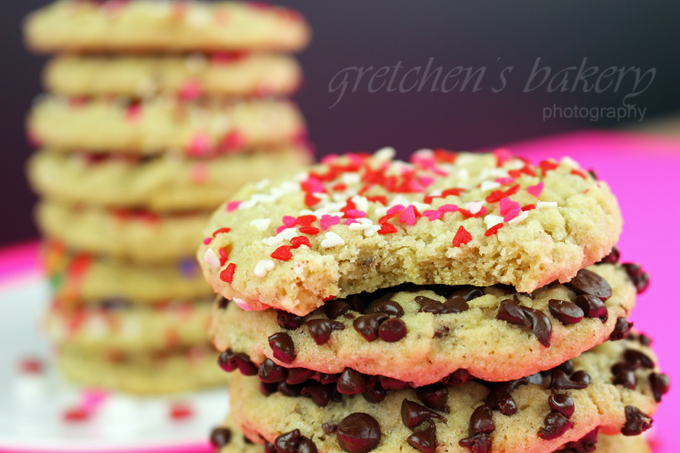 These cookies are slightly crispy on the outside but the inside stays soft and chewy for days!
Of course they are not only for Valentine's Day.
Just change up the sprinkle or add chocolate chips or even cinnamon sugar for a snickerdoodle!
This is a very versatile cookie recipe!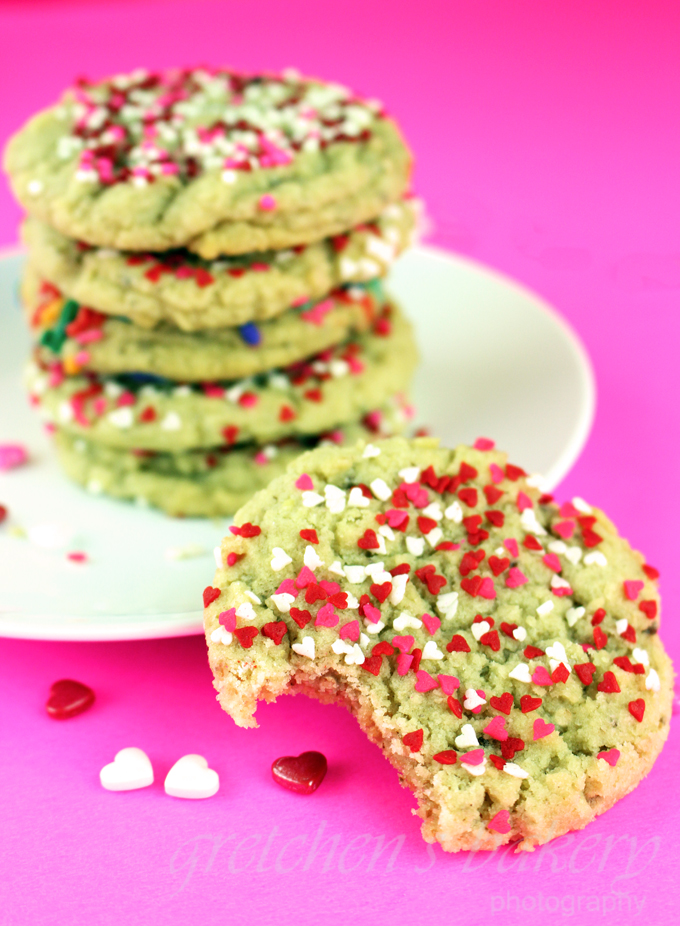 Vegan Sugar Cookies
Ingredients
Earth Balance Buttery Sticks 8 tablespoons (113g)
Hi Ratio Shortening ½ cup (113g)
Light Brown Sugar ½ cup (105g)
Granulated Sugar 1 cup (200g)
Ground Flax Meal 2 Tablespoons (16g)
Hot Water 6 Tablespoons (90ml)
Vanilla Extract 1½ teaspoons
All Purpose Flour 2½ cup (312g)
Salt ½ teaspoon (3g)
Baking Powder 1½ teaspoon (7g)
Toppings of your choice as needed *see video
Instructions
Combine the flax meal with the hot water and let it stand to thicken
Cream the earth balance and shortening with both sugars (with the paddle attachment) on medium to high speed until light & fluffy, this will take 3-5 minutes
Add the flax paste and vanilla extract and then be sure to scrape the bottom & sides of the bowl after each addition to ensure an even mix.
Add the sifted flour, baking powder & salt all at once and mix until it comes together
Scoop the dough about 3 Tablespoons each or for prefect cookies use a Cookie Scoop onto parchment lined sheet pans spaced 2" apart then place them in the freezer while you preheat the oven to 350°F
Once the oven has come up to temperature, take the cookies out of the freezer and drop them into your choice of topping (see video for how to do this efficiently) flattening them slightly
Then place back onto the sheet pan and bake immediately for approximately 15-18 minutes or until they are just starting to get golden browned around the edges (bake time will vary depending on the size of your cookies)
Notes
Baked Cookies can be stored for up to 10 days in an aritight container at room temperature.
Freeze the dough
for fresh baked cookies whenever!