Let's get this party started with Caramel Turtle Donuts!
My favorite combination of all time is chocolate and caramel.
Throw in some Pecans and you have yourself a turtle donut delight!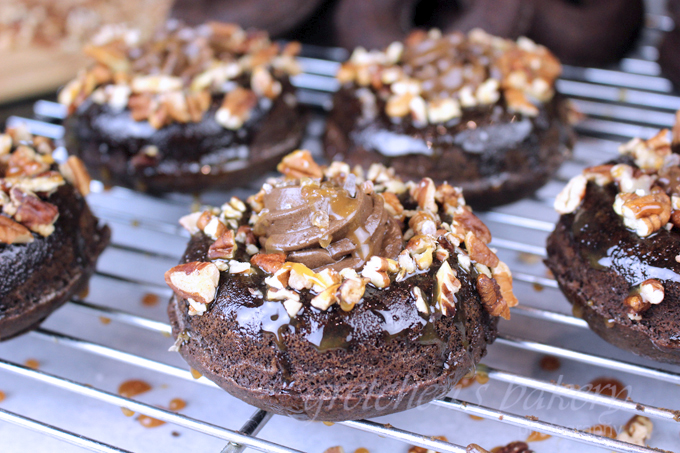 Why is it called turtle you may ask?
This original combination of chocolate, caramel and pecans made into small bite sized candies resembled a turtle and the name stuck.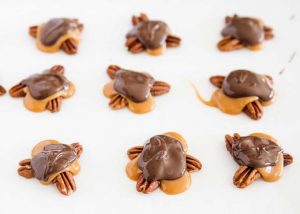 So now pretty much anything that is made of chocolate, caramel and pecans can technically be named a turtle dessert
And everyone will know it is a combination of those three ingredients in some way shape or form.
The fudge center is optional but totally amazing so I highly recommend going that extra step!
This is one donut that surely seems like a dessert! After all chocolate is the breakfast of champions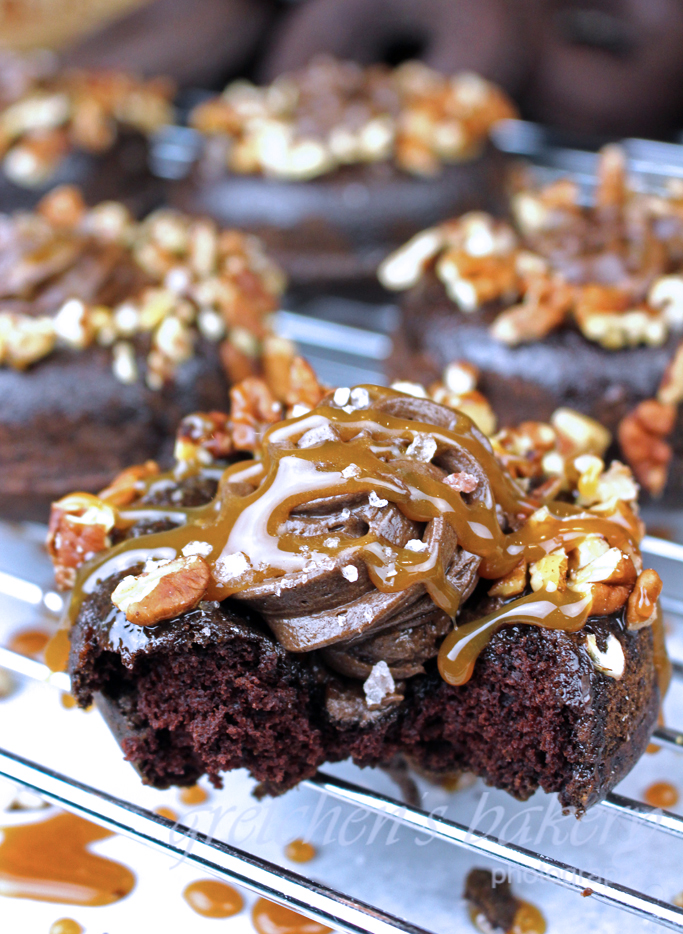 Notes for Success:
You will notice I am using palm sugar paste for my caramel recipe
Palm sugar paste is made from the sweet nectar of the coconut or toddy palm flowers, it's not associated with unsustainable palm oil in any way.
It's an integral ingredient in Thai cooking, it is what is referred to as "original sugar" in traditional Thai cuisine before white granulated sugar became a thing.
CLICK HERE and skip to 4:46 for a video on the differences in each sugar in making this caramel.
CLICK HERE FOR THE FULL YOUTUBE VIDEO TUTORIAL FOR HOW I MADE THESE CARAMEL TURTLE DONUTS!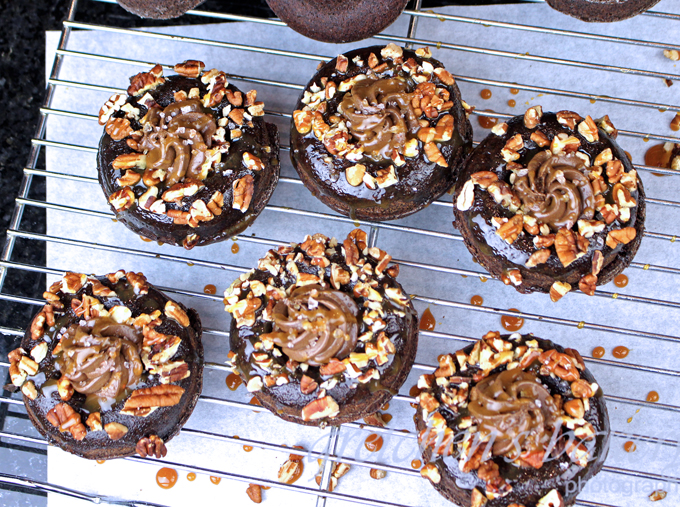 For more donut recipes click the links below!
Vegan Oreo Cookies and Cream Donuts
Yield: 6 donuts
Turtle Donuts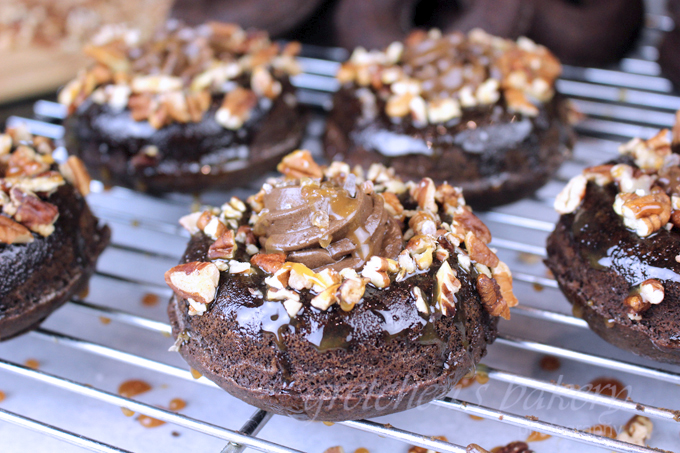 Ingredients
For the Donut Batter:
All Purpose Flour 1 cup (125g)
Light Brown Sugar ½ cup (105g)
Baking Soda 1 teaspoon
Salt ¼ teaspoon
Plant Milk ½ cup (120ml)
Flax Meal 1 Tablespoon (8g)
Hot Water 3 Tablespoons (45ml)
Vegetable Oil 4 teaspoons
Vanilla Extract 1 teaspoon
For the Caramel:
canned full fat coconut milk ½ cup (118ml)
Salt pinch
Vanilla Extract 1 teaspoon
Instructions
First make the caramel sauce by combining the palm sugar and coconut milk together in a sauce pot and whisk smooth until it starts to boil
Once it boils reduce heat to medium and stop stirring and let it reduce to almost half the original volume (which would be about ½ cup) this should take about 5 minutes, not much longer
Add the salt and vanilla extract and swirl the pan to combine
Pour into a heat proof container to cool and then make the donut batter
For the donut batter: Combine ground flax seed with hot water and whisk smooth
Let stand for at least 5 minutes or up to 30 minutes to thicken to a paste
In a large mixing bowl combine the almond milk, melted coconut oil, vanilla extract, brown sugar and flax egg and whisk smooth
Add the sifted flour, cocoa powder, salt & baking soda and whisk smooth.
Transfer batter to a pastry bag and pipe almost to the top into each of the lightly greased cavities.
Bake in a preheated 350°F oven for approximately 10-12 minutes for the larger donuts (8 minutes for the mini's). or when they spring back when gently pressed they are done.
Cool then dip in the cooled caramel, chopped pecans and the optional swirl of fudge icing in the centers.
A sprinkle of crushed sea salt is a great addition to cut the sweetness of all the elements of this donut!
Notes
Donuts can be kept at room temperature for up to 2 days. and will stay fresh for up to 4 days in the refrigerator wrapped well, bring to room temperature before serving.