Inspired by one of my favorite candy bars ~ The Almond Joy
Coconut Joy Cheesecake leaves out the nuts but delivers on the Joy!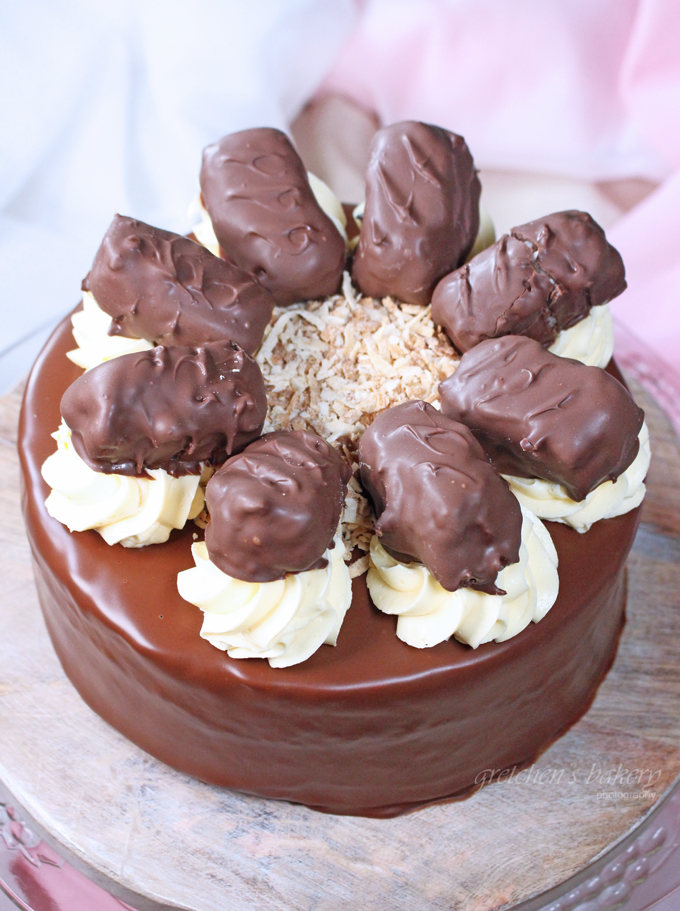 The best recipe for Baked Vegan Cheesecake is once again the star of the show
With a fudge brownie base, this coconut cheesecake is creamy, light and so delicious
Everyone will be swearing that "there's no way it can be vegan!"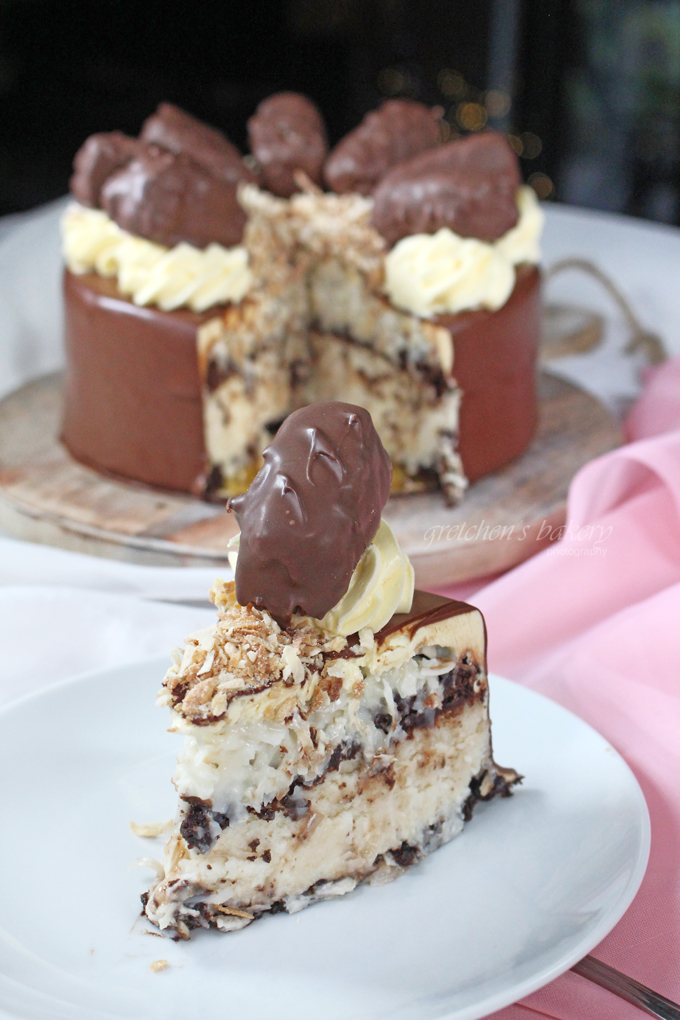 Recently I discovered this hidden gem in the grocery store for Creamed Coconut
Not to be confused with canned coconut cream, but creamed  coconut is basically just like pureed coconut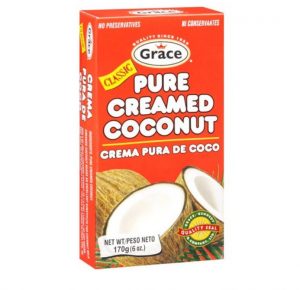 What better addition to my Coconut Cheesecake than real creamed coconut!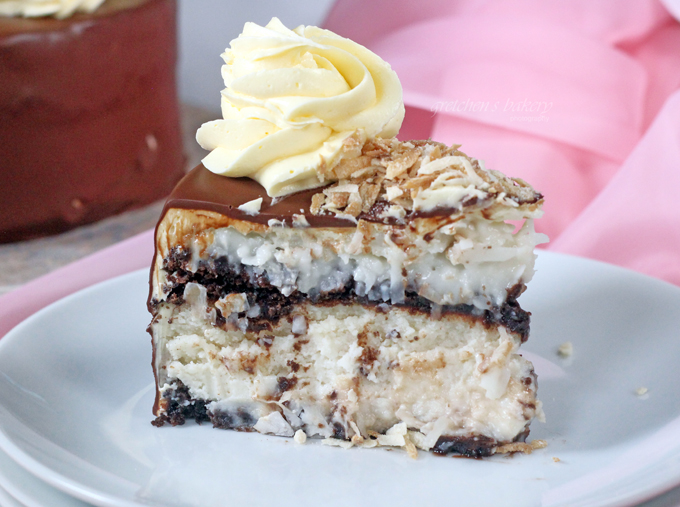 It really made all the difference!
I've added a layer of sticky coconut filling, just as you would find in an Almond Joy candy bar!
Another layer of brownie for the top and ganache for the icing
Coconut Joy Candy bar Bites are optional but really easy to make
And in my opinion brings this entire replica of the Coconut Joy Candy bar together in cheesecake form!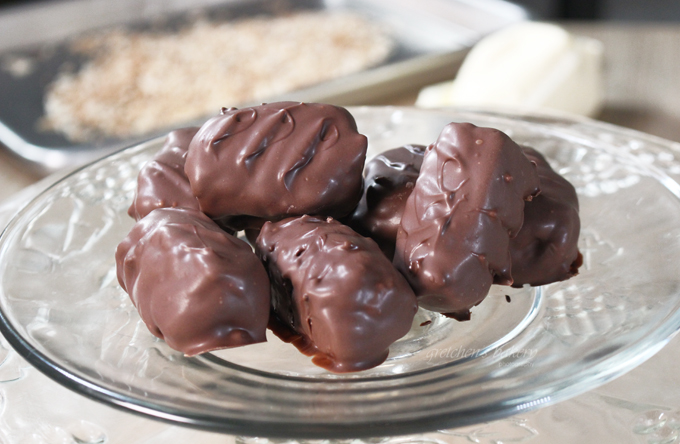 For a video visual of how to make the candy bars CLICK HERE and watch my Almond Joy Cake!
If you have not yet tried my recipe for New York Style Cheesecake you may want to make today the day!
It's so easy to make since you just throw all of the ingredients into a food processor and whiz it up smooth!
Of course not until you've baked the brownie bottom though!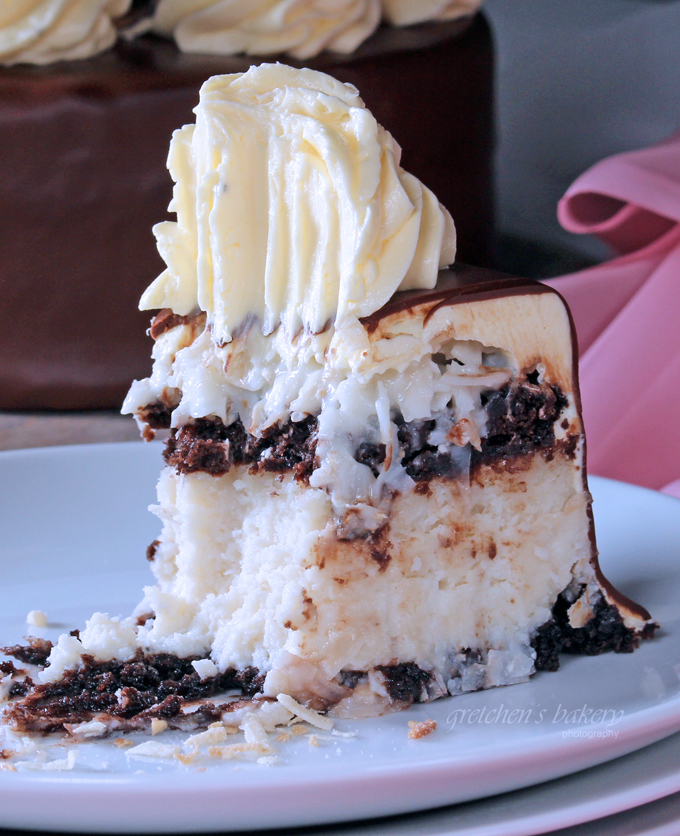 Keep it slightly simpler and eliminate one extra recipe by making a traditional cookie crust instead
But for that extra fudge in every bite definitely go for the brownie bottom!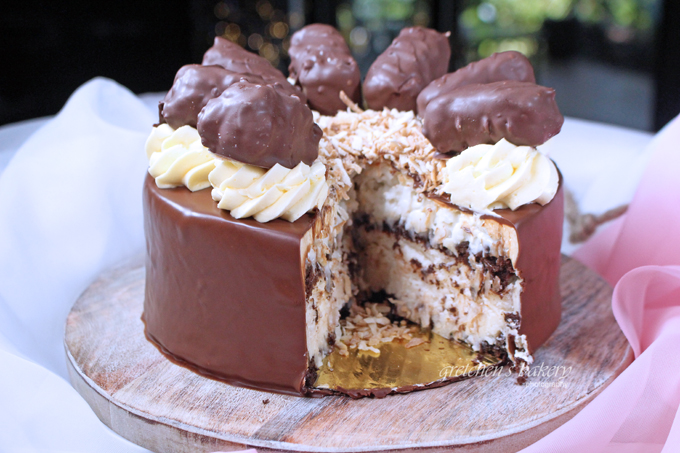 Notes for Success:
If you cannot get the creamed coconut that's ok!
Just add another teaspoon of coconut extract and be sure to use coconut milk for the plant milk!
I used coconut milk from a carton not a full fat can of coconut milk for the cheesecake batter, but any plant milk will work here
Additionally you can add about a cup of shredded flaked coconut to the cheesecake batter for more coconut taste!
For those not wanting to make an extra recipe for the brownie base,
You can use your favorite cookie crushed up with melted vegan butter for an easy recipe no bake option
I have several recipes for brownies here on my website so just choose which ever one you like the best and divide the batter between 2 -7″ cake pans
One will be the base of the cheesecake and that cheesecake batter gets baked right on top of that baked brownie
When making the sticky coconut filling, be sure to take out a small portion for making the homemade Mounds Candy Bars to go on top!
I used a #100 scoop and then formed them into little nuggets. I then froze the nuggets and dipped them in tempered vegan chocolate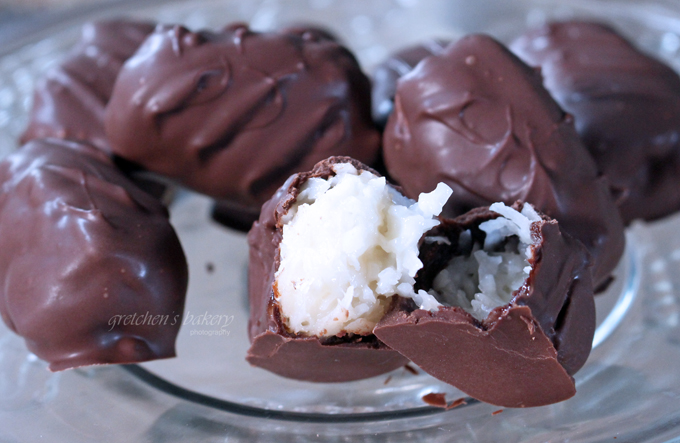 CLICK HERE FOR THE YOUTUBE VIDEO TUTORIAL FOR HOW TO MAKE THIS CHEESECAKE!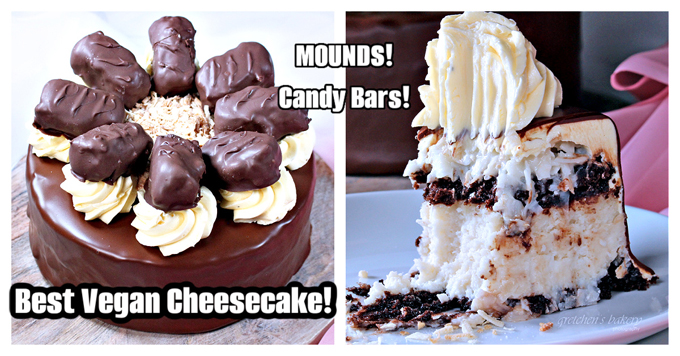 CLICK THE LINKS BELOW FOR MORE FUDGE BROWNIE RECIPES
How to Replace the Eggs in a Box Brownie Mix
1 Hour Brownies ~ Vegan ~ Fudgy
Coconut Joy Cheesecake
If you cannot get coconut condensed milk you can make your own by combining 1 -14oz can full fat coconut milk with ⅓ cup granulated sugar in a medium heavy bottom sauce pot. Bring to a boil, then reduce heat and simmer for about 45 minutes until it is reduced down to approx 1¼ cup, it will thicken more as it cooled & upon refrigeration *The prep time below does not reflect the cooling time of the cheesecake which can be from 4 hours to overnight
Ingredients
OR
For Traditional No Bake Cookie Crust:
Your favorite cookie 280g for approx 2½ cups crushed
Vegan Butter 6 Tablespoons (85g)
For the Cheesecake:
Vegan Cream Cheese *see notes 16ounce (454g)
Vegan Butter melted 2 tablespoons (28g)
Granulated Sugar 1 cup (200g)
Cornstarch 4 Tablespoons (32g) *see notes
Plant Milk *I used coconut milk (from a carton/not a can) 6fl oz (177ml)
Creamed Coconut 6 oz box *see notes for success
Vegan Lactic Acid or apple cider vinegar 1 teaspoon
Salt ¼ teaspoon
Vanilla Extract 1 teaspoons (5ml)
Coconut Extract 1 teaspoons (5ml)
For the Sticky Coconut Filling:
Coconut Condensed Milk 1¼ cup *see notes above
Flaked coconut * sweetened or unsweetened your option 2 cups (260g)
¼ Recipe Buttercream with 1 teaspoon coconut extract
**Vegan Chocolate for making homemade mounds candy bars *optional you will need about ½ cup total
Instructions
Grease & parchment line 2-7" cake pans
Preheat the oven to 350°F
Prepare your favorite brownie recipe as per the instructions on that recipe post but divide the batter between the 2-7" cake pans
Be sure to bake them much less than the recipe states since the batter is so thin *probably half the time!
Keep 1 of the brownies in the pan for the cheesecake to be poured on top, the other brownie can be cooled, turned out of the pan, wrapped lightly and then refrigerated for later
Prepare the cheesecake batter by first reconstituting the creamed coconut with the coconut milk from the recipe.
You must first heat up the coconut milk to almost boiling then add it to the creamed coconut in a blender and whiz it smooth
Now add all the other cheesecake ingredients to the same blender or food processor and whiz it up smooth
Pour this batter over the brownie in the cake pan and bake in a water bath at 350°F for 1 hour
Turn off the oven and crack the door slightly and leave it in the oven for another hour to cool slowly
Refrigerate for at least 4 hours or over night before unmolding
Meanwhile prepare the sticky coconut filling by combining the sweetened condensed milk with the flake coconut, mix well
Reserve 8-10 portions (from a #100 scoop) for the candy bar decor *optional
Prepare the vegan ganache recipe & the buttercream recipe as per the recipe instructions on that post
Once the cheesecake is cooled & unmolded you can assemble all the recipe components as shown in the video tutorial
Notes
Coconut cheesecake must be kept refrigerated at all times.

It will stay fresh for up to 10 days in the refrigerated wrapped lightly to prevent drying.

I do not like to freeze vegan cheesecakes as the texture changes and becomes soggy