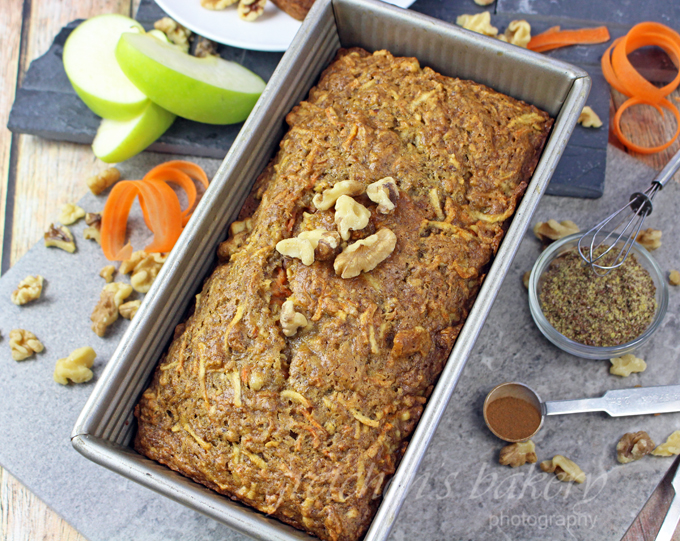 I know what you're saying.
Which is it?
Carrot Cake?
Or Apple Bread?
Well, it's all four of those things in one fabulous new recipe for Carrot Apple Cake Bread!
After all most quick breads that are baked into loaf pans are merely hi ratio batters posing as a healthier alternative to cake!
I think we just feel better about eating a few slices of sweet bread rather than sitting down to an entire slice of cake!
However you need to rationalize this out in your mind you will be happy you did because this Carrot Apple Cake Bread iced with cream cheese glaze is going to change your life!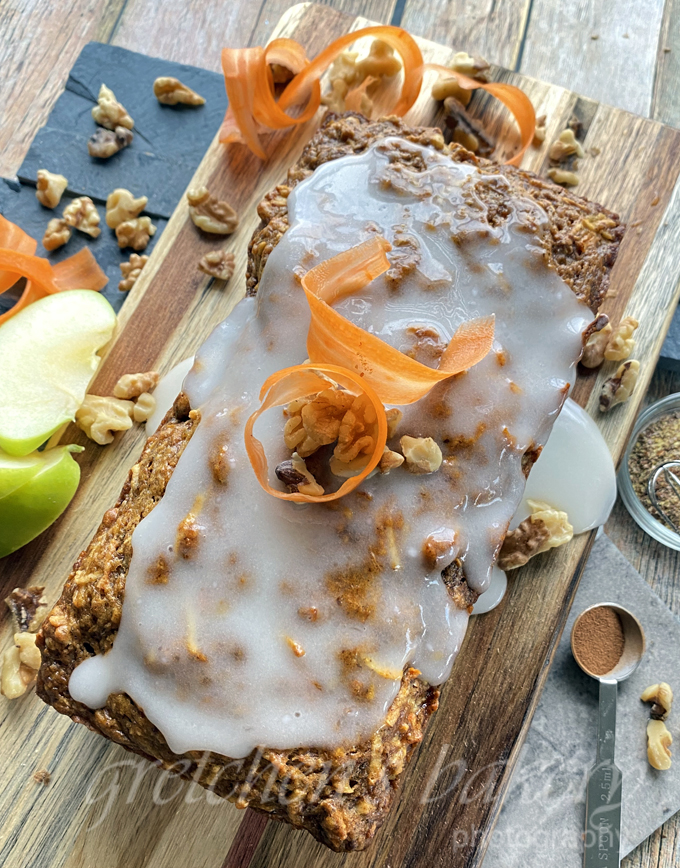 It is a slightly modified version of my original Vegan Carrot Cake recipe which already (always) had shredded apples in the batter in addition to the carrots.
I've tightened it up a bit with some added flour an extra boost of baking powder for that bread rise we all love.
And lightened it up by taking out some of the oil and replacing it with applesauce.
Walnuts or not this bread is super moist, loaded with apples and carrots and the egg replacer is flax so you don't have to go searching for some obscure ingredient!
It's a one bowl mix so you don't even have to break out your electric mixer!
The cream cheese glaze is completely optional but seriously is what takes this cake, I mean bread! to new levels!
Let's face it anytime we add heaps of fat and sugar to anything it makes everything better!
You can also bake this batter into muffins for a quick morning grab and go breakfast.
Or make mini loaves like I did here and give them away to your friends!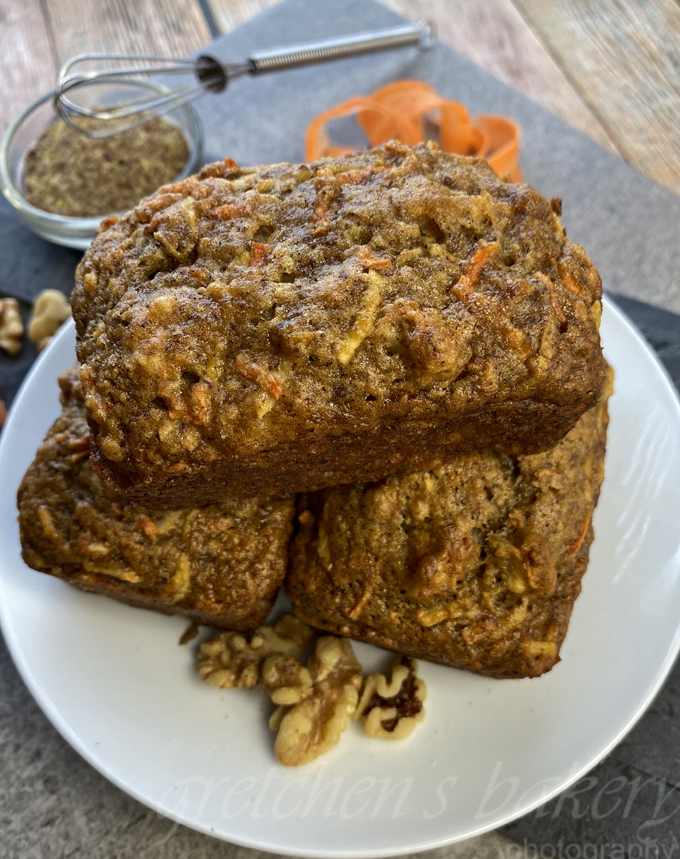 I kinda love the old fashioned look of the family style loaf though.
It brings me back to when my mom would make endless loaves of cake-bread at a moments notice!
This recipe makes 2 smaller (meaning not fully filled)  standard loaf pans (8.5 x 4.5 x 2.75 inches)
Or you could do 1 full loaf filled with the batter 3/4 of the way like I did for the full sized loaf and then I made 3 small mini loaves with the remaining batter.
Unfortunately I just would have been too much to add all that batter to my 8.5″ loaf pan, so I apologize in advance for the strange yield of this batter.
If you have a jumbo loaf pan then you would bake all the batter into 1 -10″ x 5″ pan
Cake layers are also an option for the most amazing Carrot Cake ever!
My original recipe for this was baked into 3- 7″ layers and filled and iced with the best vegan cream cheese icing you will ever try!
CLICK HERE FOR THE FULL YOUTUBE VIDEO TUTORIAL FOR THIS RECIPE MADE INTO A TRADITIONAL CARROT CAKE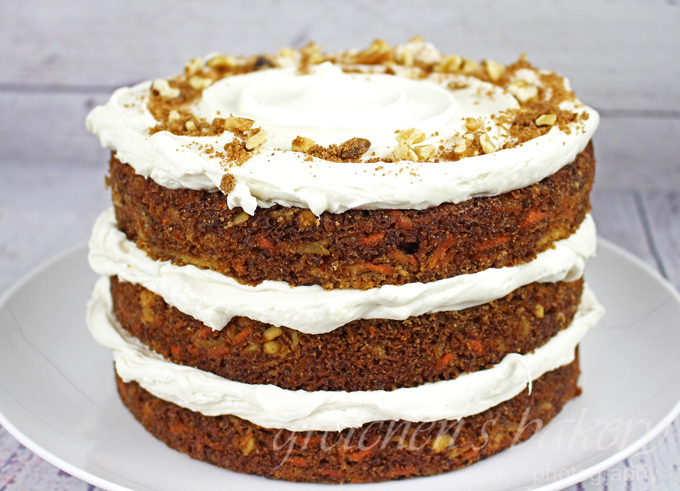 A quick note about the applesauce: you do not have to add it if you don't have it.
I use it as a nice way to lighten up an oil cake recipe.
But you could also use a mashed banana instead.
A small banana mashed should equal close to 1/2 cup.
Otherwise just use the original recipe of full oil which would be ¾ cup total and no fruit addition.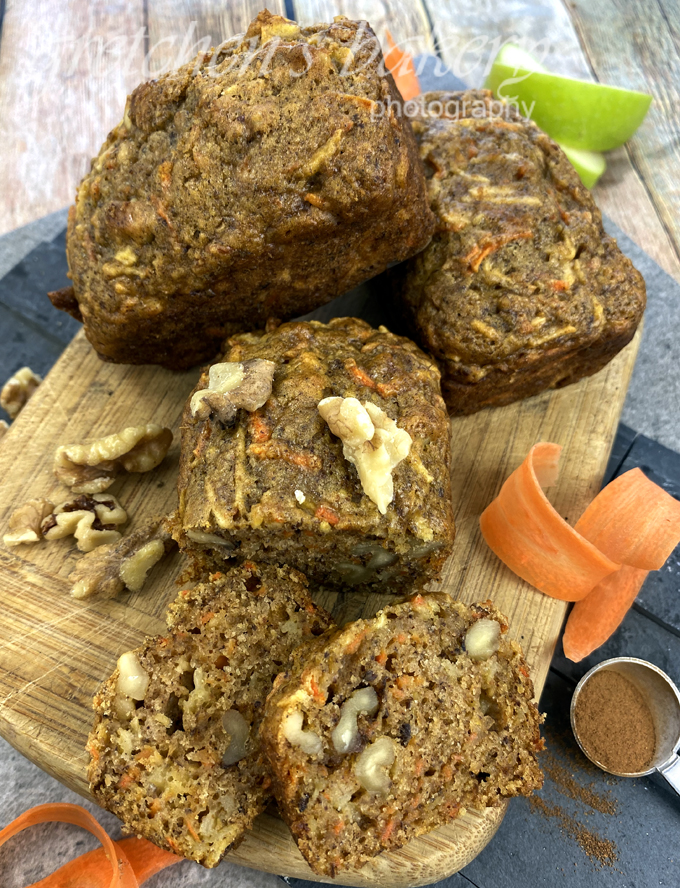 I will say that this bread is pretty perfect with out the icing.
Now I am definitely a lover of icing, but I will say I did slightly regret it once I poured it on!
You certainly can't go back once you commit to the icing!
And believe me I fully committed!
But I think next time I will leave the cream cheese icing for a full carrot layer cake and let this bread stand alone, since it is fully capable of standing alone!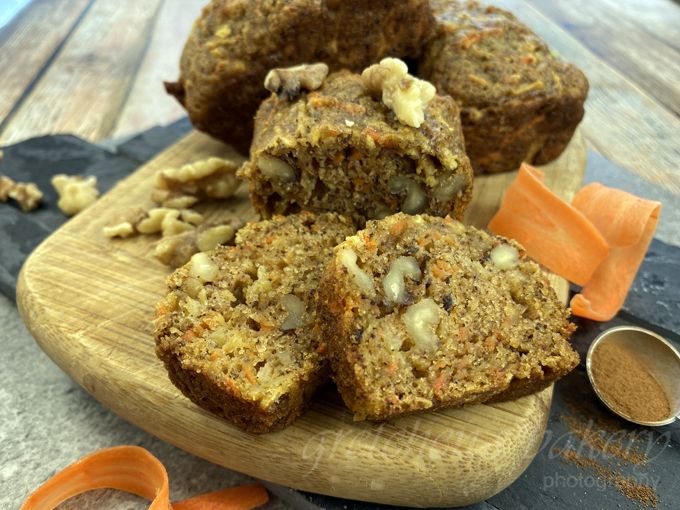 Carrot Apple Cake Bread
This recipe makes 2 smaller sized
standard loaf pans (8.5 x 4.5 x 2.75 inches)
The mini loaves took about 20 minutes to bake at 350°F but the time will vary depending on the size of your pan. I always recommend to check your bread/cake at about 20-30 minutes to see how much longer they need or if they are done.
Serves:
2 standard loaves
Ingredients
Vegetable Oil 5 Tablespoons (75ml)
Applesauce ½ cup (113g) *see note above recipe for information on substituting this ingredient
Sugar ½ cup (100g)
Plant Milk 2 Tablespoons (30ml)
Hot Water 6 Tablespoons (90ml)
Flax Meal 3 Tablespoons (24g)
Vanilla Extract 2 teaspoon (10ml)
Fresh Ginger 1 teaspoon *optional ingredient
Salt ¼ teaspoon
Cinnamon 1¼ teaspoon
All Purpose Flour 2 cups (250g)
Baking Powder 1½ teaspoons
Baking Soda 1 teaspoon
Shredded Carrots approx 3 medium for 2 cups
Shredded Granny Smith Apple 1 small-medium for ¾ cup
Lightly toasted walnuts ¾ cup *optional ingredient
For the Icing: *optional
Confectioner's Sugar ½ cup
Vegan Cream Cheese ¼ cup
Vegan Butter melted 2 teaspoons
Vanilla extract 1 teaspoon
Lemon juice fresh squeezed 2 teaspoons
Instructions
Preheat the oven to 375°F
Grease a loaf pan *see notes in text above the recipe for pan sizes with pan grease or oil spray.
Combine the flax meal with the hot water and whisk smooth- reserve
Shred the apple and carrots and reserve
In a large mixing bowl combine the flour, baking powder, baking soda, salt and cinnamon and whisk to combine evenly
In another bowl combine the oil, applesauce, fresh ginger *optional, flax paste, vanilla extract, plant milk and both sugars. Whisk smooth then add to the dry ingredients in the bowl
Whisk everything together by hand until evenly combined then add the shredded carrots & apples & walnuts
Divide the batter into your loaf pans or whatever pans you are using. *see notes above in text for pan sizes.
bake in preheated 375°F oven for 10 minutes then turn the temperature down to 350°F and continue to bake for another 30-35 minutes or when a toothpick inserted in the center comes out with moist NOT RAW crumbs.
Cool in the pan(s) until you can safely touch it with your fingers them turn the bread(s) out onto a wire rack to cool the rest of the way.
Once it is thoroughly cooled, combine the confectioners sugar with the vegan cream cheese, vanilla extract, lemon juice & melted vegan butter and whisk smooth, pour over the bread.
Notes
Un-Iced Carrot apple cake bread can be kept at room temperature for 1-2 days wrapped loosely.

This is a very moist bread that can encourage fast molding, so it is best to keep this bread in the refrigerated for up to 1 week wrapped loosely.

This bread will freeze well for up to 2 months wrapped well