Recently I fell in love with No Bake Cheesecakes
And this Eggnog Cheesecake is no exception!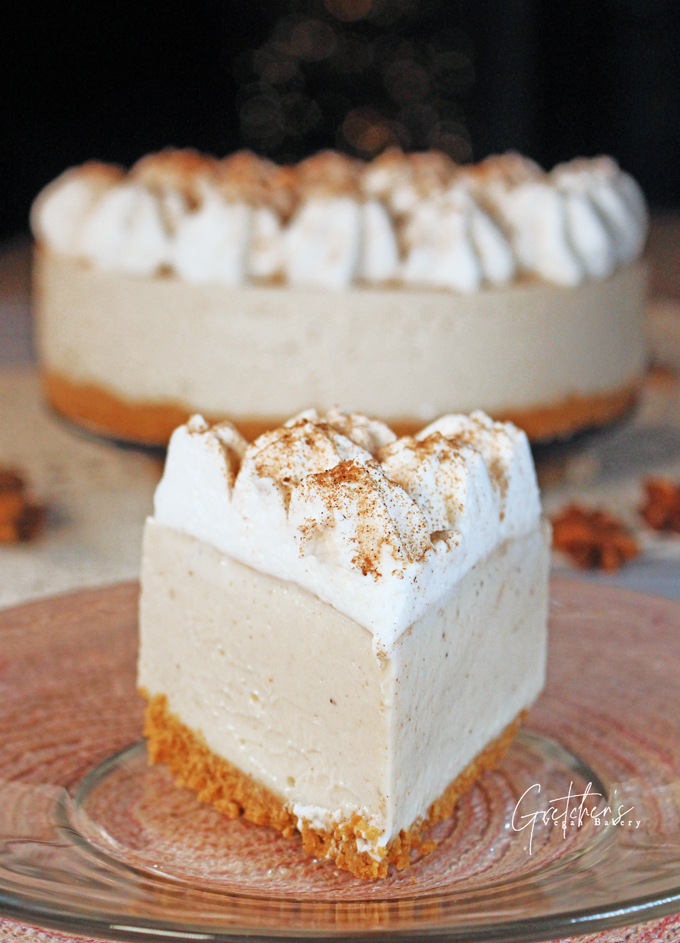 I have to admit I was never a fan of eggnog as a drink
Since it is merely drinkable custard which I always thought was really weird; but eggnog cheesecake?
Oh yeah I'm in!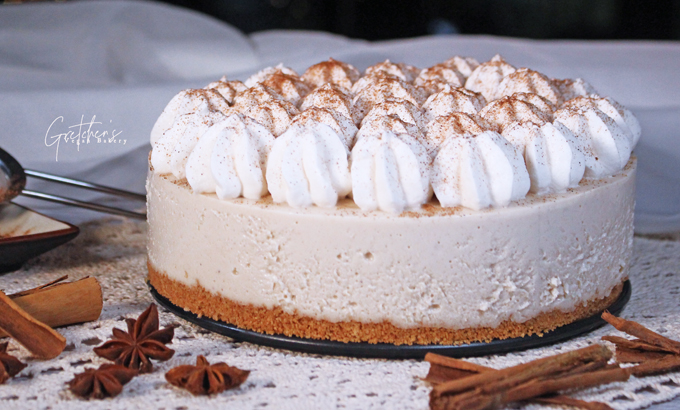 Add a cinnamon cookie crust and some whipped cream to top it off
All your New Year wishes just came true!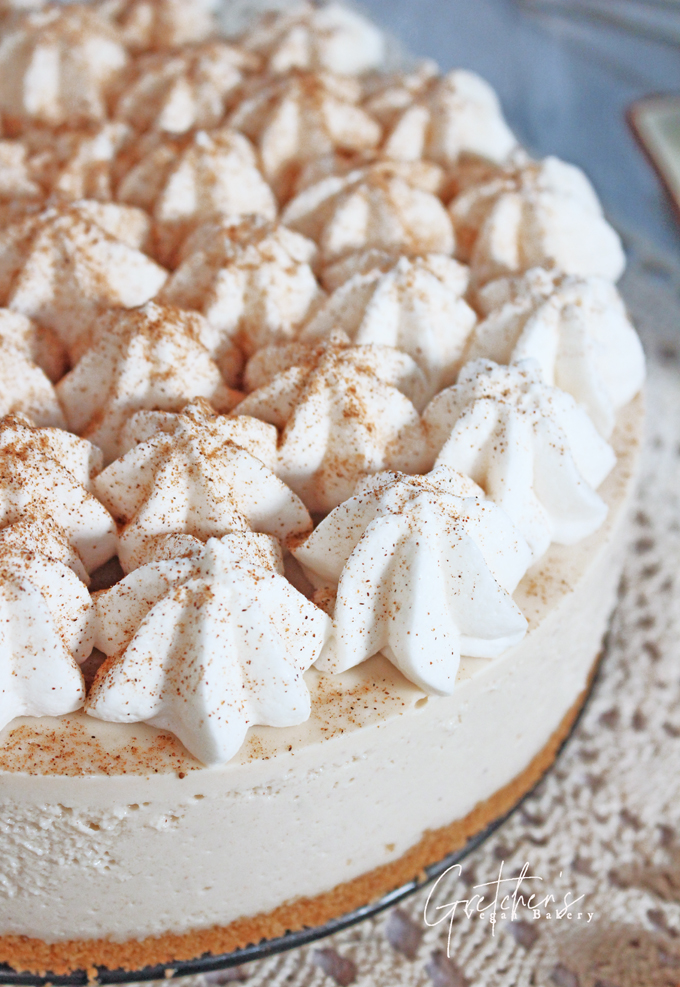 This website may contain links as part of the Amazon Affiliate program, which means when you click a link and make a purchase through my website I may earn a small commission at no additional cost to you
Notes for Success:
Typically you will see no bake cheesecake recipes using cashews as the base rather than vegan cream cheese
I am using both in this recipe because I love the combination and creamy result they bring however I understand it is difficult to find vegan cream cheese
But the good news is this is a no bake recipe so you are not locked into Tofutti brand like my baked cheesecake recipe specifies
But if you cannot get any vegan cream cheese or wish to leave it out altogether just double the amount of cashews listed below
Brandy is used in traditional eggnog but I left it out of this recipe so I could share with my non alcoholic friends.
If you want to use it simply add 1½ Tablespoons added to the blender with the other ingredients
I use lactic acid in my cheesecake recipes to mimic that signature tang of authentic cheesecake, but if you do not have it or don't want to buy it you can use apple cider vinegar in the same quantities as listed for the lactic acid
Agar can be a tricky ingredient in No Bake Desserts such as this one.
A heavy hand ~ even a pinch too much~ can be the difference between creamy delicious and rubbery inedible!
Pay attention to the strength of agar you are using in comparison to the one that author of the recipe is using
I typically use 900 strength in my recipes SPECIFICALLY THIS BRAND BY Landor Trading Co *not sponsored
Cornstarch is also a very difficult ingredient to measure consistently with a volume/spoons measure
So while I list both measures below I cannot stress enough how the grams measure with a scale is going to give you the best results.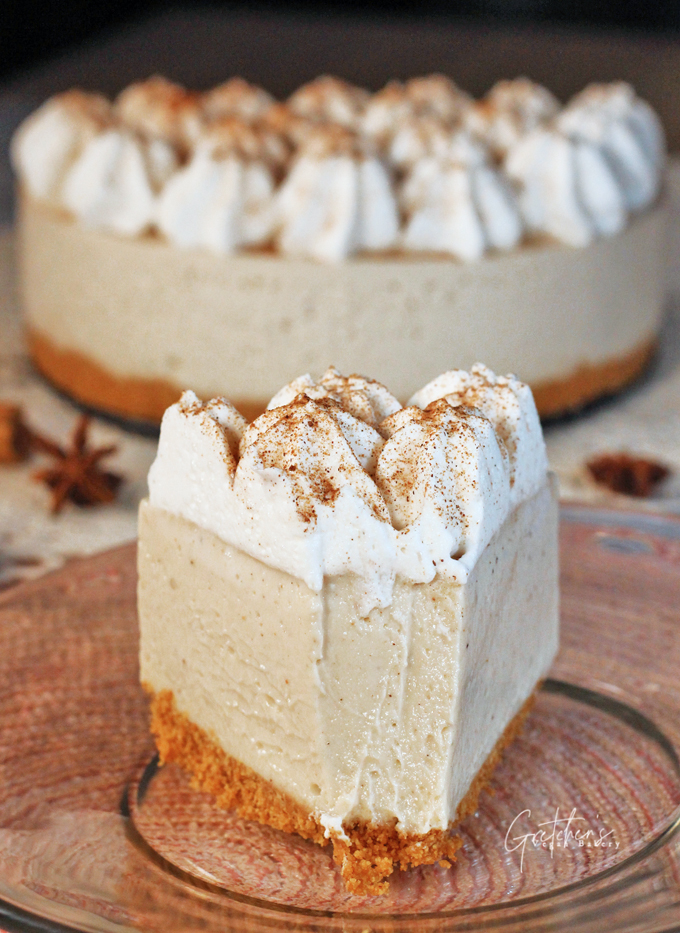 CHECK OUT THE YOUTUBE VIDEO TUTORIAL FOR HOW TO MAKE THIS EGGNOG CHEESECAKE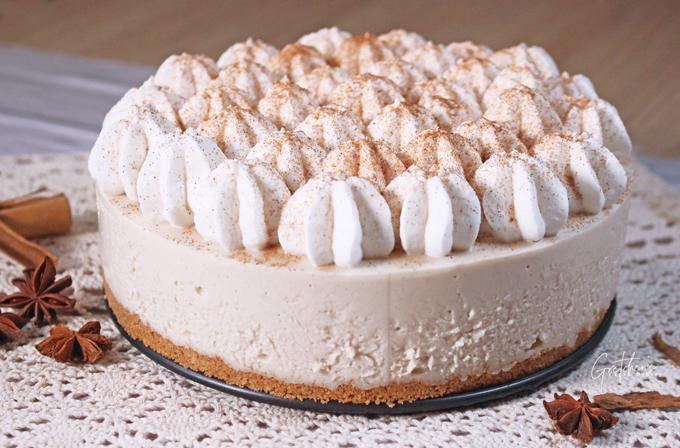 Yield: serves 8-10 ppl
Eggnog Cheesecake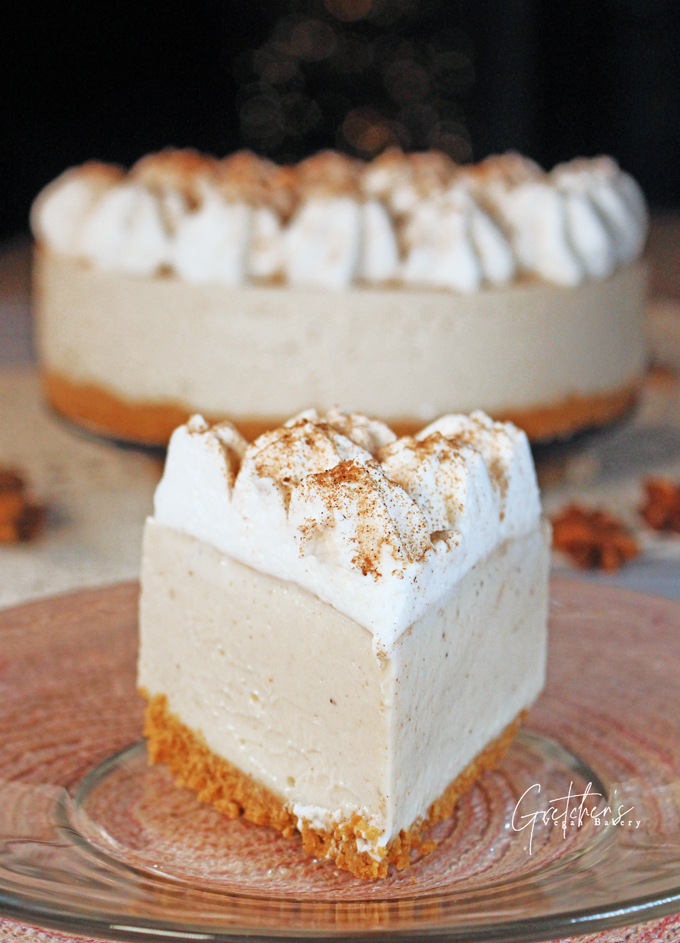 Ingredients
For the Crust:
Graham Crackers (1 sleeve/package approx 10 sheets) 140g
Vegan Butter melted 4 Tablespoons (56g)
Cinnamon 1 teaspoon
For the Cheesecake Batter:
Raw Cashews 2 cup (360g)
Vegan Cream Cheese *see notes 12 ounces (336g)
Granulated Sugar 1¼ cup (250g)
Plant Milk any kind will do *I use vanilla soy milk 1½ cups (360ml)
Cornstarch 6 Tablespoons (48g) *see notes above in text
Nutmeg 1 teaspoon
Agar powder ¾ teaspoon *see notes above in text
Vanilla Extract 3 teaspoons
Lactic Acid ½ teaspoon
Nutmeg for sprinkling on top
Instructions
First soak the cashews in filtered water in the refrigerator overnight
Or for a fast soak bring to a boil and then let them soak for 1 hour
Drain the liquid and reserve the cashews
Prepare the crust by crushing the graham crackers with the cinnamon in the food processor until fine crumbs
Add the melted vegan butter and process until it resembles the consistency of wet sand
Press the crust mixture into the bottom of a 7" springform pan with a parchment paper liner in the bottom & an acetate cake strip to line the rim of then pan for easy removeable
Freeze until you are ready for the cheesecake filling
For the cheesecake filling prepare a custard by combining the plant milk with the sugar, cornstarch, agar and nutmeg in a medium sauce pot whisking constantly over medium to high heat until it comes to a boil
Remove from the heat and add it to a high speed blender with the soaked & drained cashews, the vegan cream cheese, lactic acid & vanilla extract
Blend smooth then pour into onto the crust in the springform pan
Refrigerate (or freeze) until firm and set
Unmold and top with vegan whipped cream & a sprinkling of nutmeg or cinnamon
Notes
Eggnog cheesecake must be kept refrigerated and will stay fresh for up to 1 week.

I do not like the way no bake cheesecakes thaw so I prefer not to freeze them. They tend to get a grainy almost broken texture~ no longer creamy as when it was first made