What better way to celebrate the summer season bounty than with a fresh berry cake
Chantilly Cake~ just in time for Mother's Day!
Layers of white cake and mixed berry compote dripping through each bite!
Vegan whipped cream for the icing and the filling makes cake so light and refreshing!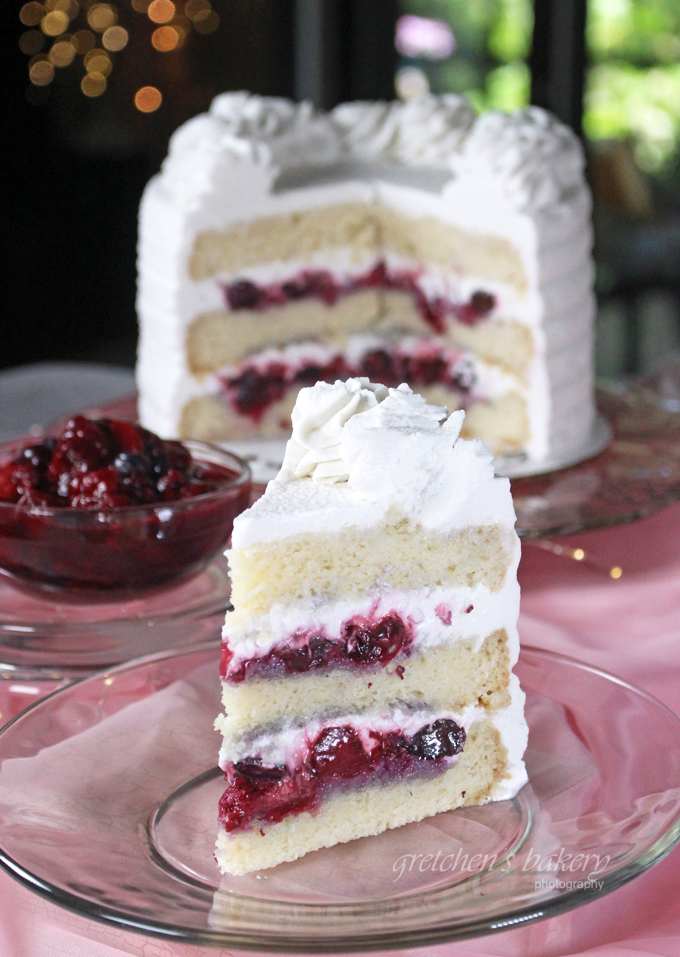 But wait, what exactly is Chantilly Cream?
Very simply, Chantilly Cream is whipped cream that has been sweetened
However, Chantilly Cream is typically sweetened to twice the potency as a standard sweetened whipped cream!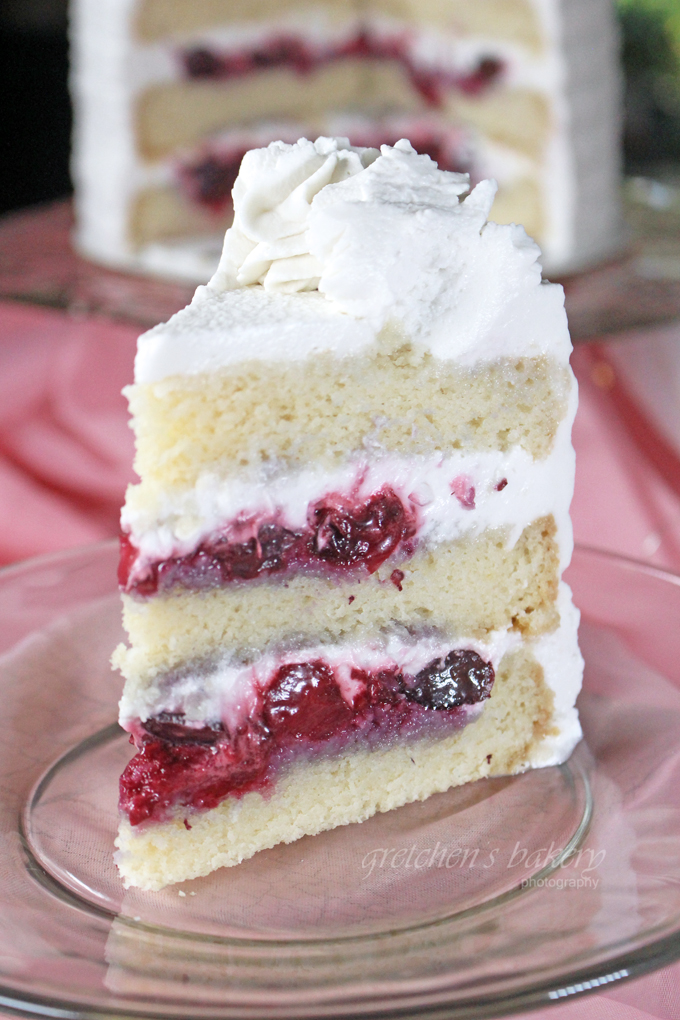 My Truly White~ Vegan White Cake recipe is the canvas for this cake today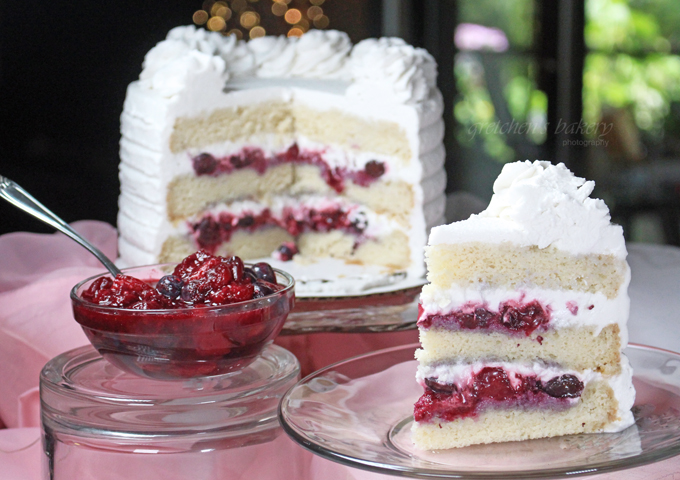 Mixed berry compote can be whatever combination you like the best
But for me it is strawberries, blackberries, blueberries and raspberries!
PRO TIP:
I always add a small amount of cranberries to my berry compote
Since cranberries have the highest natural pectin, it's a sure fire way to get thick luscious fruit filling for your cakes instead of a runny watery mess!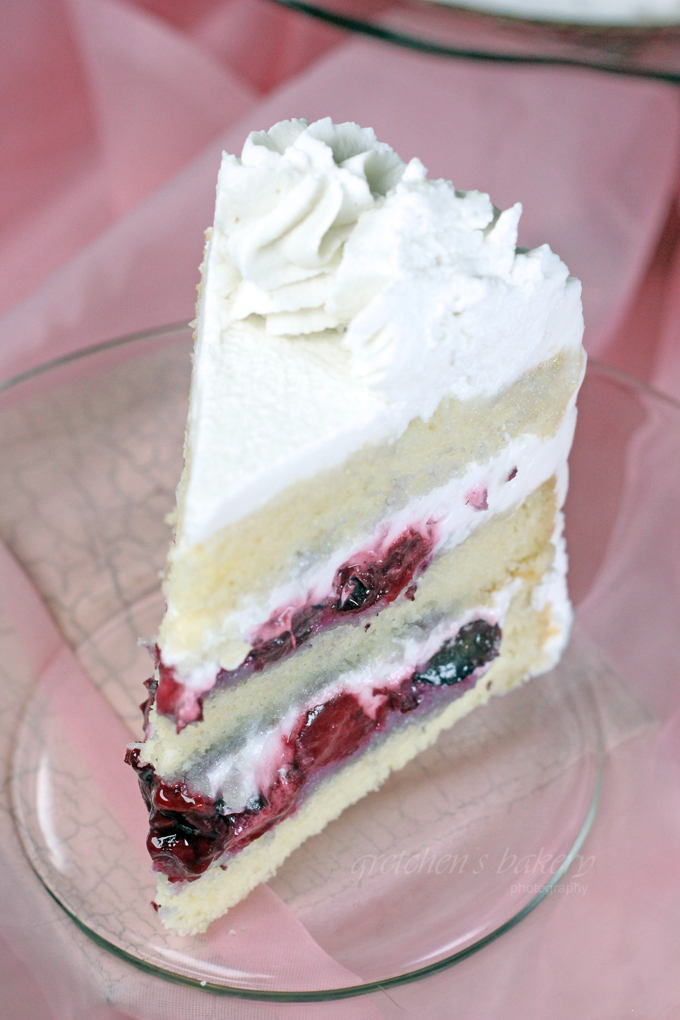 NOTES FOR SUCCESS & SUBSTITUTIONS:
You can bake this cake into any size pans that you like best
My bakery days have me in the habit of making 7″ cakes but this entire batter will fit equally into 2-8″ layers or 2-9″ layers as well
For the berry compote you can use any combination of berries or just stick with one
I don't typically measure when I make a berry compote but the recipe below is a good guide to use for quantity needed
Additionally I use frozen berries since they tend to be the sweetest and the freezing process starts to break down the cell walls allowing for less cooking.
The natural juices that release from freezing make it unnecessary to add any liquids during cooking for a more pure berry compote
If you prefer to use fresh berries you will have to add a few tablespoons of water to help them cook down
Also an increase of sugar may be necessary, adjust as you like
For those who don't want to get into the more advanced mix method of the white cake recipe that I used today
My Box Cake Hack for Duncan Hines White Cake is a really easy way to go!
Just follow the recipe for the Yellow Cake Box Hack ingredients, replacing the box mix with white cake mix
You'll notice I'm using a combination of cake flour and all purpose flour
If you cannot get cake flour it is okay to use ALL All Purpose flour but reduce the total amount of flour to 360g
I am using SILK brand whipping cream for this cake and I needed 2 pints for both the filling and the icing
Lately I haven't been sweetening my whipped cream when using it as an icing
But for the Chantilly Cake I used ¼ cup of sifted confectioners sugar for each pint of SILK whipping cream
If you follow my recipe for homemade vegan whipping cream
Be sure to read the entire blog post, watch the video and prepare the liquid whip the night before
WATCH THE FULL YOUTUBE VIDEO TUTORIAL FOR HOW TO MAKE THIS CAKE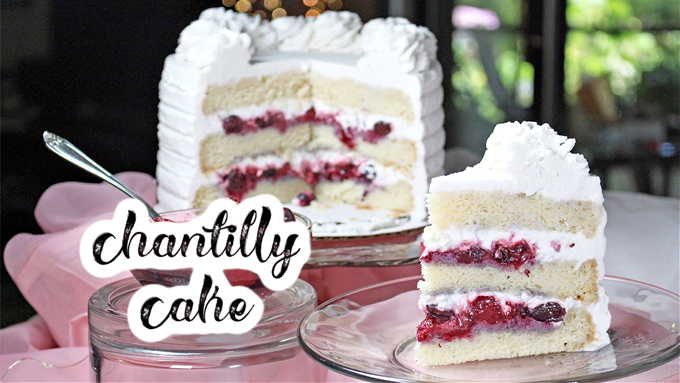 For more awesome summer layer cakes, click the links below!
Strawberry Vanilla Ruffle Cake
Vegan Chantilly Cake
I have used all vegan butter instead of the coconut oil combination for this cake with great results
Ingredients
1 Recipe White Cake *or your favorite cake recipe
Vegan Butter 8 tablespoons (112g)
Coconut Oil 8 Tablespoons (112g)
Granulated Sugar 1½ cup (300g)
Plant milk ½ cup (118ml) *I am using soy milk
Water ½ cup (118ml)
Clear Vanilla Extract 1 teaspoon (5ml)
Almond Extract *optional ¼ teaspoon
All Purpose Flour 6 Tablespoons (48g)
Cake Flour 3 cup (360g) *see notes for success
Baking Powder 4 teaspoons
Salt ½ teaspoon *omit if using salted canned chickpea brine
Cornstarch 2 Tablespoon (16g)
Aquafaba 1 cup (240ml)
OR 2 Pints SILK brand heavy whipping cream + ½ cup confectioners sugar
OR 4 can coconut milk refrigerated overnight *for more info on vegan whipped cream see the link in the notes for success above
For the Mixed berry Compote:
2½ Cups Mixed Berries fresh or frozen *see notes for success
¼ cup cranberries *optional
¼ cup Granulated sugar *adjust to your taste & sweetness of the berries
Instructions
First prepare the white cake:
Preheat the oven to 350°F
Grease and parchment line 3-7" cake pans (or 2-8" pans for a 2 layer cake)
Combine the softened vegan butter with the coconut oil and granulated sugar and mix on high speed with the paddle attachment for 3-5 minutes until light and fluffy, be sure to scrape the bottom & sides of the bowl from time to time.
Combine the plant milk with the water and extracts and set it aside.
Combine the aquafaba with the cornstarch and whisk together so there are no lumps
Once the butter mixture is creamed, add the aquafaba/cornstarch and whip on high speed to emulsify & the mixture will get very silky and smooth *if this seems to not be working, switch to the balloon whip attachment & whip on high
Sift the flour with the salt and baking powder and add ⅓ of that to the creamed mixture, blend just until combined then add half of the milk mixture
Blend just until combined then add another ⅓ of the dry ingredients and then the remaining liquid and last the remaining dry ingredients.
Be sure to scrape the sides & bottom of the bowl and whip it on high for 10 seconds to blend well.
Divide the batter evenly between your pans and bake immediately in the preheated oven that has been set to 350°F
HOWEVER, immediately lower the temperature to 325° and bake for a total of 25-30 minutes or when a toothpick inserted into the center comes out clean.
Cool in the pans and the turn them out onto a cooling rack to cool completely
Prepare the mixed berry compote by combining the berries with the sugar in a medium sauce pot and bring to a boil
Reduce heat & simmer for about 10-15minutes
The berries will break down & start to thicken, remove from heat and refrigerate until cold
Whip your choice of vegan whipped cream with the sifted confectioners sugar to soft peaks
Build the cake with the whipped cream and berry filling and whipped cream icing as shown in the video tutorial
Notes
Chantilly Cake must be kept refrigerated at all times

It will stay fresh covered loosely for up to 1 week.

I do not love freezing whipped cream, but it is possible, wrapped well for up to 1 month

Thaw in the refrigerator overnight before serving, the cake will not be near as pretty as when fresh, but will still taste great!