Finally! A Truly White ~ Vegan White Cake Recipe!
Over the years I have tested out so many recipes across the internet for a Vegan White Cake Recipe
All of them claiming to be truly white and truly the best and I have not yet found any of those claims to be true.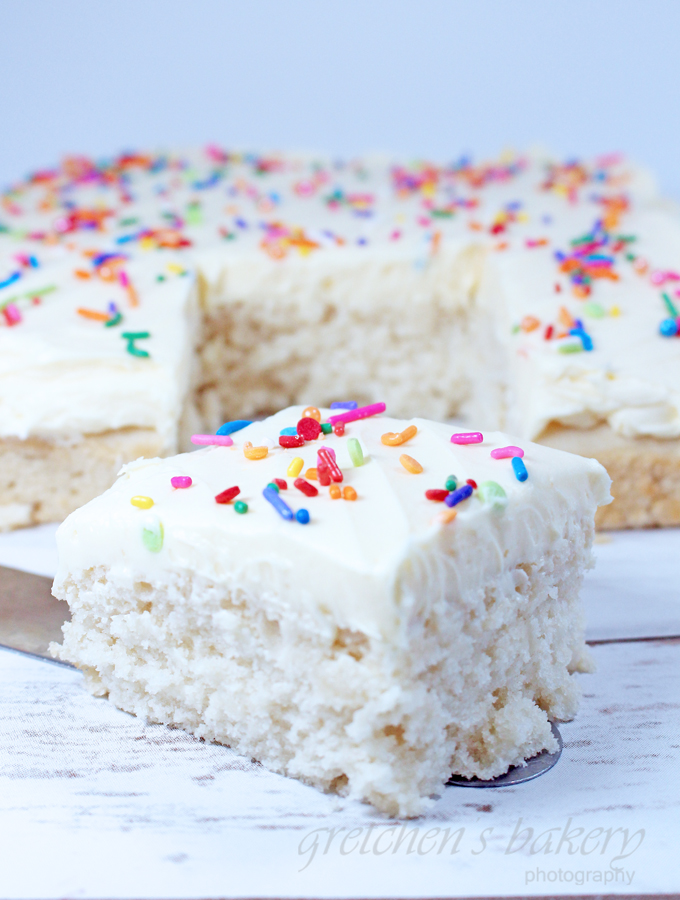 Most recipes I've found claim to be the "best white cake recipes"
But the ones I've seen had terrible structures and textures so I just had to set out to formulate one of my own
Read the notes for success below to see how to get this Truly White ~ Vegan White Cake Recipe!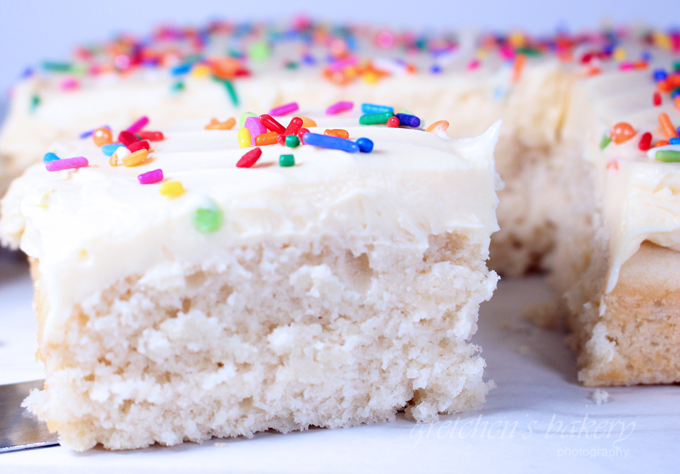 What is the difference between white cake & yellow cake anyway?
The short answer is the obvious one, the color of the cake.
While the flavors of both cakes will be very similar, after all it's still flour, sugar, oil or butter and vanilla extract; then what makes a cake yellow and what makes a cake white?
Quite simply it is (was) the eggs; since quite frankly the egg yolks make a cake yellow and the egg whites keep the cake white.
Wait a minute! There are no eggs in vegan baking!
Precisely! And why it has been so difficult to replicate the white cake in vegan form! UNTIL NOW!
Whenever I am veganizing a non vegan recipe I always set out to see how closely I can replicate the original non vegan ingredients with vegan ones to make sure they can perform the same tasks and yield the same results
The eggs are usually the hardest part to figure out in a recipe.
Today I decided to give our good friend aquafaba a try since that is the closest we have come to replicating egg whites in vegan baking.
However I find that aquafaba alone in cake recipes result in a very heavy gummy texture which I just can't stand!
So let's give it an addition of cornstarch for a slight drying element along with binding properties that add some structure too!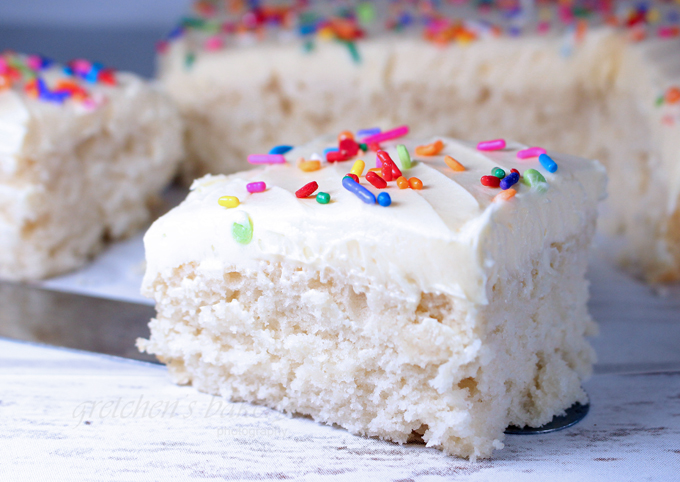 There is no video tutorial for how I made this cake recipe but it is so easy you really don't need one!
But for a visual you can watch the Lemon Cake video which is the exact same recipe only with lemon added
CLICK HERE TO WATCH HOW THIS CAKE IS MADE! (*In Lemon!)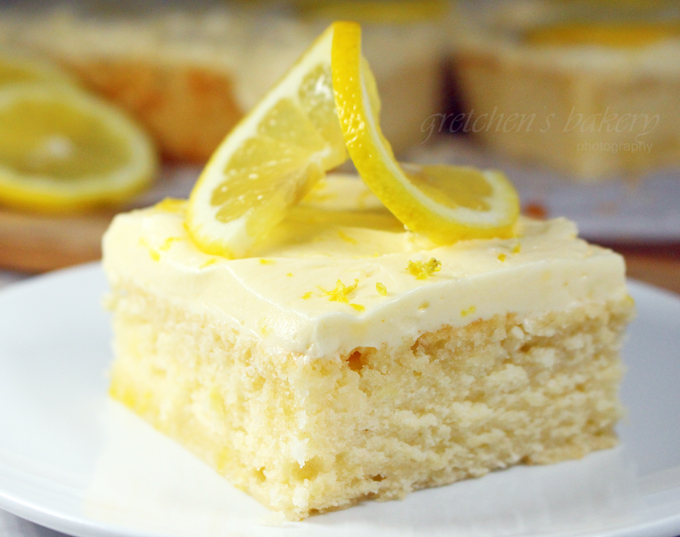 Notes for Success:
The recipe listed below is for 1-8″X8″ cake pan that will be a single layer cake to serve about 10-12 people sheet cake style
For a 2- layer 8″ cake you will double all the ingredients below and divide the batter evenly between 2 – 8″ cake pans
Bake at same temperature as listed below for approximately 25-30 minutes total or until a toothpick inserted comes out with moist crumbs not raw batter
Originally I used yogurt in the recipe below, but I have been more recently using plant milk in same quantity since I rarely have vegan yogurt on hand.
Vegan Butter can often impart a yellow-ish tinge so by using coconut oil that is not completely melted *if possible* to cream the sugar in the beginning will keep this cake super white!
Cake flour can sometimes pose a problem as I have gotten some messages saying their cakes are not baking through and seem heavy and almost raw inside.
In recipes that are heavy liquid recipes this will cause a problem since cake flour cannot absorb liquids in the recipe the way all purpose flour can.
So by using cake flour here with a small addition of all purpose flour the cake will stay super fluffy and soft.
If you do not have cake flour you can use ALL All Purpose flour instead decreasing the total flour amount to 1½ cups (*190g)

For my UK friends: Self Rising Flour is not the same as cake flour!
Read more about that conundrum (and why I don't ever use self rising flour) at the link below!
CLICK HERE FOR MORE ABOUT CAKE FLOUR
All Purpose Flour = Plain Flour
Clear vanilla flavoring is also an added insurance to keep your cake super white and by using a vanilla flavored plant milk your cake will be the best ever!
The almond extract is completely optional but I think it adds a nice flavor
Yield: 8X8 pan serves 12 ppl
Vegan White Cake Recipe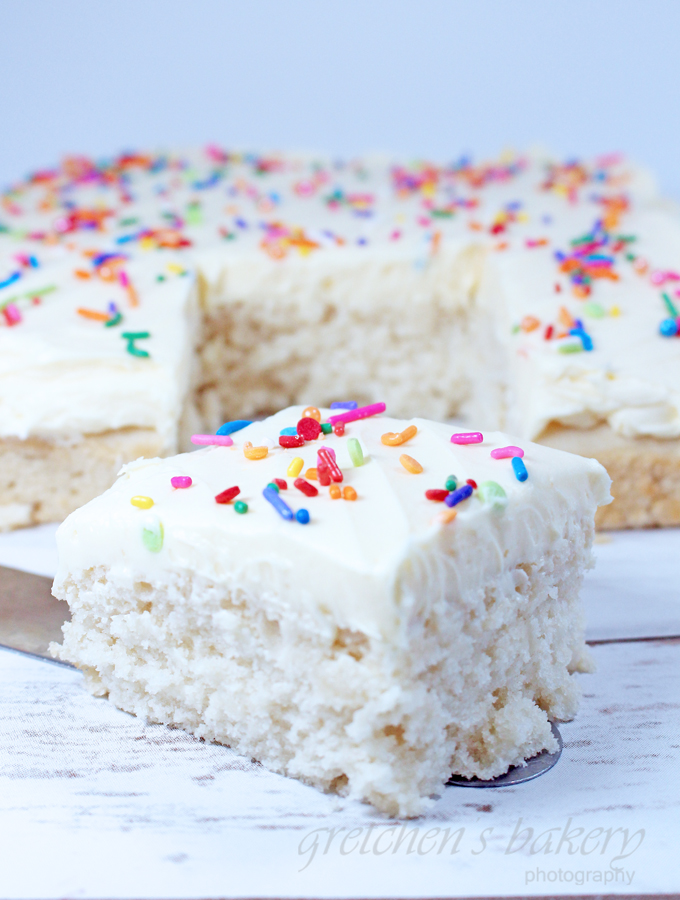 Ingredients
Vegan Butter 4 tablespoons (50g)
Coconut Oil 4 Tablespoons (50g)
Granulated Sugar ¾ cup (150g)
Vegan Yogurt *Or plant milk ¼ cup (50g)
Vanilla Plant Milk ¼ cup (60ml)
Clear Vanilla Extract 1 teaspoon (5ml)
Almond Extract *optional ¼ teaspoon
All Purpose Flour 3 Tablespoons (24g)
Cake Flour 1½ cup (180g)
Baking Powder 2 teaspoons
Salt ¼ teaspoon
Cornstarch 1 Tablespoon (8g)
Aquafaba ½ cup (118ml)
Instructions
Preheat your oven to 350°F and grease & parchment line your cake pan(s)
Combine the softened vegan butter with the coconut oil and granulated sugar and mix on high speed with the paddle attachment for 3-5 minutes until light and fluffy, be sure to scrape the bottom & sides of the bowl from time to time.
Combine the yogurt with the plant milk (or if just using plant milk) and extracts and set it aside.
Combine the aquafaba with the cornstarch and whisk together so there are no lumps, it will get slightly frothy too, this is good.
Once the butter mixture is creamed, add the aquafaba/cornstarch to it and change the attachment to the whisk attachment, whip on high speed to emulsify & the mixture will get very silky and smooth
Meanwhile sift the flour with the salt and baking powder and add 1/3 of that to the creamed mixture, blend just until combined then add half of the yogurt mixture
Blend just until combined then add another 1/3 of the dry ingredients and then the remaining liquid and last the remaining dry ingredients.
Be sure to scrape the sides & bottom of the bowl and whip it on high for 10 seconds to blend well.
Divide the batter evenly between your pans if you are making layers versus the 1 single 8" x 8" pan and bake immediately in the preheated oven that has been set to 350°F
After the first 10 minutes lower the temperature to 300° and bake for a total of 30-35 minutes or when a toothpick inserted into the center comes out clean.
Cool in the pans and the turn them out onto a cooling rack to cool completely before icing with your choice of icings & fillings
Notes
White cake will stay fresh for up to 1 week wrapped airtight in the refrigerator or up to 1 month frozen