Have you ever wondered how to make a checkerboard cake?
Perfect squares of multicolored cake in each slice!
Would you believe me if I told you it's easy as two recipes and two cookie cutters!
The checkerboard cake was one of the best selling cakes in my bakery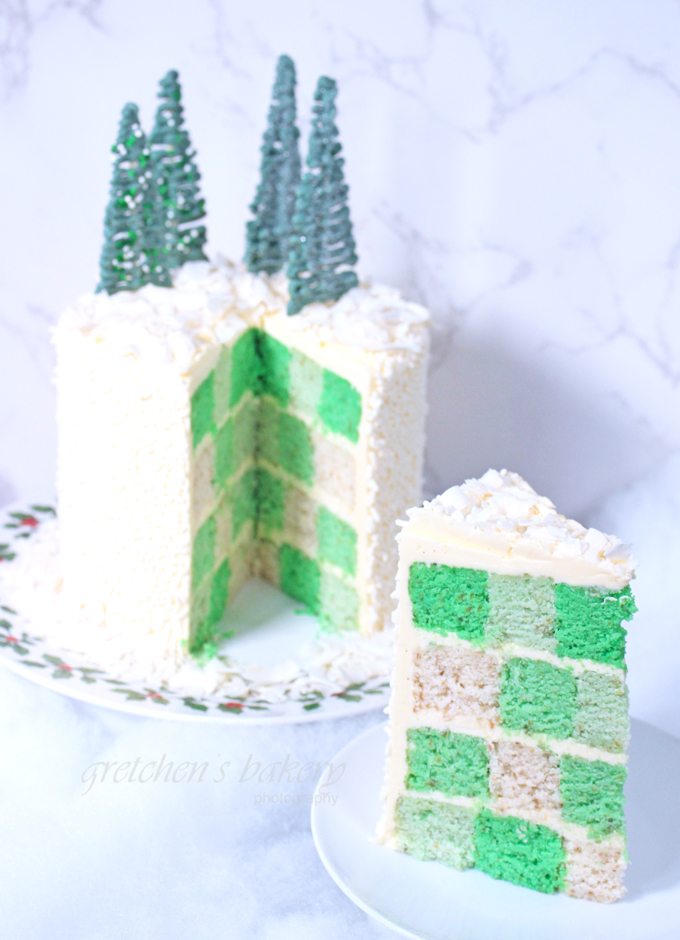 We sold them daily and for each holiday they got all jazzed up for the season!
This time I am making a winter wonderland cake with a Christmas tree forest for the decor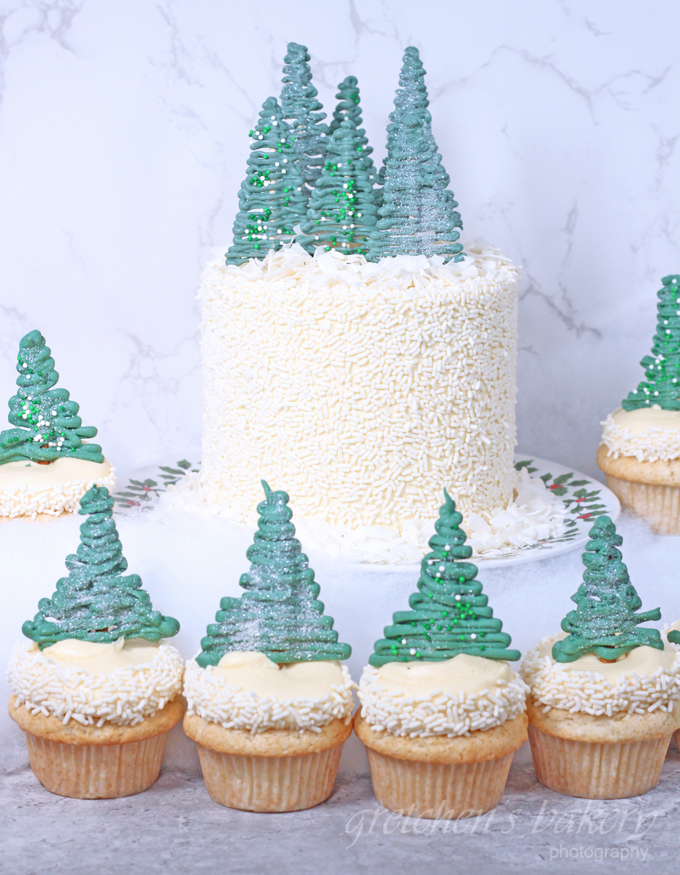 My famous vegan vanilla cake recipe takes on color really beautifully
I am using spirulina today for a natural food color in graduating shades of green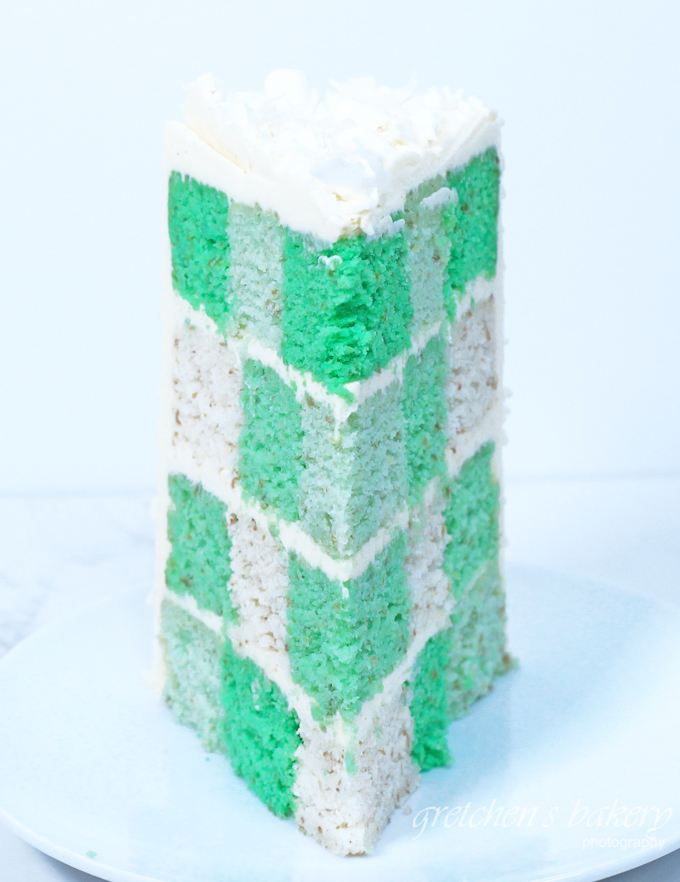 Matcha Powder works equally well
However I find that it lends a more yellow – green color to the cake
The spirulina also worked great for coloring the white chocolate to make the pine tree forest!
For any chocolate decor you must temper the chocolate
Unless of course you take the easy route and use what is called Summer Coating or Non Tempering Chocolate
Such as King David, the brand that I use *not sponsored
If you are using real chocolate couverture you must temper~ CLICK HERE FOR HOW TO TEMPER CHOCOLATE
If you have ever tried to color white chocolate before you know it can be disastrous!
So be sure to add a bit of warmed vegetable oil to it for best results *see recipe notes below
Keeping it simple today with my American Style Buttercream recipe
But you can use whatever fillings or flavors you prefer.
Just keep in mind that a checkerboard cake needs very little filling
Or you will lose the design quickly to too much filling
The checkerboard design can only be achieved using four layers of cake
Each layer gets cut out with cookie cutters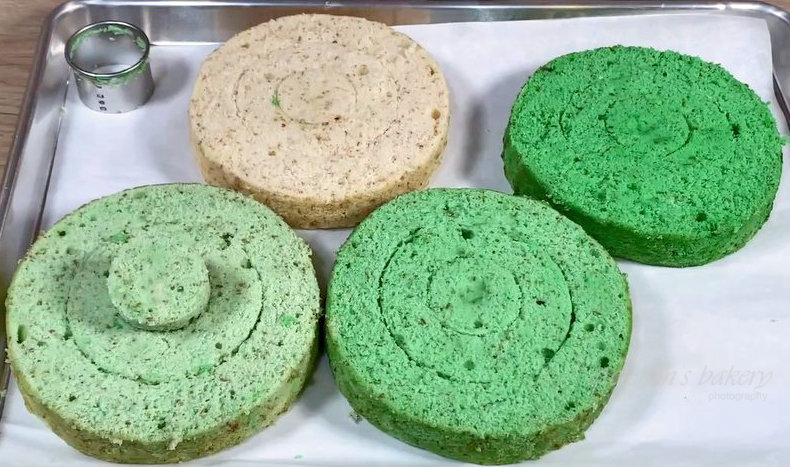 Then rearranged like a puzzle with alternating colors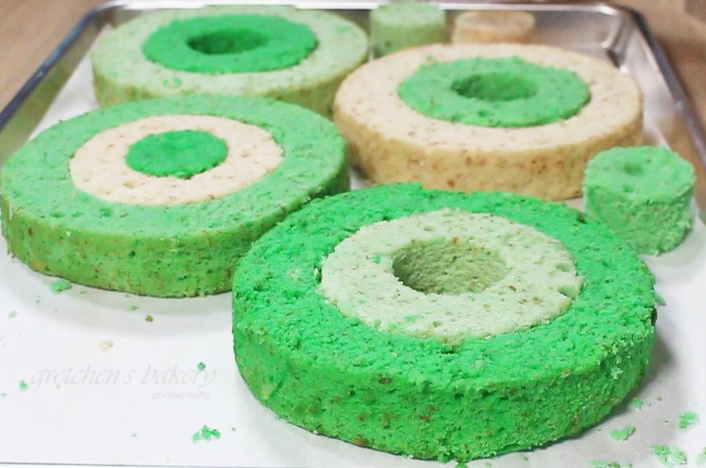 The video tutorial shows the best visual description for how to cut the layers
But essentially you will need a 4″ cookie cutter and a 2″ cookie cutter for 6″ layers
If you decide to make a larger diameter cake adjust your cookie cutter sizes accordingly
For those who think this cake project is a bit much to take on
Try your hand at making cupcakes with those cute little white chocoalte pine trees for decor!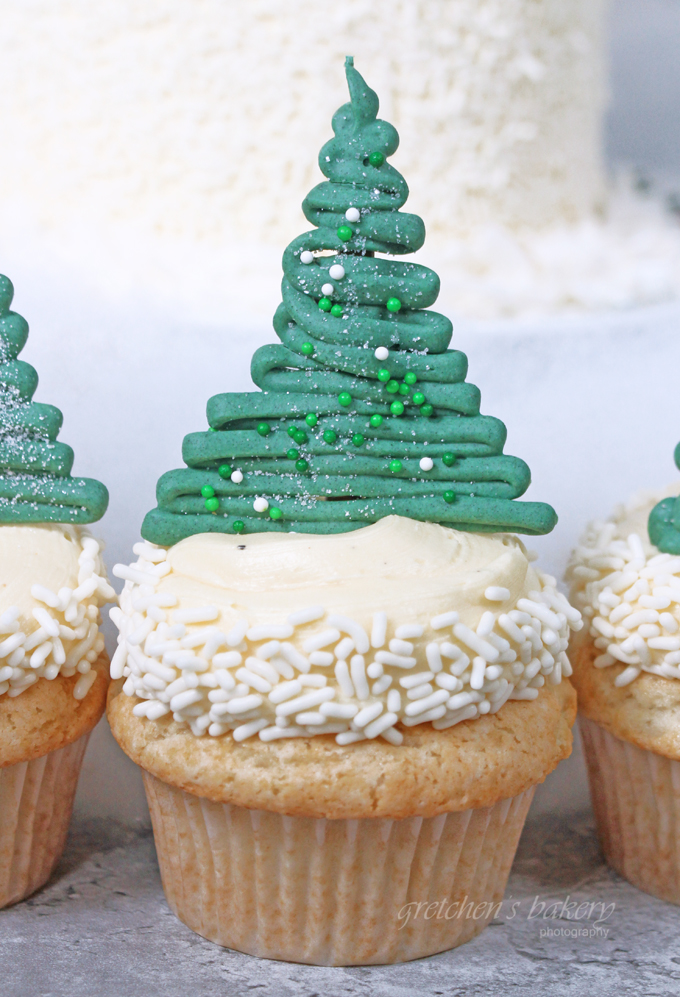 Vegan sprinkles from Sweetapolita & Baking Time Club if you are in the UK *not sponsored
CLICK HERE FOR THE FULL YOUTUBE VIDEO TUTORIAL FOR HOW TO MAKE THIS CAKE!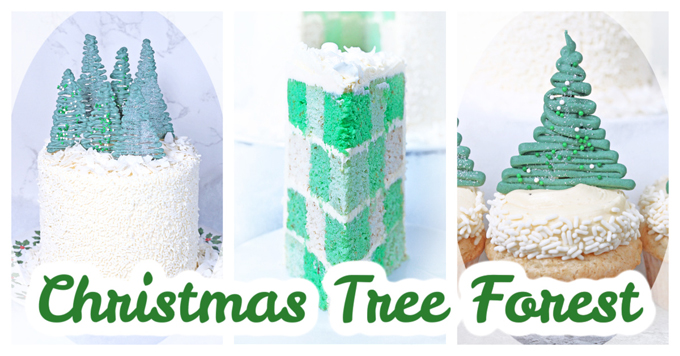 Notes for Success:
My famous vanilla cake recipe is made with flax meal as the egg replacer
Some people do not like that the specks of flax show through the batter
You can replace the flax meal with any dry blend egg replacer of your choice with great results!
You will notice the recipe listed below makes 4 ~perfect 6″ layers
For those wanting to make a larger cake double the recipe for 8″ layers
Triple the recipe for 10″ layers
For more awesome Christmas and Holiday Cakes click the links below!
How to Make a Grinch Cake Simple Two Recipe Cake

Winter Wonderland Checkerboard Cake
The cake recipe linked below will make 4 perfect 6" layers, for a larger 8" cake you will double the recipe
Ingredients
Green food color/ natural or gel paste as needed
FOR THE TREE DECOR:
8oz Vegan White Chocolate *I use King David *not sponsored
2 tsp vegetable oil
2 tsp spirulina OR
Couple drops green dye
Green food color or spirulina
Skewers or Pretzel sticks as needed
Vegan Sprinkles and assorted decorating sugars
Instructions
Prepare the vanilla cake recipe as per the instructions on that page
Divide the batter equally into 4 small bowls and add food color to your liking
I used Spirulina as the food color this time , matcha powder works great too
Bake the cakes in greased & parchment lined 6" cake pans for approximately 25-30 minutes or when they are springy to the touch when you gently press the centers
Cool the cakes in the pans until you can touch them without burning yourself then turn them out onto a cooling rack, remove the parchment paper cool completely
Prepare the buttercream recipe as per the instructions on that post
Build your cake as shown in the video tutorial for how to cut your layers for the checkerboard design
Decorate the finished cake with sprinkles and the white chocolate trees decor
For the chocolate trees:
Melt the vegan white chocolate reserve.
Warm the vegetable oil and mix it with the spirulina or the green dye, whisk smooth
Add the melted white chocoalte, whisk smooth use immediately
Notes
Checkerboard cake with buttercream filling & icing can be stored at room temperature for up to 1 week wrapped to prevent drying.

Cake can be frozen for up to 1 month wrapped well