No it's not April Fool's day!
Yes this is actual food you are seeing! (Not cake!)
While of course I'll continue sharing my awesome baking recipes with you all, I have been asked by so many people who are trying to transition to a vegan diet, "What the heck did you eat!?"
So I am so excited to share with you my new How to Cook Vegan FOOD for Beginners series on my youtube channel and here is the first recipe I want to share.
Cheesy Tofu Scramble with Crispy Smoky Bacon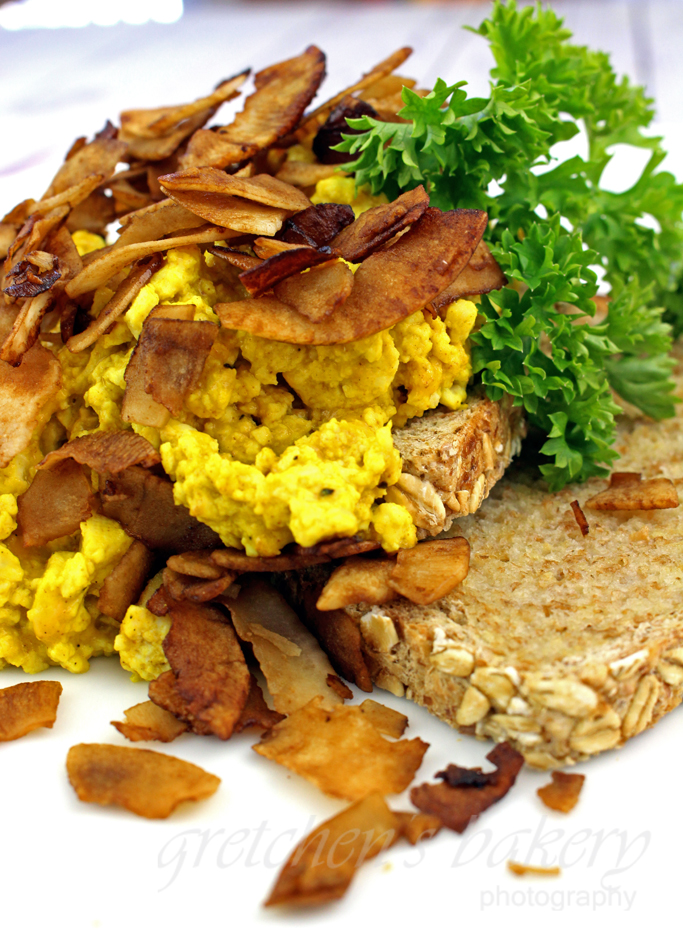 Not only is this my first recipe to my sew series, but it is also my first recipe that I started making as I transitioned from a vegetarian diet to a full vegan – plant based diet last year.
It is so good I promise you will forget all about cholesterol filled eggs and greasy pig bacon as soon as you try this!
Chock full of smoky flavor and sweet maple this recipe for coconut bacon was adapted from Cookie & Kate and was one of my first recipes I tried and feel in love with as I made the jump to a full vegan diet.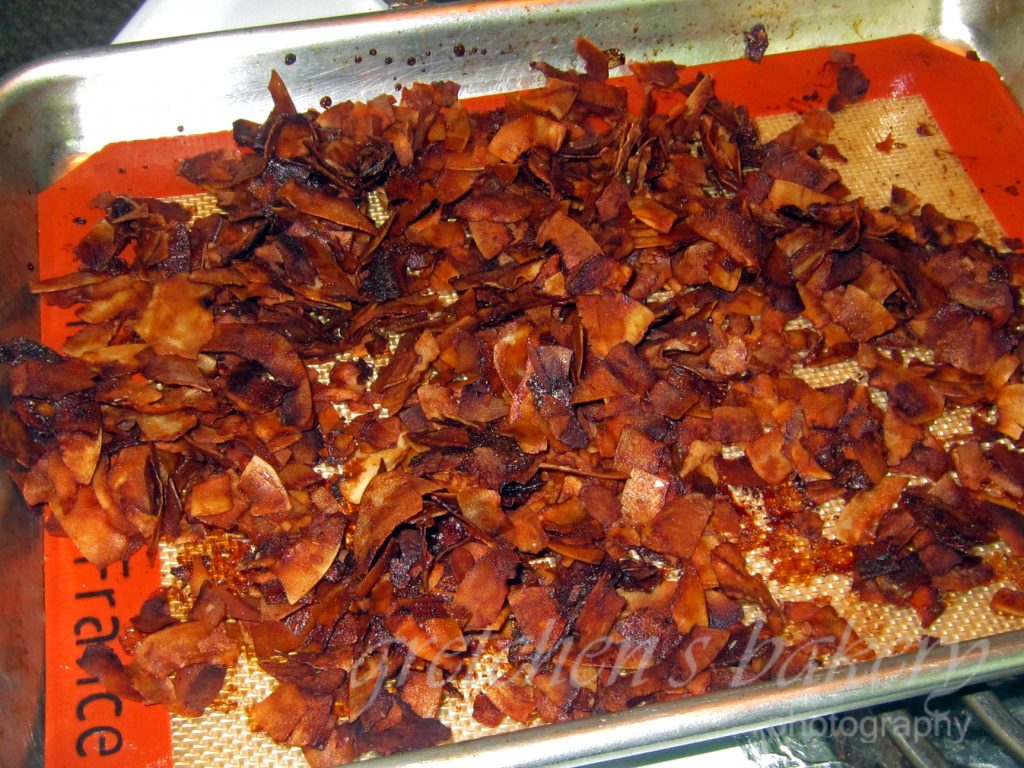 This coconut bacon recipe stores at room temperature for weeks, so I always have some on hand and as you will see I do use it in some other recipes that I'll be sharing very soon!
Or as a crunchy sweet salty snack throughout the day!
Cheesy Tofu Scramble with Crispy Smoky Bacon
Serve this with your favorite toast and a spread of vegan butter or I have also wrapped this up into a burrito style breakfast sandwich.
The nutrition facts below are for the exact way I showed in the video, you can cut some fat and sodium by adjusting the salt and eating your toast no butter
Ingredients
For the Tofu:
Half block drained tofu 7ounces
Kala namak ½ tsp
Tumeric ½ teaspoon
Pink Sea Salt *optional pinch
Black Pepper to taste
Garlic powder ½ teaspoon
Onion Powder ½ teaspoon
Smoked Paprika ¼ teaspoon
*optional spice additions make it AWESOME!: garlic powder, onion powder, smoked paprika about ¼ tsp each
Cheddar Daiya Cheese Shredds or your favorite non dairy cheese ¼ cup
Nutritional Yeast 2 tsp
Coconut Oil Spray or use a nonstick skillet and you don't need it
3 Tbs Coconut Bacon recipe follows
Instructions
Squeeze as much of the liquid out of the tofu as possible, or press it ahead of time.
Combine everything except the bacon in a bowl and mash up the tofu
Fry in a lightly oiled saute pan until the cheese melts and the tofu is hot
Serve with toast *optional
Nutrition Information
Serving size:
1
Calories:
226
Fat:
16
Saturated fat:
1.5
Trans fat:
0
Carbohydrates:
20
Sugar:
>1
Sodium:
608
Protein:
20
Cholesterol:
0
For the Coconut Bacon
Coconut Bacon
Ingredients
Unsweetened Flaked Coconut 1 bag (approx 3 ½ cups)
Liquid Smoke 2 Tbs
Tamari Soy Sauce 3 Tbs
Maple Syrup or Agave 2½ Tbs
*if not using maple syrup I add 1 tsp Maple Extract
Instructions
Combine everything together in a a bowl
Spread out onto a silicone lined sheet pan
Bake in a preheated 350°F oven for 15-20 minutes stirring half way through baking
Notes
Store in an airtight container at room temperature for 2 weeks