Chocolate Babka is one of those recipes that remind me of Easter
Maybe because back in my bakery days we would make dozens upon dozens of them for Easter weekend breakfast
Well, no matter the reason this Vegan Chocolate Babka Recipe is going to change your life!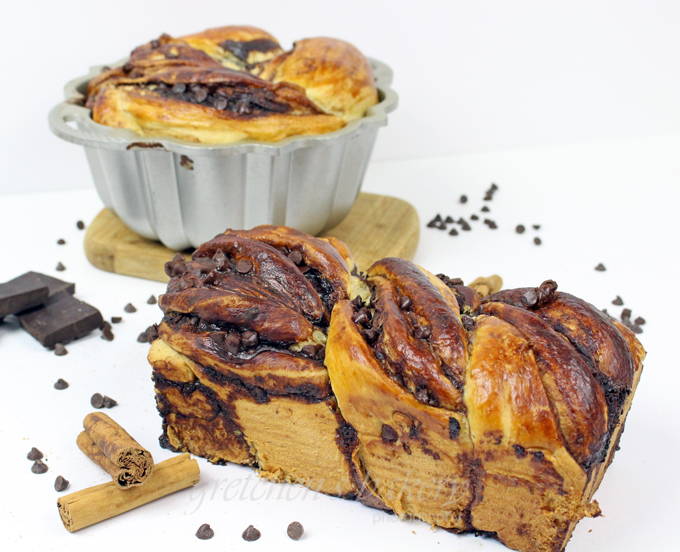 My introduction to that Babka life started when I was very young
My step mother was Polish and her mother would make Cheese Babkas almost every weekend!
I was completely in love the first time I tasted it and of course when I learned there was a chocolate babka variation
My life was complete.
Naturally I am here to give you my Vegan Chocolate Babka Recipe
This is a very rich dough that is loaded with butter.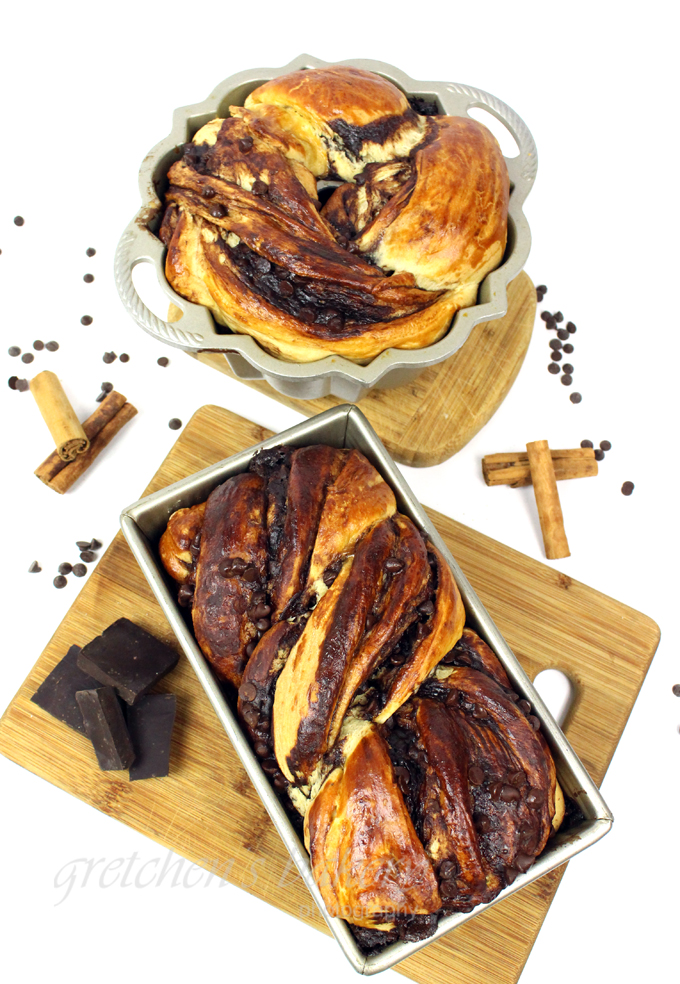 Vegan butter of course
Similar to a Brioche dough but with way less fuss
Yeast breads are probably the easiest things to veganize since we don't really need eggs
And the butter is a straight sub from cow butter to vegan butter.
I love Earth Balance butter the most in my baking
But any vegan butter will do just fine!
The charm of a Babka dough for me, is that it can't decide whether it wants to be a cake or a bread!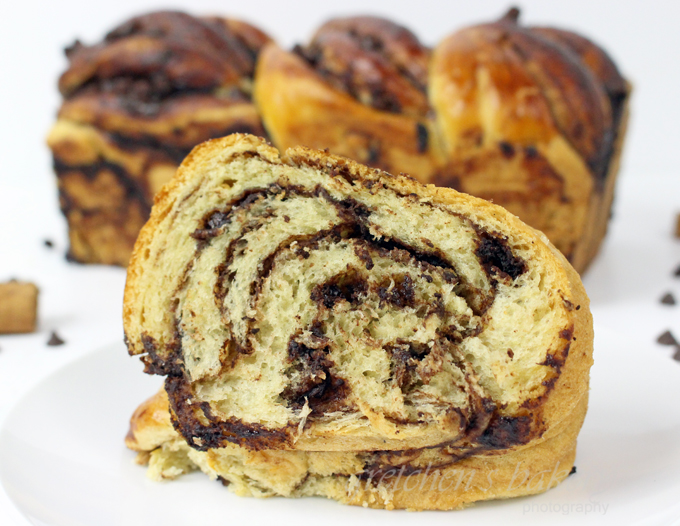 That indecisiveness is right up my alley since I can never decide if I want to eat cake or bread!
The chocolate schmear is what blows this whole thing away and I even add mini chocolate chips to mine
I put chocolate in just about everything so this double dose in my vegan chocolate babka recipe is barely tipping the scales of "enough"
So I also had a small bowl of dipping chocolate on the side
Stop playing, you know you are going to do it too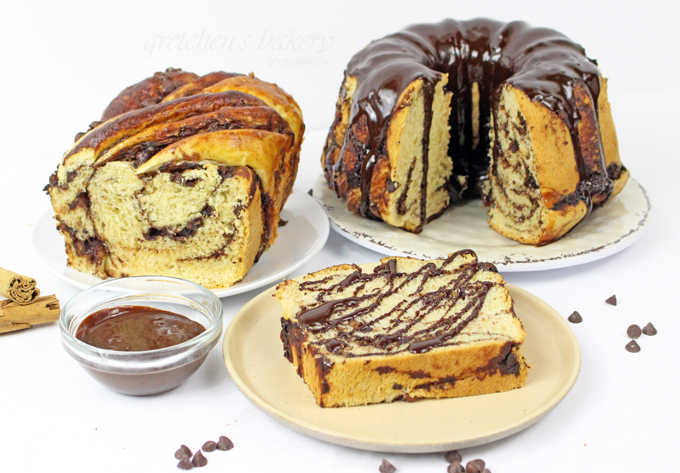 This recipe makes 2 standard sized loaf pans
But I decided to get a little bit fancy and bake one portion of the dough into a bundt pan with more chocolate glaze on top.
Listen, you do you and just let me be to do me over here!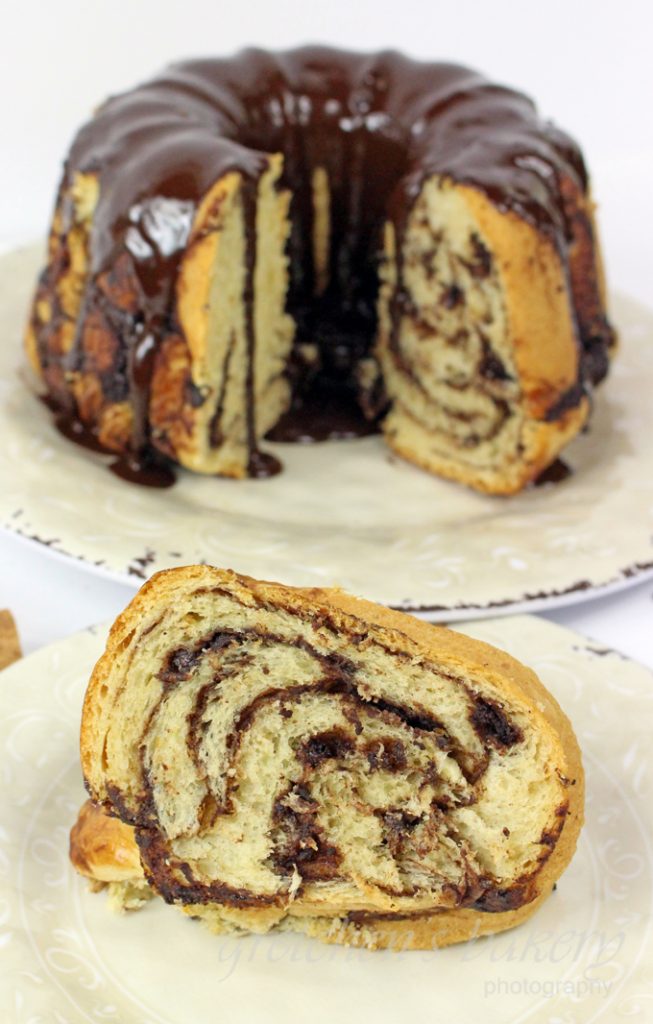 CHECK OUT THE FULL YOUTUBE VIDEO TUTORIAL FOR HOW TO MAKE THIS VEGAN CHOCOLATE BABKA RECIPE
For more recipes like this one check out:
Vegan Chocolate Babka Recipe
Be sure all of your ingredients are at room temperature before mixing the dough, the vegan butter should be super soft
If you do not have aquafaba you can replace with water- no other changes to the recipe
You will need 2 standard sized loaf pans ** or I used 1 loaf pan AND 1- 6-cup capacity bundt pan
Ingredients
For the Dough:
All Purpose Flour 4½ cups (560g)
Granulated Sugar ½ cup (100g)
Baking Powder ¼ teaspoon
Ground Cardamom 1 teaspoon
Ground Nutmeg ½ teaspoon
Salt 1 teaspoon
Dry Yeast 3¼ teaspoons
Aquafaba *see note above ½ cup (118ml)
Golden Flax Meal 2 Tablespoons
Vegan Butter soft 1 cup (227g)
Plant Milk * I used soy milk 14 Tablespoons (205ml)
For the Chocolate Filling:
Water 5 Tablespoons (77ml)
Granulated Sugar 10 Tablespoons (140g)
Natural Unsweetened Cocoa Powder 8 Tablespoons (44g)
Ground Cinnamon 1 teaspoon
Miniature vegan Chocolate Chips *optional 1¼ cups
Instructions
To make the Babka dough first combine the flax meal with the aquafaba ans whisk smooth.
Add a pinch of sugar to the plant milk then add the dry yeast and whisk smooth
Let both mixtures stand for 5 minutes to thicken and the yeast will get frothy and prove that it is alive.
Combine the flour, sugar, spices, salt and baking powder into the work bowl of your mixer and whisk to combine evenly
Once the flax paste is thick and the yeast is frothy add both to the flour mixture in the bowl and start mixing with a dough hook
Mix just to combine everything together, about 1 minute or so and you will have a shaggy looking dough
Add the softened butter and mix well.
The dough will look very slick and mushy and like it is not coming together, you may have to help it with a spatula and it will eventually come together.
I added another approximately ¼ cup of flour to help it form a soft ball of dough that no longer sticks to the sides or bottom of the bowl
Continue mixing with the dough hook for 8 minutes on medium speed then turn the speed down to low and mix for another 4 minutes
Turn the dough out into a lightly oiled bowl and cover and rest for approximately one hour in a warm spot to double in size
In the meantime prepare the chocolate schmear by bringing the water & sugar to a boil then add the cocoa powder & cinnamon, whisk smooth set aside to cool
Turn the doubled in size dough out onto a lightly floured surface and roll to approximately 12" x 18"
Pour the entire chocolate schmear over the dough and spread evenly
Sprinkle the *optional chocolate chips and then roll up the dough jelly roll style.
Cut the log in half so you have 2 logs of dough each approximately 9" long
And then cut each log in half lengthwise to expose the filling
Twist to two cut pieces of dough together and place into the greased pans
Cover once again and let them double in size
Brush with JUST Egg for a beautiful egg wash OR aquafaba will do nicely here too, before baking in a preheated 335°F oven for 10 minutes then turn the oven down to 300°F for another 35minutes of baking or until they reach 200°F internally with an instant read thermometer.
Allow to cool in the pans and then turn out onto a cooling rack to cool the rest of the way
Notes
Babka is best served the day it is made, but will stay fresh wrapped tightly for up to 4 days at room temperature.