My latest obsession is stuffing delicious things into edible cookie cups!
While these bite sized Chocolate Cream Pie Cookie Cups may be small
They pack in everything that a chocolate cream pie is meant to be in one perfect bite!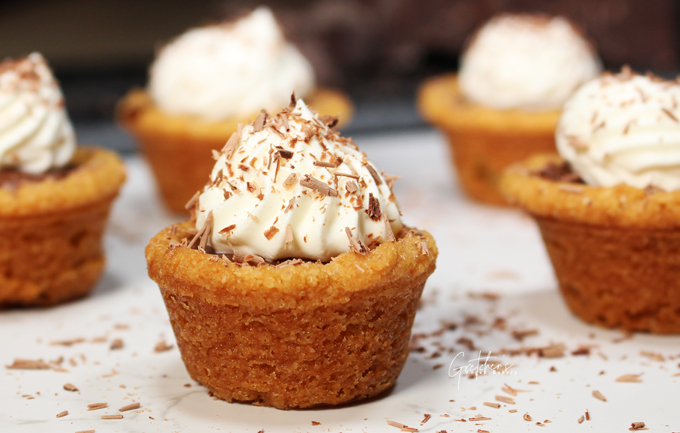 Luscious creamy chocolate custard with a crunchy cookie cup!
Topped with whipped cream and chocolate shavings, these little gems will steal the show at your next dessert buffet!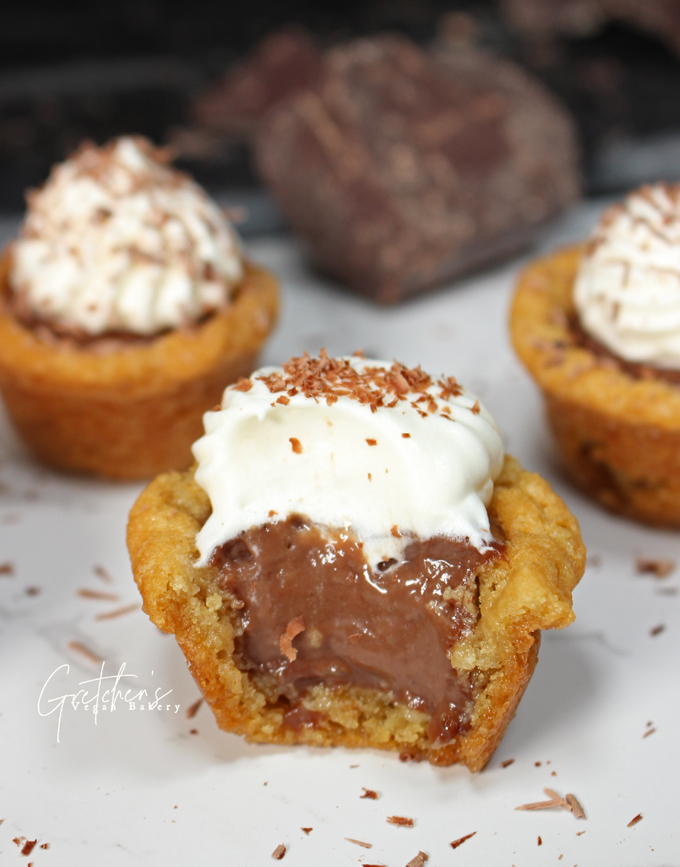 It is a rare occurrence that a cake decor will become more popular than the cake itself!
However in the case of the Chocolate Cream Pie Cake~ Miniature Chocolate Cream Pie Cookie Cups stole the show!
Okay, maybe not but they were the perfect compliment to this cake!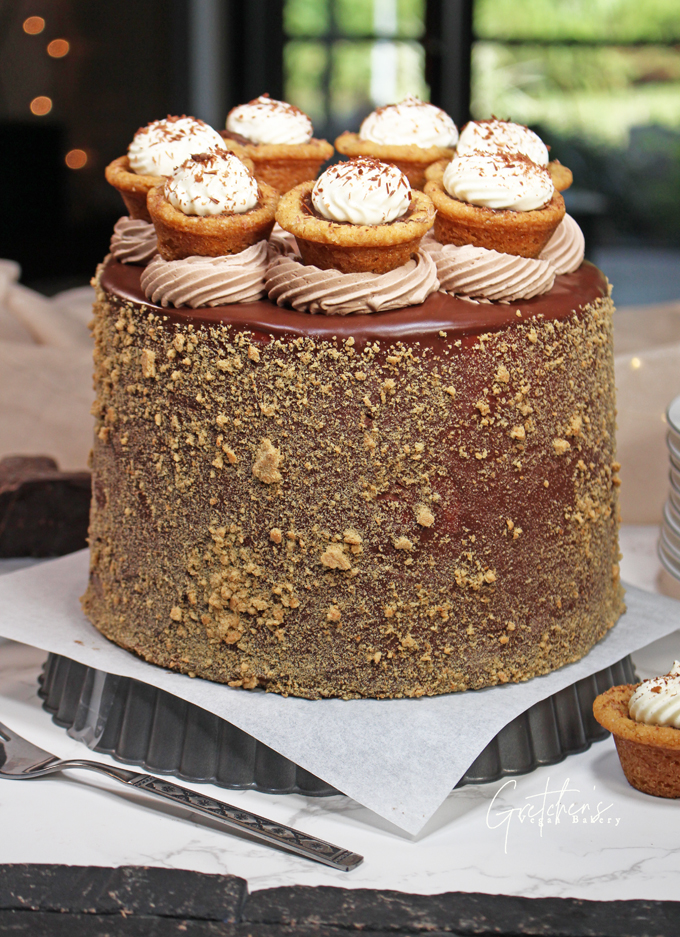 WATCH THE MAKING OF THIS CAKE & THE LITTLE CUSTARD CUPS HERE!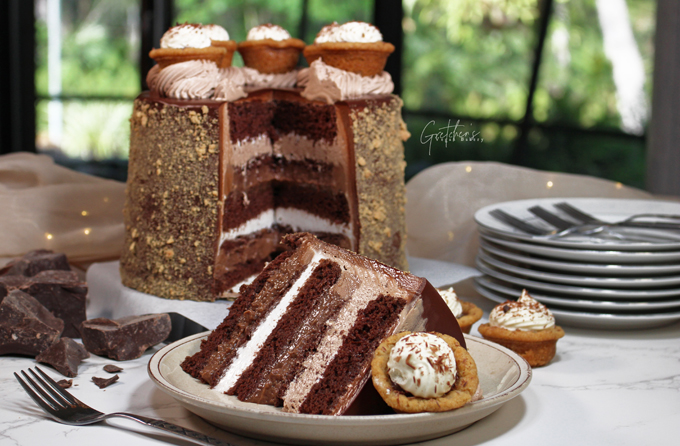 Notes for Success:
Cornstarch is a very difficult ingredient to measure consistently with a volume/spoons measure
So while I list both measures below I cannot stress enough how the grams measure with a scale is going to give you the best results.
Many times people have complained that their custard is like rubber and they don't know why!
This is from a heavy measure of cornstarch when using volume measuring spoon vs the 100% accurate scale measure in grams.
I like to make a large recipe of the cookie dough to store in my freezer in little scooped balls
So whenever I want to bake cookie cups I just take them out and bake!
For more miniature desserts like this one click the links below!
Yield: 24
Miniature Chocolate Cream Pie Cookie Cups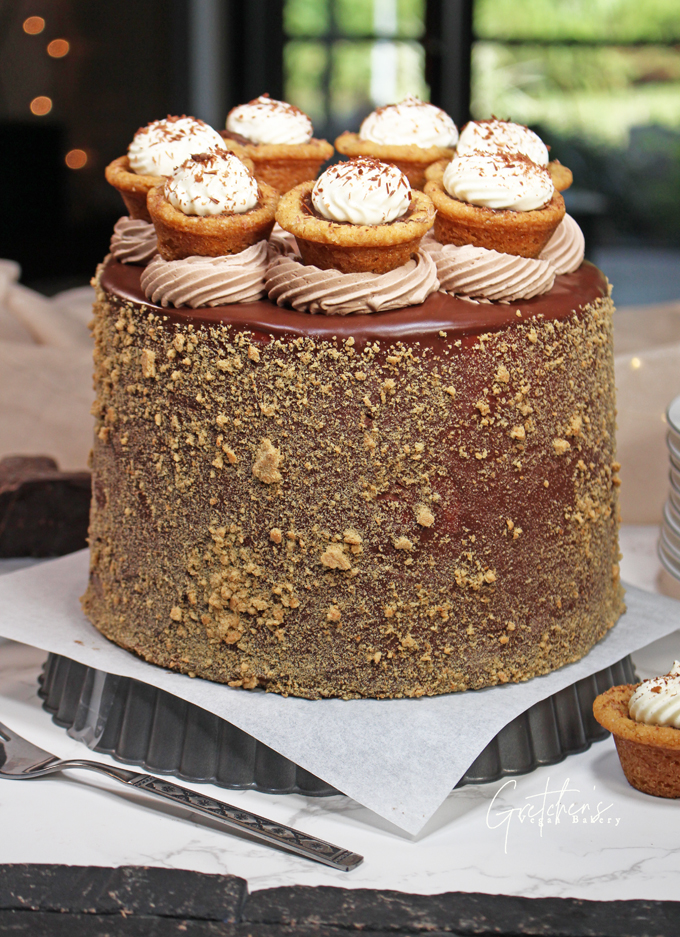 The recipe for the cookie dough will make more than 24 mini bites, I like to freeze the excess dough, but you can simply HALVE the recipe if you do not want extra! If you are making my homemade recipe for vegan whipped cream you must prepare it 1 day in advance and read the entire post before beginning!
Total Time
1 hour
12 minutes
Ingredients
For the Cookie Cups:
Vegan Butter 1 cup (226g)
Granulated Sugar 1 cup (200g)
Light Brown Sugar 1 cup (200g)
Salt 1 teaspoon (6g)
Aquafaba 1/3 cup (77ml)
Vanilla Extract 2 teaspoons (10ml)
All Purpose Flour 3½ cups (435g)
Baking Soda 1¼ teaspoon
Baking Powder ½ teaspoon
For the Chocolate Custard:
Plant Milk 2 cups (474ml)
Granulated Sugar 1/2 cup (100g)
Cornstarch 4 Tablespoons (32g)
Cocoa Powder 2 Tablespoons
Vegan Semi-Sweet Chocolate 2½ ounces (approx ½ cup)
Vegan Butter 1½ Tablespoons (21g)
Vanilla Extract 1 teaspoon (5ml)
1 Recipe Vegan Whipped Cream
Chocolate shavings optional
Instructions
First prepare the cookie cups by creaming the vegan butter with both sugars and the salt in the bowl of your electric mixer with the paddle attachment
Cream for 3 minutes on medium speed or until light & fluffy
Add the aquafaba slowly while mixing on low speed until incorporated
Stop the mixer and scrape the bottom & sides of the bowl then add the vanilla extract and mix on high speed for 20 seconds to emulsify
Sift together the flour, baking powder and baking soda and then add all at once to the creamed mixture.
Mix just until it comes together
With a 1 Tablespoon scoop, portion the dough into the lightly sprayed (with pan spray) mini muffin tin. No need to press them into cup shapes since the baking will automatically make an indent to the dough as it bakes
Bake in a preheated 350°F oven for 12-15 minutes or until golden browned
Cool for just a minute then using a teaspoon measuring spoon press lightly to form a deeper indent *see video tutorial for more
Cool to cold while you prepare the custard
Prepare the custard by combining plant milk, sugar, cocoa powder & cornstarch in a medium sauce pot over medium to high heat and bring to a boil stirring constantly to avoid scorching the bottom .
Once it starts to bubble remove from the heat and add the vegan butter & the chocolate, stir to melt evenly throughout.
Add the vanilla extract.
Pour into the cooled cookie cups then refrigerate for about 20minutes to cool & set.
Prepare the whipped cream **see notes and then pipe a swirled rosette of whipped cream on top of each one then top withe chocolate shavings
Notes
Chocolate cream pie cookie cups must be kept refrigerated and will stay fresh for up to 5 days, however the cookie cup will most likely start to soften after day 2.